Introducing Teranex Mini, the next generation 12G-SDI converters with award winning Teranex quality and support for all SD, HD and Ultra HD formats up to 2160p60! All Teranex Minis include an internal AC power supply, professional XLR analog and AES/EBU audio connections and an ethernet connection for remote management and PoE alternate power! Teranex Mini features a user upgradable front panel that includes a color display and user controls so you can quickly monitor video and change settings right from the front of the converter! You get all of the same great features of regular mini converters and so much more!
Card based rack converters are expensive, cannot handle high SDI speeds such as 12G-SDI and you have to buy an entire rack chassis even if you only want to install one converter. Teranex Minis can be rack mounted in combinations of one or more and you can take them out and use them non rack mounted whenever you need! You get built in AC power and ethernet on every converter so there's no single point of failure. Unlike card based converters, you can walk up and change settings from the front panel, monitor the video going through each converter, and you can also manage them remotely over ethernet! Because they're so small you can mount them in the front or the rear of an equipment rack or road case.
The optional Teranex Mini Smart Panel takes the guesswork out of using a converter! Now you can see the video going through your converter using the built in LCD screen. The panel also features push buttons and an easy to navigate on-screen menu that lets you quickly adjust and save settings. The Teranex Mini Smart Panel is perfect when you're out in the field or on set without external monitors, or even when you have multiple converters mounted in equipment racks and just want to see what's going through them all!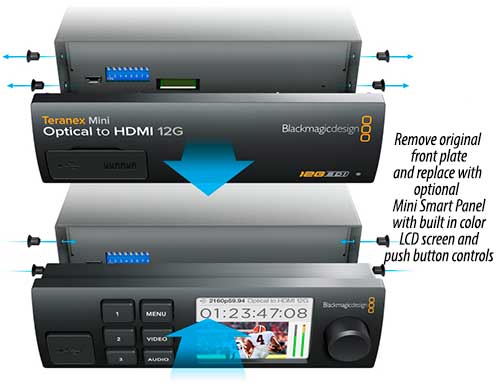 Like regular Mini Converters, Teranex Mini features built in mini switches and a printed diagram on the converter so you can quickly and easily change settings. When using the optional Teranex Smart Panel, settings can be changed using the push buttons and simple on screen menus. If you're in a larger facility using lots of converters, you can manage them over ethernet from a Mac or Windows computer using the included Converter Utility software.
All Teranex Mini converters feature standard, professional broadcast quality connectors, including full size professional XLR audio connections and high speed BNC connections for handling the extremely high bandwidth of cutting edge 12G-SDI technology. All models feature a built in multi volt 90V-240V AC power supply and standard IEC AC power connector so you can use any regular power cable. The built in ethernet connection allows remote administration and can also be used to power the converter when connected to power over ethernet switch.
Teranex Specifications and User Manuals