Eartec CS-DBL
COMSTAR Double Ear Radio/Headset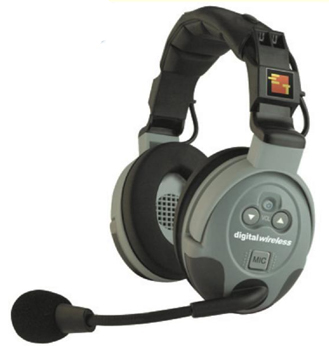 COMSTAR self contained full duplex headsets feature miniaturized wireless circuitry and antenna built right inside the ear cup. This streamlined "All-in-One" design eliminates the need for cables and belt packs that are required with traditional headset intercom systems. Lightweight and rugged, COMSTAR provides ease of operation and outstanding full duplex voice communications.
Headsets weight only 12.oz

Microphone adjustable to left or right side.

ON/OFF, volume control.

Microphone mute button.

Li-ion batteries operate up to 10 hours.
 
Eartec Comstar XT-3
Three Person System
G&G Price: $2,350
Please Call or
E-mail Us for Better Price
Includes
1 Dual Channel XT Series Com-Center
1 Com-Center Battery, AC Wall lug & AA disposable battery sled
2 COMSTAR Single Headsets
1 COMSTAR Double Headset
COMSTAR Headset Batteries
1 Multiport Charger
1 Padded Carrying Case

Eartec Comstar XT-4
Four Person System
G&G Price: $3,000
Please Call or
E-mail Us for Better Price
Includes
1 Dual Channel XT Series Com-Center
1 Com-Center Battery, AC Wall lug & AA disposable battery sled
2 COMSTAR Single Headsets
2 COMSTAR Double Headset
COMSTAR Headset Batteries
1 Multiport Charger
1 Padded Carrying Case

Eartec Comstar XT-5
Five Person System
G&G Price: $3,595
Please Call or
E-mail Us for Better Price
Includes
1 Dual Channel XT Series Com-Center
1 Com-Center Battery, AC Wall lug & AA disposable battery sled
3 COMSTAR Single Headsets
2 COMSTAR Double Headset
COMSTAR Headset Batteries
1 Multiport Charger
1 Padded Carrying Case

Eartec Comstar XT-6
Six Person System
G&G Price: $4,245
Please Call or
E-mail Us for Better Price
Includes
1 Dual Channel XT Series Com-Center
1 Com-Center Battery, AC Wall lug & AA disposable battery sled
3 COMSTAR Single Headsets
3 COMSTAR Double Headset
COMSTAR Headset Batteries
1 Multiport Charger
1 Padded Carrying Case

Eartec Comstar XT-7
Seven Person System
G&G Price: $4,840
Please Call or
E-mail Us for Better Price
Includes
1 Dual Channel XT Series Com-Center
1 Com-Center Battery, AC Wall lug & AA disposable battery sled
4 COMSTAR Single Headsets
3 COMSTAR Double Headset
COMSTAR Headset Batteries
1 Multiport Charger
1 Padded Carrying Case

Eartec Comstar XT-8
Eight Person System
G&G Price: $5,490
Please Call or
E-mail Us for Better Price
Includes
1 Dual Channel XT Series Com-Center
1 Com-Center Battery, AC Wall lug & AA disposable battery sled
4 COMSTAR Single Headsets
4 COMSTAR Double Headset
COMSTAR Headset Batteries
1 Multiport Charger
1 Padded Carrying Case