Middle Atlantic Products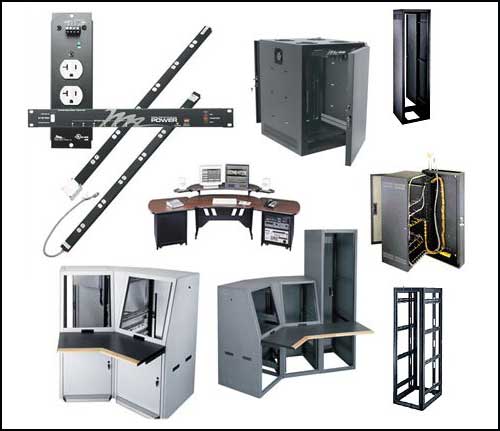 Middle Atlantic Products, Inc., an ISO 9001:2000 registered company, is a manufacturer of engineered mounting solutions. They specialize in equipment racks, consoles, data cabling management, and power/electrical solutions. Their customer-first philosophy places special emphasis on quality, service, and meeting the everyday working needs of end-users.

All of their products are designed from the installer's point of view. From thermal considerations and built-in cable management on their racks and enclosures to pre-installed washers on their rack screws they look at all aspects of an installation to find ways to save time and simplify the job.

G&G Technologies sells the complete line of Middle Atlantic products. Please take this link to their website for a complete overview of their product line.

Middle Atlantic Web Site
HINT: To find an item in the Middle Atlantic listing below, press CTRL-F to open the search function in your browser.
Middle Atlantic Alphanumeric Product Listing:
1/2BNC1
UCP MODULE, FOR 1/2" DIAMETER BNC SHELLS, MOST INSULATED SHELLS AND FUSES, FITS 1 CONNECTOR
$14
1/2BNC2
UCP MODULE, FOR 1/2" DIAMETER BNC SHELLS, MOST INSULATED SHELLS AND FUSES, FITS 2 CONNECTORS
$14
1/2BNC3
UCP MODULE, FOR 1/2" DIAMETER BNC SHELLS, MOST INSULATED SHELLS AND FUSES, FITS 3 CONNECTORS
$14
1/2BNC4
UCP MODULE, FOR 1/2" DIAMETER BNC SHELLS, MOST INSULATED SHELLS AND FUSES, FITS 4 CONNECTORS
$14
1/2BNC5
UCP MODULE, FOR 1/2" DIAMETER BNC SHELLS, MOST INSULATED SHELLS AND FUSES, FITS 5 CONNECTORS FOR RGBHV
$14
1/4X2
UCP MODULE, FOR RCA JACKS, SOME SWITCHES AND LEDS, FITS 2 CONNECTORS
$14
1/4X4
UCP MODULE, FOR RCA JACKS, SOME SWITCHES AND LEDS, FITS 4 CONNECTORS
$14
1DB15
UCP MODULE, FOR DB15 CONNECTIONS, FITS 1 CONNECTOR
$14
1DB25
UCP MODULE, FOR DB25 CONNECTIONS, FITS 1 CONNECTOR
$14
1DB9
UCP MODULE, FOR DB9 CONNECTIONS, FITS 1 CONNECTOR
$14
1DB9M
UCP MODULE, FITS DB9 CONNECTOR AND 1/8" MINI PHONE JACK
$14
1ELCO120
UCP MODULE, FOR 120 PIN ELCO/EDAC CONNECTIONS, FITS 1 CONNECTOR
$14
1ELCO38
UCP MODULE, FOR 38 PIN ELCO/EDAC CONNECTIONS, FITS 1 CONNECTOR
$14
1ELCO56
UCP MODULE, FOR 56 PIN ELCO/EDAC CONNECTIONS, FITS 1 CONNECTOR
$14
1ELCO90
UCP MODULE, FOR 90 PIN ELCO/EDAC CONNECTIONS, FITS 1 CONNECTOR
$14
1G1
UCP MODULE, FOR G1 CONNECTIONS, FITS 1 CONNECTOR
$14
1G2
UCP MODULE, FOR G2 CONNECTIONS, FITS 1 CONNECTOR
$14
1G3
UCP MODULE, FOR G3 CONNECTIONS, FITS 1 CONNECTOR
$14
1W1
UCP MODULE, FOR 39 PIN WHIRLWIND, FITS 1 CONNECTOR
$14
1W2
UCP MODULE, FOR 61 PIN WHIRLWIND, FITS 1 CONNECTOR
$14
2-10
10 SPACE (17 1/2") BLACK DESKTOP TURRET STEEL FRAME W/ REMOVABLE SIDES
$252
2-10M
10 SPACE (17 1/2") DESKTOP READY-TO-ASSEMBLE TURRET RACK, BLACK LAMINATE
$176
23-19-1
1 SP REDUCER, 23" TO 19" FOR DRK ENCLOSURES
$14
23-19-2
2 SP REDUCER, 23" TO 19" FOR DRK ENCLOSURES
$20
23-19-3
3 SP REDUCER, 23" TO 19" FOR DRK ENCLOSURES
$23
23-19-4
4 SP REDUCER, 23" TO 19" FOR DRK ENCLOSURES
$27
2-6M
6 SPACE (10 1/2") DESKTOP READY-TO-ASSEMBLE TURRET RACK, BLACK LAMINATE
$160
2DB15
UCP MODULE, FOR DB15 CONNECTIONS, FITS 2 CONNECTORS
$14
2DB25
UCP MODULE, FOR DB25 CONNECTIONS, FITS 2 CONNECTORS
$14
2DB37
UCP MODULE, FOR DB37 CONNECTIONS, FITS 2 CONNECTORS
$14
2DB50
UCP MODULE, FOR DB50 CONNECTIONS, FITS 2 CONNECTORS
$14
2DB9
UCP MODULE, FOR DB9 CONNECTIONS, FITS 2 CONNECTORS
$14
2DL96
UCP MODULE, FOR DL SERIES MULTIPINS BY CANNON, FITS 2 CONNECTORS
$14
2ELCO38
UCP MODULE, FOR ELCO/EDAC 38 PIN CONNECTIONS, FITS 2 CONNECTORS
$14
2ELCO56
UCP MODULE, FOR ELCO/EDAC 56 PIN CONNECTIONS, FITS 2 CONNECTORS
$14
2ELCO90
UCP MODULE, FOR ELCO/EDAC 90 PIN CONNECTIONS, FITS 2 CONNECTORS
$14
3/8BANA2
UCP MODULE, FOR DUAL BANANA JACK RECEPTACLES REQUIRING A 3/8" HOLE, FITS 2 CONNECTORS
$14
3/8BANA4
UCP MODULE, FOR DUAL BANANA JACK RECEPTACLES REQUIRING A 3/8" HOLE, FITS 4 CONNECTORS
$14
3/8BANA6
UCP MODULE, FOR DUAL BANANA JACK RECEPTACLES REQUIRING A 3/8" HOLE, FITS 6 CONNECTORS
$14
3/8BNC4
UCP MODULE, FOR 3/8" DIAMETER BNC SHELLS, MOST INSULATED SHELLS AND FUSES, FITS 4 CONNECTORS
$14
3/8X1
UCP MODULE, 3/8" DIAMETER PUNCHOUTS FOR "F" CONNECTORS, PHONE JACKS, SOME SWITCHES, FITS 1 CONNECTOR
$14
3/8X2
UCP MODULE, 3/8" DIAMETER PUNCHOUTS FOR "F" CONNECTORS, PHONE JACKS, SOME SWITCHES, FITS 2 CONNECTORS
$14
3/8X4
UCP MODULE, 3/8" DIAMETER PUNCHOUTS FOR "F" CONNECTORS, PHONE JACKS, SOME SWITCHES, FITS 4 CONNECTORS
$14
3/8X5
UCP MODULE, 3/8" DIAMETER PUNCHOUTS FOR COMPONENT AUDIO AND VIDEO, "F" CONNECTORS, PHONE JACKS, SOME SWITCHES, FITS 5 CONNECTORS
$14
3/8X6
UCP MODULE, 3/8" DIAMETER PUNCHOUTS FOR "F" CONNECTORS, PHONE JACKS, SOME SWITCHES, FITS 6 CONNECTORS
$14
3/8X8
UCP MODULE, 3/8" DIAMETER PUNCHOUTS FOR "F" CONNECTORS, PHONE JACKS, SOME SWITCHES, FITS 8 CONNECTORS
$14
3DB9
UCP MODULE, FOR DB9 CONNECTIONS, FITS 3 CONNECTORS
$14
4DB9
UCP MODULE, FOR DB9 CONNECTIONS, FITS 4 CONNECTORS
$14
4SC1
UCP MODULE, FOR CIRCULAR FLANGE 4 BOLT PUNCHOUTS, CANNON AP AND EP, NEUTRIK NL8MPR, NL4MPR ("SPEAKON"), FITS 1 CONNECTOR
$14
4SC3
UCP MODULE, FOR CIRCULAR FLANGE 4 BOLT PUNCHOUTS, CANNON AP AND EP, NEUTRIK NL8MPR, NL4MPR ("SPEAKON"), FITS 3 CONNECTORS
$14
5-14
14 SPACE (24 1/2") READY-TO-ASSEMBLE RACK FRAME, 20" DEEP
$234
5-14-26
14 SPACE (24 1/2") READY-TO-ASSEMBLE RACK FRAME, 26" DEEP
$277
5-21
21 SPACE (36 3/4") READY-TO-ASSEMBLE RACK FRAME, 20" DEEP
$264
5-21-26
21 SPACE (36 3/4") READY-TO-ASSEMBLE RACK FRAME, 26" DEEP
$306
5-29
29 SPACE (50 3/4") READY-TO-ASSEMBLE RACK FRAME, 20" DEEP
$290
5-29-26
29 SPACE (50 3/4") READY-TO-ASSEMBLE RACK FRAME, 26" DEEP
$333
5-37
37 SPACE (64 3/4") READY-TO-ASSEMBLE RACK FRAME, 20" DEEP
$305
5-37-26
37 SPACE (64 3/4") READY-TO-ASSEMBLE RACK FRAME, 26" DEEP
$347
5-43
43 SPACE (75 1/4") READY-TO-ASSEMBLE RACK FRAME, 20" DEEP
$318
5-43-26
43 SPACE (75 1/4") READY-TO-ASSEMBLE RACK FRAME, 26" DEEP
$361
5-8
8 SPACE (14") READY-TO-ASSEMBLE RACK FRAME, 20" DEEP
$206
5-8-26
8 SPACE (14") READY-TO-ASSEMBLE RACK FRAME, 26" DEEP
$249
5AR14
SPLIT REAR RAIL KIT, FITS 5-14
$64
5AR14-26
SPLIT REAR RAIL KIT, FITS 5-14-26
$68
5AR21
SPLIT REAR RAIL KIT, FITS 5-21
$75
5AR21-26
SPLIT REAR RAIL KIT, FITS 5-21-26
$79
5AR29
SPLIT REAR RAIL KIT, FITS 5-29
$90
5AR29-26
SPLIT REAR RAIL KIT, FITS 5-29-26
$96
5AR37
SPLIT REAR RAIL KIT, FITS 5-37
$94
5AR37-26
SPLIT REAR RAIL KIT, FITS 5-37-26
$100
5AR43
SPLIT REAR RAIL KIT, FITS 5-43
$101
5AR43-26
SPLIT REAR RAIL KIT, FITS 5-43-26
$106
5AR8
SPLIT REAR RAIL KIT, FITS 5-8
$58
5AR8-26
SPLIT REAR RAIL KIT, FITS 5-8-26
$61
5-BAVTRIM
BLACK BRUSHED FINISH TRIM PANEL FOR SLIM 5 SERIES ENCLOSURES
$47
5-CAVTRIM
SILVER BRUSHED FINISH TRIM PANEL FOR SLIM 5 SERIES ENCLOSURES
$47
5CC14
CABLE CHASE WITH HARDWARE, FITS 5-14
$75
5CC14-26
CABLE CHASE WITH HARDWARE, FITS 5-14-26
$79
5CC21
CABLE CHASE WITH HARDWARE, FITS 5-21
$88
5CC21-26
CABLE CHASE WITH HARDWARE, FITS 5-21-26
$93
5CC29
CABLE CHASE WITH HARDWARE, FITS 5-29
$105
5CC29-26
CABLE CHASE WITH HARDWARE, FITS 5-29-26
$110
5CC37
CABLE CHASE WITH HARDWARE, FITS 5-37
$122
5CC37-26
CABLE CHASE WITH HARDWARE, FITS 5-37-26
$127
5CC43
CABLE CHASE WITH HARDWARE, FITS 5-43
$124
5CC43-26
CABLE CHASE WITH HARDWARE, FITS 5-43-26
$128
5CC8
CABLE CHASE WITH HARDWARE, FITS 5-8
$67
5CC8-26
CABLE CHASE WITH HARDWARE, FITS 5-8-26
$71
5-FAN-K
2 QTY 4 1/2" LOW-PROFILE FANS FOR SLIM 5 SERIES, 114 CFM TOTAL (120 VAC) CORD AND HARDWARE INCLUDED
$105
5-RS20
LOW FRICTION RUNNER KIT FOR 20" DEEP SLIM 5
$30
5-RS26
LOW FRICTION RUNNER KIT FOR 26" DEEP SLIM 5
$32
5W
SET OF 4 CASTERS FOR ANY SLIM 5, WITH MOUNTING HARDWARE
$47
5WL
SET OF 4 CASTERS FOR ANY SLIM 5, (2 LOCKING) WITH MOUNTING HARDWARE
$58
5WLR
SET OF 4 FINE FLOOR CASTERS FOR ANY SLIM 5 (2 LOCKING) WITH MOUNTING HARDWARE
$106
5WR
SET OF 4 FINE FLOOR CASTERS FOR ANY SLIM 5 WITH MOUNTING HARDWARE
$87
7/16X4
UCP MODULE, 7/16" DIAMETER PUNCHOUTS FOR SWITCHCRAFT #11, INSULATED PHONE JACKS, SOME SWITCHES, FITS 4 CONNECTORS
$14
ACC-KEY
SET OF REPLACEMENT KEYS FOR ALL DRAWERS
$3
AFACE10
10 SP FACE PLATE, BLACK BRUSHED FINISH
$95
AFACE11
11 SP FACE PLATE, BLACK BRUSHED FINISH
$95
AFACE12
12 SP FACE PLATE, BLACK BRUSHED FINISH
$95
AFACE2
2 SP FACE PLATE, BLACK BRUSHED FINISH
$79
AFACE3
3 SP FACE PLATE, BLACK BRUSHED FINISH
$79
AFACE4
4 SP FACE PLATE, BLACK BRUSHED FINISH
$79
AFACE5
5 SP FACE PLATE, BLACK BRUSHED FINISH
$79
AFACE6
6 SP FACE PLATE, BLACK BRUSHED FINISH
$95
AFACE7
7 SP FACE PLATE, BLACK BRUSHED FINISH
$95
AFACE8
8 SP FACE PLATE, BLACK BRUSHED FINISH
$95
AFACE9
9 SP FACE PLATE, BLACK BRUSHED FINISH
$95
ANGLE-1
PAIR RAISED-FLOOR SUPPORT ANGLES, FOR USE WITH RIB-1-MRK26/31
$86
ANGLE-1-36
PAIR RAISED-FLOOR SUPPORT ANGLES, FOR USE WITH RIB-1-MRK-36
$101
ANGLE-1-42
PAIR RAISED-FLOOR SUPPORT ANGLES, FOR USE WITH RIB-1-MRK-42
$109
ANGLE-2
PAIR RAISED-FLOOR SUPPORT ANGLES, FOR USE WITH RIB-2-MRK26/31
$99
ANGLE-2-36
PAIR RAISED-FLOOR SUPPORT ANGLES, FOR USE WITH RIB-2-MRK-36
$112
ANGLE-2-42
PAIR RAISED-FLOOR SUPPORT ANGLES, FOR USE WITH RIB-2-MRK-42
$121
ANGLE-3
PAIR RAISED-FLOOR SUPPORT ANGLES, FOR USE WITH RIB-3-MRK26/31
$102
ANGLE-3-36
PAIR RAISED-FLOOR SUPPORT ANGLES, FOR USE WITH RIB-3-MRK-36
$115
ANGLE-3-42
PAIR RAISED-FLOOR SUPPORT ANGLES, FOR USE WITH RIB-3-MRK-42
$124
ANGLE-4
PAIR RAISED-FLOOR SUPPORT ANGLES, FOR USE WITH RIB-4-MRK26/31
$133
ANGLE-4-36
PAIR RAISED-FLOOR SUPPORT ANGLES, FOR USE WITH RIB-4-MRK-36
$130
ANGLE-5
PAIR RAISED-FLOOR SUPPORT ANGLES, FOR USE WITH RIB-5-MRK26/31
$123
ANGLE-5-36
PAIR RAISED-FLOOR SUPPORT ANGLES, FOR USE WITH RIB-5-MRK-36
$135
AP-2
HINGED 2 SPACE (3 1/2") ACCESS PANEL
$30
AP-4
HINGED 4 SPACE (7") ACCESS PANEL
$35
AP-6
HINGED 6 SPACE (10 1/2") ACCESS PANEL
$43
APV-2
HINGED 2 SPACE (3 1/2") VENTED ACCESS PANEL
$36
APV-4
HINGED 4 SPACE (7") VENTED ACCESS PANEL
$42
APV-6
HINGED 6 SPACE (10 1/2") VENTED ACCESS PANEL
$52
AS3-22
3 SPACE (5 1/4") ADJUSTABLE HEAVY DUTY VENTED RACK SHELF EXTENDS TO 25" DEEP
$104
AS3-26-23
3 SPACE (5 1/4") 23" WIDTH ADJUSTABLE HEAVY DUTY VENTED RACK SHELF 26" DEEP
$133
ASP-OWP
ANTI-SLIP CABLE PAD FOR USE WITH LACE-OWP, 4 PIECES
$29
ASP-OWP-6
ANTI-SLIP CABLE PAD FOR USE WITH LACE-OWP, 24 PIECES
$130
ASR-30
ADJUSTABLE SLIDE OUT ROTATING SHELVING SYSTEM, 23 1/8" USEABLE HEIGHT, 18" DEEP, 4 SHELVES
$424
ASR-30-HD
ADJUSTABLE HEAVY DUTY SLIDE OUT ROTATING SHELVING SYSTEM, 22" USEABLE HEIGHT, 21" DEEP, 4 SHELVES
$843
ASR-30-HDT-BK
BLACK BRUSHED REPLACEMENT TRIM FOR ASR-30-HD
$68
ASR-30-HDT-WD
UNFINISHED WOOD REPLACEMENT TRIM FOR ASR-30-HD
$68
ASR-36
ADJUSTABLE SLIDE OUT ROTATING SHELVING SYSTEM, 28 3/8" USEABLE HEIGHT, 18" DEEP, 5 SHELVES
$461
ASR-42
ADJUSTABLE SLIDE OUT ROTATING SHELVING SYSTEM, 33 5/8" USEABLE HEIGHT, 18" DEEP, 6 SHELVES
$576
ASR-42-HD
ADJUSTABLE HEAVY DUTY SLIDE OUT ROTATING SHELVING SYSTEM, 31" USEABLE HEIGHT, 21" DEEP, 6 SHELVES
$1064
ASR-42-HDT-BK
BLACK BRUSHED REPLACEMENT TRIM FOR ASR-42-HD
$96
ASR-42-HDT-WD
UNFINISHED WOOD REPLACEMENT TRIM FOR ASR-42-HD
$96
ASR-48
ADJUSTABLE SLIDE OUT ROTATING SHELVING SYSTEM, 38 7/8" USEABLE HEIGHT, 18" DEEP, 7 SHELVES
$610
ASR-60-HD
ADJUSTABLE HEAVY DUTY SLIDE OUT ROTATING SHELVING SYSTEM, 46" USEABLE HEIGHT, 21" DEEP, 9 SHELVES
$1330
ASR-60-HDT-BK
BLACK BRUSHED REPLACEMENT TRIM FOR ASR-60-HD
$124
ASR-60-HDT-WD
UNFINISHED WOOD REPLACEMENT TRIM FOR ASR-60-HD
$124
ASR-HD-SH1-BK
SINGLE SHELF FOR ASR-HD SERIES, BLACK ANODIZED TRIM
$76
ASR-HD-SH1-SL
SINGLE SHELF FOR ASR-HD SERIES, SILVER ANODIZED TRIM
$76
ASR-HD-SH1-WD
SINGLE SHELF FOR ASR-HD SERIES, UNFINISHED WOOD TRIM
$76
AXS-15
15 SPACE EQUIPMENT ACCESS SYSTEM, 48 1/2" EXTENSION, 20" DEEP FRAME
$657
AXS-15-26
15 SPACE EQUIPMENT ACCESS SYSTEM, 48 1/2" EXTENSION, 26" DEEP FRAME
$703
AXS-15-26-GG
AXS-15-26 WITH GASKET AND GUIDE KIT
$790
AXS-15-GG
AXS-15 WITH GASKET AND GUIDE KIT
$746
AXS-16
16 SPACE EQUIPMENT ACCESS SYSTEM, 48 1/2" EXTENSION, 20" DEEP FRAME
$657
AXS-16-26
16 SPACE EQUIPMENT ACCESS SYSTEM, 48 1/2" EXTENSION, 26" DEEP FRAME
$703
AXS-16-26-GG
AXS-16-26 WITH GASKET AND GUIDE KIT
$790
AXS-16-GG
AXS-16 WITH GASKET AND GUIDE KIT
$746
AXS-17
17 SPACE EQUIPMENT ACCESS SYSTEM, 48 1/2" EXTENSION, 20" DEEP FRAME
$657
AXS-17-26
17 SPACE EQUIPMENT ACCESS SYSTEM, 48 1/2" EXTENSION, 26" DEEP FRAME
$703
AXS-17-26-GG
AXS-17-26 WITH GASKET AND GUIDE KIT
$790
AXS-17-GG
AXS-17 WITH GASKET AND GUIDE KIT
$746
AXS-18
18 SPACE EQUIPMENT ACCESS SYSTEM, 48 1/2" EXTENSION, 20" DEEP FRAME
$657
AXS-18-26
18 SPACE EQUIPMENT ACCESS SYSTEM, 48 1/2" EXTENSION, 26" DEEP FRAME
$703
AXS-18-26-GG
AXS-18-26 WITH GASKET AND GUIDE KIT
$790
AXS-18-GG
AXS-18 WITH GASKET AND GUIDE KIT
$746
AXS-19
19 SPACE EQUIPMENT ACCESS SYSTEM, 48 1/2" EXTENSION, 20" DEEP FRAME
$657
AXS-19-26
19 SPACE EQUIPMENT ACCESS SYSTEM, 48 1/2" EXTENSION, 26" DEEP FRAME
$703
AXS-19-26-GG
AXS-19-26 WITH GASKET AND GUIDE KIT
$790
AXS-19-GG
AXS-19 WITH GASKET AND GUIDE KIT
$746
AXS-20
20 SPACE EQUIPMENT ACCESS SYSTEM, 48 1/2" EXTENSION, 20" DEEP FRAME
$657
AXS-20-26
20 SPACE EQUIPMENT ACCESS SYSTEM, 48 1/2" EXTENSION, 26" DEEP FRAME
$703
AXS-20-26-GG
AXS-20-26 WITH GASKET AND GUIDE KIT
$790
AXS-20-GG
AXS-20 WITH GASKET AND GUIDE KIT
$746
AXS-21
21 SPACE EQUIPMENT ACCESS SYSTEM, 48 1/2" EXTENSION, 20" DEEP FRAME
$657
AXS-21-26
21 SPACE EQUIPMENT ACCESS SYSTEM, 48 1/2" EXTENSION, 26" DEEP FRAME
$703
AXS-21-26-GG
AXS-21-26 WITH GASKET AND GUIDE KIT
$790
AXS-21-GG
AXS-21 WITH GASKET AND GUIDE KIT
$746
AXS-22
22 SPACE EQUIPMENT ACCESS SYSTEM, 48 1/2" EXTENSION, 20" DEEP FRAME
$657
AXS-22-26
22 SPACE EQUIPMENT ACCESS SYSTEM, 48 1/2" EXTENSION, 26" DEEP FRAME
$703
AXS-22-26-GG
AXS-22-26 WITH GASKET AND GUIDE KIT
$790
AXS-22-GG
AXS-22 WITH GASKET AND GUIDE KIT
$746
AXS-23
23 SPACE EQUIPMENT ACCESS SYSTEM, 48 1/2" EXTENSION, 20" DEEP FRAME
$657
AXS-23-26
23 SPACE EQUIPMENT ACCESS SYSTEM, 48 1/2" EXTENSION, 26" DEEP FRAME
$703
AXS-23-26-GG
AXS-23-26 WITH GASKET AND GUIDE KIT
$790
AXS-23-GG
AXS-23 WITH GASKET AND GUIDE KIT
$746
AXS-24
24 SPACE EQUIPMENT ACCESS SYSTEM, 48 1/2" EXTENSION, 20" DEEP FRAME
$657
AXS-24-26
24 SPACE EQUIPMENT ACCESS SYSTEM, 48 1/2" EXTENSION, 26" DEEP FRAME
$703
AXS-24-26-GG
AXS-24-26 WITH GASKET AND GUIDE KIT
$790
AXS-24-GG
AXS-24 WITH GASKET AND GUIDE KIT
$746
AXS-25
25 SPACE EQUIPMENT ACCESS SYSTEM, 48 1/2" EXTENSION, 20" DEEP FRAME
$657
AXS-25-26
25 SPACE EQUIPMENT ACCESS SYSTEM, 48 1/2" EXTENSION, 26" DEEP FRAME
$703
AXS-25-26-GG
AXS-25-26 WITH GASKET AND GUIDE KIT
$790
AXS-25-GG
AXS-25 WITH GASKET AND GUIDE KIT
$746
AXS-26
26 SPACE EQUIPMENT ACCESS SYSTEM, 48 1/2" EXTENSION, 20" DEEP FRAME
$657
AXS-26-26
26 SPACE EQUIPMENT ACCESS SYSTEM, 48 1/2" EXTENSION, 26" DEEP FRAME
$703
AXS-26-26-GG
AXS-26-26 WITH GASKET AND GUIDE KIT
$790
AXS-26-GG
AXS-26 WITH GASKET AND GUIDE KIT
$746
AXS-27
27 SPACE EQUIPMENT ACCESS SYSTEM, 48 1/2" EXTENSION, 20" DEEP FRAME
$657
AXS-27-26
27 SPACE EQUIPMENT ACCESS SYSTEM, 48 1/2" EXTENSION, 26" DEEP FRAME
$703
AXS-27-26-GG
AXS-27-26 WITH GASKET AND GUIDE KIT
$790
AXS-27-GG
AXS-27 WITH GASKET AND GUIDE KIT
$746
AXS-28
28 SPACE EQUIPMENT ACCESS SYSTEM, 48 1/2" EXTENSION, 20" DEEP FRAME
$657
AXS-28-26
28 SPACE EQUIPMENT ACCESS SYSTEM, 48 1/2" EXTENSION, 26" DEEP FRAME
$703
AXS-28-26-GG
AXS-28-26 WITH GASKET AND GUIDE KIT
$790
AXS-28-GG
AXS-28 WITH GASKET AND GUIDE KIT
$746
AXS-29
29 SPACE EQUIPMENT ACCESS SYSTEM, 48 1/2" EXTENSION, 20" DEEP FRAME
$657
AXS-29-26
29 SPACE EQUIPMENT ACCESS SYSTEM, 48 1/2" EXTENSION, 26" DEEP FRAME
$703
AXS-29-26-GG
AXS-29-26 WITH GASKET AND GUIDE KIT
$790
AXS-29-GG
AXS-29 WITH GASKET AND GUIDE KIT
$746
AXS-30
30 SPACE EQUIPMENT ACCESS SYSTEM, 48 1/2" EXTENSION, 20" DEEP FRAME
$657
AXS-30-26
30 SPACE EQUIPMENT ACCESS SYSTEM, 48 1/2" EXTENSION, 26" DEEP FRAME
$703
AXS-30-26-GG
AXS-30-26 WITH GASKET AND GUIDE KIT
$790
AXS-30-GG
AXS-30 WITH GASKET AND GUIDE KIT
$746
AXS-31
31 SPACE EQUIPMENT ACCESS SYSTEM, 48 1/2" EXTENSION, 20" DEEP FRAME
$657
AXS-31-26
31 SPACE EQUIPMENT ACCESS SYSTEM, 48 1/2" EXTENSION, 26" DEEP FRAME
$703
AXS-31-26-GG
AXS-31-26 WITH GASKET AND GUIDE KIT
$790
AXS-31-GG
AXS-31 WITH GASKET AND GUIDE KIT
$746
AXS-32
32 SPACE EQUIPMENT ACCESS SYSTEM, 48 1/2" EXTENSION, 20" DEEP FRAME
$657
AXS-32-26
32 SPACE EQUIPMENT ACCESS SYSTEM, 48 1/2" EXTENSION, 26" DEEP FRAME
$703
AXS-32-26-GG
AXS-32-26 WITH GASKET AND GUIDE KIT
$790
AXS-32-GG
AXS-32 WITH GASKET AND GUIDE KIT
$746
AXS-33
33 SPACE EQUIPMENT ACCESS SYSTEM, 48 1/2" EXTENSION, 20" DEEP FRAME
$657
AXS-33-26
33 SPACE EQUIPMENT ACCESS SYSTEM, 48 1/2" EXTENSION, 26" DEEP FRAME
$703
AXS-33-26-GG
AXS-33-26 WITH GASKET AND GUIDE KIT
$790
AXS-33-GG
AXS-33 WITH GASKET AND GUIDE KIT
$746
AXS-34
34 SPACE EQUIPMENT ACCESS SYSTEM, 48 1/2" EXTENSION, 20" DEEP FRAME
$657
AXS-34-26
34 SPACE EQUIPMENT ACCESS SYSTEM, 48 1/2" EXTENSION, 26" DEEP FRAME
$703
AXS-34-26-GG
AXS-34-26 WITH GASKET AND GUIDE KIT
$790
AXS-34-GG
AXS-34 WITH GASKET AND GUIDE KIT
$746
AXS-35
35 SPACE EQUIPMENT ACCESS SYSTEM, 48 1/2" EXTENSION, 20" DEEP FRAME
$657
AXS-35-26
35 SPACE EQUIPMENT ACCESS SYSTEM, 48 1/2" EXTENSION, 26" DEEP FRAME
$703
AXS-35-26-GG
AXS-35-26 WITH GASKET AND GUIDE KIT
$790
AXS-35-GG
AXS-35 WITH GASKET AND GUIDE KIT
$746
AXS-36
36 SPACE EQUIPMENT ACCESS SYSTEM, 48 1/2" EXTENSION, 20" DEEP FRAME
$657
AXS-36-26
36 SPACE EQUIPMENT ACCESS SYSTEM, 48 1/2" EXTENSION, 26" DEEP FRAME
$703
AXS-36-26-GG
AXS-36-26 WITH GASKET AND GUIDE KIT
$790
AXS-36-GG
AXS-36 WITH GASKET AND GUIDE KIT
$746
AXS-37
37 SPACE EQUIPMENT ACCESS SYSTEM, 48 1/2" EXTENSION, 20" DEEP FRAME
$657
AXS-37-26
37 SPACE EQUIPMENT ACCESS SYSTEM, 48 1/2" EXTENSION, 26" DEEP FRAME
$703
AXS-37-26-GG
AXS-37-26 WITH GASKET AND GUIDE KIT
$790
AXS-37-GG
AXS-37 WITH GASKET AND GUIDE KIT
$746
AXS-38
38 SPACE EQUIPMENT ACCESS SYSTEM, 48 1/2" EXTENSION, 20" DEEP FRAME
$657
AXS-38-26
38 SPACE EQUIPMENT ACCESS SYSTEM, 48 1/2" EXTENSION, 26" DEEP FRAME
$703
AXS-38-26-GG
AXS-38-26 WITH GASKET AND GUIDE KIT
$790
AXS-38-GG
AXS-38 WITH GASKET AND GUIDE KIT
$746
AXS-39
39 SPACE EQUIPMENT ACCESS SYSTEM, 48 1/2" EXTENSION, 20" DEEP FRAME
$657
AXS-39-26
39 SPACE EQUIPMENT ACCESS SYSTEM, 48 1/2" EXTENSION, 26" DEEP FRAME
$703
AXS-39-26-GG
AXS-39-26 WITH GASKET AND GUIDE KIT
$790
AXS-39-GG
AXS-39 WITH GASKET AND GUIDE KIT
$746
AXS-40
40 SPACE EQUIPMENT ACCESS SYSTEM, 48 1/2" EXTENSION, 20" DEEP FRAME
$657
AXS-40-26
40 SPACE EQUIPMENT ACCESS SYSTEM, 48 1/2" EXTENSION, 26" DEEP FRAME
$703
AXS-40-26-GG
AXS-40-26 WITH GASKET AND GUIDE KIT
$790
AXS-40-GG
AXS-40 WITH GASKET AND GUIDE KIT
$746
AXS-41
41 SPACE EQUIPMENT ACCESS SYSTEM, 48 1/2" EXTENSION, 20" DEEP FRAME
$657
AXS-41-26
41 SPACE EQUIPMENT ACCESS SYSTEM, 48 1/2" EXTENSION, 26" DEEP FRAME
$703
AXS-41-26-GG
AXS-41-26 WITH GASKET AND GUIDE KIT
$790
AXS-41-GG
AXS-41 WITH GASKET AND GUIDE KIT
$746
AXS-42
42 SPACE EQUIPMENT ACCESS SYSTEM, 48 1/2" EXTENSION, 20" DEEP FRAME
$657
AXS-42-26
42 SPACE EQUIPMENT ACCESS SYSTEM, 48 1/2" EXTENSION, 26" DEEP FRAME
$703
AXS-42-26-GG
AXS-42-26 WITH GASKET AND GUIDE KIT
$790
AXS-42-GG
AXS-42 WITH GASKET AND GUIDE KIT
$746
AXS-43
43 SPACE EQUIPMENT ACCESS SYSTEM, 48 1/2" EXTENSION, 20" DEEP FRAME
$657
AXS-43-26
43 SPACE EQUIPMENT ACCESS SYSTEM, 48 1/2" EXTENSION, 26" DEEP FRAME
$703
AXS-43-26-GG
AXS-43-26 WITH GASKET AND GUIDE KIT
$790
AXS-43-GG
AXS-43 WITH GASKET AND GUIDE KIT
$746
AXS-CATRIM
SILVER BRUSHED FINISH TRIM PANEL FOR AXS/AX-SX/SAX/SSAX SERIES ENCLOSURES
$52
AXS-FAN
4 1/2" LOW-PROFILE FAN FOR AXS SERIES, 57 CFM (120 VAC) CORD AND HARDWARE INCLUDED
$54
AXS-FAN-119
4 1/2" LOW-PROFILE FAN FOR AXS SERIES, 57 CFM (220 VAC) CORD AND HARDWARE INCLUDED
$54
AXS-FAN-K
2 QTY 4 1/2" LOW-PROFILE FANS FOR AXS SERIES, 114 CFM TOTAL (120 VAC) CORD AND HARDWARE INCLUDED
$105
AXS-GG16
AXS GASKET AND GUIDE KIT FOR SAX/SSAX, REQUIRES 19 5/8" ROUGH OPENING
$121
AXS-GG20
AXS GASKET AND GUIDE KIT FOR AXS/AX-SX/AX-SXR, REQUIRES 19 5/8" ROUGH OPENING
$121
AXS-GG26
AXS GASKET AND GUIDE KIT FOR AXS-26" DEEP, REQUIRES 19 5/8" ROUGH OPENING
$121
AXS-TEXTRIM
LOCKING TRIM PANEL FOR AXS, TEXTURED FINISH
$48
AXS-WT25
AXS CABLE MANAGEMENT TRAY FOR USE WITH TRACK25
$48
AXS-WT50
AXS CABLE MANAGEMENT TRAY FOR USE WITH TRACK50
$58
AX-SX-10
10 SP EQUIPMENT ACCESS SYSTEM, 25" EXTENSION, 20" DEEP FRAME
$657
AX-SX-10-GG
AX-SX-10 WITH GASKET AND GUIDE KIT
$746
AX-SX-11
11 SP EQUIPMENT ACCESS SYSTEM, 25" EXTENSION, 20" DEEP FRAME
$657
AX-SX-11-GG
AX-SX-11 WITH GASKET AND GUIDE KIT
$746
AX-SX-12
12 SP EQUIPMENT ACCESS SYSTEM, 25" EXTENSION, 20" DEEP FRAME
$657
AX-SX-12-GG
AX-SX-12 WITH GASKET AND GUIDE KIT
$746
AX-SX-13
13 SP EQUIPMENT ACCESS SYSTEM, 25" EXTENSION, 20" DEEP FRAME
$657
AX-SX-13-GG
AX-SX-13 WITH GASKET AND GUIDE KIT
$746
AX-SX-14
14 SP EQUIPMENT ACCESS SYSTEM, 25" EXTENSION, 20" DEEP FRAME
$657
AX-SX-14-GG
AX-SX-14 WITH GASKET AND GUIDE KIT
$746
AX-SX-15
15 SP EQUIPMENT ACCESS SYSTEM, 25" EXTENSION, 20" DEEP FRAME
$657
AX-SX-15-GG
AX-SX-15 WITH GASKET AND GUIDE KIT
$746
AX-SX-16
16 SP EQUIPMENT ACCESS SYSTEM, 25" EXTENSION, 20" DEEP FRAME
$657
AX-SX-16-GG
AX-SX-16 WITH GASKET AND GUIDE KIT
$746
AX-SX-17
17 SP EQUIPMENT ACCESS SYSTEM, 25" EXTENSION, 20" DEEP FRAME
$657
AX-SX-17-GG
AX-SX-17 WITH GASKET AND GUIDE KIT
$746
AX-SX-18
18 SP EQUIPMENT ACCESS SYSTEM, 25" EXTENSION, 20" DEEP FRAME
$657
AX-SX-18-GG
AX-SX-18 WITH GASKET AND GUIDE KIT
$746
AX-SX-19
19 SP EQUIPMENT ACCESS SYSTEM, 25" EXTENSION, 20" DEEP FRAME
$657
AX-SX-19-GG
AX-SX-19 WITH GASKET AND GUIDE KIT
$746
AX-SX-20
20 SP EQUIPMENT ACCESS SYSTEM, 25" EXTENSION, 20" DEEP FRAME
$657
AX-SX-20-GG
AX-SX-20 WITH GASKET AND GUIDE KIT
$746
AX-SX-21
21 SP EQUIPMENT ACCESS SYSTEM, 25" EXTENSION, 20" DEEP FRAME
$657
AX-SX-21-GG
AX-SX-21 WITH GASKET AND GUIDE KIT
$746
AX-SX-22
22 SP EQUIPMENT ACCESS SYSTEM, 25" EXTENSION, 20" DEEP FRAME
$657
AX-SX-22-GG
AX-SX-22 WITH GASKET AND GUIDE KIT
$746
AX-SX-23
23 SP EQUIPMENT ACCESS SYSTEM, 25" EXTENSION, 20" DEEP FRAME
$657
AX-SX-23-GG
AX-SX-23 WITH GASKET AND GUIDE KIT
$746
AX-SX-24
24 SP EQUIPMENT ACCESS SYSTEM, 25" EXTENSION, 20" DEEP FRAME
$657
AX-SX-24-GG
AX-SX-24 WITH GASKET AND GUIDE KIT
$746
AX-SX-25
25 SP EQUIPMENT ACCESS SYSTEM, 25" EXTENSION, 20" DEEP FRAME
$657
AX-SX-25-GG
AX-SX-25 WITH GASKET AND GUIDE KIT
$746
AX-SX-26
26 SP EQUIPMENT ACCESS SYSTEM, 25" EXTENSION, 20" DEEP FRAME
$657
AX-SX-26-GG
AX-SX-26 WITH GASKET AND GUIDE KIT
$746
AX-SX-27
27 SP EQUIPMENT ACCESS SYSTEM, 25" EXTENSION, 20" DEEP FRAME
$657
AX-SX-27-GG
AX-SX-27 WITH GASKET AND GUIDE KIT
$746
AX-SX-28
28 SP EQUIPMENT ACCESS SYSTEM, 25" EXTENSION, 20" DEEP FRAME
$657
AX-SX-28-GG
AX-SX-28 WITH GASKET AND GUIDE KIT
$746
AX-SX-29
29 SP EQUIPMENT ACCESS SYSTEM, 25" EXTENSION, 20" DEEP FRAME
$657
AX-SX-29-GG
AX-SX-29 WITH GASKET AND GUIDE KIT
$746
AX-SX-30
30 SP EQUIPMENT ACCESS SYSTEM, 25" EXTENSION, 20" DEEP FRAME
$657
AX-SX-30-GG
AX-SX-30 WITH GASKET AND GUIDE KIT
$746
AX-SX-31
31 SP EQUIPMENT ACCESS SYSTEM, 25" EXTENSION, 20" DEEP FRAME
$657
AX-SX-31-GG
AX-SX-31 WITH GASKET AND GUIDE KIT
$746
AX-SX-32
32 SP EQUIPMENT ACCESS SYSTEM, 25" EXTENSION, 20" DEEP FRAME
$657
AX-SX-32-GG
AX-SX-32 WITH GASKET AND GUIDE KIT
$746
AX-SX-33
33 SP EQUIPMENT ACCESS SYSTEM, 25" EXTENSION, 20" DEEP FRAME
$657
AX-SX-33-GG
AX-SX-33 WITH GASKET AND GUIDE KIT
$746
AX-SX-34
34 SP EQUIPMENT ACCESS SYSTEM, 25" EXTENSION, 20" DEEP FRAME
$657
AX-SX-34-GG
AX-SX-34 WITH GASKET AND GUIDE KIT
$746
AX-SX-35
35 SP EQUIPMENT ACCESS SYSTEM, 25" EXTENSION, 20" DEEP FRAME
$657
AX-SX-35-GG
AX-SX-35 WITH GASKET AND GUIDE KIT
$746
AX-SX-36
36 SP EQUIPMENT ACCESS SYSTEM, 25" EXTENSION, 20" DEEP FRAME
$657
AX-SX-36-GG
AX-SX-36 WITH GASKET AND GUIDE KIT
$746
AX-SX-37
37 SP EQUIPMENT ACCESS SYSTEM, 25" EXTENSION, 20" DEEP FRAME
$657
AX-SX-37-GG
AX-SX-37 WITH GASKET AND GUIDE KIT
$746
AX-SX-38
38 SP EQUIPMENT ACCESS SYSTEM, 25" EXTENSION, 20" DEEP FRAME
$657
AX-SX-38-GG
AX-SX-38 WITH GASKET AND GUIDE KIT
$746
AX-SX-39
39 SP EQUIPMENT ACCESS SYSTEM, 25" EXTENSION, 20" DEEP FRAME
$657
AX-SX-39-GG
AX-SX-39 WITH GASKET AND GUIDE KIT
$746
AX-SX-40
40 SP EQUIPMENT ACCESS SYSTEM, 25" EXTENSION, 20" DEEP FRAME
$657
AX-SX-40-GG
AX-SX-40 WITH GASKET AND GUIDE KIT
$746
AX-SX-41
41 SP EQUIPMENT ACCESS SYSTEM, 25" EXTENSION, 20" DEEP FRAME
$657
AX-SX-41-GG
AX-SX-41 WITH GASKET AND GUIDE KIT
$746
AX-SX-42
42 SP EQUIPMENT ACCESS SYSTEM, 25" EXTENSION, 20" DEEP FRAME
$657
AX-SX-42-GG
AX-SX-42 WITH GASKET AND GUIDE KIT
$746
AX-SX-43
43 SP EQUIPMENT ACCESS SYSTEM, 25" EXTENSION, 20" DEEP FRAME
$657
AX-SX-43-GG
AX-SX-43 WITH GASKET AND GUIDE KIT
$746
AX-SXR-15
15 SPACE ROTATING EQUIPMENT ACCESS SYSTEM, 31" EXTENSION, 20" DEEP FRAME
$795
AX-SXR-15-GG
AX-SXR-15 WITH GASKET AND GUIDE KIT
$879
AX-SXR-16
16 SPACE ROTATING EQUIPMENT ACCESS SYSTEM, 31" EXTENSION, 20" DEEP FRAME
$795
AX-SXR-16-GG
AX-SXR-16 WITH GASKET AND GUIDE KIT
$879
AX-SXR-17
17 SPACE ROTATING EQUIPMENT ACCESS SYSTEM, 31" EXTENSION, 20" DEEP FRAME
$795
AX-SXR-17-GG
AX-SXR-17 WITH GASKET AND GUIDE KIT
$879
AX-SXR-18
18 SPACE ROTATING EQUIPMENT ACCESS SYSTEM, 31" EXTENSION, 20" DEEP FRAME
$795
AX-SXR-18-GG
AX-SXR-18 WITH GASKET AND GUIDE KIT
$879
AX-SXR-19
19 SPACE ROTATING EQUIPMENT ACCESS SYSTEM, 31" EXTENSION, 20" DEEP FRAME
$795
AX-SXR-19-GG
AX-SXR-19 WITH GASKET AND GUIDE KIT
$879
AX-SXR-20
20 SPACE ROTATING EQUIPMENT ACCESS SYSTEM, 31" EXTENSION, 20" DEEP FRAME
$795
AX-SXR-20-GG
AX-SXR-20 WITH GASKET AND GUIDE KIT
$879
AX-SXR-21
21 SPACE ROTATING EQUIPMENT ACCESS SYSTEM, 31" EXTENSION, 20" DEEP FRAME
$795
AX-SXR-21-GG
AX-SXR-21 WITH GASKET AND GUIDE KIT
$879
AX-SXR-22
22 SPACE ROTATING EQUIPMENT ACCESS SYSTEM, 31" EXTENSION, 20" DEEP FRAME
$795
AX-SXR-22-GG
AX-SXR-22 WITH GASKET AND GUIDE KIT
$879
AX-SXR-23
23 SPACE ROTATING EQUIPMENT ACCESS SYSTEM, 31" EXTENSION, 20" DEEP FRAME
$795
AX-SXR-23-GG
AX-SXR-23 WITH GASKET AND GUIDE KIT
$879
AX-SXR-24
24 SPACE ROTATING EQUIPMENT ACCESS SYSTEM, 31" EXTENSION, 20" DEEP FRAME
$795
AX-SXR-24-GG
AX-SXR-24 WITH GASKET AND GUIDE KIT
$879
AX-SXR-25
25 SPACE ROTATING EQUIPMENT ACCESS SYSTEM, 31" EXTENSION, 20" DEEP FRAME
$795
AX-SXR-25-GG
AX-SXR-25 WITH GASKET AND GUIDE KIT
$879
AX-SXR-26
26 SPACE ROTATING EQUIPMENT ACCESS SYSTEM, 31" EXTENSION, 20" DEEP FRAME
$795
AX-SXR-26-GG
AX-SXR-26 WITH GASKET AND GUIDE KIT
$879
AX-SXR-27
27 SPACE ROTATING EQUIPMENT ACCESS SYSTEM, 31" EXTENSION, 20" DEEP FRAME
$795
AX-SXR-27-GG
AX-SXR-27 WITH GASKET AND GUIDE KIT
$879
AX-SXR-28
28 SPACE ROTATING EQUIPMENT ACCESS SYSTEM, 31" EXTENSION, 20" DEEP FRAME
$795
AX-SXR-28-GG
AX-SXR-28 WITH GASKET AND GUIDE KIT
$879
AX-SXR-29
29 SPACE ROTATING EQUIPMENT ACCESS SYSTEM, 31" EXTENSION, 20" DEEP FRAME
$795
AX-SXR-29-GG
AX-SXR-29 WITH GASKET AND GUIDE KIT
$879
AX-SXR-30
30 SPACE ROTATING EQUIPMENT ACCESS SYSTEM, 31" EXTENSION, 20" DEEP FRAME
$795
AX-SXR-30-GG
AX-SXR-30 WITH GASKET AND GUIDE KIT
$879
AX-SXR-31
31 SPACE ROTATING EQUIPMENT ACCESS SYSTEM, 31" EXTENSION, 20" DEEP FRAME
$795
AX-SXR-31-GG
AX-SXR-31 WITH GASKET AND GUIDE KIT
$879
AX-SXR-32
32 SPACE ROTATING EQUIPMENT ACCESS SYSTEM, 31" EXTENSION, 20" DEEP FRAME
$795
AX-SXR-32-GG
AX-SXR-32 WITH GASKET AND GUIDE KIT
$879
AX-SXR-33
33 SPACE ROTATING EQUIPMENT ACCESS SYSTEM, 31" EXTENSION, 20" DEEP FRAME
$795
AX-SXR-33-GG
AX-SXR-33 WITH GASKET AND GUIDE KIT
$879
AX-SXR-34
34 SPACE ROTATING EQUIPMENT ACCESS SYSTEM, 31" EXTENSION, 20" DEEP FRAME
$795
AX-SXR-34-GG
AX-SXR-34 WITH GASKET AND GUIDE KIT
$879
AX-SXR-35
35 SPACE ROTATING EQUIPMENT ACCESS SYSTEM, 31" EXTENSION, 20" DEEP FRAME
$795
AX-SXR-35-GG
AX-SXR-35 WITH GASKET AND GUIDE KIT
$879
AX-SXR-36
36 SPACE ROTATING EQUIPMENT ACCESS SYSTEM, 31" EXTENSION, 20" DEEP FRAME
$795
AX-SXR-36-GG
AX-SXR-36 WITH GASKET AND GUIDE KIT
$879
AX-SXR-37
37 SPACE ROTATING EQUIPMENT ACCESS SYSTEM, 31" EXTENSION, 20" DEEP FRAME
$795
AX-SXR-37-GG
AX-SXR-37 WITH GASKET AND GUIDE KIT
$879
AX-SXR-38
38 SPACE ROTATING EQUIPMENT ACCESS SYSTEM, 31" EXTENSION, 20" DEEP FRAME
$795
AX-SXR-38-GG
AX-SXR-38 WITH GASKET AND GUIDE KIT
$879
AX-SXR-39
39 SPACE ROTATING EQUIPMENT ACCESS SYSTEM, 31" EXTENSION, 20" DEEP FRAME
$795
AX-SXR-39-GG
AX-SXR-39 WITH GASKET AND GUIDE KIT
$879
AX-SXR-40
40 SPACE ROTATING EQUIPMENT ACCESS SYSTEM, 31" EXTENSION, 20" DEEP FRAME
$795
AX-SXR-40-GG
AX-SXR-40 WITH GASKET AND GUIDE KIT
$879
AX-SXR-41
41 SPACE ROTATING EQUIPMENT ACCESS SYSTEM, 31" EXTENSION, 20" DEEP FRAME
$795
AX-SXR-41-GG
AX-SXR-41 WITH GASKET AND GUIDE KIT
$879
AX-SXR-42
42 SPACE ROTATING EQUIPMENT ACCESS SYSTEM, 31" EXTENSION, 20" DEEP FRAME
$795
AX-SXR-42-GG
AX-SXR-42 WITH GASKET AND GUIDE KIT
$879
AX-SXR-43
43 SPACE ROTATING EQUIPMENT ACCESS SYSTEM, 31" EXTENSION, 20" DEEP FRAME
$795
AX-SXR-43-GG
AX-SXR-43 WITH GASKET AND GUIDE KIT
$879
AX-SXR-CATRIM
SILVER BRUSHED FINISH TRIM PANEL FOR AX-SXR SERIES ENCLOSURES
$53
BANA2
UCP MODULE, FOR DUAL BANANA JACK RECEPTACLES REQUIRING A 1/2" HOLE, FITS 2 CONNECTORS
$14
BANA4
UCP MODULE, FOR DUAL BANANA JACK RECEPTACLES REQUIRING A 1/2" HOLE, FITS 4 CONNECTORS
$14
BANA6
UCP MODULE, FOR DUAL BANANA JACK RECEPTACLES REQUIRING A 1/2" HOLE, FITS 6 CONNECTORS
$14
BB-12
SOLID COPPER BUSS BAR, 12 SPACE (21") FLAT, THREADED 10-32
$65
BB-40
SOLID COPPER BUSS BAR, 40 SPACE (70") FLAT, THREADED 10-32
$140
BB-44-1
SOLID COPPER BUSS BAR, 44 SPACE (77") FLAT, THREADED 10-32, 1" WIDE
$129
BG17
GASKET FOR AXS/AX-SX/SAX/SSAX/SRSR/SRS, 17' LONG, REQUIRES 19 5/8" ROUGH OPENING
$19
BL1
1 SPACE (1 3/4") FLANGED ALUMINUM BLANK PANEL, BLACK BRUSHED FINISH
$16
BL2
2 SPACE (3 1/2") FLANGED ALUMINUM BLANK PANEL, BLACK BRUSHED FINISH
$18
BL3
3 SPACE (5 1/4") FLANGED ALUMINUM BLANK PANEL, BLACK BRUSHED FINISH
$23
BL4
4 SPACE (7") FLANGED ALUMINUM BLANK PANEL, BLACK BRUSHED FINISH
$28
BMF-FAN10
10" FAN, 825 CFM (120 VAC) CORD AND HARDWARE INCLUDED
$190
BR1
1 SPACE (1 3/4") BRUSH GROMMET PANEL
$43
BR2
2 SPACE (3 1/2") BRUSH GROMMET PANEL
$55
BRK10
10 SPACE (17 1/2"), 18" DEEP BLACK MELAMINE RACK
$129
BRK12
12 SPACE (21"), 18" DEEP BLACK MELAMINE RACK
$120
BRK12-22
12 SPACE (21"), 22" DEEP BLACK MELAMINE RACK
$122
BRK12-28
12 SPACE (21"), 28" DEEP BLACK MELAMINE RACK
$158
BRK14
14 SPACE (24 1/2"), 18" DEEP BLACK MELAMINE RACK
$122
BRK16
16 SPACE (28"), 18" DEEP BLACK MELAMINE RACK
$126
BRK16-22
16 SPACE (28"), 22" DEEP BLACK MELAMINE RACK
$132
BRK16-28
16 SPACE (28"), 28" DEEP BLACK MELAMINE RACK
$166
BRK20
20 SPACE (35"), 18" DEEP BLACK MELAMINE RACK
$141
BRK20-22
20 SPACE (35"), 22" DEEP BLACK MELAMINE RACK
$149
BRK20-28
20 SPACE (35"), 28" DEEP BLACK MELAMINE RACK
$203
BRK28-22
28 SPACE (49"), 22" DEEP BLACK MELAMINE RACK
$200
BRK28-28
28 SPACE (49"), 28" DEEP BLACK MELAMINE RACK
$249
BRK6
6 SPACE (10 1/2"), 18" DEEP BLACK MELAMINE RACK
$118
BRK8
8 SPACE (14"), 18" DEEP BLACK MELAMINE RACK
$125
BRK8-22
8 SPACE (14"), 22" DEEP BLACK MELAMINE RACK
$128
BS-MRK-26
INNER PLATFORM BASE FOR 26" DEEP MRK'S
$76
BS-MRK-31
INNER PLATFORM BASE FOR 31" DEEP MRK'S
$84
BS-MRK-36
INNER PLATFORM BASE FOR 36" DEEP MRK'S
$112
BS-MRK-42
INNER PLATFORM BASE FOR 42" DEEP MRK'S
$132
BS-WRK-27
INNER PLATFORM BASE FOR 27" DEEP WRK'S
$85
BS-WRK-32
INNER PLATFORM BASE FOR 32" DEEP WRK'S
$99
-C
CLAMP KIT FOR RSH CUSTOM RACKSHELF
$20
CAB-COOL
QUIET-COOL SERIES� CABINET COOLER, FOR USE IN SMALLER CABINETS, 20 CFM, 120V
$113
CANARE4
UCP MODULE, FOR BNC RECESSED CANARE PANEL PUNCHOUTS, REGULAR AND FEED-THROUGH TYPES, FITS 4 CONNECTORS
$14
CAP5
5 SPACE (8 3/4") CAPTIVATOR SHELF, READY-TO-ASSEMBLE CONSTRUCTION
$79
CAP6
6 SPACE (10 1/2") CAPTIVATOR SHELF, READY-TO-ASSEMBLE CONSTRUCTION
$85
CAP7
7 SPACE (12 1/4") CAPTIVATOR SHELF, READY-TO-ASSEMBLE CONSTRUCTION
$92
CAP8
8 SPACE (14") CAPTIVATOR SHELF, READY-TO-ASSEMBLE CONSTRUCTION
$98
CBS-5
SKIRTED WHEELBASE, FITS THE 20" DEEP SLIM 5 SERIES, INCLUDES CASTERS
$133
CBS-5-26
SKIRTED WHEELBASE, FITS THE 26" DEEP SLIM 5 SERIES, INCLUDES CASTERS
$143
CBS-5-26R
SKIRTED WHEELBASE, FITS THE 26" DEEP SLIM 5 SERIES, INCLUDES FINE FLOOR CASTERS
$164
CBS-5R
SKIRTED WHEELBASE, FITS THE 20" DEEP SLIM 5 SERIES, INCLUDES FINE FLOOR CASTERS
$156
CBS-DRK-31
SKIRTED WHEELBASE, FITS 31" DEEP DRK'S, INCLUDES CASTERS
$162
CBS-DRK-36
SKIRTED WHEELBASE, FITS 36" DEEP DRK'S, INCLUDES CASTERS
$181
CBS-ERK-20
SKIRTED WHEELBASE, FITS 20" DEEP ERK'S, INCLUDES CASTERS
$133
CBS-ERK-20R
SKIRTED WHEELBASE, FITS 20" DEEP ERK'S, INCLUDES FINE FLOOR CASTERS
$156
CBS-ERK-25
SKIRTED WHEELBASE, FITS 25" DEEP ERK'S, INCLUDES CASTERS
$143
CBS-ERK-25R
SKIRTED WHEELBASE, FITS 25" DEEP ERK'S, INCLUDES FINE FLOOR CASTERS
$164
CBS-MRK-26
SKIRTED WHEELBASE, FITS 26" DEEP MRK'S, INCLUDES CASTERS
$134
CBS-MRK-26R
SKIRTED WHEELBASE, FITS 26" DEEP MRK'S, INCLUDES FINE FLOOR CASTERS
$178
CBS-MRK-31
SKIRTED WHEELBASE, FITS 31" DEEP MRK'S, INCLUDES CASTERS
$133
CBS-MRK-31R
SKIRTED WHEELBASE, FITS 31" DEEP MRK'S, INCLUDES FINE FLOOR CASTERS
$194
CBS-MRK-36
SKIRTED WHEELBASE, FITS 36" DEEP MRK'S, INCLUDES CASTERS
$152
CBS-MRK-36R
SKIRTED WHEELBASE, FITS 36" DEEP MRK'S, INCLUDES FINE FLOOR CASTERS
$214
CBS-WMRK-36
SKIRTED WHEELBASE, FITS 36" DEEP WMRK'S, INCLUDES CASTERS AND LEVELING FEET
$214
CBS-WMRK-42
SKIRTED WHEELBASE, FITS 42" DEEP WMRK'S, INCLUDES CASTERS AND LEVELING FEET
$228
CBS-WMRK-48
SKIRTED WHEELBASE, FITS 48" DEEP WMRK'S, INCLUDES CASTERS AND LEVELING FEET
$240
CBS-WRK-27
SKIRTED WHEELBASE, FITS 27" DEEP WRK'S, INCLUDES CASTERS
$122
CBS-WRK-27R
SKIRTED WHEELBASE, FITS 27" DEEP WRK'S, INCLUDES FINE FLOOR CASTERS
$178
CBS-WRK-32
SKIRTED WHEELBASE, FITS 32" DEEP WRK'S, INCLUDES CASTERS
$137
CBS-WRK-32R
SKIRTED WHEELBASE, FITS 32" DEEP WRK'S, INCLUDES FINE FLOOR CASTERS
$194
CC-44-267
4" WIDE CABLE CHASE KIT FITS WRK-44-27 & MRK-4426
$137
CC-44-312
4" WIDE CABLE CHASE KIT FITS WRK-44-32, MRK-4431 & VRK-44-31H
$143
CC-44-36
4" WIDE CABLE CHASE KIT FITS MRK-44-36 & VRK-44-36H
$148
CC-44-423
4" WIDE CABLE CHASE KIT FITS MRK-44-42
$157
CCD
CD HOLDER, 4 SPACE (7"), SILVER BRUSHED FINISH
$102
CCD-1
CD JEWEL CASE HOLDER, 1 SPACE (1 3/4"), SILVER BRUSHED FINISH
$49
CD
CD HOLDER, BLACK BRUSHED FINISH
$102
CD-1
CD JEWEL CASE HOLDER, 1 SPACE (1 3/4"), BLACK BRUSHED FINISH
$49
CDVD
DVD HOLDER, 5 SPACE (8 3/4"), SILVER BRUSHED FINISH
$126
CFACE10
SILVER BRUSHED CUSTOM FACEPLATE, 10 SPACE, SPECIFY UNIT TO MOUNT
$95
CFACE11
SILVER BRUSHED CUSTOM FACEPLATE, 11 SPACE, SPECIFY UNIT TO MOUNT
$95
CFACE12
SILVER BRUSHED CUSTOM FACEPLATE, 12 SPACE, SPECIFY UNIT TO MOUNT
$95
CFACE2
SILVER BRUSHED CUSTOM FACEPLATE, 2 SPACE, SPECIFY UNIT TO MOUNT
$79
CFACE3
SILVER BRUSHED CUSTOM FACEPLATE, 3 SPACE, SPECIFY UNIT TO MOUNT
$79
CFACE4
SILVER BRUSHED CUSTOM FACEPLATE, 4 SPACE, SPECIFY UNIT TO MOUNT
$79
CFACE5
SILVER BRUSHED CUSTOM FACEPLATE, 5 SPACE, SPECIFY UNIT TO MOUNT
$79
CFACE6
SILVER BRUSHED CUSTOM FACEPLATE, 6 SPACE, SPECIFY UNIT TO MOUNT
$95
CFACE7
SILVER BRUSHED CUSTOM FACEPLATE, 7 SPACE, SPECIFY UNIT TO MOUNT
$95
CFACE8
SILVER BRUSHED CUSTOM FACEPLATE, 8 SPACE, SPECIFY UNIT TO MOUNT
$95
CFACE9
SILVER BRUSHED CUSTOM FACEPLATE, 9 SPACE, SPECIFY UNIT TO MOUNT
$95
CH1
1 SPACE (1 3/4") CHASSIS, 10" DEEP, BLACK BRUSHED FINISH
$82
CH2
2 SPACE (3 1/2") CHASSIS, 10" DEEP, BLACK BRUSHED FINISH
$95
CH3
3 SPACE (5 1/4") CHASSIS, 10" DEEP, BLACK BRUSHED FINISH
$104
CHP
100 PC. SILVER 10-32 PHILLIPS SCREWS W/ WASHERS
$20
CK-45
45 SPACE CENTER CABLE ORGANIZER FOR 45 SPACE RL OPEN FRAME RACK, BLACK FINISH
$215
CK-45C
CK-45 AND CK-45E CABLE ORGANIZER COVERS FOR 45 SPACE RL OPEN FRAME RACK, 2 PIECES, BLACK FINISH
$67
CK-45E
45 SPACE END CABLE ORGANIZER FOR 45 SPACE RL OPEN FRAME RACK, BLACK FINISH
$215
CLAW
16" WALLMOUNT CABLE HANGER WITH SIDE TRAYS
$16
CLAW14
14" WALLMOUNT CABLE HANGER
$16
CLB-10
CABLE LADDER RUNWAY 12" W x 10' L, BLACK FINISH, 1 PIECE
$103
CLB-10-12
CABLE LADDER RUNWAY 12" W x 10' L, BLACK FINISH, 12 PIECES
$1028
CLB-6
CABLE LADDER RUNWAY 12" W x 6' L, BLACK FINISH, 1 PIECE
$64
CLB-6-12
CABLE LADDER RUNWAY 12" W x 6' L, BLACK FINISH, 12 PIECES
$642
CLB-90HB
12" WIDE, 90 DEGREE HORIZONTAL BEND, BLACK FINISH, 1 PIECE
$118
CLB-90HB-4
12" WIDE, 90 DEGREE HORIZONTAL BEND, BLACK FINISH, 4 PIECES
$394
CLB-CSB
LADDER CENTER SUPPORT BRACKET WITH HARDWARE, BLACK FINISH, 1 PIECE
$31
CLB-CSB-6
LADDER CENTER SUPPORT BRACKET WITH HARDWARE, BLACK FINISH, 6 PIECES
$154
CLB-TSB
TRIANGLE WALL SUPPORT BRACKET WITH HARDWARE, BLACK FINISH, 1 PIECE
$41
CLB-TSB-6
TRIANGLE WALL SUPPORT BRACKET WITH HARDWARE, BLACK FINISH, 6 PIECES
$206
CLB-VI90
12" WIDE, 90 DEGREE VERTICAL INSIDE BEND, BLACK FINISH, 1 PIECE
$98
CLB-VI90-4
12" WIDE, 90 DEGREE VERTICAL INSIDE BEND, BLACK FINISH, 4 PIECES
$325
CLB-VO90
12" WIDE, 90 DEGREE VERTICAL OUTSIDE BEND, BLACK FINISH, 1 PIECE
$98
CLB-VO90-4
12" WIDE, 90 DEGREE VERTICAL OUTSIDE BEND, BLACK FINISH, 4 PIECES
$325
CL-GK
CABLE LADDER BONDING KIT
$23
CLH-5/8CHK
5/8 SLOTTED LADDER SUPPORT HARDWARE WITH CEILING HANG KIT, 1 PAIR
$20
CLH-5/8CHK-6
5/8 SLOTTED LADDER SUPPORT HARDWARE WITH CEILING HANG KIT, 6 PAIRS
$114
CLH-90T
90 DEGREE LADDER TURN HARDWARE, 1 PAIR
$27
CLH-90T-6
90 DEGREE LADDER TURN HARDWARE, 6 PAIRS
$135
CLH-ADJH
ADJUSTABLE HORIZONTAL SPLICE HARDWARE, 1 PAIR
$28
CLH-ADJH-6
ADJUSTABLE HORIZONTAL SPLICE HARDWARE, 6 PAIRS
$142
CLH-ADJT
ADJUSTABLE LADDER TURN HARDWARE, 1 PAIR
$28
CLH-ADJT-6
ADJUSTABLE LADDER TURN HARDWARE, 6 PAIRS
$142
CLH-EC-12
LADDER END CAPS, 12 PCS
$39
CLH-ED11
CABLE LADDER END DROP 11", 1 PC. 3 SPOOLS
$56
CLH-ED11-4
CABLE LADDER END DROP 11", 4 PCS. 12 SPOOLS
$170
CLH-HTS
HORIZONTAL TEE SPLICE HARDWARE, 1 PAIR
$10
CLH-HTS-6
HORIZONTAL TEE SPLICE HARDWARE, 6 PAIRS
$54
CLH-JBOLT
CABLE LADDER 5/16" J-BOLT, ONE PAIR
$4
CLH-RES
LADDER END SUPPORT HARDWARE, 1 PAIR
$28
CLH-RES-6
LADDER END SUPPORT HARDWARE, 6 PAIRS
$142
CLH-RSJ
LADDER STRINGER JUNCTION HARDWARE, 1 PAIR
$9
CLH-RSJ-6
LADDER STRINGER JUNCTION HARDWARE, 6 PAIRS
$51
CLH-RWC
LADDER WALL CLAMP, 1 PAIR
$18
CLH-RWC-6
LADDER WALL CLAMP, 6 PAIRS
$102
CLH-SD8
CABLE LADDER SIDE DROP 8", 1PC. 3 SPOOLS
$56
CLH-SD8-4
CABLE LADDER SIDE DROP 8", 4PCS. 12 SPOOLS
$170
CLH-SPOOL-10
CABLE MANAGEMENT SPOOLS FOR USE WITH CABLE LADDER DROP OR WALL-MOUNT, 10 SPOOLS
$65
CLH-WRS
LADDER WALL SUPPORT HARDWARE, 1 PAIR
$28
CLH-WRS-6
LADDER WALL SUPPORT HARDWARE, 6 PAIRS
$140
CLP
LP/LASER DISC/BINDER HOLDER, 8 SPACE (14"), SILVER BRUSHED FINISH
$171
CLS-COOL1
QUIET-COOL SERIES� CLOSET COOLER, ACTIVE EXHAUST, PASSIVE INTAKE, 50 CFM, 120V
$236
CLS-COOL2
QUIET-COOL SERIES� CLOSET COOLER, ACTIVE EXHAUST AND INTAKE, 50 CFM, 120V
$286
CM-L
CABLE MANAGEMENT KIT FOR EL (84" DESK SYSTEM), INCLUDES 8 CABLE MANAGERS AND 20' SPIRAL CABLE WRAP
$89
CM-S
CABLE MANAGEMENT KIT FOR ES (60" DESK SYSTEM), INCLUDES 4 CABLE MANAGERS AMD 20' SPIRAL CABLE WRAP
$73
CN1032-50
50 PC. 10/32 CAGE NUTS
$31
CN6MM-100
100 PC. 6MM CAGE NUTS
$67
COMBO2
UCP MODULE, FOR COMBO FEMALE/MALE XLR PUNCHOUTS,FITS MIXED GENDERS WITHIN A MODULE, FITS 2 CONNECTORS
$14
COMBO4
UCP MODULE, FOR COMBO FEMALE/MALE XLR PUNCHOUTS,FITS MIXED GENDERS WITHIN A MODULE, FITS 4 CONNECTORS
$14
COMBO6
UCP MODULE, FOR COMBO FEMALE/MALE XLR PUNCHOUTS,FITS MIXED GENDERS WITHIN A MODULE, FITS 6 CONNECTORS
$14
COMP-COOL
QUIET-COOL SERIES� COMPONENT COOLER, FOR COMPONENTS ON OPEN SHELVING, SINGLE PIECE, 8 CFM, 120V
$63
COMP-COOL-3
QUIET-COOL SERIES� COMPONENT COOLER, FOR COMPONENTS ON OPEN SHELVING, THREE PIECES ON A SINGLE POWER SUPPLY, 8 CFM EACH, 120V
$150
COMP-COOL-E
QUIET-COOL SERIES� COMPONENT COOLER, FOR COMPONENTS ON OPEN SHELVING, SINGLE PIECE THAT PIGGYBACKS TO COMP-COOL-3, DOES NOT INCLUDE A POWER SUPPLY, 8 CFM, 120V
$53
CRATE
CRATE ANY ERK, MRK, WRK OR VRK SERIES RACK
$259
CSB
CANTILEVER SUPPORT BASE FOR RL OPEN FRAME RACK, BLACK FINISH
$97
CVHS
VHS TAPE HOLDER, 5 SPACE (8 3/4"), SILVER BRUSHED FINISH
$111
CVHS-L
VHS HOLDER FOR TAPES IN LARGE PADDED CASE, 6 SPACE (10 1/2"), SILVER BRUSHED FINISH
$122
CVTP-1
1 SPACE (1 3/4") VENT, HORIZONTAL SLOTS, SILVER BRUSHED FINISH
$22
CVTP-2
2 SPACE (3 1/2") VENT, HORIZONTAL SLOTS, SILVER BRUSHED FINISH
$24
CVTP-3
3 SPACE (5 1/4") VENT, HORIZONTAL SLOTS, SILVER BRUSHED FINISH
$34
D12-DC
DUAL BAY ( 2 X 12 SPACE) OUTBOARD RACK, LESS DOORS, DARK CHERRY TOP
$1398
D12D-DC
DUAL BAY (2 X 12 SPACE) OUTBOARD RACK, INCLUDES 1 PLEXI FRONT, 1 REAR DOOR WITH FAN/GASKET/FILTER/CABLE MGM'T, DARK CHERRY TOP
$1768
D12D-HM
DUAL BAY (2 X 12 SPACE) OUTBOARD RACK, INCLUDES 1 PLEXI FRONT, 1 REAR DOOR WITH FAN/GASKET/FILTER/CABLE MGM'T, HONEY MAPLE TOP
$1768
D12D-PS
DUAL BAY (2 X 12 SPACE) OUTBOARD RACK, INCLUDES 1 PLEXI FRONT, 1 REAR DOOR WITH FAN/GASKET/FILTER/CABLE MGM'T, PEPPERSTONE TOP
$1768
D12-HM
DUAL BAY ( 2 X 12 SPACE) OUTBOARD RACK, LESS DOORS, HONEY MAPLE TOP
$1398
D12-PS
DUAL BAY ( 2 X 12 SPACE) OUTBOARD RACK, LESS DOORS, PEPPERSTONE TOP
$1398
D12SD-DC
DUAL BAY (2 X 12 SPACE) STRAIGHT TOP RACK, INCLUDES 1 PLEXI FRONT, 1 REAR DOOR WITH FAN/GASKET/FILTER/CABLE MGM'T, DARK CHERRY TOP
$1768
D12SD-HM
DUAL BAY (2 X 12 SPACE) STRAIGHT TOP RACK, INCLUDES 1 PLEXI FRONT, 1 REAR DOOR WITH FAN/GASKET/FILTER/CABLE MGM'T, HONEY MAPLE TOP
$1768
D12SD-PS
DUAL BAY (2 X 12 SPACE) STRAIGHT TOP RACK, INCLUDES 1 PLEXI FRONT, 1 REAR DOOR WITH FAN/GASKET/FILTER/CABLE MGM'T, PEPPERSTONE TOP
$1768
D2
2 SPACE (3 1/2") RACK DRAWER, BLACK BRUSHED FINISH
$124
D2LK
2 SPACE (3 1/2") RACK DRAWER, BLACK BRUSHED FINISH, WITH KEYLOCK
$152
D3
3 SPACE (5 1/4") RACK DRAWER, BLACK BRUSHED FINISH
$139
D3LK
3 SPACE (5 1/4") RACK DRAWER, BLACK BRUSHED FINISH, WITH KEYLOCK
$167
D4
4 SPACE (7") RACK DRAWER, BLACK BRUSHED FINISH
$148
D4LK
4 SPACE (7") RACK DRAWER, BLACK BRUSHED FINISH, WITH KEYLOCK
$177
D5
5 SPACE (8 3/4") RACK DRAWER, BLACK BRUSHED FINISH
$169
D5LK
5 SPACE (8 3/4") RACK DRAWER, BLACK BRUSHED FINISH, WITH KEYLOCK
$188
DANGLE-1-31
PAIR RAISED-FLOOR SUPPORT ANGLES, FOR USE WITH RIB-1-DRK-31
$91
DANGLE-1-3642
PAIR RAISED-FLOOR SUPPORT ANGLES, FOR USE WITH RIB-1-DRK-36/42
$105
DANGLE-2-31
PAIR RAISED-FLOOR SUPPORT ANGLES, FOR USE WITH RIB-2-DRK-31
$103
DANGLE-2-3642
PAIR RAISED-FLOOR SUPPORT ANGLES, FOR USE WITH RIB-2-DRK-36/42
$117
DANGLE-3-31
PAIR RAISED-FLOOR SUPPORT ANGLES, FOR USE WITH RIB-3-DRK-31
$116
DANGLE-3-3642
PAIR RAISED-FLOOR SUPPORT ANGLES, FOR USE WITH RIB-3-DRK-36/42
$129
DARULER
8' (96") RACKSPACE AND INCHES TAPE MEASURE WITH DATA TABLES
$20
DC2
2 SPACE (3 1/2") RACK DRAWER, SILVER BRUSHED FINISH
$124
DC3
3 SPACE (5 1/4") RACK DRAWER, SILVER BRUSHED FINISH
$139
DC4
4 SPACE (7") RACK DRAWER, SILVER BRUSHED FINISH
$148
DCDP
COMPACT DISC DRAWER PARTITION, FITS D4, TD4 OR UD-4
$40
DCFANKIT-4
4 QTY FANS FOR USE WITH MBRK REAR ACCESS PANEL KIT, 100CFM
$96
DCLVRD-44
79% OPEN AREA SPLIT REAR DOOR OPTION FOR 44 SP DRK SERIES RACKS, BLACK FINISH
$396
DCRD-44
SOLID SPLIT REAR DOOR OPTION FOR 44 SP DRK SERIES RACKS, BLACK FINISH
$208
DCS
CONTACT CLOSURE DOOR STATUS SENSOR, MOUNTS TO ANY FRONT/REAR DOOR, 1 PIECE
$14
DCS-10
CONTACT CLOSURE DOOR STATUS SENSOR, MOUNTS TO ANY FRONT/REAR DOOR, 10 PIECES
$95
DECP-1X1
1 SPACE (1 3/4") DECORA PANEL, MOUNTS 1
$23
DECP-1X2
1 SPACE (1 3/4") DECORA PANEL, MOUNTS 2
$23
DECP-1X3
1 SPACE (1 3/4") DECORA PANEL, MOUNTS 3
$24
DECP-1X4
1 SPACE (1 3/4") DECORA PANEL, MOUNTS 4
$24
DFVRD-44
FULLY VENTED REAR DOOR OPTION FOR 44 SP DRK SERIES RACKS, BLACK FINISH
$240
DLBX
DVR LOCKBOX WITH FAN AND FILTER, BLACK FINISH
$263
DLBX-RR5
5 SPACE (8 3/4")RAIL KIT FOR DLBX
$15
DLBX-WM
WALL MOUNT KIT FOR DLBX
$65
DM
NO-SLIP DRAWER MAT, FITS D, DC, TD AND UD SERIES DRAWERS
$9
DO-5-14
SOLID FRONT DOOR, FITS 5-14
$129
DO-5-21
SOLID FRONT DOOR, FITS 5-21
$135
DO-5-29
SOLID FRONT DOOR, FITS 5-29
$166
DO-5-37
SOLID FRONT DOOR, FITS 5-37
$183
DO-5-43
SOLID FRONT DOOR, FITS 5-43
$209
DO-5-8
SOLID FRONT DOOR, FITS 5-8
$120
DOC
DOCUMENT HOLDER FOR INSIDE RACK REAR DOOR, FITS ERK, MRK, WRK, VRK
$28
DOP-5-14
SMOKED PLEXI FRONT DOOR, FITS 5-14
$366
DOP-5-21
SMOKED PLEXI FRONT DOOR, FITS 5-21
$393
DOP-5-29
SMOKED PLEXI FRONT DOOR, FITS 5-29
$457
DOP-5-37
SMOKED PLEXI FRONT DOOR, FITS 5-37
$485
DOP-5-43
SMOKED PLEXI FRONT DOOR, FITS 5-43
$503
DOP-5-8
SMOKED PLEXI FRONT DOOR, FITS 5-8
$339
DPFD-44
PLEXI FRONT DOOR, FITS 44 SPACE DRK SERIES RACKS, BLACK FINISH
$557
D-PT15
15" WIDE PENCIL TRAY FOR LCD MONITORING DESK
$66
D-PT22
22" WIDE PENCIL TRAY FOR LCD MONITORING DESK
$75
DPVFD-44
PLEXI-VENTED FRONT DOOR, FITS 44 SPACE DRK SERIES RACKS, BLACK FINISH
$589
DR-12
DESKTOP RAIL-RACK, 12 SPACE
$57
DR-8
DESKTOP RAIL-RACK, 8 SPACE
$52
DRIFT
DRIFT PINS FOR ALIGNING RACKS WHILE GANGING, 2 PC.
$43
D-RING
WALL MOUNT / RACKMOUNT D-RING CABLE MANAGER
$10
DRK19-44-31
44 SPACE (77"), 19" PANEL WIDTH, 31" DEEP GANGABLE RACK WITH CBL MGMT DUCTS & VENTED REAR DOOR, BLACK FINISH
$1307
DRK19-44-31K
44 SPACE (77"), 19" PANEL WIDTH, 31" DEEP GANGABLE RACK WITH CBL MGMT DUCTS, LF, PLEXI FRONT DOOR, VENTED REAR DOOR, BLACK FINISH
$2186
DRK19-44-31LRD
44 SPACE (77"), 19" PANEL WIDTH, 31" DEEP GANGABLE RACK WITH CBL MGMT DUCTS, LESS REAR DOOR, BLACK FINISH
$1240
DRK19-44-31PRO
44 SPACE (77"), 19" PANEL WIDTH, 31" DEEP GANGABLE RACK WITH CAGE-NUT RACKRAIL, CBL MGMT DUCTS & VENTED REAR DOOR, BLACK FINISH
$1367
DRK19-44-36
44 SPACE (77"), 19" PANEL WIDTH, 36" DEEP GANGABLE RACK WITH CBL MGMT DUCTS & VENTED REAR DOOR, BLACK FINISH
$1448
DRK19-44-36LRD
44 SPACE (77"), 19" PANEL WIDTH, 36" DEEP GANGABLE RACK WITH CBL MGMT DUCTS, LESS REAR DOOR, BLACK FINISH
$1380
DRK19-44-36PRO
44 SPACE (77"), 19" PANEL WIDTH, 36" DEEP GANGABLE RACK WITH CAGE-NUT RACKRAIL, CBL MGMT DUCTS & VENTED REAR DOOR, BLACK FINISH
$1507
DRK19-44-36PROLRD
44 SPACE (77"), 19" PANEL WIDTH, 36" DEEP GANGABLE RACK WITH CAGE-NUT RACKRAIL, CBL MGMT DUCTS LESS REAR DOOR, BLACK FINISH
$1440
DRK19-44-42
44 SPACE (77"), 19" PANEL WIDTH, 42" DEEP GANGABLE RACK WITH CBL MGMT DUCTS & VENTED REAR DOOR, BLACK FINISH
$1608
DRK19-44-42LRD
44 SPACE (77"), 19" PANEL WIDTH, 42" DEEP GANGABLE RACK WITH CBL MGMT DUCTS LESS REAR DOOR, BLACK FINISH
$1540
DRK19-44-42PRO
44 SPACE (77"), 19" PANEL WIDTH, 42" DEEP GANGABLE RACK WITH CAGE-NUT RACKRAIL, CBL MGMT DUCTS & VENTED REAR DOOR, BLACK FINISH
$1667
DRK19-44-42PROLRD
44 SPACE (77"), 19" PANEL WIDTH, 42" DEEP GANGABLE RACK WITH CAGE-NUT RACKRAIL, CBL MGMT DUCTS LESS REAR DOOR, BLACK FINISH
$1599
DRK19-RR44
44 SPACE (77") DRK 19" PANEL WIDTH ADDITIONAL 10-32 THREADED RAIL KIT
$124
DRK19-RR44PRO
44 SPACE (77") DRK 19" PANEL WIDTH ADDITIONAL CAGE-NUT STYLE RAIL KIT
$136
DRK23-44-31
44 SPACE (77"), 23" PANEL WIDTH, 31" DEEP GANGABLE RACK WITH VENTED REAR DOOR, BLACK FINISH
$1185
DRK23-RR44
44 SPACE (77") DRK 23" PANEL WIDTH ADDITIONAL 10-32 THREADED RAIL KIT
$127
DRK-44DUCT
CABLE MANAGEMENT DUCT FOR DRK SERIES RACKS, 44 SPACE (77"), 1 PC.
$248
DSVRD-44
64% OPEN AREA REAR DOOR OPTION FOR 44 SP DRK SERIES RACKS, BLACK FINISH
$367
DT8DC
8 SPACE DESKTOP RACK, DARK CHERRY TOP
$253
DT8HM
8 SPACE DESKTOP RACK, HONEY MAPLE TOP
$253
DT8PS
8 SPACE DESKTOP RACK, PEPPERSTONE TOP
$253
DUCT-COOL-1PT
DUCT COOL SYSTEM, 135 CFM, INCLUDES 25' INSULATED DUCT
$379
DUCT-COOL-2PT
DUCT COOL SYSTEM, 293 CFM, INCLUDES 25' INSULATED DUCT
$466
DUP1
UCP MODULE, FOR DUPLEX RECEPTACLES, FITS 1 DUPLEX
$14
DUP2
UCP MODULE, FOR DUPLEX RECEPTACLES, FITS 2 DUPLEXES
$14
DVD
DVD HOLDER, BLACK BRUSHED FINISH
$126
DVDP
DVD PARTITION, FITS D4, TD4, OR UD-4
$35
DVFD-44
25% OPEN AREA VENTED FRONT DOOR FOR 44 SPACE DRK SERIES RACKS, BLACK FINISH
$360
DVHSP
VHS TAPE DRAWER PARTITION, FITS D3, TD3 OR UD-3
$35
DVRD-44
VENTED REAR DOOR OPTION FOR 44 SP DRK SERIES RACKS, BLACK FINISH
$166
DWR-10-17
10 SPACE (17 1/2") SECTIONAL WALL RACK, FITS 15" DEEP EQUIP., BLACK FINISH
$351
DWR-10-17GY
10 SPACE (17 1/2") SECTIONAL WALL RACK, FITS 15" DEEP EQUIP., GRANITE GRAY FINISH
$351
DWR-10-17PD
10 SP. (17 1/2") DATA WALL RACK WITH PLEXI DOOR, FITS 15" DEEP EQUIP., BLACK FINISH
$476
DWR-10-17PDGY
10 SP. (17 1/2") DATA WALL RACK WITH PLEXI DOOR, FITS 15" DEEP EQUIP., GRANITE GRAY FINISH
$519
DWR-10-22
10 SPACE (17 1/2") SECTIONAL WALL RACK, FITS 20" DEEP EQUIP., BLACK FINISH
$379
DWR-10-22GY
10 SPACE (17 1/2") SECTIONAL WALL RACK, FITS 20" DEEP EQUIP., GRANITE GRAY FINISH
$379
DWR-10-22PD
10 SP. (17 1/2") DATA WALL RACK WITH PLEXI DOOR, FITS 20" DEEP EQUIP., BLACK FINISH
$500
DWR-10-22PDGY
10 SP. (17 1/2") DATA WALL RACK WITH PLEXI DOOR, FITS 20" DEEP EQUIP., GRANITE GRAY FINISH
$561
DWR-12-17
12 SPACE (21") SECTIONAL WALL RACK, FITS 15" DEEP EQUIP., BLACK FINISH
$389
DWR-12-17GY
12 SPACE (21") SECTIONAL WALL RACK, FITS 15" DEEP EQUIP., GRANITE GRAY FINISH
$389
DWR-12-17PD
12 SPACE (21") DATA WALL RACK WITH PLEXI DOOR, FITS 15" DEEP EQUIP., BLACK FINISH
$517
DWR-12-22
12 SPACE (21") SECTIONAL WALL RACK, FITS 20" DEEP EQUIP., BLACK FINISH
$427
DWR-12-22GY
12 SPACE (21") SECTIONAL WALL RACK, FITS 20" DEEP EQUIP., GRANITE GRAY FINISH
$427
DWR-12-22PD
12 SPACE (21") DATA WALL RACK WITH PLEXI DOOR, FITS 20" DEEP EQUIP., BLACK FINISH
$552
DWR-12-26
12 SPACE (21") SECTIONAL WALL RACK, FITS 24" DEEP EQUIP., BLACK FINISH
$461
DWR-12-26GY
12 SPACE (21") SECTIONAL WALL RACK, FITS 24" DEEP EQUIP., GRANITE GRAY FINISH
$461
DWR-12-26PD
12 SPACE (21") DATA WALL RACK WITH PLEXI DOOR, FITS 24" DEEP EQUIP., BLACK FINISH
$581
DWR-12-26PDGY
12 SPACE (21") DATA WALL RACK WITH PLEXI DOOR, FITS 24" DEEP EQUIP., GRANITE GRAY FINISH
$659
DWR-12-32
12 SPACE (21") SECTIONAL WALL RACK, FITS 30" DEEP EQUIP., BLACK FINISH
$486
DWR-16-17
16 SPACE (28") SECTIONAL WALL RACK, FITS 15" DEEP EQUIP., BLACK FINISH
$452
DWR-16-17GY
16 SPACE (28") SECTIONAL WALL RACK, FITS 15" DEEP EQUIP., GRANITE GRAY FINISH
$452
DWR-16-17PD
16 SP. (28") DATA WALL RACK WITH PLEXI DOOR, FITS 15" DEEP EQUIP., BLACK FINISH
$586
DWR-16-17PDGY
16 SP. (28") DATA WALL RACK WITH PLEXI DOOR, FITS 15" DEEP EQUIP., GRANITE GRAY FINISH
$678
DWR-16-22
16 SPACE (28") SECTIONAL WALL RACK, FITS 20" DEEP EQUIP., BLACK FINISH
$515
DWR-16-22GY
16 SPACE (28") SECTIONAL WALL RACK, FITS 20" DEEP EQUIP., GRANITE GRAY FINISH
$515
DWR-16-22PD
16 SP. (28") DATA WALL RACK WITH PLEXI DOOR, FITS 20" DEEP EQUIP., BLACK FINISH
$643
DWR-16-22PDGY
16 SP. (28") DATA WALL RACK WITH PLEXI DOOR, FITS 20" DEEP EQUIP., GRANITE GRAY FINISH
$736
DWR-18-17
18 SPACE (31 1/2") SECTIONAL WALL RACK, FITS 15" DEEP EQUIP., BLACK FINISH
$505
DWR-18-17GY
18 SPACE (31 1/2") SECTIONAL WALL RACK, FITS 15" DEEP EQUIP., GRANITE GRAY FINISH
$505
DWR-18-17PD
18 SP. (31 1/2") DATA WALL RACK WITH PLEXI DOOR, FITS 15" DEEP EQUIP., BLACK FINISH
$640
DWR-18-22
18 SPACE (31 1/2") SECTIONAL WALL RACK, FITS 20" DEEP EQUIP., BLACK FINISH
$555
DWR-18-22GY
18 SPACE (31 1/2") SECTIONAL WALL RACK, FITS 20" DEEP EQUIP., GRANITE GRAY FINISH
$555
DWR-18-22PD
18 SP. (31 1/2") DATA WALL RACK WITH PLEXI DOOR, FITS 20" DEEP EQUIP., BLACK FINISH
$685
DWR-18-26
18 SPACE (31 1/2") SECTIONAL WALL RACK, FITS 24" DEEP EQUIP., BLACK FINISH
$573
DWR-18-26GY
18 SPACE (31 1/2") SECTIONAL WALL RACK, FITS 24" DEEP EQUIP., GRANITE GRAY FINISH
$573
DWR-18-26PD
18 SP. (31 1/2") DATA WALL RACK WITH PLEXI DOOR, FITS 24" DEEP EQUIP., BLACK FINISH
$702
DWR-18-26PDGY
18 SP. (31 1/2") DATA WALL RACK WITH PLEXI DOOR, FITS 24" DEEP EQUIP., GRANITE GRAY FINISH
$818
DWR-18-32
18 SPACE (31 1/2") SECTIONAL WALL RACK, FITS 30" DEEP EQUIP., BLACK FINISH
$594
DWR-21-17
21 SPACE (36 3/4") SECTIONAL WALL RACK, FITS 15" DEEP EQUIP., BLACK FINISH
$563
DWR-21-17GY
21 SPACE (36 3/4") SECTIONAL WALL RACK, FITS 15" DEEP EQUIP., GRANITE GRAY FINISH
$563
DWR-21-17PD
21 SP. (36 3/4") DATA WALL RACK WITH PLEXI DOOR, FITS 15" DEEP EQUIP., BLACK FINISH
$714
DWR-21-17PDGY
21 SP. (36 3/4") DATA WALL RACK WITH PLEXI DOOR, FITS 15" DEEP EQUIP., GRANITE GRAY FINISH
$825
DWR-21-22
21 SPACE (36 3/4") SECTIONAL WALL RACK, FITS 20" DEEP EQUIP., BLACK FINISH
$631
DWR-21-22GY
21 SPACE (36 3/4") SECTIONAL WALL RACK, FITS 20" DEEP EQUIP., GRANITE GRAY FINISH
$631
DWR-21-22PD
21 SP. (36 3/4") DATA WALL RACK WITH PLEXI DOOR, FITS 20" DEEP EQUIP,. BLACK FINISH
$775
DWR-21-22PDGY
21 SP. (36 3/4") DATA WALL RACK WITH PLEXI DOOR, FITS 20" DEEP EQUIP,. GRANITE GRAY FINISH
$893
DWR-24-17
24 SPACE (42") SECTIONAL WALL RACK, FITS 15" DEEP EQUIP., BLACK FINISH
$583
DWR-24-17GY
24 SPACE (42") SECTIONAL WALL RACK, FITS 15" DEEP EQUIP., GRANITE GRAY FINISH
$583
DWR-24-17PD
24 SP. (42") DATA WALL RACK WITH PLEXI DOOR, FITS 15" DEEP EQUIP., BLACK FINISH
$746
DWR-24-17PDGY
24 SP. (42") DATA WALL RACK WITH PLEXI DOOR, FITS 15" DEEP EQUIP., GRANITE GRAY FINISH
$891
DWR-24-22
24 SPACE (42") SECTIONAL WALL RACK, FITS 20" DEEP EQUIP., BLACK FINISH
$680
DWR-24-22GY
24 SPACE (42") SECTIONAL WALL RACK, FITS 20" DEEP EQUIP., GRANITE GRAY FINISH
$680
DWR-24-22PD
24 SP. (42") DATA WALL RACK WITH PLEXI DOOR, FITS 20" DEEP EQUIP., BLACK FINISH
$833
DWR-24-22PDGY
24 SP. (42") DATA WALL RACK WITH PLEXI DOOR, FITS 20" DEEP EQUIP., GRANITE GRAY FINISH
$971
DWR-24-26
24 SPACE (42") SECTIONAL WALL RACK, FITS 24" DEEP EQUIP., BLACK FINISH
$804
DWR-24-26GY
24 SPACE (42") SECTIONAL WALL RACK, FITS 24" DEEP EQUIP., GRANITE GRAY FINISH
$804
DWR-24-26PD
24 SP. (42") DATA WALL RACK WITH PLEXI DOOR, FITS 24" DEEP EQUIP., BLACK FINISH
$944
DWR-24-26PDGY
24 SP. (42") DATA WALL RACK WITH PLEXI DOOR, FITS 24" DEEP EQUIP., GRANITE GRAY FINISH
$1085
DWR-24-32
24 SPACE (42") SECTIONAL WALL RACK, FITS 30" DEEP EQUIP., BLACK FINISH
$816
DWR-35-17
35 SPACE (61 1/4") SECTIONAL WALL RACK, FITS 15" DEEP EQUIP., BLACK FINISH
$689
DWR-35-17GY
35 SPACE (61 1/4") SECTIONAL WALL RACK, FITS 15" DEEP EQUIP., GRANITE GRAY FINISH
$689
DWR-35-22
35 SPACE (61 1/4") SECTIONAL WALL RACK, FITS 20" DEEP EQUIP., BLACK FINISH
$796
DWR-35-22GY
35 SPACE (61 1/4") SECTIONAL WALL RACK, FITS 20" DEEP EQUIP., GRANITE GRAY FINISH
$796
DWR-35-22PD
35 SP. (61 1/4") DATA WALL RACK WITH PLEXI DOOR, FITS 20" DEEP EQUIP., BLACK FINISH
$1045
DWR-35-22PDGY
35 SP. (61 1/4") DATA WALL RACK WITH PLEXI DOOR, FITS 20" DEEP EQUIP., GRANITE GRAY FINISH
$1225
DWR-35-26
35 SPACE (61 1/4") SECTIONAL WALL RACK, FITS 24" DEEP EQUIP., BLACK FINISH
$892
DWR-35-26GY
35 SPACE (61 1/4") SECTIONAL WALL RACK, FITS 24" DEEP EQUIP., GRANITE GRAY FINISH
$892
DWR-35-26PD
35 SP. (61 1/4") DATA WALL RACK WITH PLEXI DOOR, FITS 24" DEEP EQUIP., BLACK FINISH
$1130
DWR-35-26PDGY
35 SP. (61 1/4") DATA WALL RACK WITH PLEXI DOOR, FITS 24" DEEP EQUIP., GRANITE GRAY FINISH
$1322
DWR-CVR
COVER PLATE/SHELF KIT FOR DWR
$29
DWR-FK17
2 QTY 4 1/2" FANS, GUARDS AND VENT BLOCKERS FOR 17" DEEP DWR SERIES, 190 CFM TOTAL (120 VAC) CORD INCLUDED
$129
DWR-FK22
2 QTY 4 1/2" FANS, GUARDS AND VENT BLOCKERS FOR 22" DEEP DWR SERIES, 190 CFM TOTAL (120 VAC) CORD INCLUDED
$129
DWR-FK26
2 QTY 4 1/2" FANS, GUARDS AND VENT BLOCKERS FOR 26" DEEP DWR SERIES, 190 CFM TOTAL (120 VAC) CORD INCLUDED
$129
DWR-RR10
10 SPACE (17 1/2") DWR REAR RAIL KIT
$29
DWR-RR12
12 SPACE (21") DWR REAR RAIL KIT
$31
DWR-RR16
16 SPACE (28") DWR REAR RAIL KIT
$38
DWR-RR18
18 SPACE (31 1/2") DWR REAR RAIL KIT
$42
DWR-RR21
21 SPACE (36 3/4") DWR REAR RAIL KIT
$46
DWR-RR24
24 SPACE (42") DWR REAR RAIL KIT
$55
DWR-RR35
35 SPACE (61 1/4") DWR REAR RAIL KIT
$71
DWR-RR40
40 SPACE (70") DWR REAR RAIL KIT FOR THE SR-40-22
$77
DWR-RR46
46 SPACE (80 1/2") DWR REAR RAIL KIT FOR THE SR-40-22
$84
DWR-RR8
8 SPACE (14") EWR REAR RAIL KIT
$27
DWRSR-ZL
ZERO CLEARANCE LATCH FOR DWR/SR
$65
E12DK
FRONT/REAR DOOR KIT FOR 12 S12 AND D12 EDIT CENTER SIDE RACKS
$563
EB1
1 SPACE (1 3/4") FLANGED ECONO-BLANK, BLACK POWDER COAT FINISH
$8
EB1-23
1 SPACE (1 3/4") 23" PANEL WIDTH FLANGED ECONO-BLANK, BLACK POWDER COAT FINISH
$14
EB1-CP12
12 PC. EB1 CONTRACTOR PACK, PANELS IN PLAIN POLY BAGS
$91
EB1MP
50 PC. EB1 MASTER PACK, PANELS IN PLAIN POLY BAGS
$297
EB2
2 SPACE (3 1/2") FLANGED ECONO-BLANK, BLACK POWDER COAT FINISH
$14
EB2-23
2 SPACE (3 1/2") 23" PANEL WIDTH FLANGED ECONO-BLANK, BLACK POWDER COAT FINISH
$13
EB2-CP12
12 PC. EB2 CONTRACTOR PACK, PANELS IN PLAIN POLY BAGS
$122
EB2MP
25 PC. EB2 MASTER PACK, PANELS IN PLAIN POLY BAGS
$201
EB3
3 SPACE (5 1/4") FLANGED ECONO-BLANK, BLACK POWDER COAT FINISH
$13
EB3-23
3 SPACE (5 1/4") 23" PANEL WIDTH FLANGED ECONO-BLANK, BLACK POWDER COAT FINISH
$20
EB3-CP6
6 PC. EB3 CONTRACTOR PACK, PANELS IN PLAIN POLY BAGS
$74
EB4
4 SPACE (7") FLANGED ECONO-BLANK, BLACK POWDER COAT FINISH
$16
EB4-23
4 SPACE (7") 23" PANEL WIDTH FLANGED ECONO-BLANK, BLACK POWDER COAT FINISH
$23
EB4-CP6
6 PC. EB4 CONTRACTOR PACK, PANELS IN PLAIN POLY BAGS
$93
EB5
5 SPACE (8 3/4") FLANGED ECONO-BLANK, BLACK POWDER COAT FINISH
$19
EB6
6 SPACE (10 1/2") FLANGED ECONO-BLANK, BLACK POWDER COAT FINISH
$23
EC-1
1 SPACE (1 3/4") ECONO CHASSIS, 6" DEEP, BLACK POWDER COAT FINISH
$44
EC-2
2 SPACE (3 1/2") ECONO CHASSIS, 6" DEEP, BLACK POWDER COAT FINISH
$55
EC-3
3 SPACE (5 1/4") ECONO CHASSIS, 6" DEEP, BLACK POWDER COAT FINISH
$66
EC-SPK36DC
36" HIGH SPEAKER STANDS (2), INCL. WIRE CHANNEL, DARK CHERRY
$406
EC-SPK36HM
36" HIGH SPEAKER STANDS (2), INCL. WIRE CHANNEL, HONEY MAPLE
$406
EC-SPK36PS
36" HIGH SPEAKER STANDS (2), INCL. WIRE CHANNEL, PEPPERSTONE
$406
EDL-DC
84" DESK WITHOUT OVERBRIDGE, DARK CHERRY TOP
$1145
EDL-HM
84" DESK WITHOUT OVERBRIDGE, HONEY MAPLE TOP
$1145
EDL-PS
84" DESK WITHOUT OVERBRIDGE, PEPPERSTONE TOP
$1145
EDS-DC
60" DESK WITHOUT OVERBRIDGE, DARK CHERRY TOP
$954
EDS-HM
60" DESK WITHOUT OVERBRIDGE, HONEY MAPLE TOP
$954
EDS-PS
60" DESK WITHOUT OVERBRIDGE, PEPPERSTONE TOP
$954
EL-DC
84" DESK WITH OVERBRIDGE, DARK CHERRY TOP
$1789
EL-HM
84" DESK WITH OVERBRIDGE, HONEY MAPLE TOP
$1789
EL-PS
84" DESK WITH OVERBRIDGE, PEPPERSTONE TOP
$1789
ELUR+D12D-DC
84" DESK W/2 (4) SPACE RACKS UNDER STANDARD OVERBRIDGE + 1 DUAL BAY (2 X 12 SPACE) OUTBOARD RACK, DARK CHERRY TOPS
$3560
ELUR+D12D-HM
84" DESK W/2 (4) SPACE RACKS UNDER STANDARD OVERBRIDGE + 1 DUAL BAY (2 X 12 SPACE) OUTBOARD RACK, HONEY MAPLE TOPS
$3560
ELUR+D12D-PS
84" DESK W/2 (4) SPACE RACKS UNDER STANDARD OVERBRIDGE + 1 DUAL BAY (2 X 12 SPACE) OUTBOARD RACK, PEPPERSTONE TOPS
$3560
ELUR+S12D-DC
84" DESK W/2 (4) SPACE RACKS UNDER STANDARD OVERBRIDGE + 1 SINGLE BAY (12 SPACE) OUTBOARD RACK, DARK CHERRY TOPS
$3129
ELUR+S12D-HM
84" DESK W/2 (4) SPACE RACKS UNDER STANDARD OVERBRIDGE + 1 SINGLE BAY (12 SPACE) OUTBOARD RACK, HONEY MAPLE TOPS
$3129
ELUR+S12D-PS
84" DESK W/2 (4) SPACE RACKS UNDER STANDARD OVERBRIDGE + 1 SINGLE BAY (12 SPACE) OUTBOARD RACK, PEPPERSTONE TOPS
$3129
ELUR-DC
84" DESK W/2 (4) SPACE RACKS UNDER STANDARD OVERBRIDGE, DARK CHERRY TOPS
$1908
ELUR-HM
84" DESK W/2 (4) SPACE RACKS UNDER STANDARD OVERBRIDGE, HONEY MAPLE TOPS
$1908
ELUR-PS
84" DESK W/2 (4) SPACE RACKS UNDER STANDARD OVERBRIDGE, PEPPERSTONE TOPS
$1908
ERK-10FT
10" FAN TOP (EXCLUDING FAN) FOR ANY WMRK, ERK OR SCRK SERIES RACK, BLACK FINISH
$36
ERK-10FT-550CFM
INTEGRATED 10" FAN TOP, INCLUDES 1 FAN, 550 CFM, FITS ANY WMRK, ERK OR SCRK, BLACK FINISH
$303
ERK-10FT-FC
INTEGRATED 10" FAN TOP, INCLUDES 1 FAN AND PROPORTIONAL SPEED FAN CONTROL, FITS ANY WMRK, ERK OR SCRK, BLACK FINISH
$391
ERK-10FT-FCGY
INTEGRATED 10" FAN TOP, INCLUDES 1 FAN AND PROPORTIONAL SPEED FAN CONTROL, FITS SCRK, GRANITE GRAY FINISH
$391
ERK-10FT-FCLG
INTEGRATED 10" FAN TOP, INCLUDES 1 FAN AND PROPORTIONAL SPEED FAN CONTROL, FITS SCRK, LIGHT GRAY FINISH
$391
ERK-10FTGY
10" FAN TOP (EXCLUDING FAN) FOR 44 SPACE SCRK SERIES RACK, GRANITE GRAY FINISH
$36
ERK-10FTLG
10" FAN TOP (EXCLUDING FAN) FOR 44 SPACE SCRK SERIES RACK, LIGHT GRAY FINISH
$36
ERK-1820
18 SPACE(31 1/2"), 19 1/2" DEEP STAND ALONE RACK WITH REAR DOOR, BLACK FINISH
$394
ERK-1820LRD
18 SPACE (31 1/2"), 19 1/2" DEEP STAND ALONE RACK LESS REAR DOOR, BLACK FINISH
$353
ERK-1825
18 SPACE (31 1/2"), 25" DEEP STAND ALONE RACK WITH REAR DOOR, BLACK FINISH
$434
ERK-1825LRD
18 SPACE (31 1/2"), 25" DEEP STAND ALONE RACK LESS REAR DOOR, BLACK FINISH
$393
ERK-2120
21 SPACE (36 3/4"), 19 1/2" DEEP STAND ALONE RACK WITH REAR DOOR, BLACK FINISH
$419
ERK-2120LRD
21 SPACE (36 3/4"), 19 1/2" DEEP STAND ALONE RACK LESS REAR DOOR, BLACK FINISH
$378
ERK-2125
21 SPACE (36 3/4"), 25" DEEP STAND ALONE RACK WITH REAR DOOR, BLACK FINISH
$459
ERK-2125LRD
21 SPACE (36 3/4"), 25" DEEP STAND ALONE RACK LESS REAR DOOR, BLACK FINISH
$417
ERK-2720
27 SPACE (47 1/4"), 19 1/2" DEEP STAND ALONE RACK WITH REAR DOOR, BLACK FINISH
$445
ERK-2720LRD
27 SPACE (47 1/4"), 19 1/2" DEEP STAND ALONE RACK LESS REAR DOOR, BLACK FINISH
$404
ERK-2725
27 SPACE (47 1/4"), 25" DEEP STAND ALONE RACK WITH REAR DOOR, BLACK FINISH
$483
ERK-2725LRD
27 SPACE (47 1/4"), 25" DEEP STAND ALONE RACK LESS REAR DOOR, BLACK FINISH
$442
ERK-3520
35 SPACE (61 1/4"), 19 1/2" DEEP STAND ALONE RACK WITH REAR DOOR, BLACK FINISH
$485
ERK-3520LRD
35 SPACE (61 1/4"), 19 1/2" DEEP STAND ALONE RACK LESS REAR DOOR, BLACK FINISH
$420
ERK-3525
35 SPACE (61 1/4"), 25" DEEP STAND ALONE RACK WITH REAR DOOR, BLACK FINISH
$541
ERK-3525-AV
35 SPACE (61 1/4"), 25" DEEP STAND ALONE RACK CONFIGURED FOR A/V, BLACK FINISH
$1298
ERK-3525AXS
32 SPACE (56") 20" DEEP AX-S SYSTEM HOUSED IN AN ERK-3525
$1030
ERK-3525LRD
35 SPACE (61 1/4"), 25" DEEP STAND ALONE RACK LESS REAR DOOR, BLACK FINISH
$475
ERK-4020
40 SPACE (70"), 19 1/2" DEEP STAND ALONE RACK WITH REAR DOOR, BLACK FINISH
$544
ERK-4020LRD
40 SPACE (70"), 19 1/2" DEEP STAND ALONE RACK LESS REAR DOOR, BLACK FINISH
$479
ERK-4025
40 SPACE (70"), 25" DEEP STAND ALONE RACK WITH REAR DOOR, BLACK FINISH
$573
ERK-4025-AV
40 SPACE (70"), 25" DEEP STAND ALONE RACK CONFIGURED FOR A/V, BLACK FINISH
$1343
ERK-4025LRD
40 SPACE (70"), 25" DEEP STAND ALONE RACK LESS REAR DOOR, BLACK FINISH
$508
ERK-4420
44 SPACE (77"), 19 1/2" DEEP STAND ALONE RACK WITH REAR DOOR, BLACK FINISH
$577
ERK-4420LRD
44 SPACE (77"), 19 1/2" DEEP STAND ALONE RACK LESS REAR DOOR, BLACK FINISH
$511
ERK-4425
44 SPACE (77"), 25" DEEP STAND ALONE RACK WITH REAR DOOR, BLACK FINISH
$624
ERK-4425-AV
44 SPACE (77"), 25" DEEP STAND ALONE RACK CONFIGURED FOR A/V, BLACK FINISH
$1392
ERK-4425AXS
41 SPACE (71 3/4") 20" DEEP AX-S SYSTEM HOUSED IN AN ERK-4425
$1104
ERK-4425LRD
44 SPACE (77"), 25" DEEP STAND ALONE RACK LESS REAR DOOR, BLACK FINISH
$558
ERK-4FT
4 1/2" FAN TOP (EXCLUDING FANS) FOR ANY WMRK, ERK OR SCRK SERIES RACK, FITS UP TO 3 FANS, BLACK FINISH
$36
ERK-4FT-285CFM
INTEGRATED 4 1/2" FAN TOP, INCLUDES 3 FANS, 285 CFM, FITS ANY WMRK, ERK OR SCRK, BLACK FINISH
$219
ERK-4FTGY
4 1/2" FAN TOP (EXCLUDING FANS) FOR 44 SPACE SCRK SERIES RACK, FITS UP TO 3 FANS, GRANITE GRAY FINISH
$36
ERK-4FTLG
4 1/2" FAN TOP (EXCLUDING FANS) FOR 44 SPACE SCRK SERIES RACK, FITS UP TO 3 FANS, LIGHT GRAY FINISH
$36
ERK-4QFT-FC
INTEGRATED 4 1/2" FAN TOP, INCLUDES 3 QUIET FANS AND PROPORTIONAL SPEED FAN CONTROL, FITS ANY WMRK, ERK OR SCRK, BLACK FINISH
$395
ERK-4QFT-FCGY
INTEGRATED 4 1/2" FAN TOP, INCLUDES 3 QUIET FANS AND PROPORTIONAL SPEED FAN CONTROL, FITS SCRK, GRANITE GRAY FINISH
$395
ERK-4QFT-FCLG
INTEGRATED 4 1/2" FAN TOP, INCLUDES 3 QUIET FANS AND PROPORTIONAL SPEED FAN CONTROL, FITS SCRK, LIGHT GRAY FINISH
$395
ERK-6FT
6" FAN TOP (EXCLUDING FANS) FOR ANY WMRK, ERK OR SCRK SERIES RACK, FITS UP TO 2 FANS, BLACK FINISH
$35
ERK-6FT-440CFM
INTEGRATED 6" FAN TOP, INCLUDES 2 FANS, 285 CFM, FITS ANY WMRK, ERK OR SCRK, BLACK FINISH
$252
ERK-DT
DUCT COOL ADAPTER TOP (EXCLUDING DUCT COOL) FOR ANY WMRK, ERK OR SCRK SERIES RACK, BLACK FINISH
$49
ERK-RR13
13 SPACE (22 3/4") SCRK REAR RAIL KIT
$28
ERK-RR18
18 SPACE (31 1/2") ERK REAR RAIL KIT
$39
ERK-RR21
21 SPACE (36 3/4") ERK REAR RAIL KIT
$43
ERK-RR27
27 SPACE (47 1/4") ERK REAR RAIL KIT
$53
ERK-RR35
35 SPACE (61 1/4") ERK REAR RAIL KIT
$58
ERK-RR40
40 SPACE (70") ERK REAR RAIL KIT
$67
ERK-RR44
44 SPACE (77") ERK REAR RAIL KIT
$73
ERK-ST
SOLID TOP FOR ANY WMRK, ERK OR SCRK SERIES RACK, BLACK FINISH
$36
ERK-STGY
SOLID TOP FOR 44 SPACE SCRK SERIES RACK, GRANITE GRAY FINISH
$36
ERK-STLG
SOLID TOP FOR 44 SPACE SCRK SERIES RACK, LIGHT GRAY FINISH
$36
ERK-VRD-18
VENTED REAR DOOR OPTION FOR 18 SPACE ERK RACKS, BLACK FINISH
$98
ERK-VRD-21
VENTED REAR DOOR OPTION FOR 21 SPACE ERK RACKS, BLACK FINISH
$102
ERK-VRD-27
VENTED REAR DOOR OPTION FOR 27 SPACE ERK RACKS, BLACK FINISH
$112
ERK-VRD-35
VENTED REAR DOOR OPTION FOR 35 SPACE ERK RACKS, BLACK FINISH
$125
ERK-VRD-40
VENTED REAR DOOR OPTION FOR 40 SPACE ERK RACKS, BLACK FINISH
$124
ERK-VRD-44
VENTED REAR DOOR OPTION FOR 44 SPACE ERK RACKS, BLACK FINISH
$130
ERK-VT
VENTED TOP FOR ANY WMRK, ERK OR SCRK SERIES RACK, BLACK FINISH
$36
ERK-VTGY
VENTED TOP FOR 44 SPACE SCRK SERIES RACK, GRANITE GRAY FINISH
$36
ERK-VTLG
VENTED TOP FOR 44 SPACE SCRK SERIES RACK, LIGHT GRAY FINISH
$36
ERK-Z4
SEISMIC FLOOR ANCHOR BRACKETS FOR THE ERK SERIES
$32
ES+S12D-DC
60" DESK W/OVERBRIDGE + 1 SINGLE BAY (12 SPACE) OUTBOARD RACK, DARK CHERRY TOPS
$2841
ES+S12D-HM
60" DESK W/OVERBRIDGE + 1 SINGLE BAY (12 SPACE) OUTBOARD RACK, HONEY MAPLE TOPS
$2841
ES+S12D-PS
60" DESK W/OVERBRIDGE + 1 SINGLE BAY (12 SPACE) OUTBOARD RACK, PEPPERSTONE TOPS
$2841
ES-DC
60" DESK WITH OVERBRIDGE, DARK CHERRY TOP
$1694
ES-HM
60" DESK WITH OVERBRIDGE, HONEY MAPLE TOP
$1694
ES-PS
60" DESK WITH OVERBRIDGE, PEPPERSTONE TOP
$1694
ESUR+S12D-DC
60" DESK W/2 (4) SPACE RACKS UNDER STANDARD OVERBRIDGE + 1 SINGLE BAY (12 SPACE) OUTBOARD RACK, DARK CHERRY TOPS
$3010
ESUR+S12D-HM
60" DESK W/2 (4) SPACE RACKS UNDER STANDARD OVERBRIDGE + 1 SINGLE BAY (12 SPACE) OUTBOARD RACK, HONEY MAPLE TOPS
$3010
ESUR+S12D-PS
60" DESK W/2 (4) SPACE RACKS UNDER STANDARD OVERBRIDGE + 1 SINGLE BAY (12 SPACE) OUTBOARD RACK, PEPPERSTONE TOPS
$3010
ESUR-DC
60" DESK W/2 (4) SPACE RACKS UNDER STANDARD OVERBRIDGE, DARK CHERRY TOPS
$1823
ESUR-HM
60" DESK W/2 (4) SPACE RACKS UNDER STANDARD OVERBRIDGE, HONEY MAPLE TOPS
$1823
ESUR-PS
60" DESK W/2 (4) SPACE RACKS UNDER STANDARD OVERBRIDGE, PEPPERSTONE TOPS
$1823
EVFD-10
SLOTTED VENTED FRONT DOOR, FITS 10 SPACE EWR SERIES RACKS, BLACK FINISH
$136
EVFD-12
SLOTTED VENTED FRONT DOOR, FITS 12 SPACE EWR SERIES RACKS, BLACK FINISH
$145
EVFD-16
SLOTTED VENTED FRONT DOOR, FITS 16 SPACE EWR SERIES RACKS, BLACK FINISH
$148
EVFD-8
SLOTTED VENTED FRONT DOOR, FITS 8 SPACE EWR SERIES RACKS, BLACK FINISH
$123
EVT1
1 SPACE (1 3/4") SLOTTED ECONO VENT, BLACK FINISH
$10
EVT1-CP12
12 PC. EVT1 CONTRACTOR PACK, PANELS IN PLAIN POLY BAGS
$113
EVT1MP
50 PC. EVT1 MASTER PACK, PANELS IN PLAIN POLY BAGS
$357
EVT2
2 SPACE (3 1/2") SLOTTED ECONO VENT, BLACK FINISH
$13
EVT2-CP12
12 PC. EVT2 CONTRACTOR PACK, PANELS IN PLAIN POLY BAGS
$132
EVT2MP
25 PC. EVT2 MASTER PACK, PANELS IN PLAIN POLY BAGS
$262
EVTA-1
1 SPACE (1 3/4") VENT, VERTICAL SLOTS, BLACK BRUSHED FINISH
$22
EVTA-2
2 SPACE (3 1/2") VENT, VERTICAL SLOTS, BLACK BRUSHED FINISH
$25
EVTC-1
1 SPACE (1 3/4") VENT, VERTICAL SLOTS, SILVER BRUSHED FINISH
$22
EVTC-2
2 SPACE (3 1/2") VENT, VERTICAL SLOTS, SILVER BRUSHED FINISH
$25
EWR-10-17
10 SPACE (17 1/2") ECONO SECTIONAL WALL RACK, FITS 15" DEEP EQUIP., BLACK FINISH
$280
EWR-10-17SD
10 SPACE (17 1/2") ECONO SECTIONAL WALL RACK WITH SOLID FRONT DOOR, FITS 15" DEEP EQUIP., BLACK FINISH
$342
EWR-10-22
10 SPACE (17 1/2") ECONO SECTIONAL WALL RACK, FITS 20" DEEP EQUIP., BLACK FINISH
$304
EWR-10-22SD
10 SPACE (17 1/2") ECONO SECTIONAL WALL RACK WITH SOLID FRONT DOOR, FITS 20" DEEP EQUIP., BLACK FINISH
$375
EWR-12-17
12 SPACE (21") ECONO SECTIONAL WALL RACK, FITS 15" DEEP EQUIP., BLACK FINISH
$326
EWR-12-17SD
12 SPACE (21") ECONO SECTIONAL WALL RACK WITH SOLID FRONT DOOR, FITS 15" DEEP EQUIP., BLACK FINISH
$391
EWR-12-22
12 SPACE (21") ECONO SECTIONAL WALL RACK, FITS 20" DEEP EQUIP., BLACK FINISH
$352
EWR-12-22SD
12 SPACE (21") ECONO SECTIONAL WALL RACK WITH SOLID FRONT DOOR, FITS 20" DEEP EQUIP., BLACK FINISH
$431
EWR-16-17
16 SPACE (28") ECONO SECTIONAL WALL RACK, FITS 15" DEEP EQUIP., BLACK FINISH
$394
EWR-16-17SD
16 SPACE (28") ECONO SECTIONAL WALL RACK WITH SOLID FRONT DOOR, FITS 15" DEEP EQUIP., BLACK FINISH
$481
EWR-16-22
16 SPACE (28") ECONO SECTIONAL WALL RACK, FITS 20" DEEP EQUIP., BLACK FINISH
$455
EWR-16-22SD
16 SPACE (28") ECONO SECTIONAL WALL RACK WITH SOLID FRONT DOOR, FITS 20" DEEP EQUIP., BLACK FINISH
$541
EWR-8-17
8 SPACE (14") ECONO SECTIONAL WALL RACK, FITS 15" DEEP EQUIP., BLACK FINISH
$253
EWR-8-17SD
8 SPACE (14") ECONO SECTIONAL WALL RACK WITH SOLID FRONT DOOR, FITS 15" DEEP EQUIP., BLACK FINISH
$289
EWR-8-22
8 SPACE (14") ECONO SECTIONAL WALL RACK, FITS 20" DEEP EQUIP., BLACK FINISH
$281
EWR-8-22SD
8 SPACE (14") ECONO SECTIONAL WALL RACK WITH SOLID FRONT DOOR, FITS 20" DEEP EQUIP., BLACK FINISH
$338
EWR-ARB-17
RACKRAIL BRACKET EXTENDER FOR 17" DEEP EWR
$33
EWR-ARB-22
RACKRAIL BRACKET EXTENDER FOR 22" DEEP EWR
$37
FAN
4 1/2" FAN, 105 CFM (120 VAC) CORD AND HARDWARE INCLUDED
$48
FAN-10
10" FAN, 550 CFM (120 VAC) CORD AND HARDWARE INCLUDED
$173
FAN-119
4 1/2" FAN, 105 CFM (220 VAC) CORD AND HARDWARE INCLUDED
$48
FAN-6
6" FAN, 220 CFM (120 VAC) CORD AND HARDWARE INCLUDED
$84
FANCORD-2X1
FAN POWER CORD FOR 2 FANS, WITH 1 PLUG, 6 FT
$12
FANCORD-3X1
FAN POWER CORD FOR 3 FANS, WITH 1 PLUG, 6 FT
$13
FANCORD-4X1
FAN POWER CORD FOR 4 FANS, WITH 1 PLUG, 6 FT
$15
FC-2-215-1C
PROPORTIONAL SPEED THERMOSTATIC FAN CONTROL, CONTROLS UP TO 2 FANS, INCLUDES (2) 15 AMP OUTLETS, STAND-ALONE WITH 9' CORD
$172
FC-4
PROPORTIONAL SPEED THERMOSTATIC FAN CONTROL, CONTROLS UP TO 4 FANS, MOUNTS IN MPR RACEWAY
$140
FC-4-1C
PROPORTIONAL SPEED THERMOSTATIC FAN CONTROL, CONTROLS UP TO 4 FANS, STAND-ALONE WITH 9' CORD
$154
FD-10
SOLID FRONT DOOR, FITS 10 SPACE DWR SERIES RACKS, BLACK FINISH
$97
FD-10GY
SOLID FRONT DOOR, FITS 10 SPACE DWR SERIES RACKS, GRANITE GRAY FINISH
$97
FD-12
SOLID FRONT DOOR, FITS 12 SPACE DWR SERIES RACKS, BLACK FINISH
$107
FD-12GY
SOLID FRONT DOOR, FITS 12 SPACE DWR SERIES RACKS, GRANITE GRAY FINISH
$107
FD-16
SOLID FRONT DOOR, FITS 16 SPACE DWR SERIES RACKS, BLACK FINISH
$118
FD-16GY
SOLID FRONT DOOR, FITS 16 SPACE DWR SERIES RACKS, GRANITE GRAY FINISH
$118
FD-18
SOLID FRONT DOOR, FITS 18 SPACE DWR AND ERK SERIES RACKS, BLACK FINISH
$120
FD-18GY
SOLID FRONT DOOR, FITS 18 SPACE DWR AND ERK SERIES RACKS, GRANITE GRAY FINISH
$120
FD-21
SOLID FRONT DOOR, FITS 21 SPACE DWR SERIES RACKS, BLACK FINISH
$133
FD-21GY
SOLID FRONT DOOR, FITS 21 SPACE DWR SERIES RACKS, GRANITE GRAY FINISH
$133
FD-24
SOLID FRONT DOOR, FITS 24 SPACE DWR, MRK AND WRK SERIES RACKS, BLACK FINISH
$143
FD-24GY
SOLID FRONT DOOR, FITS 24 SPACE DWR, MRK AND WRK SERIES RACKS, GRANITE GRAY FINISH
$143
FD-27
SOLID FRONT DOOR, FITS 27 SPACE ERK SERIES RACKS, BLACK FINISH
$167
FD-35
SOLID FRONT DOOR, FITS 35 SPACE DWR AND ERK SERIES RACKS, BLACK FINISH
$173
FD-35GY
SOLID FRONT DOOR, FITS 35 SPACE DWR AND ERK SERIES RACKS, GRANITE GRAY FINISH
$173
FD-37
SOLID FRONT DOOR, FITS 37 SPACE MRK AND WRK SERIES RACKS, BLACK FINISH
$179
FD-40
SOLID FRONT DOOR, FITS 40 SPACE ERK, MRK, WRK SERIES RACKS, BLACK FINISH
$185
FD-42
SOLID FRONT DOOR, FITS 42 SPACE WMRK SERIES RACKS, BLACK FINISH
$180
FD-44
SOLID FRONT DOOR, FITS 44 SPACE ERK, MRK, VRK, WRK SERIES RACKS, BLACK FINISH
$190
FD-44GY
SOLID FRONT DOOR, FITS 44 SPACE SCRK SERIES RACKS, GRANITE GRAY FINISH
$190
FD-44LG
SOLID FRONT DOOR, FITS 44 SPACE SCRK SERIES RACKS, LIGHT GRAY FINISH
$190
FD-45
SOLID FRONT DOOR, FITS 45 SPACE WMRK SERIES RACKS, BLACK FINISH
$190
FD-46
SOLID FRONT DOOR, FITS 46 SPACE SR SERIES RACK, BLACK FINISH
$205
FD-54
SOLID FRONT DOOR, FITS VMRK-54, BLACK FINISH
$238
FD-8
SOLID FRONT DOOR, FITS EWR, BLACK FINISH
$78
FEB1
1 SPACE (1 3/4") FLAT ECONO-BLANK, BLACK POWDER COAT FINISH
$7
FEB1-CP12
12 PC. FEB1 CONTRACTOR PACK, PANELS IN PLAIN POLY BAGS
$82
FEB1MP
50 PC. FEB1 MASTER PACK, PANELS IN PLAIN POLY BAGS
$260
FEB2
2 SPACE (3 1/2") FLAT ECONO-BLANK, BLACK POWDER COAT FINISH
$9
FEB2-CP12
12 PC. FEB2 CONTRACTOR PACK, PANELS IN PLAIN POLY BAGS
$107
FEB2MP
25 PC. FEB2 MASTER PACK, PANELS IN PLAIN POLY BAGS
$174
FEB3
3 SPACE (5 1/4") FLAT ECONO-BLANK, BLACK POWDER COAT FINISH
$12
FEB3-CP6
6 PC. FEB3 CONTRACTOR PACK, PANELS IN PLAIN POLY BAGS
$71
FEB4
4 SPACE (7") FLAT ECONO-BLANK, BLACK POWDER COAT FINISH
$15
FEB4-CP6
6 PC. FEB4 CONTRACTOR PACK, PANELS IN PLAIN POLY BAGS
$87
FEB5
5 SPACE (8 3/4") FLAT ECONO-BLANK, BLACK POWDER COAT FINISH
$18
FEB6
6 SPACE (10 1/2") FLAT ECONO-BLANK, BLACK POWDER COAT FINISH
$23
FI-2
2 SPACE (3 1/2") CUSTOMIZABLE FOAM INSERT, FOR USE WITH ANY MIDDLE ATLANTIC PRODUCTS DRAWER
$31
FI-3
3 SPACE (5 1/4") CUSTOMIZABLE FOAM INSERT, FOR USE WITH ANY MIDDLE ATLANTIC PRODUCTS DRAWER
$34
FI-4
4 SPACE (7") CUSTOMIZABLE FOAM INSERT, FOR USE WITH ANY MIDDLE ATLANTIC PRODUCTS DRAWER
$44
FILTER
3 SPACE (5 1/4") WASHABLE FILTER KIT
$33
FK2
2 SPACE (3 1/2") UCP FRAME KIT WITH HARDWARE
$30
FK4
4 SPACE (7") UCP FRAME KIT WITH HARDWARE
$54
FP1
FAN PANEL FOR 1 FAN, BLACK BRUSHED FINISH, 3 SPACE
$34
FP2
FAN PANEL FOR 2 FANS, BLACK BRUSHED FINISH, 3 SPACE
$36
FP3
FAN PANEL FOR 3 FANS, BLACK BRUSHED FINISH, 3 SPACE
$38
FWS
FIXED WRITING SHELF/KEYBOARD SHELF
$95
G-8X10
8" GROUND WIRES WITH RING TERMINAL, FOR USE WITH MPR, 10 PIECES
$15
GANG-10
RACK GANGING HARDWARE FOR 10 RACKS
$23
GK4
4" GANGING GROMMET KIT, 4 PIECES
$37
GK-4G
4" GLAND GROMMET KIT, 4 PIECES
$40
GR-30
CABLE PROTECTING GROMMET MATERIAL, 30 FEET
$31
GUARD
HAMBURGER STYLE GUARD FOR 4 1/2" FANS
$6
GUARD-10
HAMBURGER STYLE GUARD FOR 10" FANS
$35
GUARD-6
HAMBURGER STYLE GUARD FOR 6" FANS
$14
GY
GRANITE GRAY FINISH TOUCH UP KIT
$18
HBL1
1 SPACE (1 3/4") 1/8" FLAT ALUMINUM BLANK PANEL, BLACK BRUSHED FINISH
$16
HBL2
2 SPACE (3 1/2") 1/8" FLAT ALUMINUM BLANK PANEL, BLACK BRUSHED FINISH
$20
HBL3
3 SPACE ( 5 1/4") 1/8" FLAT ALUMINUM BLANK PANEL, BLACK BRUSHED FINISH
$28
HBL4
4 SPACE ( 7") 1/8" FLAT ALUMINUM BLANK PANEL, BLACK BRUSHED FINISH
$33
HBL5
5 SPACE (8 3/4") 1/8" FLAT ALUMINUM BLANK PANEL, BLACK BRUSHED FINISH
$39
HBL6
6 SPACE (10 1/2") 1/8" FLAT ALUMINUM BLANK PANEL, BLACK BRUSHED FINISH
$42
HCM-1
1 SPACE (1 3/4") �MICRO-CLIP" HORIZONTAL CABLE MANAGER
$25
HCM-1D
1 SPACE (1 3/4") �D-RING" HORIZONTAL CABLE MANAGER
$31
HCM1D-23
1 SPACE (1 3/4") 23" PANEL WIDTH "MICRO-CLIP" HORIZONTAL CABLE MANAGER
$39
HCM-1DR
1 SPACE CABLE MANAGER, "D-RING" FRONT & REAR
$39
HCM-1DV
1 SPACE (1 3/4") �D-RING" HORIZONTAL CABLE MANAGER, WITH END RINGS
$34
HCM-1V
1 SPACE (1 3/4") �MICRO-CLIP" HORIZONTAL CABLE MANAGER, WITH END RINGS
$34
HCM-2D
2 SPACE (3 1/2") �D-RING" HORIZONTAL CABLE MANAGER
$34
HCM2D-23
2 SPACE (3 1/2") 23" PANEL WIDTH "D-RING" HORIZONTAL CABLE MANAGER
$44
HCM-2DR
2 SPACE CABLE MANAGER, "D-RING" FRONT & REAR
$41
HCM-2DV
2 SPACE (3 1/2") �D-RING" HORIZONTAL CABLE MANAGER, WITH END RINGS
$36
HCT-1
1 SPACE HORIZONTAL CABLE CHANNEL, BLACK FINISH
$24
HCT-2
2 SPACE HORIZONTAL CABLE CHANNEL, BLACK FINISH
$31
HDR-4
2SP. + 2SP. LOW-PROFILE WALL RACK
$385
HDR-FAN
HDR-4 FAN OPTION
$65
HG
100 PC. BLACK 10-32 PHILLIPS RUST RESISTANT SCREWS W/ WASHERS
$48
HG500
500 PC. BLACK 10-32 PHILLIPS RUST RESISTANT SCREWS W/ WASHERS
$168
HHCM-1
1 SPACE (1 3/4") HINGED HORIZONTAL CABLE MANAGER
$41
HHCM-2
2 SPACE (3 1/2") HINGED HORIZONTAL CABLE MANAGER
$47
HM
100 PC. BLACK 10-32 PHILLIPS PREMIUM SCREWS W/ WASHERS
$40
HM500
500 PC. BLACK 10-32 PHILLIPS PREMIUM SCREWS W/ WASHERS
$168
HP
100 PC. BLACK 10-32 PHILLIPS SCREWS W/ WASHERS
$19
HP-24
100 PC. BLACK 12-24 PHILLIPS SCREWS W/ WASHERS
$23
HP24-500
500 PC. BLACK 12-24 PHILLIPS SCREWS W/ WASHERS
$108
HP500
500 PC. BLACK 10/32 PHILLIPS TRUSS-HEAD RACKSCREWS W/FACTORY INSTALLED WASHERS
$92
HP-6MM
100 PC. BLACK 6MM PHILLIPS TRUSS-HEAD RACKSCREWS W/WASHERS
$39
HPM-1
1 SPACE (1 3/4") HINGED PANEL MOUNT, 6" DEEP, BLACK FINISH
$30
HPM-2
2 SPACE (3 1/2") HINGED PANEL MOUNT, 6" DEEP, BLACK FINISH
$41
HPM-4
4 SPACE (7") HINGED PANEL MOUNT, 6" DEEP, BLACK FINISH
$49
HPM-6
6 SPACE (10 1/2") HINGED PANEL MOUNT, 6" DEEP, BLACK FINISH
$58
HPM-LID
OPTIONAL TOP COVER, FITS HPM SERIES HINGED PANEL MOUNTS, BLACK FINISH
$29
HPMP
50 PC. HP MASTER PACK
$666
HPQ
100 PC. BLACK 10-32 PHILLIPS SHORT SCREWS W/ WASHERS
$19
HPQ-500
500 PC. BLACK 10-32 PHILLIPS SHORT SCREWS W/ WASHERS
$94
HPS
25 PC. BLACK 10/32 PHILLIPS SCREWS W/ WASHERS
$5
HPSMP
25 PC. HPS MASTER PACK
$107
HS
100 PC. BLACK SQUARE DRIVE SCREWS W/ WASHERS
$24
HSK
100 PC. GUARDIAN SERIES BLACK SQUARE POST SECURITY SCREWS W/WASHERS
$32
HTX
50 PC. BLACK STAR POST SCREWS W/ WASHERS
$14
HW100
100 PC. PHILLIPS 10/32 CAPTIVE CUP WASHER RACK SCREWS
$25
HW500
500 PC. PHILLIPS 10/32 CAPTIVE CUP WASHER PACKED IN A RESEALABLE JAR
$120
ICAB-COOL
QUIET-COOL SERIES� CABINET COOLER, FOR USE IN SMALLER CABINETS, 20 CFM, 220V
$113
ICLS-COOL-1
QUIET-COOL SERIES� CLOSET COOLER, ACTIVE EXHAUST, PASSIVE INTAKE, 50 CFM, 220V
$236
ICLS-COOL-2
QUIET-COOL SERIES� CLOSET COOLER, ACTIVE EXHAUST AND INTAKE, 50 CFM, 220V
$286
ICOMP-COOL
QUIET-COOL SERIES� COMPONENT COOLER, FOR COMPONENTS ON OPEN SHELVING, SINGLE PIECE, 8 CFM, 220V
$63
ICOMP-COOL-3
QUIET-COOL SERIES� COMPONENT COOLER, FOR COMPONENTS ON OPEN SHELVING, THREE PIECES ON A SINGLE POWER SUPPLY, 8 CFM EACH, 220V
$150
ICOMP-COOL-E
QUIET-COOL SERIES� COMPONENT COOLER, FOR COMPONENTS ON OPEN SHELVING, SINGLE PIECE THAT PIGGYBACKS TO COMP-COOL-3, DOES NOT INCLUDE A POWER SUPPLY, 8 CFM, 220V
$53
IDF-ARB-24
RACKRAIL BRACKET EXTENDER FOR IDF
$40
IDF-TM-1224BK
12 SPACE (21") TRUSS MOUNT INTERMEDIATE DISTRIBUTION FRAME, FITS 21" DEEP EQUIP., BLACK FINISH
$657
IDF-TM-1624BK
16 SPACE (28") TRUSS MOUNT INTERMEDIATE DISTRIBUTION FRAME, FITS 21" DEEP EQUIP., BLACK FINISH
$699
IEC-12X100
SIGNAL-SAFE IEC POWER CORDS, 12" LENGTH, 100 PIECES
$555
IEC-12X20
SIGNAL-SAFE IEC POWER CORDS, 12" LENGTH, 20 PIECES
$185
IEC-12X20-90L
SIGNAL-SAFE IEC POWER CORDS, 12" LENGTH, LOW-PROFILE LEFT HAND PLUG, 20 PIECES
$278
IEC-12X20-90R
SIGNAL-SAFE IEC POWER CORDS, 12" LENGTH, LOW-PROFILE RIGHT HAND PLUG, 20 PIECES
$278
IEC-12X20SC
SIGNAL-SAFE IEC POWER CORDS FOR CABLE/SATELLITE BOXES, 12" LENGTH, 20 PIECES
$153
IEC-12X4
SIGNAL-SAFE IEC POWER CORDS, 12" LENGTH, 4 PIECES
$37
IEC-18X100
SIGNAL-SAFE IEC POWER CORDS, 18" LENGTH, 100 PIECES
$601
IEC-18X20
SIGNAL-SAFE IEC POWER CORDS, 18" LENGTH, 20 PIECES
$192
IEC-18X20-90L
SIGNAL-SAFE IEC POWER CORDS, 18" LENGTH, LOW-PROFILE LEFT HAND PLUG, 20 PIECES
$289
IEC-18X20-90R
SIGNAL-SAFE IEC POWER CORDS, 18" LENGTH, LOW-PROFILE RIGHT HAND PLUG, 20 PIECES
$289
IEC-18X20SC
SIGNAL-SAFE IEC POWER CORDS FOR CABLE/SATELLITE BOXES, 18" LENGTH, 20 PIECES
$161
IEC-18X4
SIGNAL-SAFE IEC POWER CORDS, 18" LENGTH, 4 PIECES
$40
IEC-24X100
SIGNAL-SAFE IEC POWER CORDS, 24" LENGTH, 100 PIECES
$683
IEC-24X20
SIGNAL-SAFE IEC POWER CORDS, 24" LENGTH, 20 PIECES
$205
IEC-24X20-90L
SIGNAL-SAFE IEC POWER CORDS, 24" LENGTH, LOW-PROFILE LEFT HAND PLUG, 20 PIECES
$307
IEC-24X20-90R
SIGNAL-SAFE IEC POWER CORDS, 24" LENGTH, LOW-PROFILE RIGHT HAND PLUG, 20 PIECES
$307
IEC-24X20SC
SIGNAL-SAFE IEC POWER CORDS FOR CABLE/SATELLITE BOXES, 24" LENGTH, 20 PIECES
$169
IEC-24X4
SIGNAL-SAFE IEC POWER CORDS, 24" LENGTH, 4 PIECES
$44
IEC-36X100
SIGNAL-SAFE IEC POWER CORDS, 36" LENGTH, 100 PIECES
$735
IEC-36X20
SIGNAL-SAFE IEC POWER CORDS, 36" LENGTH, 20 PIECES
$220
IEC-36X20-90L
SIGNAL-SAFE IEC POWER CORDS, 36" LENGTH, LOW-PROFILE LEFT HAND PLUG, 20 PIECES
$330
IEC-36X20-90R
SIGNAL-SAFE IEC POWER CORDS, 36" LENGTH, LOW-PROFILE RIGHT HAND PLUG, 20 PIECES
$330
IEC-36X20SC
SIGNAL-SAFE IEC POWER CORDS FOR CABLE/SATELLITE BOXES, 36" LENGTH, 20 PIECES
$177
IEC-36X4
SIGNAL-SAFE IEC POWER CORDS, 36" LENGTH, 4 PIECES
$51
IEC-48X100
SIGNAL-SAFE IEC POWER CORDS, 48" LENGTH, 100 PIECES
$783
IEC-48X20
SIGNAL-SAFE IEC POWER CORDS, 48" LENGTH, 20 PIECES
$319
IEC-48X20-90L
SIGNAL-SAFE IEC POWER CORDS, 48" LENGTH, LOW-PROFILE LEFT HAND PLUG, 20 PIECES
$478
IEC-48X20-90R
SIGNAL-SAFE IEC POWER CORDS, 48" LENGTH, LOW-PROFILE RIGHT HAND PLUG, 20 PIECES
$478
IEC-48X20SC
SIGNAL-SAFE IEC POWER CORDS FOR CABLE/SATELLITE BOXES, 48" LENGTH, 20 PIECES
$268
IEC-6X100
SIGNAL-SAFE IEC POWER CORDS, 6" LENGTH, 100 PIECES
$469
IEC-6X20
SIGNAL-SAFE IEC POWER CORDS, 6" LENGTH, 20 PIECES
$156
IEC-6X20-90L
SIGNAL-SAFE IEC POWER CORDS, 6" LENGTH, LOW-PROFILE LEFT HAND PLUG, 20 PIECES
$235
IEC-6X20-90R
SIGNAL-SAFE IEC POWER CORDS, 6" LENGTH, LOW-PROFILE RIGHT HAND PLUG, 20 PIECES
$235
IEC-6X20SC
SIGNAL-SAFE IEC POWER CORDS FOR CABLE/SATELLITE BOXES, 6" LENGTH, 20 PIECES
$126
IEC-6X4
SIGNAL-SAFE IEC POWER CORDS, 6" LENGTH, 4 PIECES
$34
ISO-1
POLY-CARB RACK ISOLATION KIT
$27
ISO-KOP
LEXAN ELECTRICAL ISOLATION PANEL FOR MRK, WRK, DRK, ERK, SC, SCRK, SCQ AND ISRK
$30
ISRK-12GY
12 SPACE (21") SLOPED UNDER DESK/MOBILE PRESENTATION RACK WITH GLIDE-AWAY FRONT DOOR
$595
IUQFP-2
ULTRA QUIET FAN PANEL WITH PROPORTIONAL SPEED FAN CONTROL, 2 FANS, 220V
$247
IUQFP-2D
ULTRA QUIET FAN PANEL WITH PROPORTIONAL SPEED FAN CONTROL, 2 FANS, LED DISPLAY, 220V
$425
IUQFP-4
ULTRA QUIET FAN PANEL WITH PROPORTIONAL SPEED FAN CONTROL, 4 FANS, 220V
$278
IUQFP-4D
ULTRA QUIET FAN PANEL WITH PROPORTIONAL SPEED FAN CONTROL, 4 FANS, LED DISPLAY, 220V
$456
IUQFP-4DRA
DESIGNER INSPIRED ULTRA QUIET FAN PANEL WITH PROPORTIONAL SPEED FAN CONTROL, 4 FANS, LED DISPLAY, BLACK BRUSHED FINISH, 220V
$464
J-12X6
12" JUMPER, CONNECTS POWER MODULES (CONNECTOR ON BOTH ENDS) - SOLD IN PACKS OF 6
$76
J-24X6
24" JUMPER, CONNECTS POWER MODULES (CONNECTOR ON BOTH ENDS) - SOLD IN PACKS OF 6
$84
J-72X6
72" JUMPER, CONNECTS POWER MODULES (CONNECTOR ON BOTH ENDS) - SOLD IN PACKS OF 6
$97
JDC-12X18
12 VOLT DC JUMPER WIRE, FOR USE WITH LT-DEC AND LT-TEMP, 2 PIECES
$9
JMS-12X6
12" MASTER/SLAVE JUMPER FOR MPR SERIES MODULES - SOLD IN PACKS OF SIX
$84
KB-SS
PULL-OUT TRAY FOR COMPUTER KEYBOARD (KB NOT INCLUDED)
$169
KDB
READY-TO-ASSEMBLE BOTTOM 15 1/2" DEEP
$33
KDB-14
READY-TO-ASSEMBLEB BOTTOM 14" DEEP
$29
KDB-17.5
READY-TO-ASSEMBLE BOTTOM 17 1/2" DEEP, FITS 15 1/2" EARS
$37
KDB-20.5
READY-TO-ASSEMBLE BOTTOM 20 1/2" DEEP, FITS 15 1/2" EARS
$40
KDE10
PAIR 10 SPACE (17 1/2") EARS, 15 1/2" DEEP
$48
KDE2
PAIR 2 SPACE (3 1/2") EARS, 15 1/2" DEEP
$36
KDE2S
PAIR 2 SPACE (3 1/2") EARS, 11.5" DEEP
$34
KDE3
PAIR 3 SPACE (5 1/4") EARS, 15 1/2" DEEP
$38
KDE3S
PAIR 2 SPACE (5 1/4") EARS, 11.5" DEEP
$36
KDE4
PAIR 4 SPACE (7") EARS, 15 1/2" DEEP
$39
KDE4S
PAIR 4 SPACE (7") EARS, 11.5" DEEP
$38
KDE5
PAIR 5 SPACE (8 3/4") EARS, 15 1/2" DEEP
$40
KDE6
PAIR 6 SPACE (10 1/2")EARS, 15 1/2" DEEP
$42
K-DEC
REMOTE KEYSWITCH PANEL FOR MPR-SEQ/PDS, MOUNTS IN MAP DECORA OPENINGS ONLY
$71
KEY-1
UCP MODULE, FITS 1 KEYSTONE CONNECTOR
$14
KEY-2
UCP MODULE, FITS 2 KEYSTONE CONNECTORS
$14
KEY-4
UCP MODULE, FITS 4 KEYSTONE CONNECTORS
$14
KEY-6
UCP MODULE, FITS 6 KEYSTONE CONNECTORS
$14
KO-AWFP2
FAN KIT FOR REAR DOOR KNOCKOUT
$125
KO-CRD-FAN
FAN KIT FOR REAR DOOR KNOCKOUT ON SPLIT REAR DOOR
$130
KO-CRD-VT
FILTER KIT FOR REAR DOOR KNOCKOUT ON SPLIT REAR DOOR
$22
KO-FILTER3
FILTER KIT FOR REAR DOOR KNOCKOUT
$45
KO-VT3
VENT KIT FOR REAR DOOR KNOCKOUT
$31
KO-WSB3
BLANK PANEL KIT FOR REAR DOOR KNOCKOUT
$31
KYLK
USER INSTALLED KEYLOCK FOR UD DRAWERS
$20
LACE-13-OP
22 3/4" HEIGHT 3 1/4" WIDTH CABLE LACER STRIP WITH CABLE TIE POSTS, 6 PIECES
$92
LACE-13-OWP
22 3/4" HEIGHT 4 3/4" WIDTH CABLE LACER STRIP WITH CABLE TIE POSTS, 6 PIECES
$105
LACE-13P
22 3/4" CABLE LACER STRIP, 6 PIECES
$52
LACE-23-OP
40 1/4" HEIGHT 3 1/4" WIDTH CABLE LACER STRIP WITH CABLE TIE POSTS, 6 PIECES
$128
LACE-23-OWP
40 1/4" HEIGHT 4 3/4" WIDTH CABLE LACER STRIP WITH CABLE TIE POSTS, 6 PIECES
$128
LACE-37-1P
64 3/4" HEIGHT 1" WIDTH CABLE LACER STRIP, 6 PIECES
$106
LACE-37-1SP
64 3/4" HEIGHT 1" WIDTH CABLE LACER STRIP WITH 10 CABLE MANAGEMENT TIE SADDLES
$175
LACE-37LP
64 3/4" HEIGHT 3 1/2" WIDTH CABLE LACER STRIP, 6 PIECES
$158
LACE-37-OP
64 3/4" HEIGHT 3 1/4" WIDTH CABLE LACER STRIP WITH CABLE TIE POSTS, 6 PIECES
$146
LACE-37-OWP
64 3/4" HEIGHT 4 3/4" WIDTH CABLE LACER STRIP WITH CABLE TIE POSTS, 6 PIECES
$170
LACE-37P
64 3/4" CABLE LACER STRIP, 6 PIECES
$106
LACE-40-OP
70" HEIGHT 3 1/4" WIDTH CABLE LACER STRIP WITH CABLE TIE POSTS, 6 PIECES
$152
LACE-40-OWP
70" HEIGHT 4 3/4" WIDTH CABLE LACER STRIP WITH CABLE TIE POSTS, 6 PIECES
$176
LACE-44-1P
77" HEIGHT 1" WIDTH CABLE LACER STRIP, 6 PIECES
$116
LACE-44-1SP
77" HEIGHT 1" WIDTH CABLE LACER STRIP WITH 10 CABLE MANAGEMENT TIE SADDLES
$187
LACE-44LP
77" HEIGHT 3 1/2" WIDTH CABLE LACER STRIP, 6 PIECES
$181
LACE-44-OP
77" HEIGHT 3 1/4" WIDTH CABLE LACER STRIP WITH CABLE TIE POSTS, 6 PIECES
$158
LACE-44-OWP
77" HEIGHT 4 3/4" WIDTH CABLE LACER STRIP WITH CABLE TIE POSTS, 6 PIECES
$182
LACE-P
77" CABLE LACER STRIP, 6 PIECES
$116
LATCH
KEYLESS DOOR LATCH TO REPLACE STANDARD LOCK
$13
LBFR-1626-T
FRONT TO REAR TELESCOPING LACER BAR, 16" TO 26", 2 PIECES
$47
LBFR-2036-T
FRONT TO REAR TELESCOPING LACER BAR, 20" TO 36", 2 PIECES
$58
LBFR-3650-T
FRONT TO REAR TELESCOPING LACER BAR, 36" TO 50", 2 PIECES
$64
LBFR-5A-16
FRONT TO REAR LACER BAR FOR SAX AND SSAX, 2 PIECES
$29
LBFR-5A-20
FRONT TO REAR LACER BAR FOR AXS, AX-SX, AX-SXR AND SLIM 5, 2 PIECES
$35
LBFR-5A-26
FRONT TO REAR LACER BAR FOR AXS-26 26" DEEP SLIM 5, 2 PIECES
$41
LBH-1930-T
HORIZONTAL TELESCOPING LACER BAR, 2 PIECES
$41
LBP-1.5
ROUND LACING BARS WITH 1.5" OFFSET, 10 PC. PACK
$72
LBP-1A
"L" SHAPED LACING BAR, 10 PC. PACK
$32
LBP-1A-23
"L" SHAPED LACING BAR, 10 PC. PACK, 23" PANEL WIDTH
$42
LBP-1R
ROUND LACING BARS, 10 PC. PACK
$50
LBP-1R4
ROUND LACING BARS WITH 4" OFFSET, 10 PC. PACK
$80
LBP-1S
RECTANGULAR (SQUARE CORNER) LACING BARS, 10 PC. PACK
$50
LBP-2A
"L" SHAPED LACING BAR WITH 2" OFFSET, 10 PC. PACK
$55
LBP-4A
"L" SHAPED LACING BAR WITH 4" OFFSET, 10 PC. PACK
$61
LBP-6A
"L" SHAPED LACING BAR WITH 6" OFFSET, 10 PC. PACK
$69
LBP-LTF
2 SPACE (3 1/2") LACER PANELS, 10 PC. PACK
$104
LBX-3
3 SPACE (5 1/4") LOCK BOX STORAGE UNIT
$86
LBX-4
4 SPACE (7") LOCK BOX STORAGE UNIT
$94
LD-1230DC
12 SPACE (21") LCD MONITORING DESK SIDE RACK, 30" HEIGHT, DARK CHERRY FINISH
$851
LD-1230HM
12 SPACE (21") LCD MONITORING DESK SIDE RACK, 30" HEIGHT, HONEY MAPLE FINISH
$851
LD-1230PS
12 SPACE (21") LCD MONITORING DESK SIDE RACK, 30" HEIGHT, PEPPERSTONE FINISH
$851
LD-4830DC
LCD MONITORING DESK, 48" WIDTH, 30" HEIGHT, DARK CHERRY FINISH
$1622
LD-4830DC-RA
LCD MONITORING DESK, 48" WIDTH, ADD-A-BAY RIGHT, 30" HEIGHT, DARK CHERRY FINISH
$1401
LD-4830HM
LCD MONITORING DESK, 48" WIDTH, 30" HEIGHT, HONEY MAPLE FINISH
$1622
LD-4830HM-RA
LCD MONITORING DESK, 48" WIDTH, ADD-A-BAY RIGHT, 30" HEIGHT, HONEY MAPLE FINISH
$1401
LD-4830PS
LCD MONITORING DESK, 48" WIDTH, 30" HEIGHT, PEPPERSTONE FINISH
$1622
LD-4830PS-RA
LCD MONITORING DESK, 48" WIDTH, ADD-A-BAY RIGHT, 30" HEIGHT, PEPPERSTONE FINISH
$1401
LD-6430DC
LCD MONITORING DESK, 64" WIDTH, 30" HEIGHT, DARK CHERRY FINISH
$1736
LD-6430DC-RA
LCD MONITORING DESK, 64" WIDTH, 30" HEIGHT, ADD-A-BAY RIGHT, DARK CHERRY FINISH
$1502
LD-6430HM
LCD MONITORING DESK, 64" WIDTH, 30" HEIGHT, HONEY MAPLE FINISH
$1736
LD-6430HM-RA
LCD MONITORING DESK, 64" WIDTH, 30" HEIGHT, ADD-A-BAY RIGHT, HONEY MAPLE FINISH
$1502
LD-6430PS
LCD MONITORING DESK, 64" WIDTH, 30" HEIGHT, PEPPERSTONE FINISH
$1736
LD-6430PS-RA
LCD MONITORING DESK, 64" WIDTH, 30" HEIGHT, ADD-A-BAY RIGHT, PEPPERSTONE FINISH
$1502
LD-AM1X1
LCD MOUNT, MOUNTS ONE LCD, ARTICULATIING, BLACK FINISH
$286
LD-CPU
UNDER-DESK ARTICULATING CPU MOUNT FOR LCD MONITORING DESK
$137
LD-KBTDC
UNDER-DESK ARTICULATING KEYBOARD MOUNT, INCLUDES WRIST-REST, DARK CHERRY FINISH
$143
LD-KBTHM
UNDER-DESK ARTICULATING KEYBOARD MOUNT, INCLUDES WRIST-REST, HONEY MAPLE FINISH
$143
LD-KBTPS
UNDER-DESK ARTICULATING KEYBOARD MOUNT, INCLUDES WRIST-REST, PEPPERSTONE FINISH
$143
LD-L48
LIGHT BRIDGE FOR 48" LCD MONITORING DESK
$942
LD-L48RA
LIGHT BRIDGE FOR 48" LCD MONITORING DESK, ADD-A-BAY RIGHT
$902
LD-L64
LIGHT BRIDGE FOR 64" LCD MONITORING DESK
$1020
LD-L64RA
LIGHT BRIDGE FOR 64" LCD MONITORING DESK, ADD-A-BAY RIGHT
$981
LD-LGM
ADJUSTABLE LIGHT FOR LCD MONITORING DESK, GROMMET MOUNT
$229
LD-M2X1
LCD MOUNT FOR LCD MONITORING DESK, MOUNTS 2 LCDS HORIZONTALLY
$445
LD-M2X2
LCD MOUNT FOR LCD MONITORING DESK, MOUNTS 4 LCDS 2 ACROSS, 2 LEVELS
$811
LD-M3X1
LCD MOUNT FOR LCD MONITORING DESK, MOUNTS 3 LCDS HORIZONTALLY
$549
LD-M3X1L
LCD MOUNT FOR LCD MONITORING DESK, MOUNTS 3 LCDS HORIZONTALLY, LOW PROFILE
$541
LD-M3X2
LCD MOUNT FOR LCD MONITORING DESK, MOUNTS 6 LCDS 3 ACROSS, 2 LEVELS
$873
LD-PSP30-DC
FULL HEIGHT SIDE PANELS FOR LCD MONITORING DESK, DARK CHERRY FINISH, PAIR
$659
LD-PSP30-HM
FULL HEIGHT SIDE PANELS FOR LCD MONITORING DESK, HONEY MAPLE FINISH, PAIR
$659
LD-PSP30-SL
FULL HEIGHT SIDE PANELS FOR LCD MONITORING DESK, SLATE FINISH, PAIR
$659
LD-QCPUT-DC
CPU ISOLATION RACK FOR LCD MONITORING DESK, DARK CHERRY FINISH
$410
LD-QCPUT-HM
CPU ISOLATION RACK FOR LCD MONITORING DESK, HONEY MAPLE FINISH
$410
LD-QCPUT-PS
CPU ISOLATION RACK FOR LCD MONITORING DESK, PEPPERSTONE FINISH
$410
LD-SP30-DC
SIDE PANELS FOR LCD MONITORING DESK, DARK CHERRY FINISH, PAIR
$418
LD-SP30-HM
SIDE PANELS FOR LCD MONITORING DESK, HONEY MAPLE FINISH, PAIR
$418
LD-SP30-SL
SIDE PANELS FOR LCD MONITORING DESK, SLATE FINISH, PAIR
$418
LD-TEL
PHONE HOLDER FOR LCD MONITORING DESK, MOUNTS TO SIDE RAIL, FULLY ADJUSTABLE
$103
LD-W4530DC
45 DEGREE WEDGE FOR LCD MONITORING DESK, INCLUDES CABLE MANAGEMENT CABINET, DARK CHERRY FINISH
$564
LD-W4530HM
45 DEGREE WEDGE FOR LCD MONITORING DESK, INCLUDES CABLE MANAGEMENT CABINET, HONEY MAPLE FINISH
$564
LD-W4530PS
45 DEGREE WEDGE FOR LCD MONITORING DESK, INCLUDES CABLE MANAGEMENT CABINET, PEPPERSTONE FINISH
$564
LD-W9030DC
90 DEGREE WEDGE FOR LCD MONITORING DESK, INCLUDES CABLE MANAGEMENT CABINET, DARK CHERRY FINISH
$679
LD-W9030HM
90 DEGREE WEDGE FOR LCD MONITORING DESK, INCLUDES CABLE MANAGEMENT CABINET, HONEY MAPLE FINISH
$679
LD-W9030PS
90 DEGREE WEDGE FOR LCD MONITORING DESK, INCLUDES CABLE MANAGEMENT CABINET, PEPPERSTONE FINISH
$679
LD-WTT45DC
45 DEGREE WEDGE FOR LCD MONITORING DESK, TOP ONLY, DARK CHERRY FINISH
$234
LD-WTT45HM
45 DEGREE WEDGE FOR LCD MONITORING DESK, TOP ONLY, HONEY MAPLE FINISH
$234
LD-WTT45PS
45 DEGREE WEDGE FOR LCD MONITORING DESK, TOP ONLY, PEPPERSTONE FINISH
$234
LF
SET OF 4 LEVELING FEET
$20
LF-ISO
SET OF 4 LEVELING FEET WITH RUBBER ISOLATION BOOT
$24
LG
LIGHT GRAY FINISH TOUCH UP KIT
$18
LP
LP/LASER/DISC/BINDER HOLDER, BLACK BRUSHED FINISH
$171
LT-1R
RACKMOUNT LED LIGHT, BLACK POWDERCOAT FINISH
$121
LT-1RA
DESIGNER INSPIRED RACKMOUNT LED LIGHT, BLACK BRUSHED FINISH
$138
LT-1RC
DESIGNER INSPIRED RACKMOUNT LED LIGHT, SILVER BRUSHED FINISH
$138
LT2P
1 SP (1 3/4") PANEL WITH 2 DEC-LT, BLACK POWDER COAT FINISH
$92
LT2-T1P
1 SP (1 3/4") PANEL WITH TEMP-DEC AND 2 DEC-LT, BLACK POWDER COAT FINISH
$173
LT-DEC
DECORA MOUNT LED LIGHT
$32
LT-GN
USB MOUNT LED LIGHT
$16
LT-GN-PL
GOOSENECK LED LIGHT WITH 120V PLUG
$26
LVFD-10
VENTED FRONT DOOR, 64% OPEN AREA, FITS 10 SPACE DWR SERIES RACKS, BLACK FINISH
$188
LVFD-10GY
VENTED FRONT DOOR, 64% OPEN AREA, FITS 10 SPACE DWR SERIES RACKS, GRANITE GRAY FINISH
$188
LVFD-12
VENTED FRONT DOOR, 64% OPEN AREA, FITS 12 SPACE DWR SERIES RACKS, BLACK FINISH
$197
LVFD-12GY
VENTED FRONT DOOR, 64% OPEN AREA, FITS 12 SPACE DWR SERIES RACKS, GRANITE GRAY FINISH
$197
LVFD-16
VENTED FRONT DOOR, 64% OPEN AREA, FITS 16 SPACE DWR SERIES RACKS, BLACK FINISH
$204
LVFD-16GY
VENTED FRONT DOOR, 64% OPEN AREA, FITS 16 SPACE DWR SERIES RACKS, GRANITE GRAY FINISH
$204
LVFD-18
VENTED FRONT DOOR, 64% OPEN AREA, FITS 18 SPACE DWR AND ERK SERIES RACKS, BLACK FINISH
$215
LVFD-18GY
VENTED FRONT DOOR, 64% OPEN AREA, FITS 18 SPACE DWR AND ERK SERIES RACKS, GRANITE GRAY FINISH
$215
LVFD-21
VENTED FRONT DOOR, 64% OPEN AREA, FITS 21 SPACE DWR SERIES RACKS, BLACK FINISH
$226
LVFD-21GY
VENTED FRONT DOOR, 64% OPEN AREA, FITS 21 SPACE DWR SERIES RACKS, GRANITE GRAY FINISH
$226
LVFD-24
VENTED FRONT DOOR, 64% OPEN AREA, FITS 24 SPACE DWR, MRK AND WRK SERIES RACKS, BLACK FINISH
$238
LVFD-24GY
VENTED FRONT DOOR, 64% OPEN AREA, FITS 24 SPACE DWR, MRK AND WRK SERIES RACKS, GRANITE GRAY FINISH
$238
LVFD-35
VENTED FRONT DOOR, 64% OPEN AREA, FITS 35 SPACE DWR, AND ERK SERIES RACKS, BLACK FINISH
$285
LVFD-35GY
VENTED FRONT DOOR, 64% OPEN AREA, FITS 35 SPACE DWR, AND ERK SERIES RACKS, GRANITE GRAY FINISH
$285
LVFD-37
VENTED FRONT DOOR, 64% OPEN AREA, FITS 37 SPACE MRK AND WRK SERIES RACKS, BLACK FINISH
$294
LVFD-40
VENTED FRONT DOOR, 64% OPEN AREA, FITS 40 SPACE ERK, MRK, WRK AND SR SERIES RACKS, BLACK FINISH
$313
LVFD-44
VENTED FRONT DOOR, 64% OPEN AREA, FITS 44 SPACE ERK, MRK, WRK, VRK SERIES RACKS, BLACK FINISH
$342
LVFD-WMRK-24
VENTED FRONT DOOR, 70% OPEN AREA, FITS 24 SPACE WMRK SERIES, BLACK FINISH
$229
LVFD-WMRK-42
VENTED FRONT DOOR, 70% OPEN AREA, FITS 42 SPACE WMRK SERIES, BLACK FINISH
$316
LVFD-WMRK-45
VENTED FRONT DOOR, 70% OPEN AREA, FITS 45 SPACE WMRK SERIES, BLACK FINISH
$342
M-15
15 AMP MPR MODULE, ALWAYS ON
$53
M-20
20 AMP MPR MODULE, ALWAYS ON
$61
M-20IG
20 AMP ISO-GROUND MPR MODULE, ALWAYS ON
$67
M-2X15
15 AMP DUAL DUPLEX MPR MODULE, ALWAYS ON, SINGLE OR DUAL CIRCUIT, 4 OUTLETS
$62
M-2X20
20 AMP DUAL DUPLEX MPR MODULE, ALWAYS ON, SINGLE OR DUAL CIRCUIT, 4 OUTLETS
$72
M-2X20IG
20 AMP ISO-GROUND DUAL DUPLEX MPR MODULE, ALWAYS ON, SINGLE OR DUAL CIRCUIT, 4 OUTLETS
$75
M-30TL-HW
30 AMP MPR MODULE, ALWAYS ON, HARDWIRED, 1 OUTLET
$66
MAG-1/2
1/2" SAE MAGNETIC SOCKET FOR EASE IN GANGING RACKS, 3/8" DRIVE, 2 PCS.
$29
MBRK12
12 SPACE (21"), 18" DEEP MAPLE MELAMINE RACK
$166
MBRK12-22
12 SPACE (21"), 22" DEEP MAPLE MELAMINE RACK
$184
MBRK12-28
12 SPACE (21"), 28" DEEP MAPLE MELAMINE RACK
$217
MBRK16
16 SPACE (28"), 18" DEEP MAPLE MELAMINE RACK
$186
MBRK16-22
16 SPACE (28"), 22" DEEP MAPLE MELAMINE RACK
$206
MBRK16-28
16 SPACE (28"), 28" DEEP MAPLE MELAMINE RACK
$239
MBRK20
20 SPACE (35"), 18" DEEP MAPLE MELAMINE RACK
$200
MBRK20-22
20 SPACE (35"), 22" DEEP MAPLE MELAMINE RACK
$223
MBRK20-28
20 SPACE (35"), 28" DEEP MAPLE MELAMINE RACK
$266
MBRK28-22
28 SPACE (49"), 22" DEEP MAPLE MELAMINE RACK
$273
MBRK28-28
28 SPACE (49"), 28" DEEP MAPLE MELAMINE RACK
$326
MBRK8
8 SPACE (14"), 18" DEEP MAPLE MELAMINE RACK
$149
MBRK8-22
8 SPACE (14"), 22" DEEP MAPLE MELAMINE RACK
$166
MD-KB
COMPUTER KEYBOARD TRAY W/PULL OUT MOUSE TRAY
$118
MDV-CK
CASTER KIT, FITS MDV-R12 RACKS
$75
MDV-CNR1
CORNER UNIT, INCLUDES CONFIGURABLE 1 PIECE OVERBRIDGE
$557
MDV-CNR3
CORNER UNIT, INCLUDES CONFIGURABLE 2 PIECE OVERBRIDGE
$647
MDV-DL
59" STRAIGHT DESK, INCLUDES FULL-WIDTH OVERBRIDGE
$557
MDV-DSK
48" STRAIGHT DESK, INCLUDES 2 X 4 SPACE OVERBRIDGE
$376
MDV-OB4
4 SPACE OVERBRIDGE, FITS MDV-R12
$123
MDV-R12
12 SPACE SIDE RACK
$216
MDV-W
1 PC. TABLE-TOP WEDGE, CONNECTS RACKS TO DESKS AT 45* ANGLE
$104
MK-19-45
45 SPACE (78 3/4") CABLE MANAGEMENT RACK
$447
MK-1945-24
45 SPACE (78 3/4") DEEP CABLE MANAGEMENT RACK
$559
MK-LA
LADDER ADAPTER FOR MK SERIES RACKS
$41
MPR-3
MODULAR POWER RACEWAY - ACCEPTS 3 POWER MODULES
$41
MPR-6
MODULAR POWER RACEWAY - ACCEPTS 6 POWER MODULES
$45
MPR-8
MODULAR POWER RACEWAY - ACCEPTS 8 POWER MODULES
$49
MPR-9
MODULAR POWER RACEWAY - ACCEPTS 9 POWER MODULES
$51
MPR-BL
BLANK COVER FOR MPR RACEWAY - SOLD IN PACKS OF 6
$20
MPR-E1
MODULAR POWER RACEWAY 1.25" EXTENSION
$13
MPR-JBE
MODULAR POWER RACEWAY 2.7" J-BOX EXTENSION
$20
MPR-SEQ
RACEWAY MOUNT 6 STEP SEQUENCING CONTROLLER, CONTACT CLOSURE CONTROL
$152
MPR-SEQ-1C
STAND-ALONE 6 STEP SEQUENCING CONTROLLER, CONTACT CLOSURE CONTROL
$168
MPR-SS
TRANSIENT VOLTAGE SURGE SUPPRESSION MODULE FOR MPR RACEWAYS, 1 PC.
$45
MRK-2426
24 SPACE (42"), 26" DEEP GANGABLE RACK WITH REAR DOOR, BLACK FINISH
$606
MRK-2431
24 SPACE (42"), 31" DEEP GANGABLE RACK WITH REAR DOOR, BLACK FINISH
$667
MRK-3726
37 SPACE (64 3/4"), 26" DEEP GANGABLE RACK WITH REAR DOOR, BLACK FINISH
$652
MRK-3726AXS
34 SPACE (59 1/2"), 20" DEEP AX-S SYSTEM HOUSED IN A MRK-3726, BLACK FINISH
$1158
MRK-3726AXS-Z4
AX-S SYSTEM IN MRK-3726 - INCLUDES SEISMIC LOCKING BRACKETS, CUSTOM INNER RISER BASE, 3 LOCKING PANELS, & SPECIAL INSTRUCTIONS
$1314
MRK-3731
37 SPACE (64 3/4"), 31" DEEP GANGABLE RACK WITH REAR DOOR, BLACK FINISH
$751
MRK-3731AXS-26
34 SPACE (59 1/2"), 26" DEEP AX-S SYSTEM HOUSED IN A MRK-3731, BLACK FINISH
$1252
MRK-4026
40 SPACE (70"), 26" DEEP GANGABLE RACK WITH REAR DOOR, BLACK FINISH
$675
MRK-4026AXS
37 SPACE (64 3/4"), 20" DEEPAX-S SYSTEM HOUSED IN A MRK-4026, BLACK FINISH
$1193
MRK-4026AXS-Z4
AX-S SYSTEM IN MRK-4026 - INCLUDES SEISMIC LOCKING BRACKETS, CUSTOM INNER RISER BASE, 3 LOCKING PANELS, & SPECIAL INSTRUCTIONS
$1333
MRK-4031
40 SPACE (70"), 31" DEEP GANGABLE RACK WITH REAR DOOR, BLACK FINISH
$802
MRK-4031AXS-26
37 SPACE (64 3/4"), 26" DEEP AX-S SYSTEM HOUSED IN A MRK-4031, BLACK FINISH
$1336
MRK-4036
40 SPACE (70"), 36" DEEP GANGABLE RACK WITH REAR DOOR, BLACK FINISH
$909
MRK-4036LRD
40 SPACE (70"), 36" DEEP GANGABLE RACK LESS REAR DOOR, BLACK FINISH
$843
MRK-4036PROLRD
40 SPACE (70"), 36" DEEP GANGABLE RACK LESS REAR DOOR, WITH CAGE-NUT RACKRAIL, BLACK FINISH
$860
MRK-4042
40 SPACE (70"), 42" DEEP GANGABLE RACK WITH REAR DOOR, BLACK FINISH
$1018
MRK-4042LRD
40 SPACE (70"), 42" DEEP GANGABLE RACK WITH REAR DOOR, BLACK FINISH, LESS REAR DOOR
$953
MRK-4042PROLRD
40 SPACE (70"), 42" DEEP GANGABLE RACK LESS REAR DOOR, WITH CAGE-NUT RACKRAIL, BLACK FINISH
$962
MRK-4426
44 SPACE (77"), 26" DEEP GANGABLE RACK WITH REAR DOOR, BLACK FINISH
$729
MRK-4426-AV
44 SPACE (77"), 26" DEEP GANGABLE RACK CONFIGURED FOR AV, BLACK FINISH
$1933
MRK-4426-AV-AB
44 SPACE (77"), 26" DEEP GANGABLE RACK CONFIGURED FOR AV, ADD-A-BAY, BLACK FINISH
$1624
MRK-4426AXS
41 SPACE (71 3/4"), 20" DEEP AX-S SYSTEM HOUSED IN A MRK-4426, BLACK FINISH
$1223
MRK-4426AXS-Z4
AX-S SYSTEM IN MRK-4426 - INCLUDES SEISMIC LOCKING BRACKETS, CUSTOM INNER RISER BASE, 3 LOCKING PANELS, & SPECIAL INSTRUCTIONS
$1352
MRK-4426LRD
44 SPACE (77"), 26" DEEP GANGABLE RACK LESS REAR DOOR, BLACK FINISH
$663
MRK-4431
44 SPACE (77"), 31" DEEP GANGABLE RACK WITH REAR DOOR, BLACK FINISH
$839
MRK-4431-AV
44 SPACE (77"), 31" DEEP GANGABLE RACK CONFIGURED FOR AV, BLACK FINISH
$2196
MRK-4431-AV-AB
44 SPACE (77"), 31" DEEP GANGABLE RACK CONFIGURED FOR AV, ADD-A-BAY, BLACK FINISH
$1778
MRK-4431AXS-26
41 SPACE (71 3/4"), 26" DEEP AX-S SYSTEM HOUSED IN A MRK-4431, BLACK FINISH
$1426
MRK-4431-DVR
44 SPACE (77"), 31" DEEP GANGABLE RACK CONFIGURED FOR DVRS, BLACK FINISH
$2360
MRK-4431-DVR-AB
44 SPACE (77"), 31" DEEP GANGABLE RACK CONFIGURED FOR DVRS, ADD-A-BAY, BLACK FINISH
$1942
MRK-4431LRD
44 SPACE (77"), 31" DEEP GANGABLE RACK LESS REAR DOOR, BLACK FINISH
$773
MRK-4431PRO
44 SPACE (77"), 31" DEEP GANGABLE RACK WITH REAR DOOR, WITH CAGE-NUT RACKRAIL, BLACK FINISH
$855
MRK-4431PROLRD
44 SPACE (77"), 31" DEEP GANGABLE RACK LESS REAR DOOR, WITH CAGE-NUT RACKRAIL, BLACK FINISH
$790
MRK-4436
44 SPACE (77"), 36" DEEP GANGABLE RACK WITH REAR DOOR, BLACK FINISH
$948
MRK-4436LRD
44 SPACE (77"), 36" DEEP GANGABLE RACK LESS REAR DOOR, BLACK FINISH
$882
MRK-4436-NVR
44 SPACE (77"), 36" DEEP GANGABLE RACK CONFIGURED FOR NVRS, BLACK FINISH
$2569
MRK-4436-NVR-AB
44 SPACE (77"), 36" DEEP GANGABLE RACK CONFIGURED FOR NVRS, ADD-A-BAY, BLACK FINISH
$2136
MRK-4436PRO
44 SPACE (77"), 36" DEEP GANGABLE RACK WITH REAR DOOR AND CAGE-NUT RACKRAIL, BLACK FINISH
$965
MRK-4436PROLRD
44 SPACE (77"), 36" DEEP GANGABLE RACK LESS REAR DOOR AND CAGE-NUT RACKRAIL, BLACK FINISH
$899
MRK-4442
44 SPACE (77"), 42" DEEP GANGABLE RACK WITH REAR DOOR, BLACK FINISH
$1080
MRK-4442LRD
44 SPACE (77"), 42" DEEP GANGABLE RACK LESS REAR DOOR, BLACK FINISH
$1013
MRK-4442PRO
44 SPACE (77"), 42" DEEP GANGABLE RACK WITH REAR DOOR, WITH CAGE-NUT RAIL BLACK FINISH
$1099
MRK-4442PROLRD
44 SPACE (77"), 42" DEEP GANGABLE RACK LESS REAR DOOR, WITH CAGE-NUT RAIL BLACK FINISH
$1032
MRK-TEMP-26
ROUGH IN TEMPLATE FOR 26" DEEP MRK'S FOR PRE-DRILLING FLOOR ANCHOR BOLTS, ETC.
$36
MRK-TEMP-31
ROUGH IN TEMPLATE FOR 31" DEEP MRK'S FOR PRE-DRILLING FLOOR ANCHOR BOLTS, ETC.
$40
MRK-TEMP-36
ROUGH IN TEMPLATE FOR 36" DEEP MRK'S FOR PRE-DRILLING FLOOR ANCHOR BOLTS, ETC.
$43
MRK-Z4
SEISMIC FLOOR ANCHOR BRACKETS FOR THE MRK SERIES
$32
MV-PVT26
VENTED PAGODA TOP FOR 26" DEEP MRK, BLACK FINISH
$122
MV-PVT31
VENTED PAGODA TOP FOR 31" DEEP MRK, VRK AND VMRK, BLACK FINISH
$131
MV-PVT36
VENTED PAGODA TOP FOR 36" DEEP MRK AND VRK, BLACK FINISH
$139
MV-PVT42
VENTED PAGODA TOP FOR 42" DEEP MRK, BLACK FINISH
$162
MV-RR24
24 SPACE (42") MRK/VRK ADDITIONAL RAIL KIT
$69
MV-RR37
37 SPACE (64 3/4") MRK/VRK ADDITIONAL RAIL KIT
$75
MV-RR40
40 SPACE (70") MRK/VRK ADDITIONAL RAIL KIT
$82
MV-RR44
44 SPACE (77") MRK/VRK ADDITIONAL RAIL KIT
$90
MV-ZRA-44
44 SPACE (77") MRK/VRK Z-RAIL ADAPTOR KIT
$76
MW-10FT
10" FAN TOP (EXCLUDING FAN) FOR ANY WRK, MRK, VRK OR VMRK
$45
MW-10FT-550CFM
INTEGRATED 10" FAN TOP, INCLUDES 1 FAN, 550 CFM, FITS ANY MRK, WRK, VRK OR VMRK, BLACK FINISH
$301
MW-10FT-FC
INTEGRATED 10" FAN TOP, INCLUDES 1 FAN AND PROPORTIONAL SPEED FAN CONTROL, FITS ANY MRK, WRK, VRK OR VMRK, BLACK FINISH
$400
MW-4FT
4 1/2" FAN TOP (EXCLUDING FANS) FOR ANY WRK, MRK, VRK OR VMRK, FITS UP TO 4 FANS
$45
MW-4FT-380CFM
INTEGRATED 4 1/2" FAN TOP, INCLUDES 4 FANs, 380 CFM, FITS ANY MRK, WRK, VRK OR VMRK, BLACK FINISH
$278
MW-4QFT-FC
INTEGRATED 4 1/2" FAN TOP, INCLUDES 4 QUIET FANS AND PROPORTIONAL SPEED FAN CONTROL, FITS ANY MRK, WRK, DRK, VRK OR VMRK, BLACK FINISH
$477
MW-6FT
6" FAN TOP (EXCLUDING FANS) FOR ANY WRK, MRK, VRK OR VMRK
$44
MW-6FT-660CFM
INTEGRATED 6" FAN TOP, INCLUDES 3 FANS, 660 CFM, FITS ANY MRK, WRK, VRK OR VMRK, BLACK FINISH
$351
MWCFRD-1/2PNL-42
1/2 BLANK PANEL FOR GREATER CONTROL OF FAN PLACEMENT, FOR USE WITH MW-CFRD-42
$52
MWCFRD-1/2PNL-44
1/2 BLANK PANEL FOR GREATER CONTROL OF FAN PLACEMENT, FOR USE WITH MW-CFRD-44
$52
MWCFRD-1/2PNL-45
1/2 BLANK PANEL FOR GREATER CONTROL OF FAN PLACEMENT, FOR USE WITH MW-CFRD-45
$52
MW-CFRD-42
HIGH CFM SPLIT REAR DOOR, 1320 CFM, FOR 42 SPACE WMRK
$1214
MW-CFRD-44
HIGH CFM SPLIT REAR DOOR, 1320 CFM, FOR 44 SPACE WMRK, WRK, OR MRK
$1228
MW-CFRD-45
HIGH CFM SPLIT REAR DOOR, 1320 CFM, FOR 45 SPACE WMRK
$1235
MW-CFRD-FKIT
ADDITIONAL 6" FAN FOR HIGH CFM SPLIT REAR DOOR, 220 CFM
$92
MW-CLVRD-24
VENTED SPLIT REAR DOOR, 79% OPEN AREA, FITS 24 SPACE WMRKS
$251
MW-CLVRD-42
VENTED SPLIT REAR DOOR, 79% OPEN AREA, FITS 42 SPACE WMRKS
$316
MW-CLVRD-44
VENTED SPLIT REAR DOOR, 79% OPEN AREA, FITS 44 SPACE WRK, MRK AND VRKS
$351
MW-CLVRD-45
VENTED SPLIT REAR DOOR, 79% OPEN AREA, FITS 45 SPACE WMRKS
$352
MW-CRD-24
SOLID SPLIT REAR DOOR, FITS 24 SPACE WMRKS
$184
MW-CRD-42
SOLID SPLIT REAR DOOR, FITS 42 SPACE WMRKS
$192
MW-CRD-44
SOLID SPLIT REAR DOOR, FITS 44 SPACE WRK, MRK AND VRKS
$198
MW-CRD-45
SOLID SPLIT REAR DOOR, FITS 45 SPACE WMRKS
$204
MW-DT
DUCT COOL ADAPTER TOP (EXCLUDING DUCT COOL) FOR ANY WRK, MRK, VRK OR VMRK
$49
MW-LA
CABLE LADDER ADAPTOR TOP FOR ANY DRK, WRK, MRK, VRK OR VMRK, BLACK FINISH
$58
MW-LVRD-40
64% OPEN AREA REAR DOOR OPTION FOR 40SP WRK AND MRK RACKS, BLACK FINISH
$226
MW-LVRD-44
64% OPEN AREA REAR DOOR OPTION FOR 44SP WRK, MRK, AND VRK RACKS, BLACK FINISH
$231
MW-LVT
64% OPEN AREA TOP FOR ANY DRK, WRK, MRK, VRK, OR VMRK, BLACK FINISH
$68
MW-ST
SOLID TOP FOR ANY WRK, MRK, VRK OR VMRK, BLACK FINISH
$45
MW-TR
TOP RAIL OPTION FOR THE WRK, MRK, VRK AND VMRK, SERIES RACKS, 13 SPACES
$30
MW-VRD-44
PARTIALLY VENTED REAR DOOR OPTION FOR 44SP WRK, MRK, AND VRK RACKS, BLACK FINISH
$131
MW-VT
VENTED TOP FOR ANY WRK, MRK, VRK, OR VMRK, BLACK FINISH
$45
OBRK12
12 SPACE ( 21" ) 3/4" OAK LAMINATE READY-TO-ASSEMBLE RACK, 18" DEEP
$141
OBRK16
16 SPACE ( 28" ) 3/4" OAK LAMINATE READY-TO-ASSEMBLE RACK, 18" DEEP
$166
OBRK20
20 SPACE ( 35" ) 3/4" OAK LAMINATE READY-TO-ASSEMBLE RACK, 18" DEEP
$183
OBRK8
8 SPACE ( 14" ) 3/4" OAK LAMINATE READY-TO-ASSEMBLE RACK, 18" DEEP
$130
OCAP-2
2 SPACE (3 1/2") OPEN CAPTIVATOR SHELF, READY-TO-ASSEMBLE CONSTRUCTION, BLACK FINISH
$30
OCAP-3
3 SPACE (5 1/4") OPEN CAPTIVATOR SHELF, READY-TO-ASSEMBLE CONSTRUCTION, BLACK FINISH
$37
OSR16
16 SPACE ( 28" ) OAK SLOPED STUDIO RACK W/ CASTERS
$234
OSR24
24 SPACE ( 42" ) OAK SLOPED STUDIO RACK W/ CASTERS
$268
PB-5A
BRACKETS TO MOUNT MIDDLE ATLANTIC POWER STRIPS ON REAR RACKRAIL OF A SLIM OR AX-S RACK (PAIR)
$12
PB-90
BRACKETS TO MOUNT MIDDLE ATLANTIC VERTICAL POWER STRIPS , ORIENTS OUTLETS TO FRONT/REAR OF RACK
$14
PB-DWR
BRACKET TO MOUNT MIDDLE ATLANTIC POWER STRIPS IN SR-40-22, & DWR WALL RACKS
$32
PBL-1
1 SP (1 3/4") FLANGED ALUMINUM BLANK PANEL, BLACK POWDER COAT FINISH
$8
PBL1-CP12
12 PC. PBL-1 CONTRACTOR PACK, PANELS IN PLAIN POLY BAGS
$90
PBL-2
2 SP (3 1/2") FLANGED ALUMINUM BLANK PANEL, BLACK POWDER COAT FINISH
$10
PBL2-CP12
12 PC. PBL-2 CONTRACTOR PACK, PANELS IN PLAIN POLY BAGS
$114
PBL-3
3 SP (5 1/4") FLANGED ALUMINUM BLANK PANEL, BLACK POWDER COAT FINISH
$14
PBL3-CP6
6 PC. PBL-3 CONTRACTOR PACK, PANELS IN PLAIN POLY BAGS
$81
PBL-4
4 SP (7") FLANGED ALUMINUM BLANK PANEL, BLACK POWDER COAT FINISH
$16
PBL4-CP6
6 PC. PBL-4 CONTRACTOR PACK, PANELS IN PLAIN POLY BAGS
$92
PBS-WMRK-36
PLENUM BASE, FITS 36" DEEP WMRK'S
$182
PBS-WMRK-42
PLENUM BASE, FITS 42" DEEP WMRK'S
$200
PBS-WMRK-48
PLENUM BASE, FITS 48" DEEP WMRK'S
$208
PB-XS
RACKMOUNT POWER BRACKET FOR PD-815SC AND PD-815SC-NS POWER STRIPS
$28
PCR-2X320
PRECONFIGURED RACEWAY, 6 DUPLEX, (2) 20 AMP CIRCUITS, CONTAINS (6) RLM-20 MPR MODULES
$448
PCR6
PRECONFIGURED RACEWAY, 6 OUTLET, (1) 20 AMP CIRCUIT, CONTAINS (6) R-20 MPR MODULES
$433
PD-1015C
10 OUTLET, SINGLE 15 AMP CIRCUIT, SURGE/SPIKE PROTECTED POWER STRIP W/ 9' CORD, FITS RACKS THAT ACCEPT 'G' POWER
$133
PD-1015C-NS
10 OUTLET, SINGLE 15 AMP CIRCUIT POWER STRIP W/9' CORD, FITS RACKS THAT ACCEPT 'G' POWER
$122
PD-1020C-NS
10 OUTLET, SINGLE 20 AMP CIRCUIT POWER STRIP W/9' CORD AND BLADE PLUG, FITS RACKS THAT ACCEPT 'J' POWER
$168
PD-1020J-IG
10 OUTLET, SINGLE 20 AMP ISOLATED GROUND CIRCUIT POWER STRIP W/JBOX, FITS RACKS THAT ACCEPT 'J' POWER
$215
PD-1215
12 OUTLET, SINGLE 15 AMP CIRCUIT POWER STRIP, HARDWIRE TERMINATION, FITS RACKS THAT ACCEPT 'N' POWER
$116
PD-1215J-S
15 AMP VERTICAL POWER STRIP, 12 OUTLETS, W/ J-BOX TERMINATION, FITS RACKS THAT ACCEPT 'E' POWER
$123
PD-1220C-NS
12 OUTLET, SINGLE 20 AMP CIRCUIT POWER STRIP W/9' CORD AND BLADE PLUG, FITS RACKS THAT ACCEPT 'N' POWER
$179
PD-1220J
12 OUTLET, SINGLE 20 AMP CIRCUIT POWER STRIP W/JBOX, FITS RACKS THAT ACCEPT 'N' POWER
$153
PD-1220J-IG
12 OUTLET, SINGLE 20 AMP ISOLATED GROUND CIRCUIT POWER STRIP W/JBOX, FITS RACKS THAT ACCEPT 'N' POWER
$258
PD-1415C
14 OUTLET, SINGLE 15 AMP CIRCUIT, SURGE / SPIKE PROTECTED POWER STRIP W/9' CORD, FITS RACKS THAT ACCEPT 'N' POWER
$121
PD-1415C-NS
14 OUTLET, SINGLE 15 AMP CIRCUIT POWER STRIP W/9' CORD, FITS RACKS THAT ACCEPT 'N' POWER
$125
PD-2015R-HH-NS
20 OUTLET, SINGLE 15 AMP CIRCUIT, MULTIMOUNT POWER DISTRIBUTION W/9' CORD, 4" DEEP, 10 SWITCHED OUTLETS, BLACK POWDERCOAT FINISH
$83
PD-2015R-NS
20 OUTLET, SINGLE 15 AMP CIRCUIT, MULTIMOUNT POWER DISTRIBUTION W/9' CORD, 4" DEEP, BLACK POWDERCOAT FINISH
$68
PD-2415SC
24 OUTLET, SINGLE 15 AMP CIRCUIT SURGE/SPIKE PROTECTED SLIM POWER STRIP W/9' CORD, FITS RACKS THAT ACCEPT 'N' POWER
$121
PD-2415SC-NS
24 OUTLET, SINGLE 15 AMP CIRCUIT SLIM POWER STRIP W/9' CORD, FITS RACKS THAT ACCEPT 'N' POWER
$120
PD-2420SC-NS
24 OUTLET SINGLE 20 AMP CIRCUIT ((2) 20 AMP OUTLETS AND (20) 15 AMP OUTLETS) SLIM POWER STRIP W/9' CORD, FITS RACKS THAT ACCEPT 'N' POWER
$131
PD-2X1215TL-30CB
24 OUTLET, DUAL 15 AMP CIRCUIT POWER STRIP W/9' 30 AMP TWISTLOCK CORD, FITS RACKS THAT ACCEPT 'N' POWER
$402
PD-2X615
12 OUTLET, DUAL 15 AMP CIRCUIT POWER STRIP, HARDWIRE TERMINATION, FITS RACKS THAT ACCEPT 'N' POWER
$130
PD-2X620J
12 OUTLET, DUAL 20 AMP CIRCUIT POWER STRIP W/JBOX, FITS RACKS THAT ACCEPT 'N' POWER
$172
PD-615C
6 OUTLET, SINGLE 15 AMP CIRCUIT, SURGE/SPIKE PROTECTED POWER STRIP W/9' CORD, FITS RACKS THAT ACCEPT 'E' POWER
$115
PD-615C-NS
6 OUTLET, SINGLE15 AMP CIRCUIT POWER STRIP W/9' CORD, FITS RACKS THAT ACCEPT 'E' POWER
$99
PD-620C-NS
6 OUTLET, SINGLE 20 AMP CIRCUIT POWER STRIP W/9' CORD AND BLADE PLUG, FITS RACKS THAT ACCEPT 'E' POWER
$125
PD-620J-IG
6 OUTLET, SINGLE 20 AMP ISOLATED GROUND CIRCUIT POWER STRIP W/JBOX, FITS RACKS THAT ACCEPT 'E' POWER
$182
PD-815RA-PL
8 OUTLET, SINGLE 15 AMP CIRCUIT, SURGE/SPIKE PROTECTED RACKMOUNT POWER DISTRIBUTION W/9' CORD, BLACK BRUSHED FINISH
$171
PD-815RC-PL
8 OUTLET, SINGLE 15 AMP CIRCUIT, SURGE/SPIKE PROTECTED RACKMOUNT POWER DISTRIBUTION W/9' CORD, SILVER BRUSHED FINISH
$171
PD-815R-PL
8 OUTLET, SINGLE 15 AMP CIRCUIT, SURGE/SPIKE PROTECTED RACKMOUNT POWER DISTRIBUTION W/9' CORD, BLACK POWDERCOAT FINISH
$92
PD-815SC
8 OUTLET, SINGLE 15 AMP CIRCUIT SURGE/SPIKE PROTECTED SLIM POWER STRIP W/9' CORD, FITS RACKS THAT ACCEPT 'C' POWER
$88
PD-815SC-20
8 OUTLET, SINGLE 15 AMP CIRCUIT SURGE/SPIKE PROTECTED SLIM POWER STRIP W/20' CORD, FITS RACKS THAT ACCEPT 'C' POWER
$94
PD-815SC-NS
8 OUTLET, SINGLE 15 AMP CIRCUIT SLIM POWER STRIP W/9' CORD, FITS RACKS THAT ACCEPT 'C' POWER
$72
PD-815SC-PBSH
8 OUTLET, SINGLE 15 AMP CIRCUIT SLIM POWER STRIP W/9' CORD, SHELF MOUNT
$106
PD-915R
9 OUTLET, SINGLE 15 AMP CIRCUIT, SURGE/SPIKE PROTECTED RACKMOUNT POWER DISTRIBUTION W/9' CORD, BLACK POWDERCOAT FINISH
$98
PD-915RC-20
9 OUTLET, SINGLE 15 AMP CIRCUIT, SURGE/SPIKE PROTECTED RACKMOUNT POWER DISTRIBUTION W/20' CORD, BLACK POWDERCOAT FINISH
$104
PD-915R-M
9 OUTLET, SINGLE 15 AMP CIRCUIT, SURGE/SPIKE PROTECTED RACKMOUNT POWER DISTRIBUTION W/9' CORD AND MONITORING, BLACK POWDERCOAT FINISH
$142
PD-915R-PL
9 OUTLET, SINGLE 15 AMP CIRCUIT, SURGE/SPIKE PROTECTED RACKMOUNT POWER DISTRIBUTION W/9' CORD, BLACK POWDERCOAT FINISH
$105
PD-915RV-RN
9 OUTLET, SINGLE 15 AMP CIRCUIT, SURGE/SPIKE PROTECTED RACKMOUNT POWER DISTRIBUTION WITH 2 STAGE SURGE SUPPRESSION AND NOTIFICATION
$136
PD-920R
9 OUTLET, SINGLE 20 AMP CIRCUIT, SURGE/SPIKE PROTECTED RACKMOUNT POWER DISTRIBUTION W/9' CORD, BLACK POWDERCOAT FINISH
$172
PD-920RC-20
9 OUTLET, SINGLE 20 AMP CIRCUIT, SURGE/SPIKE PROTECTED RACKMOUNT POWER DISTRIBUTION W/20' CORD, BLACK POWDERCOAT FINISH
$180
PD-920R-NS
9 OUTLET, SINGLE 20 AMP CIRCUIT, NON-PROTECTED RACKMOUNT POWER DISTRIBUTION W/9' CORD, BLACK POWDERCOAT FINISH
$161
PDLT-815RVA
RACK LIGHT WITH 8 OUTLET, SINGLE 15 AMP CIRCUIT, SURGE/SPIKE PROTECTED RACKMOUNT POWER DISTRIBUTION W/9' CORD, BLACK BRUSHED FINISH
$232
PDLT-815RVC
RACK LIGHT WITH 8 OUTLET, SINGLE 15 AMP CIRCUIT, SURGE/SPIKE PROTECTED RACKMOUNT POWER DISTRIBUTION W/9' CORD, SILVER BRUSHED FINISH
$232
PDLT-815RV-RN
RACK LIGHT WITH 8 OUTLET, SINGLE 15 AMP CIRCUIT, SURGE / SPIKE PROTECTED RACKMOUNT POWER DISTRIBUTION WITH 2 STAGE SURGE SUPPRESSION AND NOTIFICATION, 9' CORD, BLACK POWDERCOAT FINISH
$184
PDS-2X315R
6 OUTLET, SEQUENCED (2) 15 AMP CIRCUITS, RACKMOUNT POWER DISTRIBUTION, (2) 9' CORDS, BLACK POWDERCOAT FINISH
$485
PDS-615R
6 OUTLET, SEQUENCED 15 AMP CIRCUIT, RACKMOUNT POWER DISTRIBUTION W/9' CORD, PLACK POWDERCOAT FINISH
$335
PDS-620R
6 OUTLET, SEQUENCED 20 AMP CIRCUIT, RACKMOUNT POWER DISTRIBUTION W/9' CORD, BLACK POWDERCOAT FINISH
$397
PDT-1015C-NS
10 OUTLET, SINGLE 15 AMP CIRCUIT THIN POWER STRIP W/9' CORD, FITS RACKS THAT ACCEPT 'G' POWER
$111
PDT-1015C-NS20
10 OUTLET, SINGLE 15 AMP CIRCUIT THIN POWER STRIP W/20' CORD, FITS RACKS THAT ACCEPT 'G' POWER
$117
PDT-1020C-NS
10 OUTLET, SINGLE 20 AMP CIRCUIT THIN POWER STRIP W/9' CORD, FITS RACKS THAT ACCEPT 'G' POWER
$127
PDT-2015C-NS
20 OUTLET, SINGLE 15 AMP CIRCUIT THIN POWER STRIP W/9' CORD, FITS RACKS THAT ACCEPT 'T' POWER
$131
PDT-2020C-NS
20 OUTLET, SINGLE 20 AMP CIRCUIT THIN POWER STRIP W/9' CORD, FITS RACKS THAT ACCEPT 'T' POWER
$162
PDT-2020TL-NS
20 OUTLET, SINGLE 20 AMP CIRCUIT THIN POWER STRIP W/9' TWISTLOCK CORD, FITS RACKS THAT ACCEPT 'T' POWER
$179
PDT-2X1015
20 OUTLET, SINGLE/DUAL 15 AMP CIRCUIT THIN POWER STRIP W/JBOX, ISO GROUND CONFIGURABLE, FITS RACKS THAT ACCEPT 'P' POWER
$170
PDT-2X1015T
20 OUTLET, SINGLE/DUAL 15 AMP CIRCUIT TOP FEED THIN POWER STRIP W/JBOX, ISO GROUND CONFIGURABLE, FITS RACKS THAT ACCEPT 'P' POWER
$170
PDT-2X1020
20 OUTLET, SINGLE/DUAL 20 AMP CIRCUIT THIN POWER STRIP W/JBOX, ISO GROUND CONFIGURABLE, FITS RACKS THAT ACCEPT 'P' POWER
$201
PDT-2X1020T
20 OUTLET, SINGLE/DUAL 20 AMP CIRCUIT TOP FEED THIN POWER STRIP W/JBOX, ISO GROUND CONFIGURABLE, FITS RACKS THAT ACCEPT 'P' POWER
$201
PFD-10
PLEXI FRONT DOOR, FITS 10 SPACE DWR SERIES RACKS, BLACK FINISH
$179
PFD-10GY
PLEXI FRONT DOOR, FITS 10 SPACE DWR SERIES RACKS, GRANITE GRAY FINISH
$179
PFD-12
PLEXI FRONT DOOR, FITS 12 SPACE DWR SERIES RACKS, BLACK FINISH
$187
PFD-12GY
PLEXI FRONT DOOR, FITS 12 SPACE DWR SERIES RACKS, GRANITE GRAY FINISH
$187
PFD-16
PLEXI FRONT DOOR, FITS 16 SPACE DWR SERIES RACKS, BLACK FINISH
$202
PFD-16GY
PLEXI FRONT DOOR, FITS 16 SPACE DWR SERIES RACKS, GRANITE GRAY FINISH
$202
PFD-18
PLEXI FRONT DOOR, FITS 18 SPACE DWR AND ERK SERIES RACKS, BLACK FINISH
$210
PFD-18GY
PLEXI FRONT DOOR, FITS 18 SPACE DWR SERIES RACKS, GRANITE GRAY FINISH
$210
PFD-21
PLEXI FRONT DOOR, FITS 21 SPACE DWR SERIES RACKS, BLACK FINISH
$233
PFD-21GY
PLEXI FRONT DOOR, FITS 21 SPACE DWR SERIES RACKS, GRANITE GRAY FINISH
$233
PFD-24
PLEXI FRONT DOOR, FITS 24 SPACE DWR, MRK AND WRK SERIES RACKS, BLACK FINISH
$249
PFD-24GY
PLEXI FRONT DOOR, FITS 24 SPACE DWR SERIES RACKS, GRANITE GRAY FINISH
$249
PFD-27
PLEXI FRONT DOOR, FITS 27 SPACE ERK SERIES RACKS, BLACK FINISH
$296
PFD-35
PLEXI FRONT DOOR, FITS 35 SPACE DWR AND ERK SERIES RACKS, BLACK FINISH
$369
PFD-35GY
PLEXI FRONT DOOR, FITS 35 SPACE DWR SERIES RACKS, GRANITE GRAY FINISH
$369
PFD-37
PLEXI FRONT DOOR, FITS 37 SPACE MRK AND WRK SERIES RACKS, BLACK FINISH
$378
PFD-40
PLEXI FRONT DOOR, FITS 40 SPACE ERK, MRK, WRK SERIES RACKS, BLACK FINISH
$401
PFD-42
PLEXI FRONT DOOR, FITS 42 SPACE WMRK SERIES RACKS, BLACK FINISH
$421
PFD-44
PLEXI FRONT DOOR, FITS 44 SPACE ERK, MRK, WRK, VRK SERIES RACKS, BLACK FINISH
$429
PFD-44GY
PLEXI FRONT DOOR, FITS 44 SPACE SCRK SERIES RACKS, GRANITE GRAY FINISH
$429
PFD-44LG
PLEXI FRONT DOOR, FITS 44 SPACE SCRK SERIES RACKS, LIGHT GRAY FINISH
$429
PFD-45
PLEXI FRONT DOOR, FITS 45 SPACE WMRK SERIES RACKS, BLACK FINISH
$440
PFD-46
PLEXI FRONT DOOR, FITS 46 SPACE SR SERIES RACK, BLACK FINISH
$453
PFD-54
PLEXI FRONT DOOR, FITS VMRK-54, BLACK FINISH
$506
PFD-8
PLEXI FRONT DOOR, FITS EWR, BLACK FINISH
$161
PF-SS
SPLIT SCREEN POP FILTER, USES A.P.D.T. TECHNOLOGY, BLACK FINISH
$39
PHBL-1
1 SP (1 3/4") FLAT, 1/8" THICK ALUMINUM BLANK PANEL, BLACK POWDER COAT FINISH
$9
PHBL1-CP12
12 PC. PHBL-1 CONTRACTOR PACK, PANELS IN PLAIN POLY BAGS
$105
PHBL-2
2 SP (3 1/2") FLAT, 1/8" THICK ALUMINUM BLANK PANEL, BLACK POWDER COAT FINISH
$12
PHBL2-CP12
12 PC. PHBL-2 CONTRACTOR PACK, PANELS IN PLAIN POLY BAGS
$121
PHBL-3
3 SP (5 1/4") FLAT, 1/8" THICK ALUMINUM BLANK PANEL, BLACK POWDER COAT FINISH
$15
PHBL3-CP6
6 PC. PHBL-3 CONTRACTOR PACK, PANELS IN PLAIN POLY BAGS
$85
PHBL-4
4 SP (7") FLAT, 1/8" THICK ALUMINUM BLANK PANEL, BLACK POWDER COAT FINISH
$20
PHBL4-CP6
6 PC. PHBL-4 CONTRACTOR PACK, PANELS IN PLAIN POLY BAGS
$114
PLX-CLN
MICRO FIBER CLOTH AND CLEANING SPRAY FOR PLEXIGLASS FINISHES
$12
PNL-CLN
MICRO FIBER CLOTH FOR CLEANING ANODIZED FINISHES
$9
PPM-2
2 SPACE (3 1/2") PIVOTING PANEL MOUNT, 6" DEEP, BLACK FINISH
$71
PPM-4
4 SPACE (7") PIVOTING PANEL MOUNT, 6" DEEP, BLACK FINISH
$82
PPM-6
6 SPACE (10 1/2") PIVOTING PANEL MOUNT, 6" DEEP, BLACK FINISH
$88
PPM-6-12
6 SPACE (10 1/2") PIVOTING PANEL MOUNT, 12" DEEP, BLACK FINISH
$129
PPM-6-12K
SECURITY KIT INCLUDES PPM-6-12, TOP COVER AND FRONT DOOR, BLACK FINISH
$244
PPM-8-12
8 SPACE (14") PIVOTING PANEL MOUNT, 12" DEEP, BLACK FINISH
$139
PPM-8-12K
SECURITY KIT INCLUDES PPM-8-12, TOP COVER AND FRONT DOOR, BLACK FINISH
$266
PPM-8-18
8 SPACE (14") PIVOTING PANEL MOUNT, 18" DEEP, BLACK FINISH
$160
PPM-8-18K
SECURITY KIT INCLUDES PPM-8-18, TOP COVER AND FRONT DOOR, BLACK FINISH
$306
PPM-DO6
FRONT DOOR FOR PPM-6-12, BLACK FINISH
$82
PPM-DO8
FRONT DOOR FOR PPM-8-12 AND PPM-8-18, BLACK FINISH
$99
PPM-LID12
TOP COVER FOR PPM-6-12 AND PPM-8-12, BLACK FINISH
$54
PPM-LID18
TOP COVER FOR PPM-8-18, BLACK FINISH
$71
PROMRK-RR24
PAIR 24 SPACE (42") CAGE-NUT STYLE RACKRAIL, FITS MRK SERIES RACKS
$71
PROMRK-RR37
PAIR 37 SPACE (64 3/4") CAGE-NUT STYLE RACKRAIL, FITS MRK SERIES RACKS
$77
PROMRK-RR40
PAIR 40 SPACE (70") CAGE-NUT STYLE RACKRAIL, FITS MRK SERIES RACKS
$84
PROMRK-RR44
PAIR 44 SPACE (77") CAGE-NUT STYLE RACKRAIL, FITS MRK SERIES RACKS
$93
PROR4CN-RR45
PAIR 45 SPACE (78 3/4") CAGE-NUT STYLE RACKRAIL, FITS R4CN SERIES RACKS
$121
PROR4CN-RR51
PAIR 51 SPACE (89 1/4") CAGE-NUT STYLE RACKRAIL, FITS R4CN SERIES RACKS
$133
PROR4CN-ZRA45
PAIR 45 SPACE (78 3/4") SPLIT CAGE-NUT STYLE Z-RAIL ADAPTOR, FITS R4CN SERIES RACKS
$121
PROR4CN-ZRA51
PAIR 51 SPACE (89 1/4") SPLIT CAGE-NUT STYLE Z-RAIL ADAPTOR, FITS R4CN SERIES RACKS
$133
PROWMRK-RR24
PAIR 24 SPACE (42") CAGE-NUT STYLE RACKRAIL, FITS WMRK SERIES RACKS
$94
PROWMRK-RR42
PAIR 42 SPACE (73 1/2") CAGE-NUT STYLE RACKRAIL, FITS WMRK SERIES RACKS
$121
PROWMRK-RR45
PAIR 45 SPACE (78 3/4") CAGE-NUT STYLE RACKRAIL, FITS WMRK SERIES RACKS
$123
PROWMRK-ZRA-24
PAIR 24 SPACE (42") CAGE-NUT STYLE Z-RAIL ADAPTOR, FITS WMRK SERIES RACKS
$89
PROWMRK-ZRA-42
PAIR 42 SPACE (73 1/2") CAGE-NUT STYLE Z-RAIL ADAPTOR, FITS WMRK SERIES RACKS
$117
PROWMRK-ZRA-45
PAIR 45 SPACE (78 3/4") CAGE-NUT STYLE Z-RAIL ADAPTOR, FITS WMRK SERIES RACKS
$117
PROWRK-RR24
PAIR 24 SPACE (42") CAGE-NUT STYLE RACKRAIL, FITS WRK SERIES RACKS
$102
PROWRK-RR37
PAIR 37 SPACE (64 3/4") CAGE-NUT STYLE RACKRAIL, FITS WRK SERIES RACKS
$105
PROWRK-RR40
PAIR 40 SPACE (70") CAGE-NUT STYLE RACKRAIL, FITS WRK SERIES RACKS
$114
PROWRK-RR44
PAIR 44 SPACE (77") CAGE-NUT STYLE RACKRAIL, FITS WRK SERIES RACKS
$122
PS2/USB-4C
PS2/USB CORDS, 4 PIECES
$134
PSDR-12
12 SPACE (21") PLEXI SECURITY DOOR
$162
PSDR-16
16 SPACE (28") PLEXI SECURITY DOOR
$179
PSDR-20
20 SPACE (35") PLEXI SECURITY DOOR
$219
PSDR-8
8 SPACE (14") PLEXI SECURITY DOOR
$143
PTRK-14
14 SPACE (24 1/2") PORTABLE ROLLING RACK WITH LOCKING FRONT & REAR DOORS
$501
PTRK-1426
14 SPACE (24 1/2") 26" DEEP PORTABLE ROLLING RACK WITH LOCKING FRONT & REAR DOORS
$553
PTRK-1426MDK
14 SPACE (24 1/2") 26" DEEP PORTABLE ROLLING RACK WITH PLEXI FRONT DOORS AND MARBLED-GRAPHITE LAMINATE TOP
$991
PTRK-14MDK
14 SPACE (24 1/2") PORTABLE ROLLING RACK WITH PLEXI FRONT DOOR AND MARBLED-GRAPHITE LAMINATE TOP
$848
PTRK-21
21 SPACE (36 3/4") PORTABLE ROLLING RACK WITH LOCKING FRONT & REAR DOORS
$529
PTRK-2126
21 SPACE (36 3/4") 26" DEEP PORTABLE ROLLING RACK WITH LOCKING FRONT & REAR DOORS
$613
PTRK-2126MDK
21 SPACE (36 3/4") 26" DEEP PORTABLE ROLLING RACK WITH PLEXI FRONT DOORS AND MARBLED-GRAPHITE LAMINATE TOP
$1070
PTRK-21MDK
21 SPACE (36 3/4") PORTABLE ROLLING RACK WITH PLEXI FRONT DOOR AND MARBLED-GRAPHITE LAMINATE TOP
$916
PTRK-2726
27 SPACE (47 1/4") 26" DEEP PORTABLE ROLLING RACK WITH LOCKING FRONT & REAR DOORS
$672
PTRK-2726MDK
27 SPACE (47 1/4") 26" DEEP PORTABLE ROLLING RACK WITH WITH PLEXI FRONT DOORS AND MARBLED-GRAPHITE LAMINATE TOP
$1158
PTRK-RR14
REAR RAIL KIT FOR THE PTRK-14
$31
PTRK-RR21
REAR RAIL KIT FOR THE PTRK-21
$41
PTRK-RR27
REAR RAIL KIT FOR THE PTRK-27
$51
PUT
PUTTY FINISH TOUCH UP KIT
$14
PVFD-44
PLEXI-VENTED FRONT DOOR, FITS 44 SPACE ERK, MRK, VRK SERIES RACKS, BLACK FINISH
$557
QFAN
4 1/2" QUIET FAN WITH GUARD, 50 CFM (120 VAC) CORD AND HARDWARE INCLUDED
$67
QFAN-119
4 1/2" QUIET FAN WITH GUARD, 50 CFM (220 VAC) CORD AND HARDWARE INCLUDED
$67
QFP-1
QUIET FAN PANEL ASSEMBLY - ONE 120 VAC FAN, 3 SPACE ANODIZED FINISH
$105
QFP-1-119
QUIET FAN PANEL ASSEMBLY - ONE 220 VAC FAN, 3 SPACE ANODIZED FINISH
$105
QFP-2
QUIET FAN PANEL ASSEMBLY - TWO 120 VAC FANS, 3 SPACE ANODIZED FINISH
$126
QFP-2-119
QUIET FAN PANEL ASSEMBLY - TWO 220 VAC FANS, 3 SPACE ANODIZED FINISH
$126
QTFP-1
QUIET FAN PANEL ASSEMBLY - ONE 120 VAC FAN, 3 SPACE TEXTURED FINISH
$99
QTFP-1-119
QUIET FAN PANEL ASSEMBLY - ONE 220 VAC FAN, 3 SPACE TEXTURED FINISH
$99
QTFP-2
QUIET FAN PANEL ASSEMBLY - TWO 120 VAC FANS, 3 SPACE TEXTURED FINISH
$120
QTFP-2-119
QUIET FAN PANEL ASSEMBLY - TWO 220 VAC FANS, 3 SPACE TEXTURED FINISH
$120
R412-3824B
38 SPACE (66 1/2"), 24" DEEP FOUR POST OPEN FRAME RACK, BLACK FINISH, 12-24 THREAD
$541
R412-3830B
38 SPACE (66 1/2"), 30" DEEP FOUR POST OPEN FRAME RACK, BLACK FINISH, 12-24 THREAD
$630
R412-4524B
45 SPACE (78 3/4"), 24" DEEP FOUR POST OPEN FRAME RACK, BLACK FINISH, 12-24 THREAD
$557
R412-4530B
45 SPACE (78 3/4"), 30" DEEP FOUR POST OPEN FRAME RACK, BLACK FINISH, 12-24 THREAD
$652
R412-5124B
51 SPACE (89 1/4"), 24" DEEP FOUR POST OPEN FRAME RACK, BLACK FINISH, 12-24 THREAD
$740
R412-5130B
51 SPACE (89 1/4"), 30" DEEP FOUR POST OPEN FRAME RACK, BLACK FINISH, 12-24 THREAD
$773
R412-RR38
PAIR 38 SPACE (66 1/2") SPLIT 12/24 THREADED RACKRAIL, FITS R412 SERIES RACKS
$74
R412-RR45
PAIR 45 SPACE (78 3/4") SPLIT 12/24 THREADED RACKRAIL, FITS R412 SERIES RACKS
$89
R412-RR51
PAIR 51 SPACE (89 1/4") SPLIT 12/24 THREADED RACKRAIL, FITS R412 SERIES RACKS
$103
R4CN-4524B
45 SPACE (78 3/4"), 24" DEEP FOUR POST OPEN FRAME RACK, BLACK FINISH, CAGE-NUT RAIL
$521
R4CN-4530B
45 SPACE (78 3/4"), 30" DEEP FOUR POST OPEN FRAME RACK, BLACK FINISH, CAGE-NUT RAIL
$636
R4CN-4536B
45 SPACE (78 3/4"), 36" DEEP FOUR POST OPEN FRAME RACK, BLACK FINISH, CAGE-NUT RAIL
$689
R4CN-5124B
51 SPACE (89 1/4"), 24" DEEP FOUR POST OPEN FRAME RACK, BLACK FINISH, CAGE-NUT RAIL
$565
R4CN-5130B
51 SPACE (89 1/4"), 30" DEEP FOUR POST OPEN FRAME RACK, BLACK FINISH, CAGE-NUT RAIL
$661
R4CN-5136B
51 SPACE (89 1/4"), 36" DEEP FOUR POST OPEN FRAME RACK, BLACK FINISH, CAGE-NUT RAIL
$718
RAP14
REAR ACCESS PAN, FITS 5-14
$101
RAP21
REAR ACCESS PAN, FITS 5-21
$107
RAP29
REAR ACCESS PAN, FITS 5-29
$125
RAP37
REAR ACCESS PAN, FITS 5-37
$128
RAP43
REAR ACCESS PAN, FITS 5-43
$133
RAP8
REAR ACCESS PAN, FITS 5-8
$86
RBA-MV44-1
1 SPACE (1 3/4") RAIL BRACKET ADAPTOR FITS MRK/VRK/DRK 44 SPACE
$18
RBA-MV44-2
2 SPACE (3 1/2") RAIL BRACKET ADAPTOR FITS MRK/VRK/DRK 44 SPACE
$23
RBA-MV44-3
3 SPACE (5 1/4") RAIL BRACKET ADAPTOR FITS MRK/VRK/DRK 44 SPACE
$25
RBA-W44-1
1 SPACE (1 3/4") RAIL BRACKET ADAPTOR FITS WRK 44 SPACE
$18
RBA-W44-2
2 SPACE (3 1/2") RAIL BRACKET ADAPTOR FITS WRK 44 SPACE
$23
RBA-W44-3
3 SPACE (5 1/4") RAIL BRACKET ADAPTOR FITS WRK 44 SPACE
$25
RC-2
2 SPACE (3 1/2") CLAMPING RACKSHELF
$60
RC-3
3 SPACE (5 1/2") CLAMPING RACKSHELF
$67
RC-4
4 SPACE (7") CLAMPING RACKSHELF
$73
REB14
ROTATING SLIDING BASE, 14" USEABLE DEPTH
$147
REB18
ROTATING SLIDING BASE, 18" USEABLE DEPTH
$178
RH-2
PAIR 2 SPACE (3 1/2") REAR HANGING BRACKETS
$9
RH-3
PAIR 3 SPACE (5 1/4") REAR HANGING BRACKETS
$10
RH-4
PAIR 4 SPACE (7") REAR HANGING BRACKETS
$14
RIB-1-DRK-31
1 BAY RISER BASE, ACCOMMODATES DRK 31" DEEP RACKS
$167
RIB-1-DRK-36
1 BAY RISER BASE, ACCOMMODATES DRK 36" DEEP RACKS
$172
RIB-1-DRK-42
1 BAY RISER BASE, ACCOMMODATES DRK 42" DEEP RACKS
$178
RIB-1-MRK-26
1 BAY RISER BASE, ACCOMMODATES MRK 26" DEEP RACKS
$134
RIB-1-MRK-31
1 BAY RISER BASE, ACCOMMODATES MRK/VRK 31" DEEP RACKS
$138
RIB-1-MRK-36
1 BAY RISER BASE, ACCOMMODATES MRK/VRK 36" DEEP RACKS
$142
RIB-1-MRK-42
1 BAY RISER BASE, ACCOMMODATES MRK 42" DEEP RACKS
$148
RIB-1-WMRK-36
1 BAY RISER BASE, ACCOMMODATES WMRK 36" DEEP RACKS
$147
RIB-1-WMRK-42
1 BAY RISER BASE, ACCOMMODATES WMRK 42" DEEP RACKS
$155
RIB-1-WMRK-48
1 BAY RISER BASE, ACCOMMODATES WMRK 48" DEEP RACKS
$180
RIB-1-WRK-27
1 BAY RISER BASE, ACCOMMODATES WRK 27" DEEP RACKS
$134
RIB-1-WRK-32
1 BAY RISER BASE, ACCOMMODATES WRK 32" DEEP RACKS
$138
RIB-2-DRK-31
2 BAY RISER BASE, ACCOMMODATES DRK 31" DEEP RACKS
$328
RIB-2-DRK-36
2 BAY RISER BASE, ACCOMMODATES DRK 36" DEEP RACKS
$341
RIB-2-DRK-42
2 BAY RISER BASE, ACCOMMODATES DRK 42" DEEP RACKS
$356
RIB-2-MRK-26
2 BAY RISER BASE, ACCOMMODATES MRK 26" DEEP RACKS
$256
RIB-2-MRK-31
2 BAY RISER BASE, ACCOMMODATES MRK/VRK 31" DEEP RACKS
$266
RIB-2-MRK-36
2 BAY RISER BASE, ACCOMMODATES MRK/VRK 36" DEEP RACKS
$276
RIB-2-MRK-42
2 BAY RISER BASE, ACCOMMODATES MRK 42" DEEP RACKS
$289
RIB-2-WMRK-36
2 BAY RISER BASE, ACCOMMODATES WMRK 36" DEEP RACKS
$284
RIB-2-WMRK-42
2 BAY RISER BASE, ACCOMMODATES WMRK 42" DEEP RACKS
$292
RIB-2-WMRK-48
2 BAY RISER BASE, ACCOMMODATES WMRK 48" DEEP RACKS
$323
RIB-2-WRK-27
2 BAY RISER BASE, ACCOMMODATES WRK 27" DEEP RACKS
$256
RIB-2-WRK-32
2 BAY RISER BASE, ACCOMMODATES WRK 32" DEEP RACKS
$266
RIB-3-DRK-31
3 BAY RISER BASE, ACCOMMODATES DRK 31" DEEP RACKS
$468
RIB-3-DRK-36
3 BAY RISER BASE, ACCOMMODATES DRK 36" DEEP RACKS
$488
RIB-3-DRK-42
3 BAY RISER BASE, ACCOMMODATES DRK 42" DEEP RACKS
$508
RIB-3-MRK-26
3 BAY RISER BASE, ACCOMMODATES MRK 26" DEEP RACKS
$367
RIB-3-MRK-31
3 BAY RISER BASE, ACCOMMODATES MRK/VRK 31" DEEP RACKS
$395
RIB-3-MRK-36
3 BAY RISER BASE, ACCOMMODATES MRK/VRK 36" DEEP RACKS
$423
RIB-3-MRK-42
3 BAY RISER BASE, ACCOMMODATES MRK 42" DEEP RACKS
$456
RIB-3-WMRK-36
3 BAY RISER BASE, ACCOMMODATES WMRK 36" DEEP RACKS
$424
RIB-3-WMRK-42
3 BAY RISER BASE, ACCOMMODATES WMRK 42" DEEP RACKS
$457
RIB-3-WMRK-48
3 BAY RISER BASE, ACCOMMODATES WMRK 48" DEEP RACKS
$559
RIB-3-WRK-27
3 BAY RISER BASE, ACCOMMODATES WRK 27" DEEP RACKS
$367
RIB-3-WRK-32
3 BAY RISER BASE, ACCOMMODATES WRK 32" DEEP RACKS
$395
RIB-4-MRK-26
4 BAY RISER BASE, ACCOMMODATES MRK 26" DEEP RACKS
$503
RIB-4-MRK-31
4 BAY RISER BASE, ACCOMMODATES MRK/VRK 31" DEEP RACKS
$523
RIB-4-MRK-36
4 BAY RISER BASE, ACCOMMODATES MRK/VRK 36" DEEP RACKS
$600
RIB-4-WRK-27
4 BAY RISER BASE, ACCOMMODATES WRK 27" DEEP RACKS
$503
RIB-4-WRK-32
4 BAY RISER BASE, ACCOMMODATES WRK 32" DEEP RACKS
$523
RIB-5-MRK-26
5 BAY RISER BASE, ACCOMMODATES MRK 26" DEEP RACKS
$621
RIB-5-MRK-31
5 BAY RISER BASE, ACCOMMODATES MRK/VRK 31" DEEP RACKS
$651
RIB-5-MRK-36
5 BAY RISER BASE, ACCOMMODATES MRK/VRK 36" DEEP RACKS
$665
RIB-5-WRK-27
5 BAY RISER BASE, ACCOMMODATES WRK 27" DEEP RACKS
$621
RIB-5-WRK-32
5 BAY RISER BASE, ACCOMMODATES WRK 32" DEEP RACKS
$651
RK10
10 SPACE (17 1/2"), 16" DEEP BLACK LAMINATE READY-TO-ASSEMBLE RACK
$120
RK12
12 SPACE (21"), 16" DEEP BLACK LAMINATE READY-TO-ASSEMBLE RACK
$129
RK14
14 SPACE (24 1/2"), 16" DEEP BLACK LAMINATE READY-TO-ASSEMBLE RACK
$133
RK16
16 SPACE (28"), 16" DEEP BLACK LAMINATE READY-TO-ASSEMBLE RACK
$120
RK2
2 SPACE (3 1/2"), 16" DEEP BLACK LAMINATE READY-TO-ASSEMBLE RACK
$94
RK20
20 SPACE (35"), 16" DEEP BLACK LAMINATE READY-TO-ASSEMBLE RACK
$127
RK4
4 SPACE (7"), 16" DEEP BLACK LAMINATE READY-TO-ASSEMBLE RACK
$101
RK6
6 SPACE (10 1/2"), 16" DEEP BLACK LAMINATE READY-TO-ASSEMBLE RACK
$108
RK8
8 SPACE (14"), 16" DEEP BLACK LAMINATE READY-TO-ASSEMBLE RACK
$118
RK-GD10
SMOKED TEMPERED GLASS FRONT DOOR, FITS 10 SPACE BRK/OBRK/MBRK
$103
RK-GD12
SMOKED TEMPERED GLASS FRONT DOOR, FITS 12 SPACE BRK/OBRK/MBRK
$113
RK-GD14
SMOKED TEMPERED GLASS FRONT DOOR, FITS 14 SPACE BRK/OBRK/MBRK
$124
RK-GD16
SMOKED TEMPERED GLASS FRONT DOOR, FITS 16 SPACE BRK/OBRK/MBRK
$122
RK-GD20
SMOKED TEMPERED GLASS FRONT DOOR, FITS 20 SPACE BRK/OBRK/MBRK
$133
RK-GD28
SMOKED TEMPERED GLASS FRONT DOOR, FITS 28 SPACE BRK/OBRK/MBRK
$160
RK-GD6
SMOKED TEMPERED GLASS FRONT DOOR, FITS 6 SPACE BRK/OBRK/MBRK
$85
RK-GD8
SMOKED TEMPERED GLASS FRONT DOOR, FITS 8 SPACE BRK/OBRK/MBRK
$93
RK-RAP12
REAR ACCESS PANEL KIT, FITS MBRK 22" AND 28" DEEP, BLACK, 12 SPACE
$113
RK-RAP12-MP
REAR ACCESS PANEL KIT, FITS MBRK 22" AND 28" DEEP, MAPLE, 12 SPACE
$113
RK-RAP16
REAR ACCESS PANEL KIT, FITS MBRK 22" AND 28" DEEP, BLACK, 16 SPACE
$126
RK-RAP16-MP
REAR ACCESS PANEL KIT, FITS MBRK 22" AND 28" DEEP, MAPLE, 16 SPACE
$126
RK-RAP20
REAR ACCESS PANEL KIT, FITS MBRK 22" AND 28" DEEP, BLACK, 20 SPACE
$150
RK-RAP20-MP
REAR ACCESS PANEL KIT, FITS MBRK 22" AND 28" DEEP, MAPLE, 20 SPACE
$150
RK-RAP28
REAR ACCESS PANEL KIT, FITS MBRK 22" AND 28" DEEP, BLACK, 28 SPACE
$173
RK-RAP28-MP
REAR ACCESS PANEL KIT, FITS MBRK 22" AND 28" DEEP, MAPLE, 28 SPACE
$173
RK-RAP8
REAR ACCESS PANEL KIT, FITS MBRK 22" AND 28" DEEP, BLACK, 8 SPACE
$75
RK-RAP8-MP
REAR ACCESS PANEL KIT, FITS MBRK 22" AND 28" DEEP, MAPLE, 8 SPACE
$75
RK-RR10
10 SPACE (17 1/2") RK/BRK ADDITIONAL RAIL KIT
$23
RK-RR12
12 SPACE (21") RK/BRK/OBRK ADDITIONAL RAIL KIT
$25
RK-RR14
14 SPACE (24 1/2") RK/BRK ADDITIONAL RAIL KIT
$28
RK-RR16
16 SPACE (28") RK/BRK/OBRK ADDITIONAL RAIL KIT
$31
RK-RR2
2 SPACE (3 1/2") RK ADDITIONAL RAIL KIT
$7
RK-RR20
20 SPACE (35") RK/BRK/OBRK ADDITIONAL RAIL KIT
$35
RK-RR4
4 SPACE (7") RK ADDITIONAL RAIL KIT
$14
RK-RR6
6 SPACE (10 1/2") RK/BRK ADDITIONAL RAIL KIT
$15
RK-RR8
8 SPACE (14") RK/BRK/OBRK ADDITIONAL RAIL KIT
$18
RKW
CASTER KIT FOR RK'S & BRK'S WITH 2 LOCKING WHEELS
$42
RKW-HD
HEAVY DUTY CASTER KIT FOR BRK'S & MBRK'S WITH 2 LOCKING WHEELS
$61
RL10-38
38 SPACE (66 1/2") OPEN FRAME RACK, BLACK FINISH, 10-32 THREAD
$194
RL10-45
45 SPACE (78 3/4") OPEN FRAME RACK, BLACK FINISH, 10-32 THREAD
$206
RL12-45
45 SPACE (78 3/4") OPEN FRAME RACK, BLACK FINISH, 12-24 THREAD
$206
RLA19-1245
45" SPACE (78 3/4") ALUMINUM OPEN FRAME RACK, SILVER FINISH, 12-24 THREAD
$159
RLA19-1245B
45" SPACE (78 3/4") ALUMINUM OPEN FRAME RACK, BLACK FINISH, 12-24 THREAD
$159
RLA19-1251B
51" SPACE (89 1/4") ALUMINUM OPEN FRAME RACK, SILVER FINISH, 12-24 THREAD
$255
RLA23-1245
45" SPACE (78 3/4") ALUMINUM OPEN FRAME RACK, SILVER FINISH, 12-24 THREAD, 23" PANEL WIDTH
$302
RLA-CC
CABLE MANAGEMENT DUCT FOR RLA SERIES OPEN FRAME RACKS, 44 SPACE (77"), 1 PIECE
$218
RLM-15
15 AMP MPR MODULE, REMOTE 12V DC, DRY CLOSURE, LOCAL SWITCH CONTROL - W/STATUS LED
$87
RLM-15-1C
15 AMP STAND-ALONE POWER MODULE WITH 9' CORD, REMOTE 12V DC CONTROL, DRY CLOSURE, LOCAL SWITCH CONTROL - W/STATUS LED
$103
RLM-20
20 AMP MPR MODULE, REMOTE 12V DC, DRY CLOSURE, LOCAL SWITCH CONTROL - W/STATUS LED
$97
RLM-20-1C
20 AMP STAND-ALONE POWER MODULE WITH 9' CORD, REMOTE 12V DC CONTROL, DRY CLOSURE, LOCAL SWITCH CONTROL - W/STATUS LED
$115
RLM-20IG
20 AMP ISO-GROUND MPR MODULE, REMOTE 12V DC, DRY CLOSURE, LOCAL SWITCH CONTROL - W/STATUS LED
$108
RLM30-L520-1
30 AMP STAND-ALONE MPR MODULE, ACCEPTS NEMA L-520 20 AMP TWISTLOCK PLUGS, REMOTE 12V DC, DRY CLOSURE, LOCAL SWITCH CONTROL - W/STATUS LED
$206
RLM30-L530-1
30 AMP STAND-ALONE MPR MODULE, ACCEPTS NEMA L-530 30 AMP TWISTLOCK PLUGS, REMOTE 12V DC, DRY CLOSURE, LOCAL SWITCH CONTROL - W/STATUS LED
$218
RM-KB
1 SPACE (1 3/4") RACKMOUNT COMPUTER KEYBOARD WITH TRACKBALL
$398
RM-KB-LCD17
1 SPACE (1 3/4") RACKMOUNT 17" LCD MONITOR WITH KEYBOARD AND TOUCH PAD
$1855
RM-KB-LCD17X16KVM
1 SPACE (1 3/4") RACKMOUNT 17" LCD MONITOR WITH KEYBOARD AND TOUCH PAD AND 16 PORT KVM SWITCH
$2520
RM-KB-LCD17X8KVM
1 SPACE (1 3/4") RACKMOUNT 17" LCD MONITOR WITH KEYBOARD AND TOUCH PAD AND 8 PORT KVM SWITCH
$2195
RPS
REMOTE POWER SWITCH, 15 AMP
$81
RPS-K
REMOTE POWER SWITCH, 15 AMP, KEYLOCKED
$86
RPS-KEY
SET OF REPLACEMENT KEYS FOR RPS-K REMOTE POWER SWITCH
$3
RRF10
PAIR 10 SPACE (17 1/2") EIA STANDARD RACKRAIL, BLACK E-COAT FINISH
$23
RRF12
PAIR 12 SPACE (21") EIA STANDARD RACKRAIL, BLACK E-COAT FINISH
$25
RRF14
PAIR 14 SPACE (24 1/2") EIA STANDARD RACKRAIL, BLACK E-COAT FINISH
$28
RRF16
PAIR 16 SPACE (28") EIA STANDARD RACKRAIL, BLACK E-COAT FINISH
$31
RRF18
PAIR 18 SPACE (31 1/2") EIA STANDARD RACKRAIL, BLACK E-COAT FINISH
$34
RRF2
PAIR 2 SPACE (3 1/2") EIA STANDARD RACKRAIL, BLACK E-COAT FINISH
$7
RRF21
PAIR 21 SPACE (36 3/4") EIA STANDARD RACKRAIL, BLACK E-COAT FINISH
$39
RRF27
PAIR 27 SPACE (47 1/4") EIA STANDARD RACKRAIL, BLACK E-COAT FINISH
$48
RRF4
PAIR 4 SPACE (7") EIA STANDARD RACKRAIL, BLACK E-COAT FINISH
$14
RRF45
PAIR 45 SPACE (78 3/4") EIA STANDARD RACKRAIL, BLACK E-COAT FINISH
$78
RRF6
PAIR 6 SPACE (10 1/2") EIA STANDARD RACKRAIL, BLACK E-COAT FINISH
$15
RRF8
PAIR 8 SPACE (14") EIA STANDARD RACKRAIL, BLACK E-COAT FINISH
$18
RSH4A10-LCD
10 SPACE BLACK BRUSHED CUSTOM LCD RACKSHELF
$128
RSH4A10M
10 SPACE BLACK BRUSHED CUSTOM RACKSHELF
$128
RSH4A10MW
10 SPACE BLACK BRUSHED WIDE CUSTOM RACKSHELF
$128
RSH4A10R
10 SPACE BLACK BRUSHED CUSTOM RACKSHELF
$128
RSH4A10RW
10 SPACE BLACK BRUSHED WIDE CUSTOM RACKSHELF
$128
RSH4A10S
CUSRACKSHLF10SP ANOD 11.5DP
$128
RSH4A10SW
CUS WIDERSH10SPANOD 11.5DP
$128
RSH4A10X
10 SPACE BLACK BRUSHED CUSTOM RACKSHELF
$128
RSH4A10XW
10 SPACE BLACK BRUSHED WIDE CUSTOM RACKSHELF
$128
RSH4A10XX
10 SPACE BLACK BRUSHED CUSTOM RACKSHELF
$128
RSH4A10XXW
10 SPACE BLACK BRUSHED WIDE CUSTOM RACKSHELF
$128
RSH4A11-LCD
11 SPACE BLACK BRUSHED CUSTOM LCD RACKSHELF
$128
RSH4A11M
11 SPACE BLACK BRUSHED CUSTOM RACKSHELF
$128
RSH4A11MW
11 SPACE BLACK BRUSHED WIDE CUSTOM RACKSHELF
$128
RSH4A11R
11 SPACE BLACK BRUSHED CUSTOM RACKSHELF
$128
RSH4A11RW
11 SPACE BLACK BRUSHED WIDE CUSTOM RACKSHELF
$128
RSH4A11S
CUSRACKSHLF11SP ANOD 11.5DP
$128
RSH4A11SW
CUS WIDERSH11SP ANOD 11.5DP
$128
RSH4A11X
11 SPACE BLACK BRUSHED CUSTOM RACKSHELF
$128
RSH4A11XW
11 SPACE BLACK BRUSHED WIDE CUSTOM RACKSHELF
$128
RSH4A11XX
11 SPACE BLACK BRUSHED CUSTOM RACKSHELF
$128
RSH4A11XXW
11 SPACE BLACK BRUSHED WIDE CUSTOM RACKSHELF
$128
RSH4A12-LCD
12 SPACE BLACK BRUSHED CUSTOM LCD RACKSHELF
$128
RSH4A12M
12 SPACE BLACK BRUSHED CUSTOM RACKSHELF
$128
RSH4A12MW
12 SPACE BLACK BRUSHED WIDE CUSTOM RACKSHELF
$128
RSH4A12R
12 SPACE BLACK BRUSHED CUSTOM RACKSHELF
$128
RSH4A12RW
12 SPACE BLACK BRUSHED WIDE CUSTOM RACKSHELF
$128
RSH4A12S
CUSRACKSHLF12SP ANOD 11.5DP
$128
RSH4A12X
12 SPACE BLACK BRUSHED CUSTOM RACKSHELF
$128
RSH4A12XW
12 SPACE BLACK BRUSHED WIDE CUSTOM RACKSHELF
$128
RSH4A12XX
12 SPACE BLACK BRUSHED CUSTOM RACKSHELF
$128
RSH4A12XXW
12 SPACE BLACK BRUSHED WIDE CUSTOM RACKSHELF
$128
RSH4A2M
2 SPACE BLACK BRUSHED CUSTOM RACKSHELF
$129
RSH4A2MW
2 SPACE BLACK BRUSHED WIDE CUSTOM RACKSHELF
$129
RSH4A2R
2 SPACE BLACK BRUSHED CUSTOM RACKSHELF
$129
RSH4A2RW
2 SPACE BLACK BRUSHED WIDE CUSTOM RACKSHELF
$129
RSH4A2S
2 SPACE BLACK BRUSHED CUSTOM RACKSHELF
$129
RSH4A2SW
2 SPACE BLACK BRUSHED WIDE CUSTOM RACKSHELF
$129
RSH4A2X
2 SPACE BLACK BRUSHED CUSTOM RACKSHELF
$129
RSH4A2XW
2 SPACE BLACK BRUSHED WIDE CUSTOM RACKSHELF
$129
RSH4A2XX
2 SPACE BLACK BRUSHED CUSTOM RACKSHELF
$129
RSH4A2XXW
2 SPACE BLACK BRUSHED WIDE CUSTOM RACKSHELF
$129
RSH4A3M
3 SPACE BLACK BRUSHED CUSTOM RACKSHELF
$129
RSH4A3MW
3 SPACE BLACK BRUSHED WIDE CUSTOM RACKSHELF
$129
RSH4A3R
3 SPACE BLACK BRUSHED CUSTOM RACKSHELF
$129
RSH4A3RW
3 SPACE BLACK BRUSHED WIDE CUSTOM RACKSHELF
$129
RSH4A3S
3 SPACE BLACK BRUSHED CUSTOM RACKSHELF
$129
RSH4A3SW
3 SPACE BLACK BRUSHED WIDE CUSTOM RACKSHELF
$129
RSH4A3X
3 SPACE BLACK BRUSHED CUSTOM RACKSHELF
$129
RSH4A3XW
3 SPACE BLACK BRUSHED WIDE CUSTOM RACKSHELF
$129
RSH4A3XX
3 SPACE BLACK BRUSHED CUSTOM RACKSHELF
$129
RSH4A3XXW
3 SPACE BLACK BRUSHED WIDE CUSTOM RACKSHELF
$129
RSH4A4M
4 SPACE BLACK BRUSHED CUSTOM RACKSHELF
$129
RSH4A4MW
4 SPACE BLACK BRUSHED WIDE CUSTOM RACKSHELF
$129
RSH4A4R
4 SPACE BLACK BRUSHED CUSTOM RACKSHELF
$129
RSH4A4RW
4 SPACE BLACK BRUSHED WIDE CUSTOM RACKSHELF
$129
RSH4A4S
4 SPACE BLACK BRUSHED CUSTOM RACKSHELF
$129
RSH4A4SW
4 SPACE BLACK BRUSHED WIDE CUSTOM RACKSHELF
$129
RSH4A4X
4 SPACE BLACK BRUSHED CUSTOM RACKSHELF
$129
RSH4A4XW
4 SPACE BLACK BRUSHED WIDE CUSTOM RACKSHELF
$129
RSH4A4XX
4 SPACE BLACK BRUSHED CUSTOM RACKSHELF
$129
RSH4A4XXW
4 SPACE BLACK BRUSHED WIDE CUSTOM RACKSHELF
$129
RSH4A5M
5 SPACE BLACK BRUSHED CUSTOM RACKSHELF
$129
RSH4A5MW
CUS WIDERSH5SP ANOD 14DP
$129
RSH4A5R
5 SPACE BLACK BRUSHED CUSTOM RACKSHELF
$129
RSH4A5RW
5 SPACE BLACK BRUSHED WIDE CUSTOM RACKSHELF
$129
RSH4A5S
CUS RACKSHLF5SP ANOD 11.5DP
$129
RSH4A5X
5 SPACE BLACK BRUSHED CUSTOM RACKSHELF
$129
RSH4A5XW
5 SPACE BLACK BRUSHED WIDE CUSTOM RACKSHELF
$129
RSH4A5XX
5 SPACE BLACK BRUSHED CUSTOM RACKSHELF
$129
RSH4A5XXW
5 SPACE BLACK BRUSHED WIDE CUSTOM RACKSHELF
$129
RSH4A6M
6 SPACE BLACK BRUSHED CUSTOM RACKSHELF
$128
RSH4A6MW
6 SPACE BLACK BRUSHED WIDE CUSTOM RACKSHELF
$128
RSH4A6R
6 SPACE BLACK BRUSHED CUSTOM RACKSHELF
$128
RSH4A6RW
6 SPACE BLACK BRUSHED WIDE CUSTOM RACKSHELF
$128
RSH4A6S
CUS RACKSHLF6SP ANOD 11.5DP
$128
RSH4A6X
6 SPACE BLACK BRUSHED CUSTOM RACKSHELF
$128
RSH4A6XW
6 SPACE BLACK BRUSHED WIDE CUSTOM RACKSHELF
$128
RSH4A6XX
CUS RACKSHLF6SP ANOD 20.5DP
$128
RSH4A6XXW
6 SPACE BLACK BRUSHED WIDE CUSTOM RACKSHELF
$128
RSH4A7M
7 SPACE BLACK BRUSHED CUSTOM RACKSHELF
$128
RSH4A7MW
7 SPACE BLACK BRUSHED WIDE CUSTOM RACKSHELF
$128
RSH4A7R
7 SPACE BLACK BRUSHED CUSTOM RACKSHELF
$128
RSH4A7RW
7 SPACE BLACK BRUSHED WIDE CUSTOM RACKSHELF
$128
RSH4A7S
CUS RACKSHLF7SP ANOD 11.5DP
$128
RSH4A7X
7 SPACE BLACK BRUSHED CUSTOM RACKSHELF
$128
RSH4A7XW
7 SPACE BLACK BRUSHED WIDE CUSTOM RACKSHELF
$128
RSH4A7XX
7 SPACE BLACK BRUSHED CUSTOM RACKSHELF
$128
RSH4A7XXW
7 SPACE BLACK BRUSHED WIDE CUSTOM RACKSHELF
$128
RSH4A8-LCD
8 SPACE BLACK BRUSHED CUSTOM LCD RACKSHELF
$128
RSH4A8M
8 SPACE BLACK BRUSHED CUSTOM RACKSHELF
$128
RSH4A8MW
8 SPACE BLACK BRUSHED WIDE CUSTOM RACKSHELF
$128
RSH4A8R
8 SPACE BLACK BRUSHED CUSTOM RACKSHELF
$128
RSH4A8RW
8 SPACE BLACK BRUSHED WIDE CUSTOM RACKSHELF
$128
RSH4A8S
CUS RACKSHLF8SP ANOD 11.5DP
$128
RSH4A8SW
CUS WIDERSH8SP ANOD 11.5DP
$128
RSH4A8X
8 SPACE BLACK BRUSHED CUSTOM RACKSHELF
$128
RSH4A8XW
8 SPACE BLACK BRUSHED WIDE CUSTOM RACKSHELF
$128
RSH4A8XX
8 SPACE BLACK BRUSHED CUSTOM RACKSHELF
$128
RSH4A8XXW
8 SPACE BLACK BRUSHED WIDE CUSTOM RACKSHELF
$128
RSH4A9-LCD
8 SPACE BLACK BRUSHED CUSTOM LCD RACKSHELF
$128
RSH4A9M
9 SPACE BLACK BRUSHED CUSTOM RACKSHELF
$128
RSH4A9MW
9 SPACE BLACK BRUSHED WIDE CUSTOM RACKSHELF
$128
RSH4A9R
9 SPACE BLACK BRUSHED CUSTOM RACKSHELF
$128
RSH4A9RW
9 SPACE BLACK BRUSHED WIDE CUSTOM RACKSHELF
$128
RSH4A9S
CUS RACKSHLF9SP ANOD 11.5DP
$128
RSH4A9SW
CUS WIDERSH9SP ANOD 11.5DP
$128
RSH4A9X
9 SPACE BLACK BRUSHED CUSTOM RACKSHELF
$128
RSH4A9XW
9 SPACE BLACK BRUSHED WIDE CUSTOM RACKSHELF
$128
RSH4A9XX
9 SPACE BLACK BRUSHED CUSTOM RACKSHELF
$128
RSH4A9XXW
9 SPACE BLACK BRUSHED WIDE CUSTOM RACKSHELF
$128
RSH4C10-LCD
10 SPACE SILVER BRUSHED CUSTOM LCD RACKSHELF
$128
RSH4C10M
10 SPACE SILVER BRUSHED CUSTOM RACKSHELF
$128
RSH4C10MW
10 SPACE SILVER BRUSHED WIDE CUSTOM RACKSHELF
$128
RSH4C10R
10 SPACE SILVER BRUSHED CUSTOM RACKSHELF
$128
RSH4C10RW
10 SPACE SILVER BRUSHED WIDE CUSTOM RACKSHELF
$128
RSH4C10S
10 SPACE SILVER BRUSHED CUSTOM RACKSHELF
$128
RSH4C10SW
CUS WIDERSH10SPCLEARAN 11.5DP
$128
RSH4C10X
10 SPACE SILVER BRUSHED CUSTOM RACKSHELF
$128
RSH4C10XW
10 SPACE SILVER BRUSHED WIDE CUSTOM RACKSHELF
$128
RSH4C10XX
10 SPACE SILVER BRUSHED CUSTOM RACKSHELF
$128
RSH4C10XXW
10 SPACE SILVER BRUSHED WIDE CUSTOM RACKSHELF
$128
RSH4C11-LCD
11 SPACE SILVER BRUSHED CUSTOM LCD RACKSHELF
$128
RSH4C11M
11 SPACE SILVER BRUSHED CUSTOM RACKSHELF
$128
RSH4C11MW
11 SPACE SILVER BRUSHED WIDE CUSTOM RACKSHELF
$128
RSH4C11R
11 SPACE SILVER BRUSHED CUSTOM RACKSHELF
$128
RSH4C11RW
11 SPACE SILVER BRUSHED WIDE CUSTOM RACKSHELF
$128
RSH4C11S
11 SPACE SILVER BRUSHED CUSTOM RACKSHELF
$128
RSH4C11SW
11 SPACE SILVER BRUSHED WIDE CUSTOM RACKSHELF
$128
RSH4C11X
11 SPACE SILVER BRUSHED CUSTOM RACKSHELF
$128
RSH4C11XW
11 SPACE SILVER BRUSHED WIDE CUSTOM RACKSHELF
$128
RSH4C11XX
11 SPACE SILVER BRUSHED CUSTOM RACKSHELF
$128
RSH4C11XXW
11 SPACE SILVER BRUSHED WIDE CUSTOM RACKSHELF
$128
RSH4C12-LCD
12 SPACE SILVER BRUSHED CUSTOM LCD RACKSHELF
$128
RSH4C12M
12 SPACE SILVER BRUSHED CUSTOM RACKSHELF
$128
RSH4C12MW
12 SPACE SILVER BRUSHED WIDE CUSTOM RACKSHELF
$128
RSH4C12R
12 SPACE SILVER BRUSHED CUSTOM RACKSHELF
$128
RSH4C12RW
12 SPACE SILVER BRUSHED WIDE CUSTOM RACKSHELF
$128
RSH4C12S
12 SPACE SILVER BRUSHED CUSTOM RACKSHELF
$128
RSH4C12X
12 SPACE SILVER BRUSHED CUSTOM RACKSHELF
$128
RSH4C12XW
12 SPACE SILVER BRUSHED WIDE CUSTOM RACKSHELF
$128
RSH4C12XX
12 SPACE SILVER BRUSHED CUSTOM RACKSHELF
$128
RSH4C12XXW
12 SPACE SILVER BRUSHED WIDE CUSTOM RACKSHELF
$128
RSH4C2M
2 SPACE SILVER BRUSHED CUSTOM RACKSHELF
$129
RSH4C2MW
2 SPACE SILVER BRUSHED WIDE CUSTOM RACKSHELF
$129
RSH4C2R
2 SPACE SILVER BRUSHED CUSTOM RACKSHELF
$129
RSH4C2RW
2 SPACE SILVER BRUSHED WIDE CUSTOM RACKSHELF
$129
RSH4C2S
2 SPACE SILVER BRUSHED CUSTOM RACKSHELF
$129
RSH4C2SW
2 SPACE SILVER BRUSHED WIDE CUSTOM RACKSHELF
$129
RSH4C2X
2 SPACE SILVER BRUSHED CUSTOM RACKSHELF
$129
RSH4C2XW
2 SPACE SILVER BRUSHED WIDE CUSTOM RACKSHELF
$129
RSH4C2XX
2 SPACE SILVER BRUSHED CUSTOM RACKSHELF
$129
RSH4C2XXW
2 SPACE SILVER BRUSHED WIDE CUSTOM RACKSHELF
$129
RSH4C3M
3 SPACE SILVER BRUSHED CUSTOM RACKSHELF
$129
RSH4C3MW
3 SPACE SILVER BRUSHED WIDE CUSTOM RACKSHELF
$129
RSH4C3R
3 SPACE SILVER BRUSHED CUSTOM RACKSHELF
$129
RSH4C3RW
3 SPACE SILVER BRUSHED WIDE CUSTOM RACKSHELF
$129
RSH4C3S
3 SPACE SILVER BRUSHED CUSTOM RACKSHELF
$129
RSH4C3SW
3 SPACE SILVER BRUSHED WIDE CUSTOM RACKSHELF
$129
RSH4C3X
3 SPACE SILVER BRUSHED CUSTOM RACKSHELF
$129
RSH4C3XW
3 SPACE SILVER BRUSHED WIDE CUSTOM RACKSHELF
$129
RSH4C3XX
3 SPACE SILVER BRUSHED CUSTOM RACKSHELF
$129
RSH4C3XXW
3 SPACE SILVER BRUSHED WIDE CUSTOM RACKSHELF
$129
RSH4C4M
4 SPACE SILVER BRUSHED CUSTOM RACKSHELF
$129
RSH4C4MW
4 SPACE SILVER BRUSHED WIDE CUSTOM RACKSHELF
$129
RSH4C4R
4 SPACE SILVER BRUSHED CUSTOM RACKSHELF
$129
RSH4C4RW
4 SPACE SILVER BRUSHED WIDE CUSTOM RACKSHELF
$129
RSH4C4S
4 SPACE SILVER BRUSHED CUSTOM RACKSHELF
$129
RSH4C4SW
4 SPACE SILVER BRUSHED WIDE CUSTOM RACKSHELF
$129
RSH4C4X
4 SPACE SILVER BRUSHED CUSTOM RACKSHELF
$129
RSH4C4XW
4 SPACE SILVER BRUSHED WIDE CUSTOM RACKSHELF
$129
RSH4C4XX
4 SPACE SILVER BRUSHED CUSTOM RACKSHELF
$129
RSH4C4XXW
4 SPACE SILVER BRUSHED WIDE CUSTOM RACKSHELF
$129
RSH4C5M
5 SPACE SILVER BRUSHED CUSTOM RACKSHELF
$129
RSH4C5MW
5 SPACE SILVER BRUSHED WIDE CUSTOM RACKSHELF
$129
RSH4C5R
5 SPACE SILVER BRUSHED CUSTOM RACKSHELF
$129
RSH4C5RW
5 SPACE SILVER BRUSHED WIDE CUSTOM RACKSHELF
$129
RSH4C5S
5 SPACE SILVER BRUSHED CUSTOM RACKSHELF
$129
RSH4C5SW
5 SPACE SILVER BRUSHED WIDE CUSTOM RACKSHELF
$129
RSH4C5X
5 SPACE SILVER BRUSHED CUSTOM RACKSHELF
$129
RSH4C5XW
5 SPACE SILVER BRUSHED WIDE CUSTOM RACKSHELF
$129
RSH4C5XX
6 SPACE SILVER BRUSHED CUSTOM RACKSHELF
$129
RSH4C5XXW
6 SPACE SILVER BRUSHED WIDE CUSTOM RACKSHELF
$129
RSH4C6M
6 SPACE SILVER BRUSHED CUSTOM RACKSHELF
$128
RSH4C6MW
6 SPACE SILVER BRUSHED WIDE CUSTOM RACKSHELF
$128
RSH4C6R
6 SPACE SILVER BRUSHED CUSTOM RACKSHELF
$128
RSH4C6RW
6 SPACE SILVER BRUSHED WIDE CUSTOM RACKSHELF
$128
RSH4C6S
6 SPACE SILVER BRUSHED CUSTOM RACKSHELF
$128
RSH4C6X
6 SPACE SILVER BRUSHED CUSTOM RACKSHELF
$128
RSH4C6XW
6 SPACE SILVER BRUSHED WIDE CUSTOM RACKSHELF
$128
RSH4C6XX
6 SPACE SILVER BRUSHED CUSTOM RACKSHELF
$128
RSH4C6XXW
6 SPACE SILVER BRUSHED WIDE CUSTOM RACKSHELF
$128
RSH4C7M
7 SPACE SILVER BRUSHED CUSTOM RACKSHELF
$128
RSH4C7MW
7 SPACE SILVER BRUSHED WIDE CUSTOM RACKSHELF
$128
RSH4C7R
7 SPACE SILVER BRUSHED CUSTOM RACKSHELF
$128
RSH4C7RW
7 SPACE SILVER BRUSHED WIDE CUSTOM RACKSHELF
$128
RSH4C7S
7 SPACE SILVER BRUSHED CUSTOM RACKSHELF
$128
RSH4C7X
7 SPACE SILVER BRUSHED CUSTOM RACKSHELF
$128
RSH4C7XW
7 SPACE SILVER BRUSHED WIDE CUSTOM RACKSHELF
$128
RSH4C7XX
7 SPACE SILVER BRUSHED CUSTOM RACKSHELF
$128
RSH4C7XXW
7 SPACE SILVER BRUSHED WIDE CUSTOM RACKSHELF
$128
RSH4C8-LCD
8 SPACE SILVER BRUSHED CUSTOM LCD RACKSHELF
$128
RSH4C8M
8 SPACE SILVER BRUSHED CUSTOM RACKSHELF
$128
RSH4C8MW
8 SPACE SILVER BRUSHED WIDE CUSTOM RACKSHELF
$128
RSH4C8R
8 SPACE SILVER BRUSHED CUSTOM RACKSHELF
$128
RSH4C8RW
8 SPACE SILVER BRUSHED WIDE CUSTOM RACKSHELF
$128
RSH4C8S
8 SPACE SILVER BRUSHED CUSTOM RACKSHELF
$128
RSH4C8SW
CUS WIDE RSH 8SP CLEAR ANODIZED 11.5D
$128
RSH4C8X
8 SPACE SILVER BRUSHED CUSTOM RACKSHELF
$128
RSH4C8XW
8 SPACE SILVER BRUSHED WIDE CUSTOM RACKSHELF
$128
RSH4C8XX
8 SPACE SILVER BRUSHED CUSTOM RACKSHELF
$128
RSH4C8XXW
8 SPACE SILVER BRUSHED WIDE CUSTOM RACKSHELF
$128
RSH4C9-LCD
8 SPACE SILVER BRUSHED CUSTOM LCD RACKSHELF
$128
RSH4C9M
9 SPACE SILVER BRUSHED CUSTOM RACKSHELF
$128
RSH4C9MW
9 SPACE SILVER BRUSHED WIDE CUSTOM RACKSHELF
$128
RSH4C9R
9 SPACE SILVER BRUSHED CUSTOM RACKSHELF
$128
RSH4C9RW
9 SPACE SILVER BRUSHED WIDE CUSTOM RACKSHELF
$128
RSH4C9S
9 SPACE SILVER BRUSHED CUSTOM RACKSHELF
$128
RSH4C9SW
CUS WIDE RSH 9SP CLEAR ANODIZED 11.5D
$128
RSH4C9X
9 SPACE SILVER BRUSHED CUSTOM RACKSHELF
$128
RSH4C9XW
9 SPACE SILVER BRUSHED WIDE CUSTOM RACKSHELF
$128
RSH4C9XX
9 SPACE SILVER BRUSHED CUSTOM RACKSHELF
$128
RSH4C9XXW
9 SPACE SILVER BRUSHED WIDE CUSTOM RACKSHELF
$128
RSH4S10-LCD
10 SPACE TEXTURED CUSTOM LCD RACKSHELF
$121
RSH4S10M
10 SPACE TEXTURED CUSTOM RACKSHELF
$121
RSH4S10MW
10 SPACE TEXTURED WIDE CUSTOM RACKSHELF
$121
RSH4S10R
10 SPACE TEXTURED CUSTOM RACKSHELF
$121
RSH4S10RW
10 SPACE TEXTURED WIDE CUSTOM RACKSHELF
$121
RSH4S10S
CUSRACKSHLF10SP SPAT 11.5DP
$121
RSH4S10SW
CUS WIDERSH10SPSPAT 11.5DP
$121
RSH4S10X
10 SPACE TEXTURED CUSTOM RACKSHELF
$121
RSH4S10XW
10 SPACE TEXTURED WIDE CUSTOM RACKSHELF
$121
RSH4S10XX
10 SPACE TEXTURED CUSTOM RACKSHELF
$121
RSH4S10XXW
10 SPACE TEXTURED WIDE CUSTOM RACKSHELF
$121
RSH4S11-LCD
11 SPACE TEXTURED CUSTOM LCD RACKSHELF
$121
RSH4S11M
11 SPACE TEXTURED CUSTOM RACKSHELF
$121
RSH4S11MW
11 SPACE TEXTURED WIDE CUSTOM RACKSHELF
$121
RSH4S11R
11 SPACE TEXTURED CUSTOM RACKSHELF
$121
RSH4S11RW
11 SPACE TEXTURED WIDE CUSTOM RACKSHELF
$121
RSH4S11S
CUSRACKSHLF11SP SPAT 11.5DP
$121
RSH4S11SW
CUS WIDERSH11SP SPAT 11.5DP
$121
RSH4S11X
11 SPACE TEXTURED CUSTOM RACKSHELF
$121
RSH4S11XW
11 SPACE TEXTURED WIDE CUSTOM RACKSHELF
$121
RSH4S11XX
11 SPACE TEXTURED CUSTOM RACKSHELF
$121
RSH4S11XXW
11 SPACE TEXTURED WIDE CUSTOM RACKSHELF
$121
RSH4S12-LCD
12 SPACE TEXTURED CUSTOM LCD RACKSHELF
$121
RSH4S12M
12 SPACE TEXTURED CUSTOM RACKSHELF
$121
RSH4S12MW
12 SPACE TEXTURED WIDE CUSTOM RACKSHELF
$121
RSH4S12R
12 SPACE TEXTURED CUSTOM RACKSHELF
$121
RSH4S12RW
12 SPACE TEXTURED WIDE CUSTOM RACKSHELF
$121
RSH4S12S
CUSRACKSHLF12SP SPAT 11.5DP
$121
RSH4S12X
12 SPACE TEXTURED CUSTOM RACKSHELF
$121
RSH4S12XW
12 SPACE TEXTURED WIDE CUSTOM RACKSHELF
$121
RSH4S12XX
12 SPACE TEXTURED CUSTOM RACKSHELF
$121
RSH4S12XXW
12 SPACE TEXTURED WIDE CUSTOM RACKSHELF
$121
RSH4S2M
2 SPACE TEXTURED CUSTOM RACKSHELF
$108
RSH4S2MW
2 SPACE TEXTURED WIDE CUSTOM RACKSHELF
$108
RSH4S2R
2 SPACE TEXTURED CUSTOM RACKSHELF
$108
RSH4S2RW
2 SPACE TEXTURED WIDE CUSTOM RACKSHELF
$108
RSH4S2S
2 SPACE TEXTURED CUSTOM RACKSHELF
$108
RSH4S2SW
2 SPACE TEXTURED WIDE CUSTOM RACKSHELF
$108
RSH4S2X
2 SPACE TEXTURED CUSTOM RACKSHELF
$108
RSH4S2XW
2 SPACE TEXTURED WIDE CUSTOM RACKSHELF
$108
RSH4S2XX
2 SPACE TEXTURED CUSTOM RACKSHELF
$108
RSH4S2XXW
2 SPACE TEXTURED WIDE CUSTOM RACKSHELF
$108
RSH4S3M
3 SPACE TEXTURED CUSTOM RACKSHELF
$108
RSH4S3MW
3 SPACE TEXTURED WIDE CUSTOM RACKSHELF
$108
RSH4S3R
3 SPACE TEXTURED CUSTOM RACKSHELF
$108
RSH4S3RW
3 SPACE TEXTURED WIDE CUSTOM RACKSHELF
$108
RSH4S3S
3 SPACE TEXTURED CUSTOM RACKSHELF
$108
RSH4S3SW
3 SPACE TEXTURED WIDE CUSTOM RACKSHELF
$108
RSH4S3X
3 SPACE TEXTURED CUSTOM RACKSHELF
$108
RSH4S3XW
3 SPACE TEXTURED WIDE CUSTOM RACKSHELF
$108
RSH4S3XX
3 SPACE TEXTURED CUSTOM RACKSHELF
$108
RSH4S3XXW
3 SPACE TEXTURED WIDE CUSTOM RACKSHELF
$108
RSH4S4M
4 SPACE TEXTURED CUSTOM RACKSHELF
$108
RSH4S4MW
4 SPACE TEXTURED WIDE CUSTOM RACKSHELF
$108
RSH4S4R
4 SPACE TEXTURED CUSTOM RACKSHELF
$108
RSH4S4RW
4 SPACE TEXTURED WIDE CUSTOM RACKSHELF
$108
RSH4S4S
4 SPACE TEXTURED CUSTOM RACKSHELF
$108
RSH4S4SW
4 SPACE TEXTURED WIDE CUSTOM RACKSHELF
$108
RSH4S4X
4 SPACE TEXTURED CUSTOM RACKSHELF
$108
RSH4S4XW
4 SPACE TEXTURED WIDE CUSTOM RACKSHELF
$108
RSH4S4XX
4 SPACE TEXTURED CUSTOM RACKSHELF
$108
RSH4S4XXW
4 SPACE TEXTURED WIDE CUSTOM RACKSHELF
$108
RSH4S5M
5 SPACE TEXTURED CUSTOM RACKSHELF
$108
RSH4S5MW
5 SPACE TEXTURED WIDE CUSTOM RACKSHELF
$108
RSH4S5R
5 SPACE TEXTURED CUSTOM RACKSHELF
$108
RSH4S5RW
5 SPACE TEXTURED WIDE CUSTOM RACKSHELF
$108
RSH4S5S
CUS RACKSHLF5SP SPAT 11.5DP
$108
RSH4S5X
5 SPACE TEXTURED CUSTOM RACKSHELF
$108
RSH4S5XW
5 SPACE TEXTURED WIDE CUSTOM RACKSHELF
$108
RSH4S5XX
5 SPACE TEXTURED CUSTOM RACKSHELF
$108
RSH4S5XXW
5 SPACE TEXTURED WIDE CUSTOM RACKSHELF
$108
RSH4S6M
6 SPACE TEXTURED CUSTOM RACKSHELF
$121
RSH4S6MW
6 SPACE TEXTURED WIDE CUSTOM RACKSHELF
$121
RSH4S6R
6 SPACE TEXTURED CUSTOM RACKSHELF
$121
RSH4S6RW
6 SPACE TEXTURED WIDE CUSTOM RACKSHELF
$121
RSH4S6S
CUS RACKSHLF6SP SPAT 11.5DP
$121
RSH4S6X
6 SPACE TEXTURED CUSTOM RACKSHELF
$121
RSH4S6XW
6 SPACE TEXTURED WIDE CUSTOM RACKSHELF
$121
RSH4S6XX
6 SPACE TEXTURED CUSTOM RACKSHELF
$121
RSH4S6XXW
6 SPACE TEXTURED WIDE CUSTOM RACKSHELF
$121
RSH4S7M
7 SPACE TEXTURED CUSTOM RACKSHELF
$121
RSH4S7MW
7 SPACE TEXTURED WIDE CUSTOM RACKSHELF
$121
RSH4S7R
7 SPACE TEXTURED CUSTOM RACKSHELF
$121
RSH4S7RW
7 SPACE TEXTURED WIDE CUSTOM RACKSHELF
$121
RSH4S7S
CUS RACKSHLF7SP SPAT 11.5DP
$121
RSH4S7X
7 SPACE TEXTURED CUSTOM RACKSHELF
$121
RSH4S7XW
7 SPACE TEXTURED WIDE CUSTOM RACKSHELF
$121
RSH4S7XX
7 SPACE TEXTURED CUSTOM RACKSHELF
$121
RSH4S7XXW
7 SPACE TEXTURED WIDE CUSTOM RACKSHELF
$121
RSH4S8-LCD
8 SPACE TEXTURED CUSTOM LCD RACKSHELF
$121
RSH4S8M
8 SPACE TEXTURED CUSTOM RACKSHELF
$121
RSH4S8MW
8 SPACE TEXTURED WIDE CUSTOM RACKSHELF
$121
RSH4S8R
8 SPACE TEXTURED CUSTOM RACKSHELF
$121
RSH4S8RW
8 SPACE TEXTURED WIDE CUSTOM RACKSHELF
$121
RSH4S8S
CUS RACKSHLF8SP SPAT 11.5DP
$121
RSH4S8SW
CUS WIDERSH8SP SPAT 11.5DP
$121
RSH4S8X
8 SPACE TEXTURED CUSTOM RACKSHELF
$121
RSH4S8XW
8 SPACE TEXTURED WIDE CUSTOM RACKSHELF
$121
RSH4S8XX
8 SPACE TEXTURED CUSTOM RACKSHELF
$121
RSH4S8XXW
8 SPACE TEXTURED WIDE CUSTOM RACKSHELF
$121
RSH4S9-LCD
9 SPACE TEXTURED CUSTOM LCD RACKSHELF
$121
RSH4S9M
9 SPACE TEXTURED CUSTOM RACKSHELF
$121
RSH4S9MW
9 SPACE TEXTURED WIDE CUSTOM RACKSHELF
$121
RSH4S9R
9 SPACE TEXTURED CUSTOM RACKSHELF
$121
RSH4S9RW
9 SPACE TEXTURED WIDE CUSTOM RACKSHELF
$121
RSH4S9S
CUS RACKSHLF9SP SPAT 11.5DP
$121
RSH4S9SW
CUS WIDERSH9SP SPAT 11.5DP
$121
RSH4S9X
9 SPACE TEXTURED CUSTOM RACKSHELF
$121
RSH4S9XW
9 SPACE TEXTURED WIDE CUSTOM RACKSHELF
$121
RSH4S9XX
9 SPACE TEXTURED CUSTOM RACKSHELF
$121
RSH4S9XXW
9 SPACE TEXTURED WIDE CUSTOM RACKSHELF
$121
RULER
8' (96") RACKSPACE AND INCHES TAPE MEASURE WITH AUDIO FORMULAS
$20
S1
1 SPACE (1 3/4") SECURITY COVER, 64% OPEN AREA
$27
S12-DC
SINGLE BAY (12 SPACE) OUTBOARD RACK, LESS DOORS, DARK CHERRY TOP
$806
S12D-DC
SINGLE BAY (12 SPACE) OUTBOARD RACK, INCLUDES 1 PLEXI FRONT, 1 REAR DOOR WITH FAN/GASKET/FILTER/CABLE MGM'T, DARK CHERRY TOP
$1302
S12D-HM
SINGLE BAY (12 SPACE) OUTBOARD RACK, INCLUDES 1 PLEXI FRONT, 1 REAR DOOR WITH FAN/GASKET/FILTER/CABLE MGM'T, HONEY MAPLE TOP
$1302
S12D-PS
SINGLE BAY (12 SPACE) OUTBOARD RACK, INCLUDES 1 PLEXI FRONT, 1 REAR DOOR WITH FAN/GASKET/FILTER/CABLE MGM'T, PEPPERSTONE TOP
$1302
S12-HM
SINGLE BAY (12 SPACE) OUTBOARD RACK, LESS DOORS, HONEY MAPLE TOP
$806
S12-PS
SINGLE BAY (12 SPACE) OUTBOARD RACK, LESS DOORS, PEPPERSTONE TOP
$806
S12SD-DC
SINGLE BAY (12 SPACE) OUTBOARD RACK W/SQUARE TOP, INCLUDES 1 PLEXI FRONT, 1 REAR DOOR WITH FAN/GASKET/FILTER/CABLE MGM'T, DARK CHERRY TOP
$1302
S12SDG
SINGLE BAY (12 SPACE) OUTBOARD RACK W/SQUARE TOP, INCLUDES 1 PLEXI FRONT, 1 REAR DOOR WITH FAN/GASKET/FILTER/CABLE MGM'T, GRAPHITE TOP
$1354
S12SD-HM
SINGLE BAY (12 SPACE) OUTBOARD RACK W/SQUARE TOP, INCLUDES 1 PLEXI FRONT, 1 REAR DOOR WITH FAN/GASKET/FILTER/CABLE MGM'T, HONEY MAPLE TOP
$1302
S12SD-PS
SINGLE BAY (12 SPACE) OUTBOARD RACK W/SQUARE TOP, INCLUDES 1 PLEXI FRONT, 1 REAR DOOR WITH FAN/GASKET/FILTER/CABLE MGM'T, PEPPERSTONE TOP
$1302
S2
2 SPACE (3 1/2") SECURITY COVER, 64% OPEN AREA
$31
S24D-DC
SINGLE BAY (24 SPACE) OUTBOARD RACK W/SQUARE TOP, INCLUDES 1 PLEXI FRONT, 1 REAR DOOR WITH FAN/GASKET/FILTER/CABLE MGM'T, DARK CHERRY TOP
$1535
S24D-HM
SINGLE BAY (24 SPACE) OUTBOARD RACK W/SQUARE TOP, INCLUDES 1 PLEXI FRONT, 1 REAR DOOR WITH FAN/GASKET/FILTER/CABLE MGM'T, HONEY MAPLE TOP
$1535
S24D-PS
SINGLE BAY (24 SPACE) OUTBOARD RACK W/SQUARE TOP, INCLUDES 1 PLEXI FRONT, 1 REAR DOOR WITH FAN/GASKET/FILTER/CABLE MGM'T, PEPPERSTONE TOP
$1535
S3
3 SPACE (5 1/4") SECURITY COVER, 64% OPEN AREA
$33
S4
4 SPACE (7") SECURITY COVER, 64% OPEN AREA
$35
SAX-15
15 SPACE EQUIPMENT ACCESS SYSTEM, 48" EXTENSION, 16 1/2" DEEP FRAME
$657
SAX-15-GG
SAX-15 WITH GASKET AND GUIDE KIT
$746
SAX-16
16 SPACE EQUIPMENT ACCESS SYSTEM, 48" EXTENSION, 16 1/2" DEEP FRAME
$657
SAX-16-GG
SAX-16 WITH GASKET AND GUIDE KIT
$746
SAX-17
17 SPACE EQUIPMENT ACCESS SYSTEM, 48" EXTENSION, 16 1/2" DEEP FRAME
$657
SAX-17-GG
SAX-17 WITH GASKET AND GUIDE KIT
$746
SAX-18
18 SPACE EQUIPMENT ACCESS SYSTEM, 48" EXTENSION, 16 1/2" DEEP FRAME
$657
SAX-18-GG
SAX-18 WITH GASKET AND GUIDE KIT
$746
SAX-19
19 SPACE EQUIPMENT ACCESS SYSTEM, 48" EXTENSION, 16 1/2" DEEP FRAME
$657
SAX-19-GG
SAX-19 WITH GASKET AND GUIDE KIT
$746
SAX-20
20 SPACE EQUIPMENT ACCESS SYSTEM, 48" EXTENSION, 16 1/2" DEEP FRAME
$657
SAX-20-GG
SAX-20 WITH GASKET AND GUIDE KIT
$746
SAX-21
21 SPACE EQUIPMENT ACCESS SYSTEM, 48" EXTENSION, 16 1/2" DEEP FRAME
$657
SAX-21-GG
SAX-21 WITH GASKET AND GUIDE KIT
$746
SAX-22
22 SPACE EQUIPMENT ACCESS SYSTEM, 48" EXTENSION, 16 1/2" DEEP FRAME
$657
SAX-22-GG
SAX-22 WITH GASKET AND GUIDE KIT
$746
SAX-23
23 SPACE EQUIPMENT ACCESS SYSTEM, 48" EXTENSION, 16 1/2" DEEP FRAME
$657
SAX-23-GG
SAX-23 WITH GASKET AND GUIDE KIT
$746
SAX-24
24 SPACE EQUIPMENT ACCESS SYSTEM, 48" EXTENSION, 16 1/2" DEEP FRAME
$657
SAX-24-GG
SAX-24 WITH GASKET AND GUIDE KIT
$746
SAX-25
25 SPACE EQUIPMENT ACCESS SYSTEM, 48" EXTENSION, 16 1/2" DEEP FRAME
$657
SAX-25-GG
SAX-25 WITH GASKET AND GUIDE KIT
$746
SAX-26
26 SPACE EQUIPMENT ACCESS SYSTEM, 48" EXTENSION, 16 1/2" DEEP FRAME
$657
SAX-26-GG
SAX-26 WITH GASKET AND GUIDE KIT
$746
SAX-27
27 SPACE EQUIPMENT ACCESS SYSTEM, 48" EXTENSION, 16 1/2" DEEP FRAME
$657
SAX-27-GG
SAX-27 WITH GASKET AND GUIDE KIT
$746
SAX-28
28 SPACE EQUIPMENT ACCESS SYSTEM, 48" EXTENSION, 16 1/2" DEEP FRAME
$657
SAX-28-GG
SAX-28 WITH GASKET AND GUIDE KIT
$746
SAX-29
29 SPACE EQUIPMENT ACCESS SYSTEM, 48" EXTENSION, 16 1/2" DEEP FRAME
$657
SAX-29-GG
SAX-29 WITH GASKET AND GUIDE KIT
$746
SAX-30
30 SPACE EQUIPMENT ACCESS SYSTEM, 48" EXTENSION, 16 1/2" DEEP FRAME
$657
SAX-30-GG
SAX-30 WITH GASKET AND GUIDE KIT
$746
SAX-31
31 SPACE EQUIPMENT ACCESS SYSTEM, 48" EXTENSION, 16 1/2" DEEP FRAME
$657
SAX-31-GG
SAX-31 WITH GASKET AND GUIDE KIT
$746
SAX-32
32 SPACE EQUIPMENT ACCESS SYSTEM, 48" EXTENSION, 16 1/2" DEEP FRAME
$657
SAX-32-GG
SAX-32 WITH GASKET AND GUIDE KIT
$746
SAX-33
33 SPACE EQUIPMENT ACCESS SYSTEM, 48" EXTENSION, 16 1/2" DEEP FRAME
$657
SAX-33-GG
SAX-33 WITH GASKET AND GUIDE KIT
$746
SAX-34
34 SPACE EQUIPMENT ACCESS SYSTEM, 48" EXTENSION, 16 1/2" DEEP FRAME
$657
SAX-34-GG
SAX-34 WITH GASKET AND GUIDE KIT
$746
SAX-35
35 SPACE EQUIPMENT ACCESS SYSTEM, 48" EXTENSION, 16 1/2" DEEP FRAME
$657
SAX-35-GG
SAX-35 WITH GASKET AND GUIDE KIT
$746
SAX-36
36 SPACE EQUIPMENT ACCESS SYSTEM, 48" EXTENSION, 16 1/2" DEEP FRAME
$657
SAX-36-GG
SAX-36 WITH GASKET AND GUIDE KIT
$746
SAX-37
37 SPACE EQUIPMENT ACCESS SYSTEM, 48" EXTENSION, 16 1/2" DEEP FRAME
$657
SAX-37-GG
SAX-37 WITH GASKET AND GUIDE KIT
$746
SAX-38
38 SPACE EQUIPMENT ACCESS SYSTEM, 48" EXTENSION, 16 1/2" DEEP FRAME
$657
SAX-38-GG
SAX-38 WITH GASKET AND GUIDE KIT
$746
SAX-39
39 SPACE EQUIPMENT ACCESS SYSTEM, 48" EXTENSION, 16 1/2" DEEP FRAME
$657
SAX-39-GG
SAX-39 WITH GASKET AND GUIDE KIT
$746
SAX-40
40 SPACE EQUIPMENT ACCESS SYSTEM, 48" EXTENSION, 16 1/2" DEEP FRAME
$657
SAX-40-GG
SAX-40 WITH GASKET AND GUIDE KIT
$746
SAX-41
41 SPACE EQUIPMENT ACCESS SYSTEM, 48" EXTENSION, 16 1/2" DEEP FRAME
$657
SAX-41-GG
SAX-41 WITH GASKET AND GUIDE KIT
$746
SAX-42
42 SPACE EQUIPMENT ACCESS SYSTEM, 48" EXTENSION, 16 1/2" DEEP FRAME
$657
SAX-42-GG
SAX-42 WITH GASKET AND GUIDE KIT
$746
SAX-43
43 SPACE EQUIPMENT ACCESS SYSTEM, 48" EXTENSION, 16 1/2" DEEP FRAME
$657
SAX-43-GG
SAX-43 WITH GASKET AND GUIDE KIT
$746
SB1
1 SPACE (1 3/4") FLANGED STEEL BLANK PANEL, BLACK TEXTURED FINISH
$12
SB1-CP12
12 PC. SB1 CONTRACTOR PACK, PANELS IN PLAIN POLY BAGS
$121
SB2
2 SPACE (3 1/2") FLANGED STEEL BLANK PANEL, BLACK TEXTURED FINISH
$15
SB2-CP12
12 PC. SB2 CONTRACTOR PACK, PANELS IN PLAIN POLY BAGS
$154
SB3
3 SPACE (5 1/4") FLANGED STEEL BLANK PANEL, BLACK TEXTURED FINISH
$19
SB3-CP6
6 PC. SB3 CONTRACTOR PACK, PANELS IN PLAIN POLY BAGS
$107
SB4
4 SPACE (7") FLANGED STEEL BLANK PANEL, BLACK TEXTURED FINISH
$20
SB4-CP6
6 PC. SB4 CONTRACTOR PACK, PANELS IN PLAIN POLY BAGS
$112
SB5
5 SPACE ( 8 3/4") FLANGED STEEL BLANK PANEL, BLACK TEXTURED FINISH
$23
SB6
6 SPACE (10 1/2") FLANGED STEEL BLANK PANEL, BLACK TEXTURED FINISH
$25
SBIT
SQUARE DRIVER BIT
$3
SBX-10
10 SPACE (17 1/2"), 15" DEEP WALL RACK WITH LOCKING FRONT DOOR, BLACK FINISH
$314
SBX-7
7 SPACE (12 1/4"), 15" DEEP WALL RACK WITH LOCKING FRONT DOOR, BLACK FINISH
$224
SC-1427-1217BK
CONVECTIVE SERIES CONSOLE SINGLE BAY - 27" DEEP, 14 RACKSPACES ON BOTTOM, 12 RACKSPACES ON TOP, WITH 17 DEGREE SLOPE, INCL. REAR DOOR - BLACK
$787
SC-1427-1217BK-S
CONVECTIVE SERIES CONSOLE SINGLE BAY WITH SLIDE OUT BAY - 27" DEEP, 11 RACKSPACES ON BOTTOM, 12 RACKSPACES ON TOP, WITH 17 DEGREE SLOPE, INCL. REAR DOOR - BLACK
$1391
SC-1427-1217GY
CONVECTIVE SERIES CONSOLE SINGLE BAY - 27" DEEP, 14 RACKSPACES ON BOTTOM, 12 RACKSPACES ON TOP, WITH 17 DEGREE SLOPE, INCL. REAR DOOR - GRANITE GRAY
$787
SC-1427-1217GY-S
CONVECTIVE SERIES CONSOLE SINGLE BAY WITH SLIDE OUT BAY - 27" DEEP, 11 RACKSPACES ON BOTTOM, 12 RACKSPACES ON TOP, WITH 17 DEGREE SLOPE, INCL. REAR DOOR - GRANITE GRAY
$1391
SC-1427-1217LG
CONVECTIVE SERIES CONSOLE SINGLE BAY - 27" DEEP, 14 RACKSPACES ON BOTTOM, 12 RACKSPACES ON TOP, WITH 17 DEGREE SLOPE, INCL. REAR DOOR - LIGHT GRAY
$787
SC-1427-1217LG-S
CONVECTIVE SERIES CONSOLE SINGLE BAY WITH SLIDE OUT BAY - 27" DEEP, 11 RACKSPACES ON BOTTOM, 12 RACKSPACES ON TOP, WITH 17 DEGREE SLOPE, INCL. REAR DOOR - LIGHT GRAY
$1391
SC-1427-1460BK
CONVECTIVE SERIES CONSOLE SINGLE BAY - 27" DEEP, 14 RACKSPACES ON BOTTOM, 14 RACKSPACES ON TOP, WITH 60 DEGREE SLOPE, INCL. REAR DOOR - BLACK
$819
SC-1427-1460BK-S
CONVECTIVE SERIES CONSOLE SINGLE BAY WITH SLIDE-OUT BAY- 27" DEEP, 14 RACKSPACES ON BOTTOM, 14 RACKSPACES ON TOP, WITH 60 DEGREE SLOPE, INCL. REAR DOOR - BLACK
$1423
SC-1427-1460GY
CONVECTIVE SERIES CONSOLE SINGLE BAY - 27" DEEP, 14 RACKSPACES ON BOTTOM, 14 RACKSPACES ON TOP, WITH 60 DEGREE SLOPE, INCL. REAR DOOR - GRANITE GRAY
$819
SC-1427-1460GY-S
CONVECTIVE SERIES CONSOLE SINGLE BAY WITH SLIDE-OUT BAY- 27" DEEP, 14 RACKSPACES ON BOTTOM, 14 RACKSPACES ON TOP, WITH 60 DEGREE SLOPE, INCL. REAR DOOR - GRANITE GRAY
$1423
SC-1427-1460LG
CONVECTIVE SERIES CONSOLE SINGLE BAY - 27" DEEP, 14 RACKSPACES ON BOTTOM, 14 RACKSPACES ON TOP, WITH 60 DEGREE SLOPE, INCL. REAR DOOR - LIGHT GRAY
$819
SC-1427-1460LG-S
CONVECTIVE SERIES CONSOLE SINGLE BAY WITH SLIDE-OUT BAY- 27" DEEP, 14 RACKSPACES ON BOTTOM, 14 RACKSPACES ON TOP, WITH 60 DEGREE SLOPE, INCL. REAR DOOR - LIGHT GRAY
$1423
SC-2BK
CONVECTIVE SERIES 2 BAY CONSOLE CONFIGURATION, BLACK FINISH
$2636
SC-2GY
CONVECTIVE SERIES 2 BAY CONSOLE CONFIGURATION, GRANITE GRAY FINISH
$2636
SC-2LG
CONVECTIVE SERIES 2 BAY CONSOLE CONFIGURATION, LIGHT GRAY FINISH
$2636
SC-3BK
CONVECTIVE SERIES 3 BAY CONSOLE CONFIGURATION, BLACK FINISH
$3900
SC-3GY
CONVECTIVE SERIES 3 BAY CONSOLE CONFIGURATION, GRANITE GRAY FINISH
$3900
SC-3LG
CONVECTIVE SERIES 3 BAY CONSOLE CONFIGURATION, LIGHT GRAY FINISH
$3900
SC3T-1427-1217-1217BK
CONVECTIVE SERIES TOP MONITOR RACK (3RD TIER), 12 RACKSPACES, 17 DEGREE SLOPE - BLACK
$380
SC3T-1427-1217-1217GY
CONVECTIVE SERIES TOP MONITOR RACK (3RD TIER), 12 RACKSPACES, 17 DEGREE SLOPE - GRANITE GRAY
$380
SC3T-1427-1217-1217LG
CONVECTIVE SERIES TOP MONITOR RACK (3RD TIER), 12 RACKSPACES, 17 DEGREE SLOPE - LIGHT GRAY
$380
SC3T-1427-1217-12BK
CONVECTIVE SERIES TOP MONITOR RACK (3RD TIER), 12 RACKSPACES, STRAIGHT FACE - BLACK
$324
SC3T-1427-1217-12GY
CONVECTIVE SERIES TOP MONITOR RACK (3RD TIER), 12 RACKSPACES, STRAIGHT FACE - GRANITE GRAY
$324
SC3T-1427-1217-12LG
CONVECTIVE SERIES TOP MONITOR RACK (3RD TIER), 12 RACKSPACES, STRAIGHT FACE - LIGHT GRAY
$324
SC3TW45-1427-1217-1217BK
45 DEGREE CONNECTING WEDGE FOR 17 DEGREE SLOPED TOP MONITOR RACK - BLACK
$221
SC3TW45-1427-1217-1217GY
45 DEGREE CONNECTING WEDGE FOR 17 DEGREE SLOPED TOP MONITOR RACK - GRANITE GRAY
$221
SC3TW45-1427-1217-1217LG
45 DEGREE CONNECTING WEDGE FOR 17 DEGREE SLOPED TOP MONITOR RACK - LIGHT GRAY
$221
SC3TW45-1427-1217-12BK
45 DEGREE CONNECTING WEDGE FOR STRAIGHT TOP MONITOR RACK - BLACK
$211
SC3TW45-1427-1217-12GY
45 DEGREE CONNECTING WEDGE FOR STRAIGHT TOP MONITOR RACK - GRANITE GRAY
$211
SC3TW45-1427-1217-12LG
45 DEGREE CONNECTING WEDGE FOR STRAIGHT TOP MONITOR RACK - LIGHT GRAY
$211
SC-3W2BK
CONVECTIVE SERIES 3 BAY 2 WEDGE CONSOLE CONFIGURATION, BLACK FINISH
$4551
SC-3W2GY
CONVECTIVE SERIES 3 BAY 2 WEDGE CONSOLE CONFIGURATION, GRANITE GRAY FINISH
$4551
SC-3W2LG
CONVECTIVE SERIES 3 BAY 2 WEDGE CONSOLE CONFIGURATION, LIGHT GRAY FINISH
$4551
SC-4BK
CONVECTIVE SERIES 4 BAY CONSOLE CONFIGURATION, BLACK FINISH
$4954
SC-4GY
CONVECTIVE SERIES 4 BAY CONSOLE CONFIGURATION, GRANITE GRAY FINISH
$4954
SC-4LG
CONVECTIVE SERIES 4 BAY CONSOLE CONFIGURATION, LIGHT GRAY FINISH
$4954
SC-4W2BK
CONVECTIVE SERIES 4 BAY 2 WEDGE CONSOLE CONFIGURATION, BLACK FINISH
$5660
SC-4W2GY
CONVECTIVE SERIES 4 BAY 2 WEDGE CONSOLE CONFIGURATION, GRANITE GRAY FINISH
$5660
SC-4W2LG
CONVECTIVE SERIES 4 BAY 2 WEDGE CONSOLE CONFIGURATION, LIGHT GRAY FINISH
$5660
SC-5W2-53TBK
CONVECTIVE SERIES 5 BAY 2 WEDGE CONSOLE CONFIGURATION WITH THIRD TIER, BLACK FINISH
$9232
SC-5W2-53TGY
CONVECTIVE SERIES 5 BAY 2 WEDGE CONSOLE CONFIGURATION WITH THIRD TIER, GRANITE GRAY FINISH
$9232
SC-5W2-53TLG
CONVECTIVE SERIES 5 BAY 2 WEDGE CONSOLE CONFIGURATION WITH THIRD TIER, LIGHT GRAY FINISH
$9232
SC-CBS-27
CONSOLE CASTER BASE
$129
SCFD-13BK
SOLID FRONT DOOR FITS 13 SPACE SCRK RACKS, BLACK FINISH
$120
SCFD-13GY
SOLID FRONT DOOR FITS 13 SPACE SCRK RACKS, GRANITE GRAY FINISH
$120
SCFD-13LG
SOLID FRONT DOOR FITS 13 SPACE SCRK RACKS, LIGHT GRAY FINISH
$120
SCFD-14BK
SOLID FRONT DOOR WITH 3-POINT LATCH FITS LOWER CONSOLE BAY- BLACK
$129
SCFD-14GY
SOLID FRONT DOOR WITH 3-POINT LATCH FITS LOWER CONSOLE BAY - GRANITE GRAY
$129
SCFD-14LG
SOLID FRONT DOOR WITH 3-POINT LATCH FITS LOWER CONSOLE BAY - LIGHT GRAY
$129
SCPFD-14BK
PLEXI FRONT DOOR FITS LOWER CONSOLE BAY - BLACK
$245
SCPFD-14GY
PLEXI FRONT DOOR FITS LOWER CONSOLE BAY - GRANITE GRAY
$245
SCPFD-14LG
PLEXI FRONT DOOR FITS LOWER CONSOLE BAY - LIGHT GRAY
$245
SCQ-1427-1217BK
QUIET-COOL SERIES CONSOLE SINGLE BAY - 27" DEEP, 14 RACKSPACES ON BOTTOM, 12 RACKSPACES ON TOP, WITH 17 DEGREE SLOPE, INCL. FRONT & REAR DOOR - BLACK
$854
SCQ-1427-1217BK-S
QUIET-COOL SERIES CONSOLE SINGLE BAY WITH SLIDE-OUT BAY- 27" DEEP, 11 RACKSPACES ON BOTTOM, 12 RACKSPACES ON TOP, WITH 17 DEGREE SLOPE, INCL. FRONT & REAR DOOR - BLACK
$1458
SCQ-1427-1217GY
QUIET-COOL SERIES CONSOLE SINGLE BAY - 27" DEEP, 14 RACKSPACES ON BOTTOM, 12 RACKSPACES ON TOP, WITH 17 DEGREE SLOPE, INCL. FRONT & REAR DOOR - GRANITE GRAY
$854
SCQ-1427-1217GY-S
QUIET-COOL SERIES CONSOLE SINGLE BAY WITH SLIDE-OUT BAY- 27" DEEP, 11 RACKSPACES ON BOTTOM, 12 RACKSPACES ON TOP, WITH 17 DEGREE SLOPE, INCL. FRONT & REAR DOOR - GRANITE GRAY
$1458
SCQ-1427-1217LG
QUIET-COOL SERIES CONSOLE SINGLE BAY - 27" DEEP, 14 RACKSPACES ON BOTTOM, 12 RACKSPACES ON TOP, WITH 17 DEGREE SLOPE, INCL. FRONT & REAR DOOR - LIGHT GRAY
$854
SCQ-1427-1217LG-S
QUIET-COOL SERIES CONSOLE SINGLE BAY WITH SLIDE-OUT BAY- 27" DEEP, 11 RACKSPACES ON BOTTOM, 12 RACKSPACES ON TOP, WITH 17 DEGREE SLOPE, INCL. FRONT & REAR DOOR - LIGHT GRAY
$1458
SCQ-1427-1460BK
QUIET-COOL SERIES CONSOLE SINGLE BAY - 27" DEEP, 14 RACKSPACES ON BOTTOM, 14 RACKSPACES ON TOP, WITH 60 DEGREE SLOPE, INCL. FRONT & REAR DOOR - BLACK
$966
SCQ-1427-1460BK-S
QUIET-COOL SERIES CONSOLE SINGLE BAY WITH SLIDE-OUT BAY- 27" DEEP, 11 RACKSPACES ON BOTTOM, 14 RACKSPACES ON TOP, WITH 60 DEGREE SLOPE, INCL. FRONT & REAR DOOR - BLACK
$1571
SCQ-1427-1460GY
QUIET-COOL SERIES CONSOLE SINGLE BAY - 27" DEEP, 14 RACKSPACES ON BOTTOM, 14 RACKSPACES ON TOP, WITH 60 DEGREE SLOPE, INCL. FRONT & REAR DOOR - GRANITE GRAY
$966
SCQ-1427-1460GY-S
QUIET-COOL SERIES CONSOLE SINGLE BAY WITH SLIDE-OUT BAY- 27" DEEP, 11 RACKSPACES ON BOTTOM, 14 RACKSPACES ON TOP, WITH 60 DEGREE SLOPE, INCL. FRONT & REAR DOOR - GRANITE GRAY
$1571
SCQ-1427-1460LG
QUIET-COOL SERIES CONSOLE SINGLE BAY - 27" DEEP, 14 RACKSPACES ON BOTTOM, 14 RACKSPACES ON TOP, WITH 60 DEGREE SLOPE, INCL. FRONT & REAR DOOR - LIGHT GRAY
$966
SCQ-1427-1460LG-S
QUIET-COOL SERIES CONSOLE SINGLE BAY WITH SLIDE-OUT BAY- 27" DEEP, 11 RACKSPACES ON BOTTOM, 14 RACKSPACES ON TOP, WITH 60 DEGREE SLOPE, INCL. FRONT & REAR DOOR - LIGHT GRAY
$1571
SCQ-2BK
QUIET-COOL SERIES 2 BAY CONSOLE CONFIGURATION, BLACK FINISH
$2894
SCQ-2GY
QUIET-COOL SERIES 2 BAY CONSOLE CONFIGURATION, GRANITE GRAY FINISH
$2894
SCQ-2LG
QUIET-COOL SERIES 2 BAY CONSOLE CONFIGURATION, LIGHT GRAY FINISH
$2894
SCQ-3BK
QUIET-COOL SERIES 3 BAY CONSOLE CONFIGURATION, BLACK FINISH
$4194
SCQ-3GY
QUIET-COOL SERIES 3 BAY CONSOLE CONFIGURATION, GRANITE GRAY FINISH
$4194
SCQ-3LG
QUIET-COOL SERIES 3 BAY CONSOLE CONFIGURATION, LIGHT GRAY FINISH
$4194
SCQ3T-1427-1217-1217BK
QUIET-COOL SERIES TOP MONITOR RACK (3RD TIER), 12 RACKSPACES, 17 DEGREE SLOPE - BLACK
$413
SCQ3T-1427-1217-1217GY
QUIET-COOL SERIES TOP MONITOR RACK (3RD TIER), 12 RACKSPACES, 17 DEGREE SLOPE - GRANITE GRAY
$413
SCQ3T-1427-1217-1217LG
QUIET-COOL SERIES TOP MONITOR RACK (3RD TIER), 12 RACKSPACES, 17 DEGREE SLOPE - LIGHT GRAY
$413
SCQ3T-1427-1217-12BK
QUIET-COOL SERIES TOP MONITOR RACK (3RD TIER), 12 RACKSPACES, STRAIGHT FACE - BLACK
$345
SCQ3T-1427-1217-12GY
QUIET-COOL SERIES TOP MONITOR RACK (3RD TIER), 12 RACKSPACES, STRAIGHT FACE - GRANITE GRAY
$345
SCQ3T-1427-1217-12LG
QUIET-COOL SERIES TOP MONITOR RACK (3RD TIER), 12 RACKSPACES, STRAIGHT FACE - LIGHT GRAY
$345
SCQ-3W2BK
QUIET-COOL SERIES 3 BAY 2 WEDGE CONSOLE CONFIGURATION, BLACK FINISH
$5079
SCQ-3W2GY
QUIET-COOL SERIES 3 BAY 2 WEDGE CONSOLE CONFIGURATION, GRANITE GRAY FINISH
$5079
SCQ-3W2LG
QUIET-COOL SERIES 3 BAY 2 WEDGE CONSOLE CONFIGURATION, LIGHT GRAY FINISH
$5079
SCQ-4BK
QUIET-COOL SERIES 4 BAY CONSOLE CONFIGURATION, BLACK FINISH
$5310
SCQ-4GY
QUIET-COOL SERIES 4 BAY CONSOLE CONFIGURATION, GRANITE GRAY FINISH
$5310
SCQ-4LG
QUIET-COOL SERIES 4 BAY CONSOLE CONFIGURATION, LIGHT GRAY FINISH
$5310
SCQ-4W2BK
QUIET-COOL SERIES 4 BAY 2 WEDGE CONSOLE CONFIGURATION, BLACK FINISH
$5782
SCQ-4W2GY
QUIET-COOL SERIES 4 BAY 2 WEDGE CONSOLE CONFIGURATION, GRANITE GRAY FINISH
$5782
SCQ-4W2LG
QUIET-COOL SERIES 4 BAY 2 WEDGE CONSOLE CONFIGURATION, LIGHT GRAY FINISH
$5782
SCQ-5W2-53TBK
QUIET-COOL SERIES 5 BAY 2 WEDGE CONSOLE CONFIGURATION WITH THIRD TIER,B121 BLACK FINISH
$10090
SCQ-5W2-53TGY
QUIET-COOL SERIES 5 BAY 2 WEDGE CONSOLE CONFIGURATION WITH THIRD TIER, GRANITE GRAY FINISH
$10090
SCQ-5W2-53TLG
QUIET-COOL SERIES 5 BAY 2 WEDGE CONSOLE CONFIGURATION WITH THIRD TIER, LIGHT GRAY FINISH
$10090
SCQRK-1327BK
QUIET-COOL SERIES 13 SPACE (22 3/4"), 27" DEEP STAND ALONE RACK WITH REAR DOOR, BLACK FINISH
$698
SCQRK-1327BK-S
QUIET-COOL SERIES 11 SPACE (19 1/4"), 27" DEEP STAND ALONE RACK WITH SLIDE OUT BAY AND REAR DOOR, BLACK FINISH
$1302
SCQRK-1327GY
QUIET-COOL SERIES 13 SPACE (22 3/4"), 27" DEEP STAND ALONE RACK WITH REAR DOOR, GRANITE GRAY FINISH
$698
SCQRK-1327GY-S
QUIET-COOL SERIES 11 SPACE (19 1/4"), 27" DEEP STAND ALONE RACK WITH SLIDE OUT BAY AND REAR DOOR, GRANITE GRAY FINISH
$1302
SCQRK-1327LG
QUIET-COOL SERIES 13 SPACE (22 3/4"), 27" DEEP STAND ALONE RACK WITH REAR DOOR, LIGHT GRAY FINISH
$698
SCQRK-1327LG-S
QUIET-COOL SERIES 11 SPACE (19 1/4"), 27" DEEP STAND ALONE RACK WITH SLIDE OUT BAY AND REAR DOOR, LIGHT GRAY FINISH
$1302
SCRK-1327BK
CONVECTIVE SERIES 13 SPACE (22 3/4"), 27" DEEP STAND ALONE RACK WITH REAR DOOR, BLACK FINISH
$524
SCRK-1327BK-S
CONVECTIVE SERIES 11 SPACE (19 1/4"), 27" DEEP STAND ALONE RACK WITH SLIDE OUT BAY AND REAR DOOR, BLACK FINISH
$1275
SCRK-1327GY
CONVECTIVE SERIES 13 SPACE (22 3/4"), 27" DEEP STAND ALONE RACK WITH REAR DOOR, GRANITE GRAY FINISH
$524
SCRK-1327GY-S
CONVECTIVE SERIES 11 SPACE (19 1/4"), 27" DEEP STAND ALONE RACK WITH SLIDE OUT BAY AND REAR DOOR, GRANITE GRAY FINISH
$1275
SCRK-1327LG
CONVECTIVE SERIES 13 SPACE (22 3/4"), 27" DEEP STAND ALONE RACK WITH REAR DOOR, LIGHT GRAY FINISH
$524
SCRK-1327LG-S
CONVECTIVE SERIES 11 SPACE (19 1/4"), 27" DEEP STAND ALONE RACK WITH SLIDE OUT BAY AND REAR DOOR, LIGHT GRAY FINISH
$1275
SCRK-4427BK
CONVECTIVE SERIES 44 SPACE (77"), 27" DEEP STAND ALONE RACK WITH REAR DOOR, BLACK FINISH
$847
SCRK-4427GY
CONVECTIVE SERIES 44 SPACE (77"), 27" DEEP STAND ALONE RACK WITH REAR DOOR, GRANITE GRAY FINISH
$847
SCRK-4427LG
CONVECTIVE SERIES 44 SPACE (77"), 27" DEEP STAND ALONE RACK WITH REAR DOOR, LIGHT GRAY FINISH
$847
SCRKW45-1327BK
45 DEGREE CONNECTING WEDGE FOR SCRK/SCQRK 13 SPACE - BLACK
$380
SCRKW45-1327GY
45 DEGREE CONNECTING WEDGE FOR SCRK/SCQRK 13 SPACE - GRANITE GRAY
$380
SCRKW45-1327LG
45 DEGREE CONNECTING WEDGE FOR SCRK/SCQRK 13 SPACE - LIGHT GRAY
$380
SC-RR12
12 SPACE (21") CONSOLE ADDITIONAL RAIL KIT
$37
SC-RR27
27 SPACE (35") CONSOLE ADDITIONAL RAIL KIT
$54
SC-TK
STAINLESS STEEL TOE KICK/FOOT-REST
$39
SCW45-1427-1217BK
45 DEGREE CONNECTING WEDGE FOR CONSOLES (17 DEGREE BASE CONSOLES ONLY) - BLACK
$399
SCW45-1427-1217GY
45 DEGREE CONNECTING WEDGE FOR CONSOLES (17 DEGREE BASE CONSOLES ONLY) - GRANITE GRAY
$399
SCW45-1427-1217LG
45 DEGREE CONNECTING WEDGE FOR CONSOLES (17 DEGREE BASE CONSOLES ONLY) - LIGHT GRAY
$399
SCW45-1427-1460BK
45 DEGREE CONNECTING WEDGE FOR CONSOLES (60 DEGREE BASE CONSOLES ONLY) - BLACK
$463
SCW45-1427-1460GY
45 DEGREE CONNECTING WEDGE FOR CONSOLES (60 DEGREE BASE CONSOLES ONLY) - GRANITE GRAY
$463
SCW45-1427-1460LG
45 DEGREE CONNECTING WEDGE FOR CONSOLES (60 DEGREE BASE CONSOLES ONLY) - LIGHT GRAY
$463
SC-Z4
SEISMIC FLOOR ANCHOR BRACKETS FOR SC, SCQ, SCRK AND SCQRK
$32
S-DEC
REMOTE SWITCH PANEL FOR MPR-SEQ/PDS, MOUNTS IN MAP DECORA OPENINGS ONLY
$71
SECL-2
2 SPACE (3 1/2") HINGED SMOKED PLEXI SECURITY COVER
$54
SECL-3
3 SPACE (5 1/4") HINGED SMOKED PLEXI SECURITY COVER
$59
SECL-4
4 SPACE (7") HINGED SMOKED PLEXI SECURITY COVER
$63
SECL-8
8 SPACE (14") HINGED SMOKED PLEXI SECURITY COVER
$89
SF1
1 SPACE (1 3/4") SECURITY COVER, 25% OPEN AREA
$27
SF2
2 SPACE (3 1/2") SECURITY COVER, 25% OPEN AREA
$31
SF3
3 SPACE (5 1/4") SECURITY COVER, 25% OPEN AREA
$33
SF4
4 SPACE (7") SECURITY COVER, 25% OPEN AREA
$35
SFACE10
10 SP FACE PLATE, BLACK TEXTURED FINISH
$74
SFACE11
11 SP FACE PLATE, BLACK TEXTURED FINISH
$74
SFACE12
12 SP FACE PLATE, BLACK TEXTURED FINISH
$74
SFACE2
2 SP FACE PLATE, BLACK TEXTURED FINISH
$65
SFACE3
3 SP FACE PLATE, BLACK TEXTURED FINISH
$65
SFACE4
4 SP FACE PLATE, BLACK TEXTURED FINISH
$65
SFACE5
5 SP FACE PLATE, BLACK TEXTURED FINISH
$65
SFACE6
6 SP FACE PLATE, BLACK TEXTURED FINISH
$74
SFACE7
7 SP FACE PLATE, BLACK TEXTURED FINISH
$74
SFACE8
8 SP FACE PLATE, BLACK TEXTURED FINISH
$74
SFACE9
9 SP FACE PLATE, BLACK TEXTURED FINISH
$74
SFD-KEY
SET OF REPLACEMENT KEYS FOR FRONT DOORS
$3
SFR-12-18
12 SPACE (21") SWING FRAME RACK, 18" DEEP, BLACK FINISH
$164
SFR-20-18
20 SPACE (35") SWING FRAME RACK, 18" DEEP, BLACK FINISH
$209
SFR-25-18
25 SPACE (43 3/4") SWING FRAME RACK, 18" DEEP, BLACK FINISH
$237
SGR-12-12
12 SPACE (21") SWING GATE RACK, 12 1/2" DEEP, BLACK FINISH
$217
SGR-12-18
12 SPACE (21") SWING GATE RACK, 18" DEEP, BLACK FINISH
$232
SGR-20-12
20 SPACE (35") SWING GATE RACK, 12 1/2" DEEP, BLACK FINISH
$242
SGR-20-18
20 SPACE (35") SWING GATE RACK, 18" DEEP, BLACK FINISH
$276
SGR-MR
SGR WALL STRENGTHENING MOUNTING RAILS, INCLUDES PAPER MOUNTING TEMPLATE
$78
SH-5A
ZERO-SPACE RACKSHELF FOR 20" DEEP SLIM 5 / AXS, MOUNTS TO FRONT & REAR RAIL
$69
SH-5A-26
ZERO-SPACE RACKSHELF FOR 26" DEEP SLIM 5 / AXS, MOUNTS TO FRONT & REAR RAIL
$75
SH-BRK
QUICK-MOUNT SHELF FOR BRK/OBRK
$42
SH-BRK-3P
3PK QUCK-MNT SHLF FOR BRK/OBRK
$113
SH-DMP-A
DIGITAL MEDIA PLAYER SHELF, BLACK BRUSHED FINISH
$129
SH-DMP-EXT
DIGITAL MEDIA PLAYER REAR ACCESSORY SHELF
$38
SH-DMP-S
DIGITAL MEDIA PLAYER SHELF, BLACK TEXTURED FINISH
$108
SH-SRSR
ZERO-SPACE RACKSHELF FOR SRSR, MOUNTS TO FRONT & REAR RAIL
$68
SH-WR
ZERO-SPACE RACKSHELF FOR WR, MOUNTS TO FRONT & REAR RAIL
$69
SH-WR-34
ZERO-SPACE RACKSHELF FOR WR-XX-42, MOUNTS TO FRONT & REAR RAIL
$87
SL-1
1 SPACE PLEXI WINDOW SECURITY COVER, NON-HINGED
$28
SL-2
2 SPACE PLEXI WINDOW SECURITY COVER, NON-HINGED
$30
SL-3
3 SPACE PLEXI WINDOW SECURITY COVER, NON-HINGED
$32
SONYEARS
PAIR OF EARS, SONY VPR-722 - ST92 - ST72TV, BLACK BRUSHED FINISH
$46
SONYEARS2
PAIR OF EARS, SONY TU-1041U, BLACK FINISH
$32
SP-5-14
PAIR OF SIDE PANELS, FITS 5-14, BLACK FINISH
$131
SP-5-14-26
PAIR OF SIDE PANELS, FITS 5-14-26, BLACK FINISH
$177
SP-5-14-26GY
PAIR OF SIDE PANELS, FITS 5-14-26, GRANITE GRAY FINISH
$177
SP-5-21
PAIR OF SIDE PANELS, FITS 5-21, BLACK FINISH
$166
SP-5-21-26
PAIR OF SIDE PANELS, FITS 5-21-26, BLACK FINISH
$224
SP-5-21-26GY
PAIR OF SIDE PANELS, FITS 5-21-26, GRANITE GRAY FINISH
$224
SP-5-29
PAIR OF SIDE PANELS, FITS 5-29, BLACK FINISH
$200
SP-5-29-26
PAIR OF SIDE PANELS, FITS 5-29-26, BLACK FINISH
$271
SP-5-29-26GY
PAIR OF SIDE PANELS, FITS 5-29-26, GRANITE GRAY FINISH
$271
SP-5-37
PAIR OF SIDE PANELS, FITS 5-37, BLACK FINISH
$238
SP-5-37-26
PAIR OF SIDE PANELS, FITS 5-37-26, BLACK FINISH
$322
SP-5-37-26GY
PAIR OF SIDE PANELS, FITS 5-37-26, GRANITE GRAY FINISH
$322
SP-5-43
PAIR OF SIDE PANELS, FITS 5-43, BLACK FINISH
$266
SP-5-43-26
PAIR OF SIDE PANELS, FITS 5-43-26, BLACK FINISH
$361
SP-5-43-26GY
PAIR OF SIDE PANELS, FITS 5-43-26, GRANITE GRAY FINISH
$361
SP-5-8
PAIR OF SIDE PANELS, FITS 5-8, BLACK FINISH
$129
SP-5-8-26
PAIR OF SIDE PANELS, FITS 5-8-26, BLACK FINISH
$155
SP-5-8-26GY
PAIR OF SIDE PANELS, FITS 5-8-26, GRANITE GRAY FINISH
$155
SPBIT
GUARDIAN SERIES SQUARE POST DRIVER BIT
$12
SPM-2
2 SPACE (3 1/2") SIDEWAYS PANEL MOUNT, NOW INCLUDES FRONT COVER
$95
SPM-4
4 SPACE (7") SIDEWAYS PANEL MOUNT, NOW INCLUDES FRONT COVER
$107
SPN-1427-1217BK
CONVECTIVE SERIES 17 DEGREE CONSOLE SIDE PANELS, PAIR - BLACK
$323
SPN-1427-1217GY
CONVECTIVE SERIES 17 DEGREE CONSOLE SIDE PANELS, PAIR - GRANITE GRAY
$323
SPN-1427-1217LG
CONVECTIVE SERIES 17 DEGREE CONSOLE SIDE PANELS, PAIR - LIGHT GRAY
$323
SPN-1427-1460BK
CONVECTIVE SERIES 60 DEGREE SLOPED CONSOLE SIDE PANELS, PAIR - BLACK
$262
SPN-1427-1460GY
CONVECTIVE SERIES 60 DEGREE SLOPED CONSOLE SIDE PANELS, PAIR - GRANITE GRAY
$262
SPN-1427-1460LG
CONVECTIVE SERIES 60 DEGREE SLOPED CONSOLE SIDE PANELS, PAIR - LIGHT GRAY
$262
SPN-24-267
PAIR OF SIDE PANELS, FITS MRK-2426 & WRK-24-27, BLACK FINISH
$266
SPN-24-312
PAIR OF SIDE PANELS, FITS MRK-2431 & WRK-24-32, BLACK FINISH
$362
SPN-24-36
PAIR OF SIDE PANELS, FITS WMRK-2436, BLACK FINISH
$409
SPN-24-42
PAIR OF SIDE PANELS, FITS WMRK-2442, BLACK FINISH
$445
SPN-37-267
PAIR OF SIDE PANELS, FITS MRK-3726 & WRK-37-27, BLACK FINISH
$318
SPN-37-312
PAIR OF SIDE PANELS, FITS MRK-3731 & WRK-37-32, BLACK FINISH
$432
SPN3T-1427-1217-1217BK
CONVECTIVE SERIES TOP MONITOR RACK SIDE PANELS 17 DEGREE SLOPE, PAIR - BLACK
$154
SPN3T-1427-1217-1217GY
CONVECTIVE SERIES TOP MONITOR RACK SIDE PANELS 17 DEGREE SLOPE, PAIR - GRANITE GRAY
$154
SPN3T-1427-1217-1217LG
CONVECTIVE SERIES TOP MONITOR RACK SIDE PANELS 17 DEGREE SLOPE, PAIR - LIGHT GRAY
$154
SPN3T-1427-1217-12BK
CONVECTIVE SERIES TOP MONITOR RACK SIDE PANELS STRAIGHT FACE, PAIR - BLACK
$151
SPN3T-1427-1217-12GY
CONVECTIVE SERIES TOP MONITOR RACK SIDE PANELS STRAIGHT FACE, PAIR - GRANITE GRAY
$151
SPN3T-1427-1217-12LG
CONVECTIVE SERIES TOP MONITOR RACK SIDE PANELS STRAIGHT FACE, PAIR - LIGHT GRAY
$151
SPN-40-267
PAIR OF SIDE PANELS, FITS MRK-4026 & WRK-40-27, BLACK FINISH
$341
SPN-40-312
PAIR OF SIDE PANELS, FITS MRK-4031 & WRK-40-32, BLACK FINISH
$466
SPN-40-36
PAIR OF SIDE PANELS, FITS MRK-4036, BLACK FINISH
$516
SPN-40-423
PAIR OF SIDE PANELS, FITS MRK-4042, BLACK FINISH
$590
SPN-42-36
PAIR OF SIDE PANELS, FITS WMRK-4236, BLACK FINISH
$503
SPN-42-42
PAIR OF SIDE PANELS, FITS WMRK-4242, BLACK FINISH
$573
SPN-42-48
PAIR OF SIDE PANELS, FITS WMRK-4248, BLACK FINISH
$661
SPN-44-267
PAIR OF SIDE PANELS, FITS MRK-4426 & WRK-44-27, BLACK FINISH
$362
SPN-44-312
PAIR OF SIDE PANELS, FITS MRK-4431 & WRK-44-32, BLACK FINISH
$481
SPN-44-36
PAIR SIDE PANELS FITS MRK-4436, BLACK FINISH
$531
SPN-44-423
PAIR SIDE PANELS FITS MRK-4442 & DRK-4442, BLACK FINISH
$605
SPN-45-36
PAIR OF SIDE PANELS, FITS WMRK-4536, BLACK FINISH
$517
SPN-45-42
PAIR OF SIDE PANELS, FITS WMRK-4542, BLACK FINISH
$589
SPN-45-48
PAIR OF SIDE PANELS, FITS WMRK-4548, BLACK FINISH
$682
SPN-54-312
SIDE PANELS FOR THE VMRK-54, 2 PER SIDE - 4 TOTAL PER PAIR, ENCLOSES ONE RACK BAY
$577
SPNQ-1427-1217BK
QUIET-COOL SERIES 17 DEGREE CONSOLE SIDE PANELS, PAIR - BLACK
$370
SPNQ-1427-1217GY
QUIET-COOL SERIES 17 DEGREE CONSOLE SIDE PANELS, PAIR - GRANITE GRAY
$370
SPNQ-1427-1217LG
QUIET-COOL SERIES 17 DEGREE CONSOLE SIDE PANELS, PAIR - LIGHT GRAY
$370
SPNQ-1427-1460BK
QUIET-COOL SERIES 60 DEGREE SLOPED CONSOLE SIDE PANELS, PAIR - BLACK
$299
SPNQ-1427-1460GY
QUIET-COOL SERIES 60 DEGREE SLOPED CONSOLE SIDE PANELS, PAIR - GRANITE GRAY
$299
SPNQ-1427-1460LG
QUIET-COOL SERIES 60 DEGREE SLOPED CONSOLE SIDE PANELS, PAIR - LIGHT GRAY
$299
SPNQ3T-1427-1217-1217BK
QUIET-COOL SERIES TOP MONITOR RACK SIDE PANELS 17 DEGREE SLOPE, PAIR - BLACK
$196
SPNQ3T-1427-1217-1217GY
QUIET-COOL SERIES TOP MONITOR RACK SIDE PANELS 17 DEGREE SLOPE, PAIR - GRANITE GRAY
$196
SPNQ3T-1427-1217-1217LG
QUIET-COOL SERIES TOP MONITOR RACK SIDE PANELS 17 DEGREE SLOPE, PAIR - LIGHT GRAY
$196
SPNQ3T-1427-1217-12BK
QUIET-COOL SERIES TOP MONITOR RACK SIDE PANELS STRAIGHT FACE, PAIR - BLACK
$192
SPNQ3T-1427-1217-12GY
QUIET-COOL SERIES TOP MONITOR RACK SIDE PANELS STRAIGHT FACE, PAIR - GRANITE GRAY
$192
SPNQ3T-1427-1217-12LG
QUIET-COOL SERIES TOP MONITOR RACK SIDE PANELS STRAIGHT FACE, PAIR - LIGHT GRAY
$192
SPN-R4-3824
PAIR OF SIDE PANELS, FITS R412-3824B, BLACK FINISH
$314
SPN-R4-3830
PAIR OF SIDE PANELS, FITS R412-3830B, BLACK FINISH
$344
SPN-R4-4524
PAIR OF SIDE PANELS, FITS R412/R4CN-4524B, BLACK FINISH
$344
SPN-R4-4530
PAIR OF SIDE PANELS, FITS R412/R4CN-4530B, BLACK FINISH
$359
SPN-R4-4536
PAIR OF SIDE PANELS, FITS R4CN-4530B, BLACK FINISH
$373
SPN-R4-5124
PAIR OF SIDE PANELS, FITS R412/R4CN-4524B, BLACK FINISH
$373
SPN-R4-5130
PAIR OF SIDE PANELS, FITS R412/R4CN-4530B, BLACK FINISH
$388
SPN-R4-5136
PAIR OF SIDE PANELS, FITS R4CN-4536B, BLACK FINISH
$411
SPX-19
UCP MODULE, FOR SOCAPEX 19 PIN, FITS 1 CONNECTOR
$12
SR-24-28
28 SPACE (49") SWINGING WALL RACK, ACCOMMODATES 26" DEEP EQUIPMENT
$928
SR-24-32
28 SPACE (49") SWINGING WALL RACK, ACCOMMODATES 30" DEEP EQUIPMENT
$1020
SR-40-22
40 SPACE (70") SWINGING WALL RACK, ACCOMMODATES 20" DEEP EQUIPMENT
$938
SR-40-28
40 SPACE (70") SWINGING WALL RACK, ACCOMMODATES 26" DEEP EQUIPMENT
$1089
SR-40-32
40 SPACE (70") SWINGING WALL RACK, ACCOMMODATES 30" DEEP EQUIPMENT
$1213
SR-46-28
46 SPACE (80 1/2") SWINGING WALL RACK, ACCOMMODATES 26" DEEP EQUIPMENT
$1188
SRB-1-MRK-3124
1 BAY SEISMIC CERTIFIED RISER BASE, ACCOMMODATES MRK 31" DEEP RACKS
$438
SRB-1-MRK-3624
1 BAY SEISMIC CERTIFIED RISER BASE, ACCOMMODATES MRK 36" DEEP RACKS
$475
SRB-2-MRK-3124
2 BAY SEISMIC CERTIFIED RISER BASE, ACCOMMODATES MRK 31" DEEP RACKS
$582
SRB-2-MRK-3624
2 BAY SEISMIC CERTIFIED RISER BASE, ACCOMMODATES MRK 36" DEEP RACKS
$614
SRB-3-MRK-3124
3 BAY SEISMIC CERTIFIED RISER BASE, ACCOMMODATES MRK 31" DEEP RACKS
$682
SRB-3-MRK-3624
3 BAY SEISMIC CERTIFIED RISER BASE, ACCOMMODATES MRK 36" DEEP RACKS
$716
SRCC
FULL WIDTH CABLE CARRIER FOR SRS
$126
SRD-KEY
SET OF REPLACEMENT KEYS FOR REAR DOORS
$3
SRK
12 SPACE SLOPED OVER 16 SPACE LAMINATE READY-TO-ASSEMBLE ROLLING RACK
$274
SRS2-10
10 SPACE SLIDING RAIL SYSTEM, 125 LB. CAPACITY
$362
SRS2-11
11 SPACE SLIDING RAIL SYSTEM, 125 LB. CAPACITY
$362
SRS2-12
12 SPACE SLIDING RAIL SYSTEM, 125 LB. CAPACITY
$362
SRS2-13
13 SPACE SLIDING RAIL SYSTEM, 125 LB. CAPACITY
$362
SRS2-14
14 SPACE SLIDING RAIL SYSTEM, 125 LB. CAPACITY
$362
SRS2-15
15 SPACE SLIDING RAIL SYSTEM, 125 LB. CAPACITY
$362
SRS2-16
16 SPACE SLIDING RAIL SYSTEM, 125 LB. CAPACITY
$362
SRS2-17
17 SPACE SLIDING RAIL SYSTEM, 125 LB. CAPACITY
$362
SRS2-18
18 SPACE SLIDING RAIL SYSTEM, 125 LB. CAPACITY
$362
SRS2-19
19 SPACE SLIDING RAIL SYSTEM, 125 LB. CAPACITY
$362
SRS2-20
20 SPACE SLIDING RAIL SYSTEM, 125 LB. CAPACITY
$362
SRS2-8
8 SPACE SLIDING RAIL SYSTEM, 125 LB. CAPACITY
$362
SRS2-9
9 SPACE SLIDING RAIL SYSTEM, 125 LB. CAPACITY
$362
SRS4-10
10 SPACE SLIDING RAIL SYSTEM, 250 LB. CAPACITY
$434
SRS4-11
11 SPACE SLIDING RAIL SYSTEM, 250 LB. CAPACITY
$434
SRS4-12
12 SPACE SLIDING RAIL SYSTEM, 250 LB. CAPACITY
$434
SRS4-13
13 SPACE SLIDING RAIL SYSTEM, 250 LB. CAPACITY
$434
SRS4-14
14 SPACE SLIDING RAIL SYSTEM, 250 LB. CAPACITY
$434
SRS4-15
15 SPACE SLIDING RAIL SYSTEM, 250 LB. CAPACITY
$434
SRS4-16
16 SPACE SLIDING RAIL SYSTEM, 250 LB. CAPACITY
$434
SRS4-17
17 SPACE SLIDING RAIL SYSTEM, 250 LB. CAPACITY
$434
SRS4-18
18 SPACE SLIDING RAIL SYSTEM, 250 LB. CAPACITY
$434
SRS4-19
19 SPACE SLIDING RAIL SYSTEM, 250 LB. CAPACITY
$434
SRS4-20
20 SPACE SLIDING RAIL SYSTEM, 250 LB. CAPACITY
$434
SRS4-8
8 SPACE SLIDING RAIL SYSTEM, 250 LB. CAPACITY
$434
SRS4-9
9 SPACE SLIDING RAIL SYSTEM, 250 LB. CAPACITY
$434
SRS-CATRIM
SILVER BRUSHED FINISH TRIM PANEL FOR SRS SERIES ENCLOSURES
$29
SRSR-2-12
12 SPACE ROTATING SLIDING RAIL SYSTEM, 125 LB. CAPACITY
$431
SRSR-2-13
13 SPACE ROTATING SLIDING RAIL SYSTEM, 125 LB. CAPACITY
$431
SRSR-2-14
14 SPACE ROTATING SLIDING RAIL SYSTEM, 125 LB. CAPACITY
$431
SRSR-2-15
15 SPACE ROTATING SLIDING RAIL SYSTEM, 125 LB. CAPACITY
$431
SRSR-2-16
16 SPACE ROTATING SLIDING RAIL SYSTEM, 125 LB. CAPACITY
$431
SRSR-2-17
17 SPACE ROTATING SLIDING RAIL SYSTEM, 125 LB. CAPACITY
$431
SRSR-2-18
18 SPACE ROTATING SLIDING RAIL SYSTEM, 125 LB. CAPACITY
$431
SRSR-2-19
19 SPACE ROTATING SLIDING RAIL SYSTEM, 125 LB. CAPACITY
$431
SRSR-2-20
20 SPACE ROTATING SLIDING RAIL SYSTEM, 125 LB. CAPACITY
$431
SRSR-2-21
21 SPACE ROTATING SLIDING RAIL SYSTEM, 125 LB. CAPACITY
$431
SRSR-2-22
22 SPACE ROTATING SLIDING RAIL SYSTEM, 125 LB. CAPACITY
$431
SRSR-2-23
23 SPACE ROTATING SLIDING RAIL SYSTEM, 125 LB. CAPACITY
$431
SRSR-2-24
24 SPACE ROTATING SLIDING RAIL SYSTEM, 125 LB. CAPACITY
$431
SRSR-4-12
12 SPACE ROTATING SLIDING RAIL SYSTEM, 250 LB. CAPACITY
$491
SRSR-4-13
13 SPACE ROTATING SLIDING RAIL SYSTEM, 250 LB. CAPACITY
$491
SRSR-4-14
14 SPACE ROTATING SLIDING RAIL SYSTEM, 250 LB. CAPACITY
$491
SRSR-4-15
15 SPACE ROTATING SLIDING RAIL SYSTEM, 250 LB. CAPACITY
$491
SRSR-4-16
16 SPACE ROTATING SLIDING RAIL SYSTEM, 250 LB. CAPACITY
$491
SRSR-4-17
17 SPACE ROTATING SLIDING RAIL SYSTEM, 250 LB. CAPACITY
$491
SRSR-4-18
18 SPACE ROTATING SLIDING RAIL SYSTEM, 250 LB. CAPACITY
$491
SRSR-4-19
19 SPACE ROTATING SLIDING RAIL SYSTEM, 250 LB. CAPACITY
$491
SRSR-4-20
20 SPACE ROTATING SLIDING RAIL SYSTEM, 250 LB. CAPACITY
$491
SRSR-4-21
21 SPACE ROTATING SLIDING RAIL SYSTEM, 250 LB. CAPACITY
$491
SRSR-4-22
22 SPACE ROTATING SLIDING RAIL SYSTEM, 250 LB. CAPACITY
$491
SRSR-4-23
23 SPACE ROTATING SLIDING RAIL SYSTEM, 250 LB. CAPACITY
$491
SRSR-4-24
24 SPACE ROTATING SLIDING RAIL SYSTEM, 250 LB. CAPACITY
$491
SRSR-4-25
25 SPACE ROTATING SLIDING RAIL SYSTEM, 250 LB. CAPACITY
$491
SRSR-4-26
26 SPACE ROTATING SLIDING RAIL SYSTEM, 250 LB. CAPACITY
$491
SRSR-4-27
27 SPACE ROTATING SLIDING RAIL SYSTEM, 250 LB. CAPACITY
$491
SRSR-4-28
28 SPACE ROTATING SLIDING RAIL SYSTEM, 250 LB. CAPACITY
$491
SRSR-4-29
29 SPACE ROTATING SLIDING RAIL SYSTEM, 250 LB. CAPACITY
$491
SRSR-4-30
30 SPACE ROTATING SLIDING RAIL SYSTEM, 250 LB. CAPACITY
$491
SRSR-CATRIM
SILVER BRUSHED FINISH TRIM PANEL FOR SRSR SERIES ENCLOSURES
$29
SRSR-X-12
12 SPACE ROTATING SLIDING RAIL SYSTEM W/23" USEABLE DEPTH, 200 LB. CAPACITY
$619
SRSR-X-13
13 SPACE ROTATING SLIDING RAIL SYSTEM W/23" USEABLE DEPTH, 200 LB. CAPACITY
$619
SRSR-X-14
14 SPACE ROTATING SLIDING RAIL SYSTEM W/23" USEABLE DEPTH, 200 LB. CAPACITY
$619
SRSR-X-15
15 SPACE ROTATING SLIDING RAIL SYSTEM W/23" USEABLE DEPTH, 200 LB. CAPACITY
$619
SRSR-X-16
16 SPACE ROTATING SLIDING RAIL SYSTEM W/23" USEABLE DEPTH, 200 LB. CAPACITY
$619
SRSR-X-17
17 SPACE ROTATING SLIDING RAIL SYSTEM W/23" USEABLE DEPTH, 200 LB. CAPACITY
$619
SRSR-X-18
18 SPACE ROTATING SLIDING RAIL SYSTEM W/23" USEABLE DEPTH, 200 LB. CAPACITY
$619
SRSR-X-19
19 SPACE ROTATING SLIDING RAIL SYSTEM W/23" USEABLE DEPTH, 200 LB. CAPACITY
$619
SRSR-X-20
20 SPACE ROTATING SLIDING RAIL SYSTEM W/23" USEABLE DEPTH, 200 LB. CAPACITY
$619
SRSR-X-21
21 SPACE ROTATING SLIDING RAIL SYSTEM W/23" USEABLE DEPTH, 200 LB. CAPACITY
$619
SRSR-X-22
22 SPACE ROTATING SLIDING RAIL SYSTEM W/23" USEABLE DEPTH, 200 LB. CAPACITY
$619
SRSR-X-23
23 SPACE ROTATING SLIDING RAIL SYSTEM W/23" USEABLE DEPTH, 200 LB. CAPACITY
$619
SRSR-X-24
24 SPACE ROTATING SLIDING RAIL SYSTEM W/23" USEABLE DEPTH, 200 LB. CAPACITY
$619
SRSR-X-25
25 SPACE ROTATING SLIDING RAIL SYSTEM W/23" USEABLE DEPTH, 200 LB. CAPACITY
$619
SRSR-X-26
26 SPACE ROTATING SLIDING RAIL SYSTEM W/23" USEABLE DEPTH, 200 LB. CAPACITY
$619
SRSR-X-27
27 SPACE ROTATING SLIDING RAIL SYSTEM W/23" USEABLE DEPTH, 200 LB. CAPACITY
$619
SRSR-X-28
28 SPACE ROTATING SLIDING RAIL SYSTEM W/23" USEABLE DEPTH, 200 LB. CAPACITY
$619
SRSR-X-29
29 SPACE ROTATING SLIDING RAIL SYSTEM W/23" USEABLE DEPTH, 200 LB. CAPACITY
$619
SRSR-X-30
30 SPACE ROTATING SLIDING RAIL SYSTEM W/23" USEABLE DEPTH, 200 LB. CAPACITY
$619
SR-SUB
(1) SUB-PLATE MOUNTING KIT FOR 89-D TYPE BRACKETS AND ELEC. BOXES ON SR BACKPAN, INCL. HDWR
$42
SS
SLIDING SHELF, HEAVY DUTY
$131
SSAX-10
10 SPACE EQUIPMENT ACCESS SYSTEM, 25" EXTENSION, 16 1/2" DEEP FRAME
$657
SSAX-10-GG
SSAX-10 WITH GASKET AND GUIDE KIT
$746
SSAX-11
11 SPACE EQUIPMENT ACCESS SYSTEM, 25" EXTENSION, 16 1/2" DEEP FRAME
$657
SSAX-11-GG
SSAX-11 WITH GASKET AND GUIDE KIT
$746
SSAX-12
12 SPACE EQUIPMENT ACCESS SYSTEM, 25" EXTENSION, 16 1/2" DEEP FRAME
$657
SSAX-12-GG
SSAX-12 WITH GASKET AND GUIDE KIT
$746
SSAX-13
13 SPACE EQUIPMENT ACCESS SYSTEM, 25" EXTENSION, 16 1/2" DEEP FRAME
$657
SSAX-13-GG
SSAX-13 WITH GASKET AND GUIDE KIT
$746
SSAX-14
14 SPACE EQUIPMENT ACCESS SYSTEM, 25" EXTENSION, 16 1/2" DEEP FRAME
$657
SSAX-14-GG
SSAX-14 WITH GASKET AND GUIDE KIT
$746
SSAX-15
15 SPACE EQUIPMENT ACCESS SYSTEM, 25" EXTENSION, 16 1/2" DEEP FRAME
$657
SSAX-15-GG
SSAX-15 WITH GASKET AND GUIDE KIT
$746
SSAX-16
16 SPACE EQUIPMENT ACCESS SYSTEM, 25" EXTENSION, 16 1/2" DEEP FRAME
$657
SSAX-16-GG
SSAX-16 WITH GASKET AND GUIDE KIT
$746
SSAX-17
17 SPACE EQUIPMENT ACCESS SYSTEM, 25" EXTENSION, 16 1/2" DEEP FRAME
$657
SSAX-17-GG
SSAX-17 WITH GASKET AND GUIDE KIT
$746
SSAX-18
18 SPACE EQUIPMENT ACCESS SYSTEM, 25" EXTENSION, 16 1/2" DEEP FRAME
$657
SSAX-18-GG
SSAX-18 WITH GASKET AND GUIDE KIT
$746
SSAX-19
19 SPACE EQUIPMENT ACCESS SYSTEM, 25" EXTENSION, 16 1/2" DEEP FRAME
$657
SSAX-19-GG
SSAX-19 WITH GASKET AND GUIDE KIT
$746
SSAX-20
20 SPACE EQUIPMENT ACCESS SYSTEM, 25" EXTENSION, 16 1/2" DEEP FRAME
$657
SSAX-20-GG
SSAX-20 WITH GASKET AND GUIDE KIT
$746
SSAX-21
21 SPACE EQUIPMENT ACCESS SYSTEM, 25" EXTENSION, 16 1/2" DEEP FRAME
$657
SSAX-21-GG
SSAX-21 WITH GASKET AND GUIDE KIT
$746
SSAX-22
22 SPACE EQUIPMENT ACCESS SYSTEM, 25" EXTENSION, 16 1/2" DEEP FRAME
$657
SSAX-22-GG
SSAX-22 WITH GASKET AND GUIDE KIT
$746
SSAX-23
23 SPACE EQUIPMENT ACCESS SYSTEM, 25" EXTENSION, 16 1/2" DEEP FRAME
$657
SSAX-23-GG
SSAX-23 WITH GASKET AND GUIDE KIT
$746
SSAX-24
24 SPACE EQUIPMENT ACCESS SYSTEM, 25" EXTENSION, 16 1/2" DEEP FRAME
$657
SSAX-24-GG
SSAX-24 WITH GASKET AND GUIDE KIT
$746
SSAX-25
25 SPACE EQUIPMENT ACCESS SYSTEM, 25" EXTENSION, 16 1/2" DEEP FRAME
$657
SSAX-25-GG
SSAX-25 WITH GASKET AND GUIDE KIT
$746
SSAX-26
26 SPACE EQUIPMENT ACCESS SYSTEM, 25" EXTENSION, 16 1/2" DEEP FRAME
$657
SSAX-26-GG
SSAX-26 WITH GASKET AND GUIDE KIT
$746
SSAX-27
27 SPACE EQUIPMENT ACCESS SYSTEM, 25" EXTENSION, 16 1/2" DEEP FRAME
$657
SSAX-27-GG
SSAX-27 WITH GASKET AND GUIDE KIT
$746
SSAX-28
28 SPACE EQUIPMENT ACCESS SYSTEM, 25" EXTENSION, 16 1/2" DEEP FRAME
$657
SSAX-28-GG
SSAX-28 WITH GASKET AND GUIDE KIT
$746
SSAX-29
29 SPACE EQUIPMENT ACCESS SYSTEM, 25" EXTENSION, 16 1/2" DEEP FRAME
$657
SSAX-29-GG
SSAX-29 WITH GASKET AND GUIDE KIT
$746
SSAX-30
30 SPACE EQUIPMENT ACCESS SYSTEM, 25" EXTENSION, 16 1/2" DEEP FRAME
$657
SSAX-30-GG
SSAX-30 WITH GASKET AND GUIDE KIT
$746
SSAX-31
31 SPACE EQUIPMENT ACCESS SYSTEM, 25" EXTENSION, 16 1/2" DEEP FRAME
$657
SSAX-31-GG
SSAX-31 WITH GASKET AND GUIDE KIT
$746
SSAX-32
32 SPACE EQUIPMENT ACCESS SYSTEM, 25" EXTENSION, 16 1/2" DEEP FRAME
$657
SSAX-32-GG
SSAX-32 WITH GASKET AND GUIDE KIT
$746
SSAX-33
33 SPACE EQUIPMENT ACCESS SYSTEM, 25" EXTENSION, 16 1/2" DEEP FRAME
$657
SSAX-33-GG
SSAX-33 WITH GASKET AND GUIDE KIT
$746
SSAX-34
34 SPACE EQUIPMENT ACCESS SYSTEM, 25" EXTENSION, 16 1/2" DEEP FRAME
$657
SSAX-34-GG
SSAX-34 WITH GASKET AND GUIDE KIT
$746
SSAX-35
35 SPACE EQUIPMENT ACCESS SYSTEM, 25" EXTENSION, 16 1/2" DEEP FRAME
$657
SSAX-35-GG
SSAX-35 WITH GASKET AND GUIDE KIT
$746
SSAX-36
36 SPACE EQUIPMENT ACCESS SYSTEM, 25" EXTENSION, 16 1/2" DEEP FRAME
$657
SSAX-36-GG
SSAX-36 WITH GASKET AND GUIDE KIT
$746
SSAX-37
37 SPACE EQUIPMENT ACCESS SYSTEM, 25" EXTENSION, 16 1/2" DEEP FRAME
$657
SSAX-37-GG
SSAX-37 WITH GASKET AND GUIDE KIT
$746
SSAX-38
38 SPACE EQUIPMENT ACCESS SYSTEM, 25" EXTENSION, 16 1/2" DEEP FRAME
$657
SSAX-38-GG
SSAX-38 WITH GASKET AND GUIDE KIT
$746
SSAX-39
39 SPACE EQUIPMENT ACCESS SYSTEM, 25" EXTENSION, 16 1/2" DEEP FRAME
$657
SSAX-39-GG
SSAX-39 WITH GASKET AND GUIDE KIT
$746
SSAX-40
40 SPACE EQUIPMENT ACCESS SYSTEM, 25" EXTENSION, 16 1/2" DEEP FRAME
$657
SSAX-40-GG
SSAX-40 WITH GASKET AND GUIDE KIT
$746
SSAX-41
41 SPACE EQUIPMENT ACCESS SYSTEM, 25" EXTENSION, 16 1/2" DEEP FRAME
$657
SSAX-41-GG
SSAX-41 WITH GASKET AND GUIDE KIT
$746
SSAX-42
42 SPACE EQUIPMENT ACCESS SYSTEM, 25" EXTENSION, 16 1/2" DEEP FRAME
$657
SSAX-42-GG
SSAX-42 WITH GASKET AND GUIDE KIT
$746
SSAX-43
43 SPACE EQUIPMENT ACCESS SYSTEM, 25" EXTENSION, 16 1/2" DEEP FRAME
$657
SSAX-43-GG
SSAX-43 WITH GASKET AND GUIDE KIT
$746
SSDR-12
12 SPACE (21") SOLID SECURITY DOOR
$105
SSDR-15
15 SPACE (26 1/4") SOLID SECURITY DOOR
$115
SSDR-16
16 SPACE (28") SOLID SECURITY DOOR
$123
SSDR-20
20 SPACE (35") SOLID SECURITY DOOR
$133
SSDR-21
21 SPACE (36 3/4") SOLID SECURITY DOOR
$142
SSDR-8
8 SPACE (14") SOLID SECURITY DOOR
$97
SSL
LOW PROFILE, ECONOMICAL SLIDING SHELF
$88
ST1MP
1 3/4" SHIM TAB-.063 THICK (100 PCS. PER PACK)
$56
ST2MP
3 1/2" SHIM TAB-.063 THICK (100 PCS. PER PACK)
$69
ST3MP
5 1/4" SHIM TAB-.063 THICK (100 PCS. PER PACK)
$92
SW
100 PC. SHOULDER WASHERS
$8
T1P
1 SP (1 3/4") PANEL WITH 1 TEMP-DEC, BLACK POWDER COAT FINISH
$126
T-24X6
24" TAIL, CONNECTS POWER TO MODULE (CONNECTOR ON ONE END - TAILS ON OTHER) - SOLD IN PACKS OF 6
$57
T-80X6
80" TAIL, CONNECTS POWER TO MODULE (CONNECTOR ON ONE END - TAILS ON OTHER) - SOLD IN PACKS OF 6
$72
TA
77" TRIM STRIP, INCL. SNAP WASHERS AND END CAPS, BLACK BRUSHED FINISH
$47
TBIT
STAR POST DRIVER BIT
$12
TC
77" TRIM STRIP, INCL. SNAP WASHERS AND END CAPS, SILVER BRUSHED FINISH
$47
TCD
CD HOLDER, BLACK TEXTURED FINISH
$87
TD2
2 SPACE (3 1/2") RACK DRAWER, BLACK TEXTURED FINISH
$134
TD2LK
2 SPACE (3 1/2") RACK DRAWER, BLACK TEXTURED FINISH, WITH KEYLOCK
$151
TD3
3 SPACE (5 1/4") RACK DRAWER, BLACK TEXTURED FINISH
$131
TD3LK
3 SPACE (5 1/4") RACK DRAWER, BLACK TEXTURED FINISH, WITH KEYLOCK
$160
TD4
4 SPACE (7") RACK DRAWER, BLACK TEXTURED FINISH
$138
TD4LK
4 SPACE (7") RACK DRAWER, BLACK TEXTURED FINISH, WITH KEYLOCK
$167
TD5
5 SPACE (8 3/4") RACK DRAWER, BLACK TEXTURED FINISH
$158
TD5LK
5 SPACE (8 3/4") RACK DRAWER, BLACK TEXTURED FINISH, WITH KEYLOCK
$186
TD8FLK
8 SPACE (14") RACK DRAWER, BLACK BRUSHED FINISH, WITH KEYLOCK AND FILE HANGING KIT
$274
TEMP-DEC
DECORA MOUNT TEMPERATURE DISPLAY WITH NOTIFICATION
$103
TFP1
FAN PANEL FOR 1 FAN, BLACK TEXTURED FINISH
$30
TFP2
FAN PANEL FOR 2 FANS, BLACK TEXTURED FINISH
$32
TFP3
FAN PANEL FOR 3 FANS, BLACK TEXTURED FINISH
$34
THERM-A
DUCT COOL ANALOG THERMOSTAT
$41
TOR-2-20RP
2 SPACE RECESS MOUNT TILT OUT WALL RACK, 20" USEABLE DEPTH, PUTTY FINISH
$326
TOR-2-20SP
2 SPACE SURFACE MOUNT TILT OUT WALL RACK, 20" USEABLE DEPTH, PUTTY FINISH
$302
TOR-3-20RP
3 SPACE RECESS MOUNT TILT OUT WALL RACK, 20" USEABLE DEPTH, PUTTY FINISH
$345
TOR-3-20SP
3 SPACE SURFACE MOUNT TILT OUT WALL RACK, 20" USEABLE DEPTH, PUTTY FINISH
$320
TOR-4-20RP
4 SPACE RECESS MOUNT TILT OUT WALL RACK, 20" USEABLE DEPTH, PUTTY FINISH
$363
TOR-4-20SP
4 SPACE SURFACE MOUNT TILT OUT WALL RACK, 20" USEABLE DEPTH, PUTTY FINISH
$337
TOR-PRT
PARTIAL RECESS TRIM KIT, FOR USE WITH TOR-3-20RP AND TOR-4-20RP WHEN MOUNTING IN WALLS WITH 2X4 STUDS
$50
TRACK25
AXS SERVICE TRACKS (PAIR), 25" EXTENSION
$209
TRACK31
AX-SXR SERVICE TRACKS (PAIR), 31" EXTENSION
$224
TRACK50
AXS SERVICE TRACKS (PAIR), 48 1/2" EXTENSION
$238
TRACKL
TRACK LEVELER NEEDED TO SERVICE AXS IN A STEEL ENCLOSURE, USE WITH TRACK 50/25
$68
TS
77" TRIM STRIP, INCL. SNAP WASHERS AND END CAPS, BLACK POWDER COAT FINISH
$19
TS1022
AXS SERVICE STAND, ELEVATES TRACKS 10" TO 22" OFF GROUND
$257
TS1640
AXS SERVICE STAND, ELEVATES TRACKS 16" TO 40" OFF GROUND
$285
TS310
AXS SERVICE STAND, ELEVATES TRACKS 3 1/2" TO 10" OFF GROUND
$190
TSP-5-14-26DC
THERMOLAMINATE TOP AND SIDES FOR THE 5-14-26, DARK CHERRY
$430
TSP-5-14-26LW
THERMOLAMINATE TOP AND SIDES FOR THE 5-14-26, LIGHT WALNUT
$430
TSP-5-14-26MP
THERMOLAMINATE TOP AND SIDES FOR THE 5-14-26, MAPLE
$430
TSP-5-14-26PS
THERMOLAMINATE TOP (PEPPERSTONE) AND SIDES (SLATE) FOR THE 5-14-26
$430
TSP-5-14DC
THERMOLAMINATE TOP AND SIDES FOR THE 5-14, DARK CHERRY
$332
TSP-5-14LW
THERMOLAMINATE TOP AND SIDES FOR THE 5-14, LIGHT WALNUT
$332
TSP-5-14MP
THERMOLAMINATE TOP AND SIDES FOR THE 5-14, MAPLE
$332
TSP-5-14PS
THERMOLAMINATE TOP (PEPPERSTONE) AND SIDES (SLATE) FOR THE 5-14
$332
TSP-5-21-26DC
THERMOLAMINATE TOP AND SIDES FOR THE 5-21-26, DARK CHERRY
$487
TSP-5-21-26LW
THERMOLAMINATE TOP AND SIDES FOR THE 5-21-26, LIGHT WALNUT
$487
TSP-5-21-26MP
THERMOLAMINATE TOP AND SIDES FOR THE 5-21-26, MAPLE
$487
TSP-5-21-26PS
THERMOLAMINATE TOP (PEPPERSTONE) AND SIDES (SLATE) FOR THE 5-21-26
$487
TSP-5-21DC
THERMOLAMINATE TOP AND SIDES FOR THE 5-21, DARK CHERRY
$413
TSP-5-21LW
THERMOLAMINATE TOP AND SIDES FOR THE 5-21, LIGHT WALNUT
$413
TSP-5-21MP
THERMOLAMINATE TOP AND SIDES FOR THE 5-21, MAPLE
$413
TSP-5-21PS
THERMOLAMINATE TOP (PEPPERSTONE) AND SIDES (SLATE) FOR THE 5-21
$413
TSP-5-29-26DC
THERMOLAMINATE TOP AND SIDES FOR THE 5-29-26, DARK CHERRY
$618
TSP-5-29-26LW
THERMOLAMINATE TOP AND SIDES FOR THE 5-29-26, LIGHT WALNUT
$618
TSP-5-29-26MP
THERMOLAMINATE TOP AND SIDES FOR THE 5-29-26, MAPLE
$618
TSP-5-29-26PS
THERMOLAMINATE TOP (PEPPERSTONE) AND SIDES (SLATE) FOR THE 5-29-26
$618
TSP-5-29DC
THERMOLAMINATE TOP AND SIDES FOR THE 5-29, DARK CHERRY
$444
TSP-5-29LW
THERMOLAMINATE TOP AND SIDES FOR THE 5-29, LIGHT WALNUT
$444
TSP-5-29MP
THERMOLAMINATE TOP AND SIDES FOR THE 5-29, MAPLE
$444
TSP-5-29PS
THERMOLAMINATE TOP (PEPPERSTONE) AND SIDES (SLATE) FOR THE 5-29
$444
TSP-5-37-26DC
THERMOLAMINATE TOP AND SIDES FOR THE 5-37-26, DARK CHERRY
$687
TSP-5-37-26LW
THERMOLAMINATE TOP AND SIDES FOR THE 5-37-26, LIGHT WALNUT
$687
TSP-5-37-26MP
THERMOLAMINATE TOP AND SIDES FOR THE 5-37-26, MAPLE
$687
TSP-5-37-26PS
THERMOLAMINATE TOP (PEPPERSTONE) AND SIDES (SLATE) FOR THE 5-37-26
$687
TSP-5-37DC
THERMOLAMINATE TOP AND SIDES FOR THE 5-37, DARK CHERRY
$509
TSP-5-37LW
THERMOLAMINATE TOP AND SIDES FOR THE 5-37, LIGHT WALNUT
$509
TSP-5-37MP
THERMOLAMINATE TOP AND SIDES FOR THE 5-37, MAPLE
$509
TSP-5-37PS
THERMOLAMINATE TOP (PEPPERSTONE) AND SIDES (SLATE) FOR THE 5-37
$509
TSP-5-43-26DC
THERMOLAMINATE TOP AND SIDES FOR THE 5-43-26, DARK CHERRY
$747
TSP-5-43-26LW
THERMOLAMINATE TOP AND SIDES FOR THE 5-43-26, LIGHT WALNUT
$747
TSP-5-43-26MP
THERMOLAMINATE TOP AND SIDES FOR THE 5-43-26, MAPLE
$747
TSP-5-43-26PS
THERMOLAMINATE TOP (PEPPERSTONE) AND SIDES (SLATE) FOR THE 5-43-26
$747
TSP-5-43DC
THERMOLAMINATE TOP AND SIDES FOR THE 5-43, DARK CHERRY
$541
TSP-5-43LW
THERMOLAMINATE TOP AND SIDES FOR THE 5-43, LIGHT WALNUT
$541
TSP-5-43MP
THERMOLAMINATE TOP AND SIDES FOR THE 5-43, MAPLE
$541
TSP-5-43PS
THERMOLAMINATE TOP (PEPPERSTONE) AND SIDES (SLATE) FOR THE 5-43
$541
TSW-15
CABLE MANAGEMENT TIE SADDLES ACCEPTS 3/4" HOOK AND LOOP FASTENERS AND CABLE TIES, 15 PIECES
$16
TVHS
VHS TAPE HOLDER, BLACK TEXTURED FINISH
$89
TW12
CABLE MANAGEMENT STRAPS, 8" LONG, 12 PIECES
$12
TW2B
UCP MODULE, FOR 2 BOLT TWISTLOCKS AND OTHER 2 BOLT DEVICES, FITS 1 CONNECTOR
$14
TW3B
UCP MODULE, FOR 3 BOLT TWISTLOCKS, FITS 1 CONNECTOR
$14
U1
1 SPACE (1 3/4") RACKSHELF
$39
U1MP
50 PC. U1 MASTER PACK
$1264
U1-RP12
12 PC. U1 RACKSHELF PACK IN SELF-MERCHANDISING DISPLAY BOX
$414
U2
2 SPACE (3 1/2") RACKSHELF
$52
U2MP
50 PC. U2 MASTER PACK
$1602
U2MS
2 SPACE (3 1/2") MID MOUNT RACKSHELF
$71
U2-RP6
6 PC. U2 RACKSHELF PACK IN SELF-MERCHANDISING DISPLAY BOX
$275
U3
3 SPACE (5 1/4") RACKSHELF
$58
U317
3 SPACE (5 1/4") VENTED RACKSHELF, 17" DEEP
$67
U317-23
3 SPACE (5 1/4") VENTED RACKSHELF, 23" PANEL WIDTH
$100
U3MP
36 PC. U3 MASTER PACK
$1299
U4
4 SPACE (7") RACKSHELF
$64
UCP-ADP
UCP PANEL 1900 BOX ADAPTER
$14
UCPB1
SINGLE WIDTH UCP BLANK PANEL
$10
UCPB2
DOUBLE WIDTH UCP BLANK PANEL
$20
UCPB3
TRIPLE WIDTH UCP BLANK PANEL
$25
UCP-CH
9" DEEP UCP CHASSIS, 2 SPACE (3 1/2")
$89
UCP-CT
UCP CABLE STRAIN RELIEF TRAY, INCLUDES FK-2 BARS AND MOUNTING EARS
$52
UCP-FAN
2 3/8" FAN FOR MOUNTING IN UCP SYSTEMS, 15 CFM (12VDC), INCLUDES POWER SUPPLY
$53
UCP-RPS
UCP CONNECTOR PANEL FOR REMOTE POWER SWITCH
$14
UCP-SF
HINGED FK-2 FRAME KIT
$37
UCP-VT
UCP SINGLE VENT PANEL
$14
UD2
2 SPACE (3 1/2") UTILITY DRAWER, BLACK POWDER COAT FINISH
$113
UD3
3 SPACE (5 1/4") UTILITY DRAWER, BLACK POWDER COAT FINISH
$121
UD4
4 SPACE (7") UTILITY DRAWER, BLACK POWDER COAT FINISH
$123
UNI-1
1 SPACE (1 3/4") LASER CUT UNIVERSAL CONNECTOR PANEL
$24
UNI-1-C
1 SPACE (1 3/4") LASER CUT UNIVERSAL CONNECTOR PANEL WITH STRAN RELIEF
$38
UNI-2
2 SPACE (3 1/2") LASER CUT UNIVERSAL CONNECTOR PANEL
$35
UNIV1
UCP MODULE, FOR UNIVERSAL XLR CONNECTIONS, FITS 1 CONNECTOR
$14
UNIV2
UCP MODULE, FOR UNIVERSAL XLR CONNECTIONS, FITS 2 CONNECTORS
$14
UNIV3
UCP MODULE, FOR UNIVERSAL XLR CONNECTIONS, FITS 3 CONNECTORS
$14
UNIV4
UCP MODULE, FOR UNIVERSAL XLR CONNECTIONS, FITS 4 CONNECTORS
$14
UNIV6
UCP MODULE, FOR UNIVERSAL XLR CONNECTIONS, FITS 6 CONNECTORS
$14
UP1
1 SPACE (1 3/4") UTILITY PANEL, 1 PIECE
$12
UP1P
1 SPACE (1 3/4") UTILITY PANEL, 10 PIECES
$98
UQFP-2
ULTRA QUIET FAN PANEL WITH PROPORTIONAL SPEED FAN CONTROL, 2 FANS, 120V
$247
UQFP-2D
ULTRA QUIET FAN PANEL WITH PROPORTIONAL SPEED FAN CONTROL, 2 FANS, LED DISPLAY, 120V
$425
UQFP-4
ULTRA QUIET FAN PANEL WITH PROPORTIONAL SPEED FAN CONTROL, 4 FANS, 120V
$278
UQFP-4D
ULTRA QUIET FAN PANEL WITH PROPORTIONAL SPEED FAN CONTROL, 4 FANS, LED DISPLAY, 120V
$456
UQFP-4DRA
DESIGNER INSPIRED ULTRA QUIET FAN PANEL WITH PROPORTIONAL SPEED FAN CONTROL, 4 FANS, LED DISPLAY, BLACK BRUSHED FINISH, 120V
$464
UQFP-4DRC
DESIGNER INSPIRED ULTRA QUIET FAN PANEL WITH PROPORTIONAL SPEED FAN CONTROL, 4 FANS, LED DISPLAY, SILVER BRUSHED FINISH, 120V
$464
UQFP-4RA
DESIGNER INSPIRED ULTRA QUIET FAN PANEL WITH PROPORTIONAL SPEED FAN CONTROL, 4 FANS, NO DISPLAY, BLACK BRUSHED FINISH, 120V
$287
USC-6R
RACKMOUNT 6 STEP UNIVERSAL SEQUENCING CONTROLLER, 12 V DC AND/OR SWITCH CLOSURE OUTPUT
$478
USC-K
REMOTE KEYSWITCH WALL PLATE FOR MPR-SEQ/PDS
$71
USC-KEY
SET OF REPLACEMENT KEYS FOR USC-KL
$3
USC-KL
REMOTE KEYSWITCH PANEL FOR USC-6R, WITH LED SEQUENCE STEP INDICATORS
$79