SWIT S-3602F
2-Channel Charger/Adaptor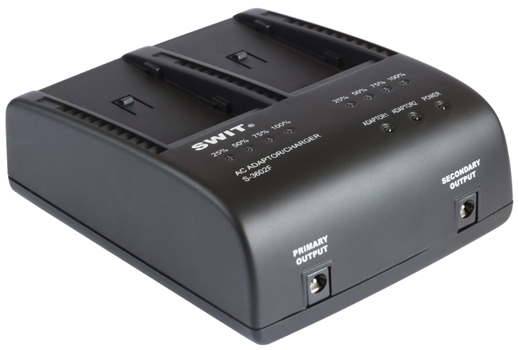 S-3602F is a dual channel simultaneous charger for S-8972, S-8970, S-8770 and compatible with Sony L series NP-F970/770 batteries. It has battery shape adaptor outputs for SONY HVR-V1E, Z1E, Z7E cameras and other corresponding equipments.

It is also available for charging in one channel and adapting in the other channel. Battery sold separately.
2 channels simultaneous charge
2 channels simultaneous adaptor
Applicable for SWIT S-8972, S-8970 DV batteries
Compatible with SONY L series DV batteries (SONY NP-F970/770/550)
Input AV 100V-240V, 50/60Hz
Charging Output DC 8.4V, 2Ax2
Adaptor Output DC 8.4V, 2A
Appliable Battery SWIT S-8792, S-8970
Sony L series NP-F970/770/550
Appliable Camera SONY HVR-V1E, HVR-Z1E/Z7E
Dimension 5.4x4.3x2.0 inch /136x110x47mm
Net Weight 0.8 lb/380g

SWIT S-8972
G&G Price: $99
◆ Comparable to SONY L series DV batteries
◆ Li-ion battery pack of 7.2V nominal voltage
◆ Display remaining power info on camera viewfinder
◆ 47Wh / 6.6Ah capacity
◆ 4-level LED power indicator
◆ 7.2V Pole-tap DC output
◆ Multiple circuit protections
FREE UPS SHIPPING

SWIT S-8970
G&G Price: $91
◆ Comparable to SONY L series DV batteries
◆ Li-ion battery pack of 7.2V nominal voltage
◆ Display remaining power info on camera viewfinder
◆ 47Wh / 6.6Ah capacity
◆ 4-level LED power indicator
◆ No DC output
◆ Multiple circuit protections
FREE UPS SHIPPING