Sennheiser ew100ENG-G3
Evolution Wireless
Portable (On-Camera) System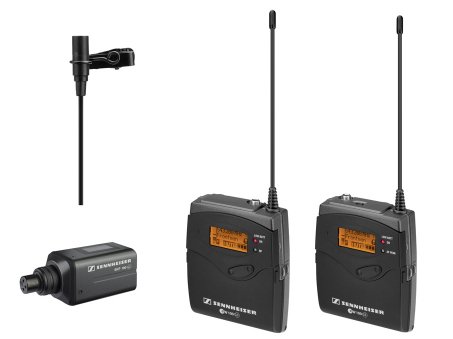 Sennheiser ew100ENG-G3
Please call or Email us for our price
Wireless Lavalier System
Includes:


EK 100 G3 on-camera receiver
SK 100 G3 bodypack transmitter
ME 2 clip-on microphone (omni)
SKP 100 G3 plug-on transmitter
CL 1 jack cable
CL 100 XLR cable
CA 2 camera adapter
6 AA batteries
Operating instructions
This ENG set offers a great amount of flexibility for portable recording indoors or outdoors. Its SKP 100 G3 plug-on transmitter transforms XLR equipped devices (such as microphones and mixing consoles) into wireless devices by simply plugging the unit in. The bodypack transmitter, as well as the plug on, can by synced up to the receiver with the simple push of a button. A very small high-quality directional clip-on microphone completes this set.

The EK100G3 receiver can be mounted on your camera with the included CA2 camera adpater. The system also includes two output cables for most on-camera applications - one with XLR and one with a mini-plug connector.

Whether you use this system to do news interviews or record wedding vows, whatever your application is, you can count on Sennheiser wireless to give you clean and reliable sound.
Sturdy metal housing (transmitter and receiver)
42 MHz bandwidth: 1680 tunable UHF frequencies for interference-free reception
Enhanced frequency bank system with up to 12 compatible frequencies
Adaptive-diversity reception for high reception quality
Pilot tone squelch for eliminating RF interference when transmitter is turned off
Automatic frequency scan feature searches for available frequencies
Enhanced AF frequency range
Increased range for audio sensitivity
Wireless synchronization of transmitters via infrared interface
User-friendly menu operation with more control options
Illuminated graphic display (transmitter and receiver)
Auto-Lock function avoids accidental changing of settings
HDX compander for crystal-clear sound
Transmitter and receiver feature battery indicatation in 4 steps
Programmable Mute function
Contacts for recharging BA 2015 accupack directly in the transmitter or receiver
Wide range of accessories adapts the system to any requirement
100 Series G3 Components

EK100G3

Portable receiver with CL1 1/8″ cable, CL100 XLR unbalanced cable and CA2 camera mount adapter
$429.95

EM100G3

Rack mountable receiver and NT2-3-US power supply
$449.95

SK100G3

Bodypack transmitter
$279.95

SKM-100-835-G3

Handheld transmitter with e 835 capsule and MZQ1 mic clip
$329.95

SKM-100-845-G3

Handheld transmitter with e 845 capsule and MZQ1 mic clip
$379.95

SKM-100-865-G3

Handheld transmitter with e 865 capsule and MZQ1 mic clip
$479.95

SKP100G3

Plug-on transmitter for low impedence dynamic microphones only (FREE FREIGHT)
$299.95
evolution wireless Lavaliers, Cables and General Accessories

ME2

Omnidirectional electret condenser lavalier with cable, clip and grille
$129

ME3

Supercardioid electret headworn condenser with cable and windscreen
$139.95

ME4

Cardioid electret condenser lavalier with cable, clip and windscreen
$139.95

Ci1

Instrument cable for bodypack transmitter
$44

Ci1-R

Right angle guitar cable for bodypack transmitter
$49

CL2

Line cable for bodypack transmitter with female XLR plug
$28

CM1

Microphone cable for bodypack transmitter with female XLR plug
$65

CL1

Line output cable for EK100G3 with 1/8 in miniplug and ew connector
$29

CL100

XLR unbalanced line output cable for EK100G3 with 1/8 in to male XLR connectors
$65

CA2

Camera mounting adaptor for EK100G3 or EK 2000
$28

MZQ1

Microphone clip for ew or 2000 Series SKM handheld transmitters
$25

MZQ2-ew

Microphone clip for ME2 lavalier microphone
$10.50

MZQ4-ew

Microphone clip for ME4 lavalier microphone
$16

MZW1

Foam windscreen for evolution wireless handheld transmitters, MD46 and evolution wired
$21

MZW2-ew

Mesh grille for ME2 lavalier microphone
$18

MZW3-ew

Foam windscreen for ME3 headworn microphone
$11

MZW4-ew

Foam windscreen for ME4 lavalier microphone
$14

CC3

Carrying Case for evolution wireless G3 1/3/500 Series
$59.95

POP1

Protective pouch for SKP transmitters
$40

POUCHewSK

Zippered pouch for EW bodypack transmitter
$14

POUCHewSKM

Zippered pouch for handheld transmitter and MD46
$21

099112

Male 1/8 in evolution wireless connector
$14

GA3

Rackmount kit for G3 1/3/500 Series
$39.95
evolution wireless Power Supplies, Batteries, Chargers & Adapters

NT 2-3-US

Power supply for G3 EM rackmount receivers and transmitters
$19.95

NT 1-1-US

Power supply for ASA 1 active splitter
$79.95

NT 3-1-US

Power supply for AC 3 active combiner
$99.95

LA2

Charging adapter for G3 SKM handhelds
$29.95

BA2015G2

ACCUPACK rechargeable battery unit for ew G2/G3 and 2000 Series transmitters, requires L2015G2 charging station, 8-10 hours of operation
$74.95

L2015G2

Charging station for two BA2015G2 rechargeable battery units, requires NT1-120 power supply for one station or NT3-120 power supply for up to three stations
$149.95

NT1-120

120 volt power supply for ASP2 or 1 L2015G2
$39
evolution wireless G3 Antenna Splitter Packages and Components

G3OMNIKIT4

Active splitter kit for four receiver system using omni-directional remote paddle antennas, includes ASA1/ NT, two A1031-U, GA3
$924.95

G3OMNIKIT8

Active splitter kit for eight receiver system using omni-directional remote paddle antennas, includes two ASA1/NT, two A1031-U, GA3, two BB1
$1499.95

G3DIRKIT4

Active splitter kit for four receiver system using directional remote paddle antennas, includes ASA1/NT, two A2003-UHF, GA3
$1175.95

G3DIRKIT8

Active splitter kit for eight receiver system using directional remote paddle antennas, includes two ASA1/ NT, two A2003-UHF, GA3, two BB1
$1749.95

G3FRONTKIT4

Active splitter kit for four receiver system using front-mount antennas, includes ASA1/NT, GA3, AM2
$649.95

G3FRONTKIT8

Active splitter kit for eight receiver system using front-mount antennas, includes two ASA1/NT, two GA3, AM2, two BB1
$1295.95

ASA1/NT

Active antenna splitter with DC power distribution for G3 receivers, includes required NT1-1 US power supply and eight 20″ BNC cables
$579.95

AB 3

Antenna booster module with +10 dB gain and 42 MHz bandwidth, Specify A, B or G range - sold individually
$159.95

ASP212

Antenna booster module with +10 dB gain and 42 MHz bandwidth, Specify A, B or G range - sold individually
$299

A1031-U

Wideband passive omnidirectional UHF antenna (each sold individually)
$159.99

A2003-UHF

Wideband passive directional antenna (each sold individually)
$279.99

A5000CP

Passive circularly-polarized UHF antenna (each sold individually)
$999.99

AM2

BNC connecting cables for front-mounting two antennas on GA2 or GA3
$44.95

BB1

1 ft coaxial cable with BNC connectors, cable type RG58
$9
evolution wireless G3 Antenna Combiner Packages and Components

G3IEMDIRKIT4

Active combiner kit for four IEM transmitters with DC power distribution, includes AC3/NT, GA3, A2003-UHF
$1049.95

AC3/NT

Active antenna combiner with DC power distribution for IEM transmitters, includes required NT3-1-US power supply and four 20″ BNC cables
$729.95

AC3000

Active broadband antenna combiner for up to eight transmitters to one antenna, 1RU, does not require additional power supply
$3499.99

AC3200-II

Active broadband antenna combiner for up to eight transmitters to one antenna, 1RU. Max input 250 mW. Cables not included.
$3999.99

A2003-UHF

Wideband passive directional antenna (each sold individually)
$279.99

A5000CP

Passive circularly-polarized UHF antenna (each sold individually)
$999.99

BB3 Kit

(8) BB3, 3 ft. coaxial cables with BNC connectors, ideal for use with AC 3000 and AC 3200
$95

BB25 Kit

(8) 3 ft. coaxial cables with BNC connectors and (1) 25 ft. coaxial cable with BNC connectors, ideal for use with AC 3000 and AC 3200
$109
Low Loss RF Cables

RG9913F_25

Low-loss flexible RF antenna cable, 25 ft. with BNC connectors
$122

RG9913F_50

Low-loss flexible RF antenna cable, 50 ft. with BNC connectors
$199

RG9913F_100

Low-loss flexible RF antenna cable, 100 ft. with BNC connectors
$364

RG213_25

Low-loss RF antenna cable, 25 ft. with BNC connectors, MIL-Spec
$142

RG213_50

Low-loss RF antenna cable, 50 ft. with BNC connectors, MIL-Spec
$255

RG213_100

Low-loss RF antenna cable, 100 ft. with BNC connectors, MIL-Spec
$445
Antenna Mounting Accessories

WM1

Adjustable ratcheting mount for wall/ceiling mounting
$20

GZG1029

Stand mount/swivel ball joint with 3/8 inch thread (11.0 oz). GZP10 required for wall/ceiling mounting
$102

GZP10

Ceiling/wall mounting plate for GZG1029
$41

AM2

BNC connecting cables for front-mounting two antennas on GA2 or GA3
$44.95
evolution wireless G3 Capsules (also compatible with 2000 Series)

MMD 835-1 BK

e 835 dynamic cardioid microphone module for G3 or 2000 Series SKM transmitters
$139

MMD 845-1 BK

e 845 dynamic super-cardioid microphone module for G3 or 2000 Series SKM transmitters
$189

MME 865-1 BK

e 865 polarized, condenser, super-cardioid microphone module for G3 or 2000 Series SKM transmitters
$299

MMD 935-1 BK

e 935 dynamic cardioid microphone module for G3 or 2000 Series SKM transmitters
$209

MMD 935-1 BL

e 935 dynamic cardioid microphone module for G3 or 2000 Series SKM transmitters
$209

MMD 945-1 BK

e 945 dynamic super-cardioid microphone module for G3 or 2000 Series SKM transmitters
$259

MMD 945-1 BL

e 945 dynamic super-cardioid microphone module for G3 or 2000 Series SKM transmitters
$259

MMD 965-1 BK

e 965 switchable condenser microphone module for G3 or 2000 Series SKM transmitter
$499
These items are included with your purchase of the Sennheiser ew100ENG G3 System:
EK 100 G3 diversity receiver
SK 100 G3 bodypack transmitter
ME 2 clip-on microphone (omnidirectional pick-up pattern)
SKP 100 G3 plug-on transmitter
CL 1 jack cable
CL 100 XLR cable
CA 2 camera adapter
6 AA batteries
Operating instructions




CONSUMER ALERT
Most users do not need a license to operate this wireless microphone system. Nevertheless, operating this microphone system without a license is subject to certain restrictions: the system may not cause harmful interference; it must operate at a low power level (not in excess of 50 milliwatts); and it has no protection from interference received from any other device. Purchasers should also be aware that the FCC is currently evaluating use of wireless microphone systems, and these rules are subject to change. For more information, call the FCC at 1-888-CALL-FCC (TTY: 1-888-TELL-FCC) or visit the FCC's wireless microphone website at www.fcc.gov/cgb/wirelessmicrophones