Panasonic P2 Solid State Memory Cards
Panasonic P2 Cards:
The E Series includes the 16GB AJ-P2E016FG, 32GB AJ-P2E03FG, as well as the 64GB AJ-P2E064FG P2 memory cards, which provide superior quality recording for an average of five years of normal operation.

Incorporating a newly-developed technology, E Series P2 cards transfer recorded content at even higher speeds (up to 1.2Gbps) than the older model P2 cards. Built with an aluminum die cast casing, P2 cards provide superior durability compared to plastic-based memory cards.

The E Series P2 cards are designed to provide highly reliable content recording over a number of years. When recorded once daily, at full capacity (100%), the cards are reusable for up to five years; when used at half capacity (50%), the cards will continue to record for up to 10 years or longer. A notification is given (in the camcorder's LCD/viewfinder or the P2 recorder's display) as the card approaches the end of its life cycle. Details of the card's remaining usable life cycle can also be displayed and tracked on a computer via the P2 formatter software (available for download on the Panasonic Web Site).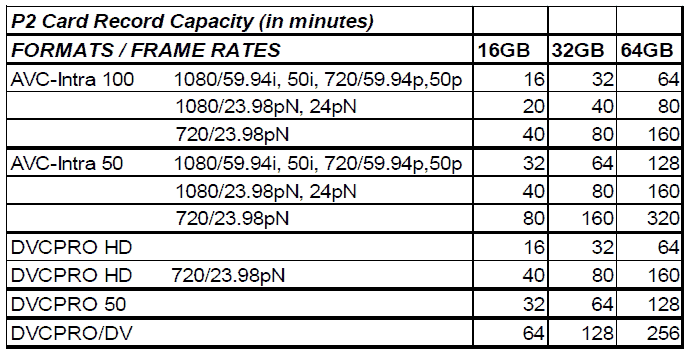 Panasonic AJ-P2E016FG
G&G Price: $398
16 GB High Performance P2 Card
E Version for faster speed
1.2 GB/s transfer speed


NEW F Series





Panasonic AJ-P2E032FG
G&G Price: $486
32 GB High Performance P2 Card
E Version for faster speed
1.2 GB/s transfer speed


NEW F Series





Panasonic AJ-P2E064FG
G&G Price: $689
64 GB High Performance P2 Card
E Version for faster speed
1.2 GB/s transfer speed


NEW F Series