Marantz PMD-901V
Body-Worn Audio/Video Recorder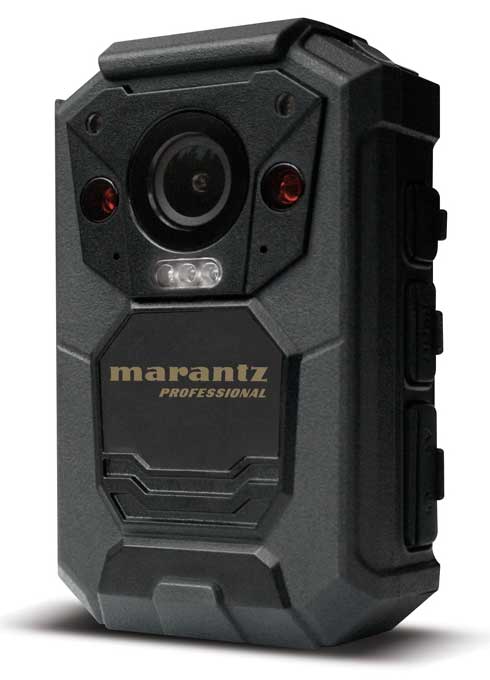 Marantz PMD-901V
G&G Price: $499
Want a better price?
Body-worn Audio-Video Recorder
Ideal for police, EMTs, other public workers who need to record their interactions with the public
FREE UPS SHIPPING

DESCRIPTION:
Marantz's PMD-901V body-worn audio/video recorder was designed to capture the sights, sounds and locations of service, technical, safety and other critical personnel as they go about their duties. In particular, the PMD-901V will appeal to law enforcement, EMT, health-care workers and others who interact frequently with the public.
With 32GB of secure, tamper-proof internal storage, the PMD-901V captures up to 8 continuous hours of full HD video at 2304 x 1296 resolution, rendering impeccable detail and clarity, in harsh conditions.
Weighing less than 7 ounces, the PMD-901V attaches unobtrusively to the user's clothing with a swiveling clip for optimum video capture from the ultra-wide 140-degree field-of-view lens. The internal GPS receiver provides automatic location tagging of video- and still-captures, offering irrefutable substantiation of where and when the audio and video were recorded.
Built for commercial applications, the PMD-901V seamlessly integrates with uniforms and heavy outerwear, making gloved operation a simple task - even in extreme temperatures. A backlit, high-resolution 2-inch color screen provides in-field review capabilities, while the password-protected files are secure from tampering or erasure by unauthorized personnel. On-the-fly file marking lets users quickly identify clips containing notable events while offloading them to a computer over high speed USB.
FEATURES:
Ultra-sharp 2304 x 1296p HD video capture at 30 frames per second
140 degree field of view captures wide-angle video and pictures
Level IP-67 waterproof construction is submersible for up to 30 minutes at 1m (3 feet)
32GB of built-in storage with password protection for up to 10 total hours of capture
Night vision mode captures facial detail up to 10m (33 feet) away in darkness
2-inch backlit, high-resolution color display; HDMI 1.3 output
Quick-Start recording mode immediately begins recording when turned on
Useable in temperatures between -40 degrees F to 140 degrees F (-40 C to 60 C)
Intuitive, one-handed operation - even while wearing gloves
Customizable notifications (audible, visual, and vibration) provide concise feedback
30-second pre- and post-record buffer captures ensures critical moments are captured
Audio-only record mode for situations where video is not permissible
High quality built-in microphone for highly intelligible voice and environmental audio captures