Blackmagic VHUBUV/72CH
Universal Videohub™ 72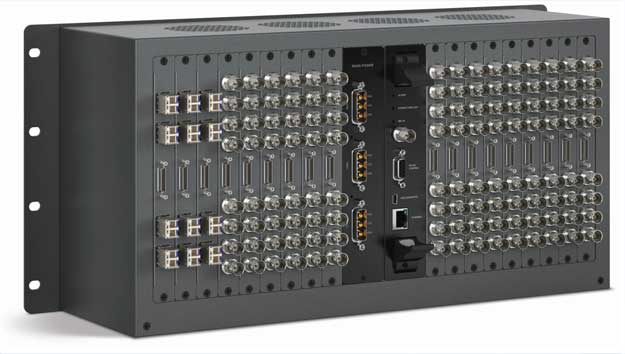 Blackmagic
VHUBUV/72CH
Universal Videohub™ 72
G&G Price: $2995
Requires (1) Universal Vhub 72 Crosspoint
FREE UPS SHIPPING

Rack frame lets you add up to 18 BNC SDI or optical fiber SDI interfaces plus a single 72 x 72 crosspoint and power card. Includes removable fan tray and fans.

Build your own router with Universal Videohub!
If you're looking for true redundancy and the ability to build your own router with both BNC SDI and optical fiber SDI, then Universal Videohub is the perfect choice. Universal Videohub comes in two models for a maximum 72 x 72 or 288 x 288 crosspoint size, and because every module in the router is card based, you can mix and match components to get the router you need, and hot swap cards in the unlikely event of failure!Universal Videohub includes powerful features such as SD, HD and 3 Gb/s SDI auto-switching, built in deck control ports, and ethernet and serial crosspoint control. The larger Universal Videohub 288 model supports dual crosspoint and power supply cards for full redundancy. With Universal Videohub, you get flexibility, quality and redundancy, all at an incredibly affordable price!

Build it Yourself!
Universal Videohub ships unpopulated, without any cards plugged in, so you are free to build your router any way you want! For example, you can plug in BNC SDI cards and optical fiber SDI cards in any combination depending on the equipment you have. This makes it easy to partially load SDI interface cards, to start at an affordable size, and then add more SDI interface cards over time to grow to a massive 288 x 288 size! To make scalability even easier, the crosspoint card and power supply cards from the Universal Videohub 72 can be plugged into the Universal Videohub 288.
24/7 Broadcast Reliability
Universal Videohub is the router you need for true 24/7 reliability because its card based design lets every electronic component be easily replaced in the rare event of failure. Universal Videohub has no electronic components on the motherboard and all electronics can be hot swapped with replacements in case of failure, or when upgrading. Universal Videohub 288 even includes an extra slot for a redundant crosspoint and power supply. In case of failure, the crosspoint will instantly change over allowing continuous operation.

True Multi Fault Redundancy
Universal Videohub 288 also offers true multiple fault redundancy, where different faults in both crosspoint cards can be handled. In the rare event of multiple faults occurring in both crosspoint cards, Universal Videohub 288 automatically detects and combines the still functioning parts of both crosspoint cards together to keep the router running. That's true multiple fault tolerance, unique to Universal Videohub, and eliminates any situation where a faulty crosspoint can go unnoticed and then be unavailable if the main crosspoint fails.


World's Highest Quality 3 Gb/s SDI
With new 3 Gb/s SDI connections built in, Videohub allows twice the SDI data rate than normal HD-SDI. Use 3 Gb/s SDI for high resolution real time 2048 x 1556 feature film editing. 3 Gb/s SDI has full compatibility with SD, HD or 2K in 4:4:4 or 4:2:2 all with a single BNC cable. With 3 Gb/s SDI built in, you have full compatibility with all your current standard definition SDI and high definition SDI equipment, plus any future formats.

Custom Control via SDK
If you want to integrate Videohub into large facilities with other routing, or even do your own innovative custom control, then our free Videohub SDK lets you add new protocols, new control panels, or any other custom control you like. Now all Videohub routers can be integrated into any broadcast facility or custom system! Videohub SDK includes all libraries, documentation and full sample code. Videohub SDK is available for download now!

SDI Re-Clocking
Videohub also includes built in SDI re-clockers on each SDI input which regenerate the SDI video signal. Every inch of video cable from your SDI video devices degrades the SDI signal. Expensive premium grade "digital" cables can help, however simply cannot eliminate this loss. With SDI re-clocking you can have a regenerated and clean SDI signal out to all the SDI devices in your studio.
Universal Videohub 72 or 288
Universal Videohub 72 is a fully scalable 3G/HD/SD and deck control routing switcher. Add either regular copper SDI or optical fiber SDI interface cards as you need, up to a 72 x 72 SDI size router. The Universal Videohub 72 rack frame is only 5 RU and 6 inches deep and can support a single 72 x 72 crosspoint card and a single power supply card.The Universal Videohub 288 is the ultimate 3G/HD/SD and deck control routing switcher. With a choice of 72 x 72 or 288 x 288 crosspoint cards, the frame can be easily upgraded using our hot swappable regular BNC SDI or optical fiber interface modules that also include full deck control. If you need redundancy then simply add a second crosspoint card for true 24/7 reliability! All inputs have auto standards detection and all outputs are re-clocked. Universal Videohub 288 features an 18 rack unit frame that is less than 6 inches deep. You also get ethernet and serial connectivity, third party control and redundant power supplies. Universal Videohub 288 lets you start small for an affordable cost and then expand its size and even add full redundancy as your needs grow!
The most innovative control options for your Videohub router!
Control Videohub routers from all over your building. Choose from our intelligent Smart Control panel, to free software options that work on your desktop, touch screen computers, or even an iPad! If you want your own custom solution, there's even a developer SDK!
Massive Control Options
Videohub routers have more control options so you can select the best for your facility! We include free Videohub software thats runs on any computer, so you can change routing directly from your editing or design system! If you're looking for an incredible pushbutton XY type panel, then nothing beats using a low cost all in one PC with touch screen, and then using the Videohub software Pushbutton view. Pushbutton view includes picture icons of popular television equipment and is attractive and fast to use. For the ultimate hardware control panels, Videohub Smart Control allows push button routing for each one of your decks and monitors, for single button routing all over your facility! We even have a free developer SDK so you can build your own custom solutions.
Route From Your Desktop
With so much post production equipment based on desktop computers these days, the best place to control your router is right from your desktop. All Videohub models include free software so you can simply install on your Windows or Mac, and get an incredibly attractive icon based router control panel. You can install on as many computers as you like! The Pushbutton view allows you to see images in the buttons of common video equipment. To use it you simply select a destination, and then select from a range of video sources. All buttons can be customized to any router source or destination, and you can also select from a range of icon images. If you want the most incredible XY control panel, then Pushbutton view looks fantastic when installed on a dedicated all in one computer with touch screen such as a HP TouchSmart, and now all routing can be done by pressing buttons directly on screen! You can have virtually unlimited sources and destinations because it's easy to page through multiple screens of buttons!
The World's Fastest Routing!
When you are working in larger facilities with rack mounted equipment then you need a serious hardware based control panel! Videohub Smart Control is different to traditional hardware router control panels because it's low cost so it's easy to add Videohub Smart Control under all your equipment! You get 40 crystal look YRGB illuminated buttons that can be set to any router output. To set the input to any SDI equipment now just requires a single button press! Once pressed, the input set for that button is instantly routed to the router output set for the Videohub Smart Control. You can set buttons to any router input, just by using the simple Windows and Mac software! Imagine having an elegant router panel below each of your monitors or decks, and then selecting the input with a single button press! There is simply no faster way to use an SDI routing switcher!
Easy to Use
Videohub Smart Control is incredibly easy to use! For example, if you installed Videohub Smart Control under a monitor, then the output of the router that is connected to that monitor can be set to a different router source each time a different button is pressed. Now you get a "cut-bus" type router control, and you just just select between a range of router inputs by pressing buttons. It's easy to browse through equipment in your facility by pressing buttons and the monitor just changes to that source! It's so easy to use! Simply install under decks so you can set the deck's SDI input the same way. Using Videohub Smart Control installed with all your equipment makes routing fast!

Single or Multiple Destinations
Videohub Smart Control allows multiple destinations, and it's easy to select to have a single destination for the whole control panel, or multiple destinations. When working with multiple destinations, buttons on the front panel become gold colored and you can select as many destinations as you need! Videohub Smart Control also allows you to set up a "take" button, and when enabled, the take button is the lower right button, and illuminated red. Multiple destinations and the take button feature mean you can use a single Videohub Smart Control with multiple SDI devices connected to the router, and dramatically lowers the cost!

Elegant Design
Router control panels don't need to be ugly, and Videohub Smart Control has been designed to fit into the most creative post production facilities and broadcasters! You get attractive crystal look buttons that are illuminated by both RGB and white LEDs so that a wider range of rich and clean colors can be displayed. The front panel can be unscrewed and slid off so labels can be inserted under the buttons. We even include Adobe Illustrator™ files with crop marks that you can use as templates to generate labels! All buttons can be variably backlit so you can always read button labels even in dark rooms! Videohub Smart Control uses only a single rack unit and is less than an inch thick!
Easy to Install
No router panel is so easy to install! You can customize the router source that's assigned to each button using the easy to use Windows and Mac software included with each Videohub Smart Control. To setup the panel, just connect to the built in USB connection and then run the software! You can select where the Videohub is on your network, as well as how many destinations you want on the panel. You can even select the backlighting brightness, as well as if you want a "take" button.
Connects via Ethernet
Videohub Smart Control uses standard ethernet networking to simply plug into the existing computer network. If you want to use your Videohub in mission critical environments, you can simply connect Videohub Smart Control panels to routers via a dedicated ethernet switch. Videohub Smart Control features power over ethernet so if used with an ethernet switch that includes power over ethernet support, then no power supply is required. For non powered ethernet switches, we also included a power supply with international power socket adapters. Videohub Smart Control also includes loop through ethernet connections, perfect for looping to other control panels or computers!
Videohub allows you to work the way you want to
Adding Videohub to your facility will completely change how you work. Videohub adds a level of integration between creative users that previously only the largest facilities could afford.
Connect your Editing Workstations
If you've had experience with routing switchers, you will know that they can be a confusing mess of connectors that even rocket scientists would have trouble understanding. Videohub is different and designed for normal creative users to get up and running in seconds. Each user's connections are grouped in simple 1-16 connector blocks on the rear panel, with each user having a video input, video output, monitoring output and deck control connector. Connect the inputs and outputs to your editing system's inputs and outputs and then deck control to your editing system's deck control port using a pin-for-pin DB-9 serial control cable. Now set the deck control port to input. It's that easy.
Connect your Broadcast Decks
Connecting your broadcast decks is simple. Plug-in the video inputs and outputs, then connect the deck control port on the deck to the deck control port on the router using a pin-for-pin DB-9 serial cable. You can also connect older analog decks using an analog to SDI conversion, such as the popular Mini Converter Analog to SDI. That takes care of conversion from analog to digital and back, as well as embedding audio in SDI video connections.
Need Client Dubbing?
Adding consumer grade decks for client dubbing is easy, and you can use spare output such as one of the SDI monitoring outputs. You can add digital to analog conversion to connect video and audio to VHS and DVD recorders. Now you can dub from any source on the router, either from a deck or edit suite. You can even run client dubs while you're mastering to tape. A flexible option for doing client dubs in your edit suite is to loop video from your in-suite monitoring to consumer decks. This allows you to start client dubs without even leaving your editing suite!
Connect to Everything, Everywhere
Videohub uses standard definition and high definition SDI connections, so you can connect any device used in television production. You can connect editing systems, decks and even equipment within telecine suites. Use the Videohub for connectivity within the telecine workflow, such as color correction noise reduction, frame stores and disk recorders. You can use two inputs and outputs on Videohub for routing dual link 4:4:4 video. Videohub can even be used in transmission and streaming control because IP based sharing can be used from remote locations.
Deck to Deck Dubbing
Often tapes need to be cloned by deck to deck dubbing, and if needed, compile a few masters quickly onto a single tape. Almost all broadcast decks feature a simple auto edit controller for deck to deck editing. Unlike other routers, Videohub can handle deck to deck editing by reversing the serial port connections on the recorder deck. Say goodbye to complicated manual patch panels that are messy and complex to use. Once you've used routing in your facility and experienced how great it is to always have instant connections between equipment, you'll wonder how you ever did without it! Order Videohub for your facility today.
Take a closer look at Videohub software
Videohub has the world's most attractive, flexible and fastest to use software control panels. Videohub software control panels include multiple views so you can choose the software control that's best for your work. It's easy to customize router labels, or even use pushbuttons with icons of your post production equipment. We even include a free developer SDK so you can integrate Videohub into large broadcast facilities, or custom systems!

1: Destinations
Your destinations are all neatly placed within the lower panel.

2: Connections On
Your connections are shown when illuminated in gold.

3: Great Icons
Includes a suite of great icons to make navigation quicker.

4: See Status
Each button can have its status changed or locked.

5: Lock Connections
A grey lock symbol indicates another user has locked this destination.

6: Sources
Your sources are all neatly placed within an easy to navigate top panel.

Flexible Router Control
If you've ever wanted total flexibility in controlling router connections, then nothing beats using software control panels. Each router destination output has a menu with all the source inputs listed. Simply select which source you want to connect to a destination, and the connection is made. Serial ports are similar, however because they are bidirectional, connected ports dim until disconnected. Communication direction can be changed on any control port allowing editing systems or decks to be connected. You can also change settings on any shared computer, with each destination being locked simply by clicking the little padlock icon.
Pushbutton View
Blackmagic Design's Pushbutton View router control software is the fastest and most intuitive way to control the Videohub router. With a library of elegant icon buttons that represent most common post production equipment, it's easy to have a router control that looks just like your facility. Pushbutton View can handle multiple pages of sources and destinations, which allows users to navigate whole pages of buttons for a massive 550 sources and 110 destinations. Being a push button interface, Pushbutton View is also designed to work on touchscreen monitors for the most fluid routing you'll ever experience.
Router Control View
Blackmagic Design's Router Control View is a different way to manage the Videohub router. Using configurable labels, Router Control View is perfect for system administrators wanting to pre-configure and label all the connections for your facility. With easy to use pull-down menus, Main Router Control View allows you to see all connections to the router, including the directions of device control.
Personal Router Views
Router control software features six separate control windows so you'll have amazing flexibility on how you use Videohub. Use the main router control window to see every connection on the router. If you're only using a few of the router outputs, then you can use the personal router window that lets you limit your view to the few connections you really need to use. This means you get a much smaller interface window that won't get in the way of other software, such as editing or design tools.
Greater Customized Control with SDK
For all 3Gb/s SDI Videohubs, Blackmagic Design has a free Software Development Kit (SDK). By using the Videohub SDK, any developer can now easily add extra protocol support for integration into other large routing infrastructures. In addition to system integrators who are building custom video systems, you can now design custom interfaces and web interfaces. Blackmagic Design's new Videohub SDK supports industry standard C++ and includes all libraries, software sample code and documentation.
Network Sharing
All communication between router software and the router is via your IP network, such as ethernet and even wireless. Videohub connects to any host computer via USB, and is then shared over the network from that computer. You don't even need to run the Videohub software on the host computer as the network sharing is done at the driver level. Any computer can be the host simply by plugging in the USB from the router. This keeps sharing simple and eliminates the need for a dedicated host computer.With video routing this simple, it's time to get connected with Videohub and allow everyone to share decks and other resources in your facility.
Connections

SDI Video Input Up to 72 x SDI/HD-SDI, 3Gb/s SDI and ASI. Can be BNC SDI or optical fiber SDI.

SDI Video Output Up to 72 x SDI/HD-SDI, 3Gb/s SDI and ASI with SDI re-clocking. Can be BNC SDI or optical fiber SDI.

Reference Input Blackburst and TriSync for SD, HD and 2K.

Multi Rate Support Auto detection of SD, HD or 3 Gb/s SDI. Simultaneous routing of 2K, HD, SD video and DVB-ASI.

Updates USB 2.0 high speed (480Mb/s) interface. USB 2.0 high speed (480Mb/s) interface.

Device Control Up to 72 bidirectional Sony™ compatible RS-422 deck control ports via breakout cable.

Router Control Use either RJ45 Ethernet or USB 2.0 high speed interface or Smart Control shared over IP network.

Router Configuration Use either RJ45 Ethernet or USB 2.0 high speed interface shared over IP network.

RS-422 Router Control 1 x input for controlling router crosspoint switching.

Re-clocking On all SDI outputs.

Standards

SD Format Support 625/25 PAL and 525/29.97 NTSC.

HD Format Support 1080p23.98, 1080PsF23.98, 1080p24, 1080PsF24, 1080p25, 1080PsF25, 1080p29.97, 1080PsF29.97, 1080p30, 1080PsF30, 1080i50, 1080i59.94, 1080i60, 1080p50, 1080p59.94, 1080p60, 720p23.98, 720p24, 720p25, 720p29.97, 720p30, 720p50, 720p59.94, 720p60.

2K Format Support 2048 x 1556/23.98/24/25.

SDI Compliance SMPTE 259M, SMPTE 292M, SMPTE 296M, SMPTE 310M, SMPTE 425M-A, SMPTE 425M-B, ITU-R BT.656 and ITU-R BT.601.

SDI Video Rates SDI video connections are switchable between standard definition, high definition and 2K. SDI switches between 270 Mb/s standard definition SDI, 1.5 Gb/s HD-SDI and 3 Gb/s HD and 2K SDI.

SDI Video Sampling 4:2:2 and 4:4:4.

SDI Audio Sampling Television standard sample rate of 48 kHz and 24 bit.

SDI Color Precision 4:2:2 and 4:4:4 10 bit.

SDI Color Space YUV or RGB.

SDI Auto Switching Automatically selects between SD-SDI, HD-SDI, 3 Gb/s SDI and DVB-ASI on each input so that each input can be running a different television standard.

SDI Metadata Support Video payload identification ancillary data as per SMPTE 352M.

Extras

Software Control Router control included free for Windows™ and Mac OS X™.

Firmware Upgrade Via included firmware updater application.

Installation 5 rack unit size. Less than 6 inches deep.

Power Fail Protection Router connections preserved and restored instantly at power on independently of host computer.

Power Supply Redundant power supply options are available. GPI alarm for connecting external alarms.

Product Warranty 3 Year Limited Manufacturer's Warranty.