Telex IFB-1000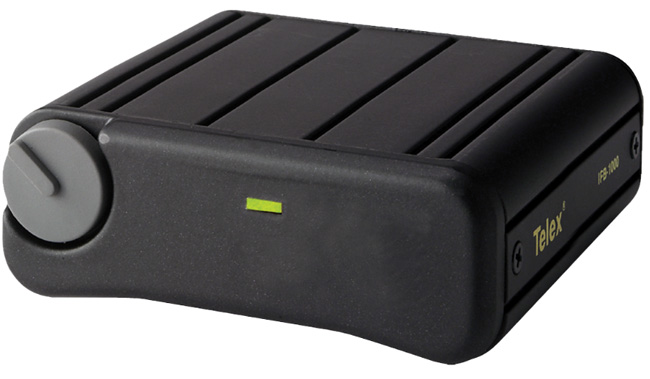 Telex IFB-1000
G&G Price: $185
1 Ch listen only IFB portable belt pack, 1/4" jack for earphone

The IFB-1000 is a portable, 1-channel, listen-only beltpack that is commonly used in television production.
High-quality audio receive circuit.
Rugged low-profile metal case with sturdy belt clip.
Recessed volume control.
Power on indicator.
One 3-pin XLR connector for party line connection.
1/4-inch phone jack for earphone or earset.
Uses same cables and wall plates as BP1000.
Powered from party line.
Fully Clear-Com® compatible.
Volume Control
Use this control to adjust the headphone/earset listen level.
On Indicator
This LED glows green when the belt pack is connected to an intercom channel that is functioning.
Headphone/Earset Connector
This connector accepts a wide-response earset, such as the Telex EMV-2 (catalog number 60194-001), with a �" monaural phone plug.
Intercom Channel Connectors
The IFB-1000 intercom channel is connected via a 3-pin female connector. The IFB-1000 is powered from the intercom system power supply and will turn on with the intercom system.
Clear-Com Compatible

Channels 1 CH
Color Black
Depth 1.8" (45.72 mm)
Form Factor Beltpack
Height 5" (127 mm)
Weight 15.87 oz (450 g)
Width 3.5" (88.9 mm)
| | | |
| --- | --- | --- |
| EMV-2 | Complete earset - includes RTV-04, CMT-2, AEF-3 Nylon earloop, 125 ohm, 5′ (1.5M) cord, and 1/4″ plug. | $34.20 |
| CES-1 | Complete earset - includes RTV-04, CMT-2, ET-4 Coiled acoustic eartube with clothing clip for use with earcones (includes one each - S, M, & L earcones). 125 ohm, 5′ (1.5M) cord, and 1/4″ plug. | $61.20 |