Sony WRU-806B
Wireless Receiver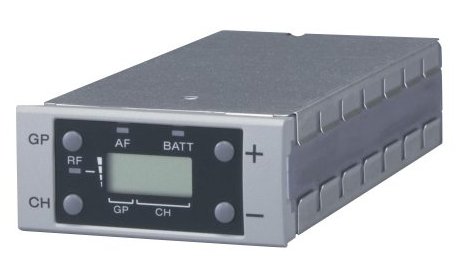 The WRU-806B plug-in diversity tuner module is the most popular choice for WL-800 series wireless mic installed system applications. Up to six WRU-806B modules can be installed into one MB-X6 tuner base (see MB-X6 for more details). The WRU-806B30/32 operates over a 24 MHz frequency band, within the range of 566 MHz to 590 MHz (TV channels 30, 31, 32 and 33). Pre-programmed frequency groups are provided for virtually interference free, mulitchannel operation. It also includes an easy-to-read LCD with comprehensive system information such as RF input status, audio output status, TX battery alarm indication, group/channel number and channel frequency in MHz.
Single channel diversity tuner module
188 PLL-Synthesized user-selectable frequencies within a 24 mHz range
UHF-TV channels 30/32 (30, 31, 32 and 33)
Up to 6 modular WRU-806B30/32 tuners can be installed in a MB-X6 tuner base
AF, RF, and transmitter battery indication
Frequency, channel & group display
Space diversity reception
Auto-channel set feature
Important Note #1: WRU-806B30/32 and WRU-806B42/44 tuners won't operate in MB-806A tuner base units; ch30/32 and 42/44 require use of the MB-X6 tuner base
Important Note #2: When active antennas are required; WRU-806B30/32 and WRU-806B42/44 tuners require use of the AN-820A/9L active antenna
Receiving Frequency: (62/64) 758 MHz to 782 MHz- 188 selectable channels; (66/68) 782 MHz to 806MHz- 188 selectable channels
Oscillator: Crystal controlled PLL synthesizer
Type of Reception: 110KF3E
Reference Deviation: +/- 5kHz
Selectivity: More than 60dB
Surious Rejection: More than 70dB
Frequency Range: 100Hz to 15KHz
Signal-to-noise Ratio: More than 60 dB (A-weighted)
Harmonic Distortion: Less than 1.0%
RF Muting Level: 30dBu
Audio output level: 0dBm (+/- 16 kHz deviation @ 1kHz modulation) -20dBm (+/- 5kHz deviation @ 1kHz modulation)
Current Consumption: 500mA
Operating voltage: 9VDC
Dimensions (WxHxD): 2 1/4" x 1 1/16" x 4 7/8"
Mass: Approx. 5.7 oz.