Shure KSM44
Large Dual-Diaphragm Microphone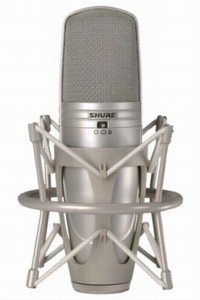 Shure KSM44A/SL
G&G Price: $999
Want a better price?
Large dual-diaphragm switchable, omnidirectional, bidirectional cardioid microphone for studio recording.

Description
The KSM44/SL is a multiple pattern (cardioid, omnidirectional, bidirectional), externally biased, dual large diaphragm condenser microphone with extremely low self-noise (7dB). Developed to meet the needs of studio recording musicians, the warm, rich sound of the KSM44 delivers exceptional performance, tailored to deliver vivid reproduction of voice for the most critical recordings. The KSM44 also offers great flexibility in a variety of recording applications, working well on acoustic and amplified instruments, as its capacity for managing high SPLs accommodates loud sound sources such as drums and guitar amplifiers.
Features:
Dual 1-inch, externally biased, ultra-thin, 2.5 micron, 24-karat gold-layered, low mass, Mylar® diaphragms provide superior transient response
Class A, discrete, transformerless preamplifier for transparency, extremely fast transient response and no crossover distortion; Minimizes harmonic and intermodulation distortions
Full-range frequency response (20 Hz - 20 KHz) for an extremely accurate reproduction of voice and instruments
Extremely low self noise (7 dBA) for critical studio vocal recording
Premium electronic components and gold-plated internal and external connectors
Subsonic filter eliminates rumble from mechanical vibration below 17 Hz
15 dB attenuation switch for handling high input SPL sound sources
3-position switchable low-frequency filter virtually eliminates unwanted background noise and controls proximity effect
Durable zinc die-cast housing and hardened low carbon steel grille to protect the cartridge from accidental drops or misuse
Uniform polar response provides natural off-axis response for critical recording
An integrated three-stage pop protection grille to guard against wind and breath noise
An internal shock mount to reduce unwanted handling and stand noise