Sennheiser MKE 2 Digital Microphone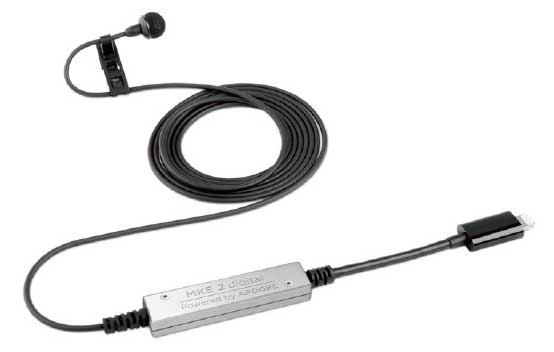 DESCRIPTION:
Sennheiser and Apogee have partnered to offer a personal recording solution that combines superior, clip-on microphone technology with legendary digital audio conversion. Introducing the MKE2 digital microphone - a new standard in speech and vocal recording, empowering anyone to make great audio recordings on their iPhone, iPad or iPod touch.
The MKE 2 digital utilizes the MKE 2 lavalier microphone. The industry standard MKE 2 is a high-quality, miniature clip-on microphone which is suitable for both speech and instrument miking applications. It fulfils the most stringent demands on sound quality and is extremely rugged. A special Umbrella Diaphragm™ and a welded housing protect the MKE 2 against sweat and moisture, making it an ideal choice for mobile recordings.
FEATURES:
Sennheiser MKE 2 omni-directional microphone capsule
Dual-diaphragm design virtually eliminates "sweat-outs"
Wide frequency response
Rugged interface for professional field use
Apple MFi Certified Lightning connector
Apogee 24 bit/96 kHz digital connection to iPhone, iPad or iPod touch
Apogee MetaRecorder App (free download from App Store)
WHAT'S INCLUDED:
MKE 2 digital microphone
Clip
Metal wind screen
Foam windshield
Carrying pouch
Quick Start Guide
APOGEE APPS:

Apogee's MetaRecorder is a two-channel audio recording app made specifically for Sennheiser's clip-on digital microphones. MetaRecorder makes recording, tagging and organizing audio in the field simple and efficient. It is also the first iPhone recording app to export XML files for Final Cut Pro X.

As an alternative to MetaRecorder, Apogee's Maestro App offers full control of the device if you are using a video recording app like FiLMiC Pro or the Camera app that comes on your iOS device. MetaRecorder and Maestro offer basic presets that let you shape the sound of your MKE 2 digital or ClipMic digital microphone with EQ, compression and limiting to achieve the most natural or unique result.Both apps are available on the App Store.

Note: Can use with other audio apps without features listed above.