Panasonic BT-LH1710W
Multi-Format Color Production Monitor
This model has been discontinued.
We are providing this page as reference material.
Some accessory items may still be available.
We suggest you call or email us before placing an order for an accessory item.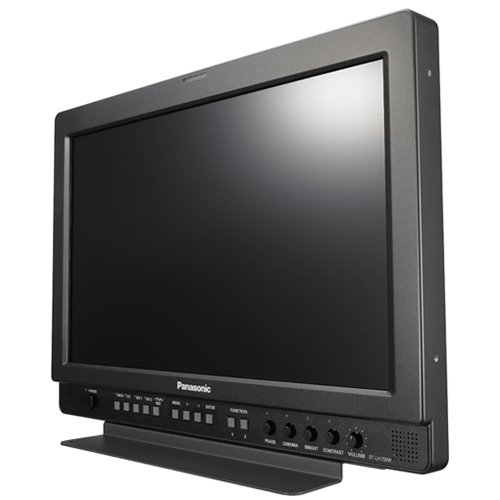 The versatile BT-LH1710P provides production-tough, HD broadcast-quality performance for a wide range of applications whether in the studio or in the field.

Building on the performance of its predecessor, the BT-LH1700W, the LH1710P incorporates the latest panel and image processing technology to provide higher contrast, improved black levels, and more functionality, at a price that fits your budget. The LH1710's new 1280 x 768 In-Plane Switching (IPS) panel delivers broadcast- quality video reproduction with 10-bit image processing for improved color performance. The monitor's newly-designed image processing engine has a 3D look-up table (LUT) that calibrates it to reproduce accurate images according to the specific color standard selected.

The LH1710 adds a wider range of essential functions including built-in embedded audio support, vectorscope, pixel-to-pixel display, cross hatch overlay, audio level meters (up to 8 channels), time code, headphone jack and five function buttons, in addition to the built-in waveform monitor that many professionals found invaluable in the BT-LH1700W.

The LH1710P is equipped with two HD-SDI/SDI auto-switching inputs with a switched output, and a DVI-D input for connection to digital devices with a DVI-D output.
1280 x 768 Resolution (WXGA)
AC/DC operation for field or studio use
Cine-gamma (Film-Rec) compensation function for use with cameras including the Panasonic AJ-HDC27 VariCam HD Cinema Camera and the AJ-HPX3700 and AJ-HPX2700 P2 HD VariCam camcorders
Waveform monitor and vectorscope displays all picture lines (via HD-SDI / SDI input)
Audio level meters can be displayed as 2-ch , 4-ch , 8-ch, or shut off completely (+ 0 dB limit mark (on/off))
Displays a variety of time code information: Time Code (SDI & HD-SDI) LTC (Linear Time Code), VITC (Vertical Interval Time Code), LUB (User Bits among Linear Time Code), VUB (User Bits among Vertical Time Code)
Additional features include built-in embedded audio decoder (via speakers and headphone jack), RS-232C and GPI remote control terminals and tally indicators (Red/Green/Amber)
Marker and blue-only function
Five assignable function buttons for quick and easy access to features
Wide 176° horizontal and vertical viewing angle
Durable, die cast aluminum frame
Quiet operation (No cooling fan)
Headphone jack and built-in stereo speakers
VESA mounting capability and desk stand included
Three-year warranty upon registration (standard one year warranty plus 2-year extended warranty. You must register to receive the two-year extended warranty.)
Power Requirement: AC 100 V to 240 V 50/60 Hz, 0.6 A to 0.3 A
DC 12 V (11 V to 17 V) 4.0 A
Dimensions (WxHxD): 430 mm x 323.5 mm x 198mm (16-15/16" x 12-3/4" x 7-13/16") - Including stand
430 mm x 309 mm x 81.1mm (16-15/16" x 12-3/16" x 3-1/4") - Main unit only; not including stand
Weight: 7.1 kg (15.7 lbs) - Including stand
6.2 kg (13.7 lbs) - not including stand
Operating Temperature: +5°C to +35°C (41°F to 95°F)
Operating Humidity: 20 % to 80 % (non-dew)
Storage Temperature: —20°C to +60°C (—4°F to 140°F)
LCD Panel Size: 17.0 inch
Aspect Ratio: 15:9
Resolution: 1,280 x 768 pixels (WXGA)
Display colors: Approx. 16,770,000 colors
Viewing Angle: 178° (both horizontal and vertical)
Video Input/Output: Video: BNC x 2 (with through-out connector)
Y/PB/PR. RGB: BNC x 6 (with through-out connector x 3)
SYNC/HD: BNC x 2 (with through-out connector x 1)
VD: BNC x 1
SDI: BNC x 3 (switched-out connector x 1)
DVI-D (HDCP): DVI-D x 1
Vertical frequency: 50.0 Hz to 60.0 Hz
Horizontal frequency: 31.5 KHz to 67.5 KHz
Dot clock: 25 MHz to 165 MHz
Audio input: Pinjack x 2 (stereo)
Headphone Output: M3 stereo mini jack x 1
Remote: GPI: D-SUB, 9 pin RS-232C: D-SUB, 9 pin
External DC Power Input: XLR, 4pin
Signal Level: Video:
SYNC signal level: 0.3 Vp-p to 4.0 Vp-p
HD/VD Signal level: TTL level
Audio:
Audio input signal level: 0.5 Vrms
Speaker output: 0.5 W + 0.5 W
Head phone output: 32 ?, Variable Level
SDI Embedded Audio:
HD-SDI : SMPTE299M standard, 48 kHz, 8CH - synchronous/asynchronous
SD-SDI : SMPTE272M standard, 48 kHz, 4CH - synchronous
Accessories: Supplied: Power Cord Hook, Screw
Optional: Rack mount adaptor, Wall Mount Adaptor, Protective Panel
| | | |
| --- | --- | --- |
| BT-STAND | Desk Stand | $225 |
| BT-YAE1700G | Embedded Audio Board | $315 |
| BT-YUC1700 | Thermodyne Hard Case | $248 |
| BT-YUSARM | Rack Mount (with 180 degree swing out arm) | $257 |
| HOOD1700 | Snap-On Hood (for outdoor work) | $135 |
| QR-1700 | Anton Bauer Battery Gold Mount (with 6-foot cord) | $150 |
| RAK-1700 | Basic Rack Mount Ears with Handles | $125 |