Panasonic AK-HC1500G
2/3" 3-CCD 16:9 1080i/720p
HD Multi-Purpose Camera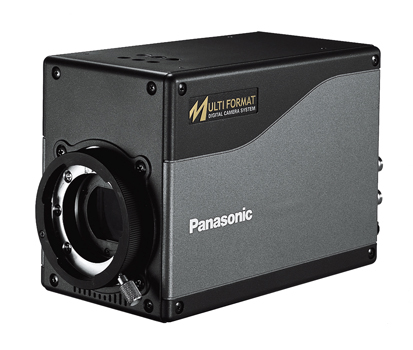 The AK-HC1500G is the industry's first compact multi-format HD camera and offers compatibility with all of the world's HD formats. This compact, 3.3-pound camera is also the first multi-purpose unit to offer variable frame rates (4fps to 60fps in single-frame increments) and a CineGammaTM curve to produce film-like images. It teams seamlessly with Panasonic's AJ-HDC27 VariCam® HD Cinema camera for high-end productions. Or team it with the AW-PH650 (pan/tilt in sealed housing) for outdoor application. Compact to go practically anywhere, the AK-HC1500G is tailor made for assignments ranging from studio use and weather forecasting to live sports and videoconferencing, from scientific image analysis to studio animation.
Captures 1080 at 24p/25p/30p/50i/59.94i and 60i and 720 at 50p/59.94p and 60p
Newly developed IT 3-CCD offers improved on-chip lenses performance (standard sensitivity of F10.0 at 2000 lux and a smear level of less than -130dB
Single-channel transfer system and spatial-offset processing technologies improve signal modulation depth, thus reducing moire
14-bit A/D converter and new adaptive function varies the gamma correction to match the contrast within the image, creating clear, sharp images from dark to bright areas
Hue preservation circuit prevents color loss in highlight areas
Shoots in variable frame rates (4fps to 60fps in one-second increments) just like a film camera, thereby producing overcranking and undercranking speed effects
A special CineGamma curve allows the CCD to produce the tonal beauty, natural gradation and rich colors like film recordings
Exceptionally high sensitivity allows shooting in lighting as low as 0.015 lux (at +72dB gain)
Environment-friendly, compact design with fewer parts and low power consumption
Slot to add option card to expand capabilities for a wide range of applications
Supports down converter and analog output unit
Electronic Extender function (used with conventional lens extender) magnifies the image by 2 times
CCD: 2/3" 1-megapixel IT-3CCD
Image Sensing Method: GBR image sensing method
Total Number of Pixels: 1 370(H) x744(V)
Effective Number of Pixels: 1 280(H) x720(V)
Optical Prism: F1.4 Prism
Optical Filter: (ND) 100 %, 25 %, 6.3 %, 1.6 %
Lens Mount: 2/3" Bayonet type
Output Format: 1080:60i/59.94i/50i/30psF/29.97psF/25psF/24psF/23.98psF/720:60p/59.94p/50p
Sensitivity: F10.0 at 2 000 lx
Minimum Illumination: 0.015 lx(F1.4 / 68 dB)
Gain: 72 dB
S/N: 54 dB
Smear: Less than -130 dB
M.T.F.: 45 %(27.5 MHz. 720 p / 60 p)
Synchronize System: Internal and external synchronization (Tri-level SYNC/Black Burst)
Input: GENLOCK : BNC x 1, Interface: Mini D-sub 15pin terminal
Output: HD-SDI : BNC x 1
Input/Output: Lens aperture connector, lens zoom focus connector
Storage Temperature: -4 °F to 140 °F(-20 °C to +60 °C)
Operating Temperature: 32 °F to 104 °F (0 °C to 40 °C)
Power Consumption: Approx. 17 W (DC12 V)
Dimensions (WxHxD): Approx. 3-9/16"x 4-10/16"x 6-5/16"(90 mm x 117 mm x 160 mm)
Weight: Approx. 3.3 lbs (1.5 kg)
Panasonic AW-CA15H29G
Single Remote Control Cable
G&G Price: $225


For simple connection of AK-HC1500G or AK-HC1800G to AW-PH400 or AW-AW-PH405 pan-tilts.