Marshall V-R151P-4A
Quad LCD Rack Mount Panel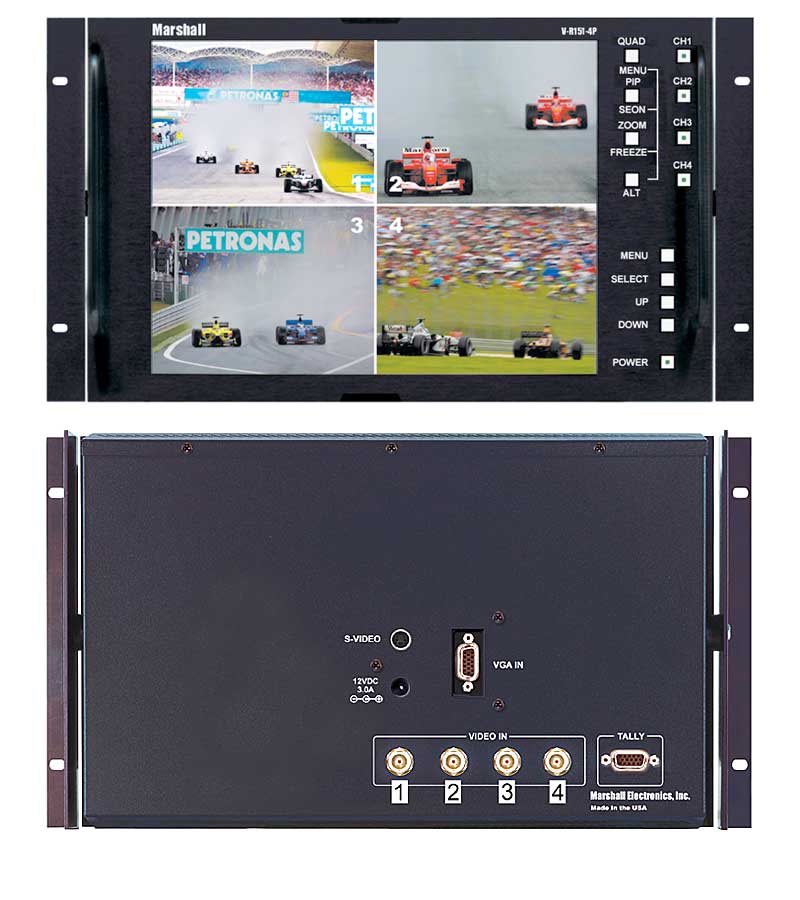 This model has been discontinued.
We are providing this page as reference material.
Some accessory items may still be available.
We suggest you call or email us before placing an order for an accessory item.
Description:
The V-R151P-4A is a 15" LCD rack mounted unit 6U high that includes Quad Splitter and Sequential Switcher. This panel has 1024 x 768 pixels producing a true high resolution image. The Quad Splitter allows all of the four channels to appear on the monitor simultaneously either using full screen or picture-in-picture mode. For added flexibility, this unit can accommodate composite video, S-Video or XGA for computer monitoring (S-Video and XGA inputs are only available in full screen mode). Unit includes power supply and owners manual.
Features:
High Resolution 1024 × 768 pixels, 786,432 total
Bright 250 candle luminance
Ultra-compact design fits in EIA standard rack 6U high
Built-in Quad Splitter/Sequential Switcher
Unique 180 degree tilt adjustment while mounted in rack
Available in NTSC or PAL format
Specifications:

Display (Viewing Area): 15.1" (11.69" × 9.12")
Resolution (Pixels): 1024 H × 768 V
Dot Pitch: 0.297mm × 0.302mm
Brightness (in cd/m²): 250 cd/m²
System:
NTSC - V-R151P-4A
PAL - V-R151P-4-PAL
Inputs: 1 S-Video, 4 Composite, 1 XGA
Dimensions: 19.12"W × 10.5"H × 2.25"D
Approx. Weight: 24 lbs
Power Consumption: 12 VDC, 2.0 Amps