Manfrotto 526,536K
526 Pro Video Head, 536 CF Tripod
and MBAG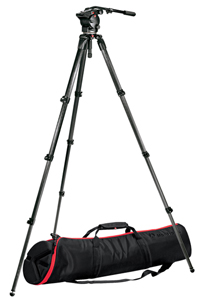 This kit contains the Manfrotto 526 Professional Fluid Video Head and the Manfrotto MPRO 536 Carbon Fiber 3-Stage Video Tripod. The 526 Professional Fluid Video Head directly addresses the heavy-duty, high-end ENG and EFP video market by offering a feature-packed fluid video head that borrows all the combined benefits of our 500 series heads with the ability to support top weight loads over 15lbs. The 526 features a replaceable and removable pan arm rosette so if any damage occurs to the side castings, only a small part needs to be replaced; large rubber padded knobs for better grip and all the controls (tilt and pan lock, tilt drag) are located on the left side so they can be easily found. The 526 offers our most precise fluid drag system comprised of three step settings for low, medium and high drag levels (numbered 1, 2 and 3), plus the additional no-drag setting (number 0) for such occasions as snap-pans/tilts. Counterbalance is achieved through an adjustable spring for camera weights between 17.5 and 33 lbs. The built-in 4-inch half-ball adapts to a number of our tripods with a 4-inch receiver, allowing the quick leveling of the camera with the aid of the bright leveling bubble. The 526 comes with one pan arm and the long 357PLV plate. 4-Sections. The new 536 video tripod is incredibly high and stable, has a great load capability and great max height with an ergonomic, easy-to-use and compact design. This lightweight tripod features a new leg angle selector, developed for adjusting the leg angle in a quick, easy and precise way. In addition, a screw-in 75/100mm adaptor to hold the different industry standard half-ball heads.

Closed Length
33.86 in

Maximum Height
85.83 in

Minimum Height
16.93 in

Load Capacity
35.27 lbs

Weight
15.1 lbs

carbon fiber tubing
Manfrotto's carbon fiber tubing is popular among outdoor photographers because it's light in weight, but not everyone knows it's also more rigid and supports heavier loads than aluminum - giving it a double advantage.

retractable spiked feet
Retractable spiked feet mean you can use this both outdoors with the spike extended for better grip on soft terrain, moss, plants, etc., and indoors on delicate floor surfaces with the rubber foot covering the spike to avoid damage and give more stable non-slip support.

ergonomic
Ergonomic and easy to use.

weight-saving construction
Materials, design and construction techniques have been carefully selected to help save weight without sacrificing stability or strength.

magnesium castings
Lightweight magnesium is used for die-cast parts. Magnesium has a density of 1.74g/cm3 as opposed to aluminum's 2.70g/cm3 - a 35% reduction. Despite its lower weight, magnesium is more rigid than aluminum, and has the same strength per volume.

ergonomic leg angle selector
The new ergonomic leg angle selector improves the comfort and the precision in use.