Kramer VS-828
8x8 Composite Video & Stereo Audio Matrix Switcher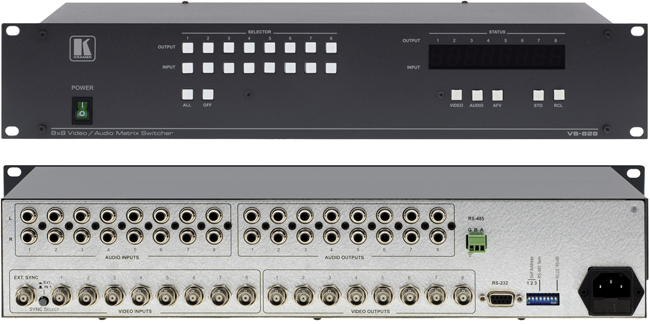 The VS−828 is a high−performance matrix switcher for composite video and unbalanced stereo audio signals. Switching during the vertical interval ensures glitch−free switching with genlocked sources.

Bandwidth - 100MHz (−3dB) fully loaded.
Control - Front panel, RS−232 (K−Router™ Windows®−based software is included), RS−485, & IR Remote (included) & Remote IR receiver (optional).
Memory Locations - Stores multiple switches as presets to be recalled and executed when needed.
Audio Breakaway Switching.
Vertical Interval Switching.
Switching Synchronization - Synchronizes either to external reference or the incoming video.
Selectable Sync Signal Termination.
Standard 19" Rack Mount Size - 2U. Rack "ears" included.

INPUTS: 8 composite video 1Vpp/75Ω on BNC connectors; 1 sync/video genlock with sync select switch; 8 audio stereo up to +4dBu/62kΩ on RCA connectors.
OUTPUT: 8 composite video 1Vpp/75Ω on BNC connectors; 8 audio stereo +4dBu/50Ω on RCA connectors.
MAX. VIDEO OUTPUT LEVEL: 2Vpp.
MAX. AUDIO OUTPUT LEVEL: +/−20Vpp.
VIDEO BANDWIDTH (-3dB): 100MHz.
AUDIO BANDWIDTH (-3dB): 100kHz.
DIFF. GAIN: 0.05%.
DIFF. PHASE: 0.03Deg.
K-FACTOR: <0.05%.
VIDEO S/N RATIO: 74dB.
AUDIO S/N RATIO: 88dB unweighted (1Vpp).
VIDEO COUPLING: DC.
AUDIO COUPLING: AC.
VIDEO CROSSTALK (all hostile): −50dB @5MHz.
AUDIO CROSSTALK (all hostile): –71.4dB @1kHz.
AUDIO THD + NOISE: 0.016% (1V, 1kHz).
AUDIO 2nd HARMONIC: 0.012%.
CONTROLS: Manual, RS−232, RS−485, IR remote control.
POWER SOURCE: 230V AC, 50/60Hz (115V AC, USA), 17VA.
DIMENSIONS: 19" x 7" x 2U W, D, H, rack mountable.
WEIGHT: 3.4kg (7.5lbs) approx.
ACCESSORIES: Power cord, null−modem adapter, Windows®−based control software, IR remote control, rack "ears".