JVC GY-HMZ1U
PRO 3D HD Camcorder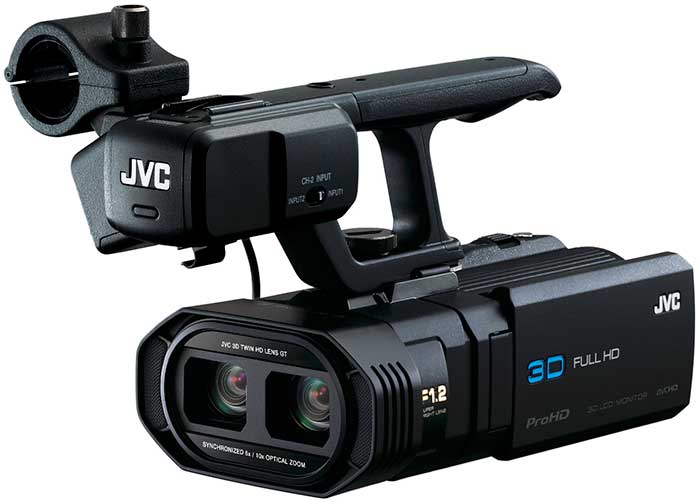 JVC GY-HMZ1U
DEMO with FULL JVC WARRANTY
G&G Price: $795
PRO HD 3D Camcorder


FREE SHIPPING


We are sold out at this time. We hope to have more soon.

The GY-HMZ1U is a 3D camcorder offering full HD recording (1920 x 1080 x 2) to dual SDHC/SDXC flash memory. Its unique integrated 3D twin lens delivers professional results in a surprisingly easy-to-use package. Equipped with JVC's proprietary Falconbrid™ LSI processing, full HD recordings can be made in either 60i, providing smooth motion for sports and fast action, or 24p for a film-like effect.
3D capture with dual back-illuminated CMOS sensors
24p or 60i capture and recording
Twin F1.2 HD lenses with 5x optical zoom (10x in 2D)
3.5-inch autostereoscopic (glasses-free) LCD touch panel
34Mbps recording in 3D (24Mbps in 2D)
Memory card slot for SDXC/SDHC flash media
Internal 64GB memory recording
Built-in timecode
3D digital still recording
Advanced Image Stabilizer
3D time lapse recording
High speed 3D "motor drive" recording (up to 12 frames)
Zebra exposure indication
Includes professional handle with XLR mic inputs, shotgun mic holder (microphone optional)
Full HD 3D 24-p and 60i Recording in a variety of formats
The GY-HMZ1 delivers 2D or 3D recordings in either 1920x1080 Full HD resolution in a range of formats, including 24p. Compatibility with existing production systems is maintained thanks to JVC's unique L/R Independent format as well as the widely used Side-by-Side format. Supplied software splits the 3D file into separate left and right image files for Non-Linear Editing workflow support.
FALCONBRID Engine
The newly developed FALCONBRID™ high-speed imaging engine makes possible the simultaneous processing of independent left and right Full HD 1920x1080 images at up to 34 Mbps. The single-chip processor is also responsible for calculating the image displacement and adjusting the parallax for accurate and sharp 3D image recording.
JVC 3D TWIN HD GT LENS
Designed by JVC and manufactured to strict quality standards, the Twin HD GT Lens features several aspherical lenses and extra-low dispersion glass to minimize chromatic aberration caused by light refraction for sharp, high-contrast images even at the edges of the frame. The result is an industry-leading super bright F1.2 lens that delivers a remarkable level of detail and clarity, resulting in stunning 3D images.
Fully synchronized 5-times optical zoom in 3D mode with Auto Parallax adjustment
The GY-HMZ1 automatically adjusts parallax while zooming keeping a natural look to the scene. This is accomplished by unique JVC algorithm that alters the 3D convergence point according to the distance of the subject from the lens. Manual adjustment is also possible. When recording in the 2D mode, the zoom range is 10:1.
New Automatic Stabilization System
Automatic stabilization corrects the image displacement of the twin lenses and stabilizes the optical axis, resulting in smoother 3D images, even when using the 5x optical zoom.
3D Time-Lapse and Motor Drive recording
The GY-HMZ1 records one frame at a time at set intervals (1sec./10sec./80sec.) for stunning 2D or 3D time lapse video recording. The camera also offers Motor Drive Shooting similar to what's found on Digital SLR cameras. As many as 12 still images are acquired as 3D at approx. 12 frames per second (fps). Enjoy a new world of photography.
BN-VF823US

JVC 2 hour battery for GY-HM100U camera
$84.95
Transcend 32GB SDHC Card
Class 10
G&G Price: $33
Class 10 card - ideal for use in video cameras that use SDHC format

Sennheiser ew100ENG G3
G&G Price: $639.00
$75 Sennheiser Rebate available through April 30, 2014
We will enclose the rebate form with your shipment

FREE UPS SHIPPING
Wireless Lavalier System
Includes:


EK 100 G3 diversity receiver
SK 100 G3 bodypack transmitter
ME 2 clip-on microphone (omnidirectional pick-up pattern)
SKP 100 G3 plug-on transmitter
CL 1 jack cable
CL 100 XLR cable
CA 2 camera adapter
6 AA batteries
Operating instructions
Tote Vision LCD-703HD
G&G Price: $629
Want a better price?
7″ HD LCD Monitor
Ideal for use with HD cameras
FREE UPS SHIPPING

Marshall V-LCD70XHB Series
7″ On-Camera High Brightness
HD LCD Monitor
Click on MODELS Tab for purchase choices
Add model to your cart for a better price!
Ikan ELE-RECOIL
Camera Shoulder Support
G&G Price: $89.95

Includes Foam Grip Bar, Rosette Screw, HDSLR Platform, Prosumer Camera Platform & Recoil Body
IDX A-CA74E
G&G Price: $1129
Camera shoulder adapter
Requires cable and plate

Kata PL-CC-193
G&G Price: $159.95
Small padded carrying case
Ideal for small cameras such as Panasonic AG-AC130, AG-AC160, JVC GY-HM100/150, DSLRs, etc.
External Dimensions:
22.44"(L) x 10.24"(W) x 12.2"(H)
Internal dimensions:
20.47"(L) x 8.66"(W) x 8.66"(H)
Includes shoulder strap
FREE UPS SHIPPING
Ignore any shipping cost in your cart - you will not be charged

Manfrotto 190XDB,700RC2
G&G Price: $209.95
Manfrotto kit with 700RC2 Head, 190XDB Tripod
Load capacity: 5.51 lbs
Maximum height: 61.26 in
Maximum height (with center column down): 50.43 in
Minimum height: 17.56 in
Weight: 4.67 lbs
IN STOCK
FREE UPS SHIPPING - Ignore any freight cost in your cart - you will not be charged

These items are included with your purchase of the GY-HMZ1UU:
Battery pack(BN-VF823)
AC adapter(AP-V20)
Battery charger(AA-VF8)
Wireless remote control unit
HDMI cable
A/V cable
USB cable
CD-ROM
Standard Warranty: One Year Parts and One Year Labor
The GYHMZ1U comes with JVC's warranty of one year parts and one year labor.
If you would like a cost-effective extended warranty, we suggest the Mack warranty. Click on the stopwatch icon to see the complete Mack coverage plan.
Mack 4 Year Extended Warranty
Pro CAMERA or PROJECTOR
up to $7999 value
G&G Price: $295
Protect your investment. Add 4 more years to your professional camera or projector warranty with a Mack Warranty. Worldwide coverage is included at no extra charge.
For cameras or projectors valued up to $7999.

JVC also provides model-for-model replacement of JVC Professional Product failing in initial end-user use, to a maximum of 30 days from original retail sale date. This is a free service that is available only if you purchase the camera from an authorized JVC dealer (like us!). Read about this extra layer of protection that allows you to buy with confidence:
Perfect Experience Policy
Resources for the JVC GY-HMZ1U:
Documents:
Color Brochure
JVC's basic 4 page brochure and spec sheet for the GY-HMZ1U
Service:
Service Support
Visit this page to get service for your JVC camera.
Perfect Experience Policy
JVC provides model-for-model replacement of JVC Professional Product failing in initial end-user use, to a maximum of 30 days from original retail sale date. Get full info here about this policy.
Websites:
JVC
JVC's website page for the GY-HMZ1U
Reseller Ratings
Reseller Ratings is a website that will help protect you from dealers that are going to rip you off. If you can find the GY-HMZ1U for significantly less than our price, then you are probably about to be ripped off. Type that dealer's name (or their website address) into Reseller Ratings and read the reviews. You might be shocked at what you find out.