Eartec CSFXMAX
FLEX Max Com-Center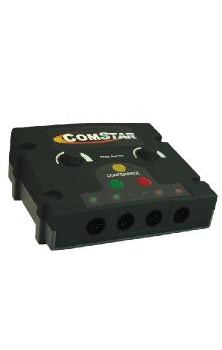 FLEX MAX Series: Hybrid wired & wireless full duplex intercom for up to 12 users. The COMSTAR Flex Max Series is a hybrid full duplex system that features both hard-wired headsets and wireless capability built in the same Com-Center.

The series expands the capacity of standard eight person COMSTAR systems through the addition of up to four Max 3G wired headsets that plug into the Flex Max Com-Center.

Create a customized Wireless/Wired by simply adding stationary and roaming users to the Flex Max Com-Center. COMSTAR is a breakthrough full duplex wireless designed specifically for production teams that need to communicate while working with their hands.
Outstanding Range
Full duplex communication up to 400 yards in any direction from the Com-Center.

Dual Channel with Conferencing
2 groups of 6 users communicate separately or all together in conference mode.

Digital, Full Duplex Voice
Dect frequency band (1900 mhx) is reserved by FCC for "PCS" voice communication only.

Expandable
Start small, then add field programmable headsets, up to 8 wireless & 4 wired.

Totally Portable
AC wall plug, rechargeable battery (6 hrs) and AA disposable battery sled included.

Simple/Instant Setup
Self tuning, no remote antenna required.

No FCC License Required
USA, Canada, Europe and Australia certified.