Anchor ProLink 500
Wireless Intercom System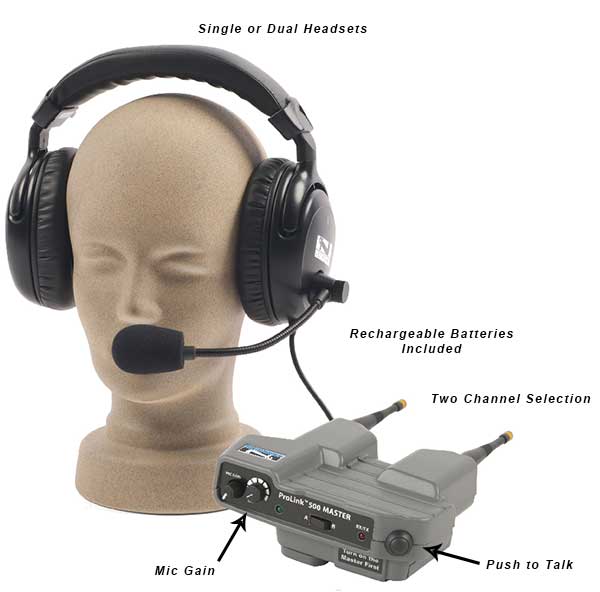 Anchor ProLink Pro-540
G&G Price: $3153
Want a better price?
Four headsets, your choice of H-2000 dual or H-2000S single ear muff, one master belt pack (BP-500M), three remote belt packs (BP-500R), one gang charger (GC-500), sturdy cardboard carrying case
(Please specify headset choice in COMMENTS BOX when making an on-line purchase)

Anchor ProLink Pro-570
G&G Price: $5,527
Want a better price?
Seven headsets, your choice of H-2000 dual or H-2000S single ear muff, two master belt packs (BP-500M), five remote belt packs (BP-500R), one gang charger (GC-9000), sturdy cardboard carrying case
(Please specify headset choice in COMMENTS BOX when making an on-line purchase)

Individual Components and Accessories:

BP-500M

Master Belt Pack
Want a better price?
$569

BP-500R

Remote Belt Pack
Want a better price?
$569

BP-500L

Listen Only Belt Pack
Want a better price?
$448

H-2000

Headset-dual-earpiece w/5' cable and female XLR-4 connector
Want a better price?
$210

H-2000S

Headset Single Sided
Want a better price?
$210

H-2000L

Headset-Dual Muff (Listen Only)
Want a better price?
$210

H-2000LS

Headset-Single Muff (Listen Only)
Want a better price?
$210

H-2000LT

Headset-Lightweight

$77

GC-500

Gang Charger - 110/220 AC

$37

HC-ARMOR24-PL

Anchor Armor Hard Case - ProLink

$310

WM-500

WingMAN - combination master base station
and interface to wired intercom system
Want a better price?
$393

RM-9000

Rackmount for the WM-9000

$75

AB-500

Antenna Bracket for WM-500

$100

ANT-CABLE

Antenna Extension Cable

$31
Description:
ProLink™ 500 is a digital wireless intercom system that is easy to set-up and easy to operate. The system allows full duplex communication with one master belt pack and three remote belt packs without the need for a base station.

All four belt packs can communicate in "Always On" mode which is just like talking on a telephone. This allows you to continue working with your hands while using the intercom. This is particularly important for emergency response teams and evacuation coordinators. "Push to Talk" mode is also available with the flip of a switch. Applications such as directors or coaches who only want to broadcast selected instructions tend to prefer "Push to Talk."

If you need more users, you can add as many BP-500L "Listen-only" belt packs to your system as you wish.

ProLink 500 has the capability to transmit up to 500 feet line of sight and allows communication through walls and glass. It also has optional Bluetooth or encryption capability available upon request.

The transmitter and receiver operate utilizing the FCC license free 902-928 MHz range for the U.S. without the need for a base station.

Using the optional WM-500 Wingman interface, you can interface Anchor ProLink wireless with other wired systems including PortaCom and other 2-wire party line unbalanced systems.
Features:
Heavy Duty 4 Pin XLR Connector
Choice of Single or Dual Muff Headsets
A/B Channel Selection
"Push to Talk" or "Always On" Modes
Microphone Gain Setting
Out of Range Indicator LED
Low Battery Indicator LED
Charging Indicator LED
Rechargeable Batteries Included
Gang Charger for Four Belt Packs
FCC License Free
Encryption and Bluetooth Options Available
6 year warranty